I recently spent several days in the Teton mountain range and three of those days were in Grand Teton National Park. I thought this was the perfect amount of time to see everything we wanted. Our first full day was in Yellowstone National Park before heading down to Grand Teton.
Day 1
We woke up around sunrise at our campsite in Grant Village in Yellowstone. We wanted to make sure we'd have a full day in Grand Teton, so we packed up our site and headed south. The drive from Grant Village to Jackson Lake (at the northern edge of Grand Teton) is about 45 minutes.
Jackson Lake Overlook
Our first stop was Jackson Lake Overlook. This is just a pull off on the road, but it's worth a quick stop to take a picture.
Oxbow Bend
The next stop is just a few minutes south, also right off the road. Oxbow Bend is located along a major bend of the Snake River. This area is home to a variety of wildlife. We saw some cranes here.
Signal Mountain
Next, we stopped at the showers at Signal Mountain Lodge. It had been a couple days since we'd showered so we were excited to get clean. The showers were really nice but pricey. They were a minimum of $6 for 8 minutes and you could pay more if you wanted longer. They were completely private stalls that had a changing room attached.
After we showered, we drove up to the top of Signal Mountain to see the view. You can drive all the way to the parking lot at the top, and a short, paved path takes you to the viewpoint. We hung out here for a little while.
Set up camp at Jenny Lake Campground
We were able to set up our camp at Jenny Lake starting at 12pm, so we got there right around then. The ground the tent site was on is very hard and was near impossible to get our tent stakes in. We decided to just load up some of our stuff inside. Since it was sheltered with some trees around, I didn't think we would have any issues. When we came back later though, the tent had blown completely over! After this, we loaded up the tent with several rocks that were nearby when we weren't inside.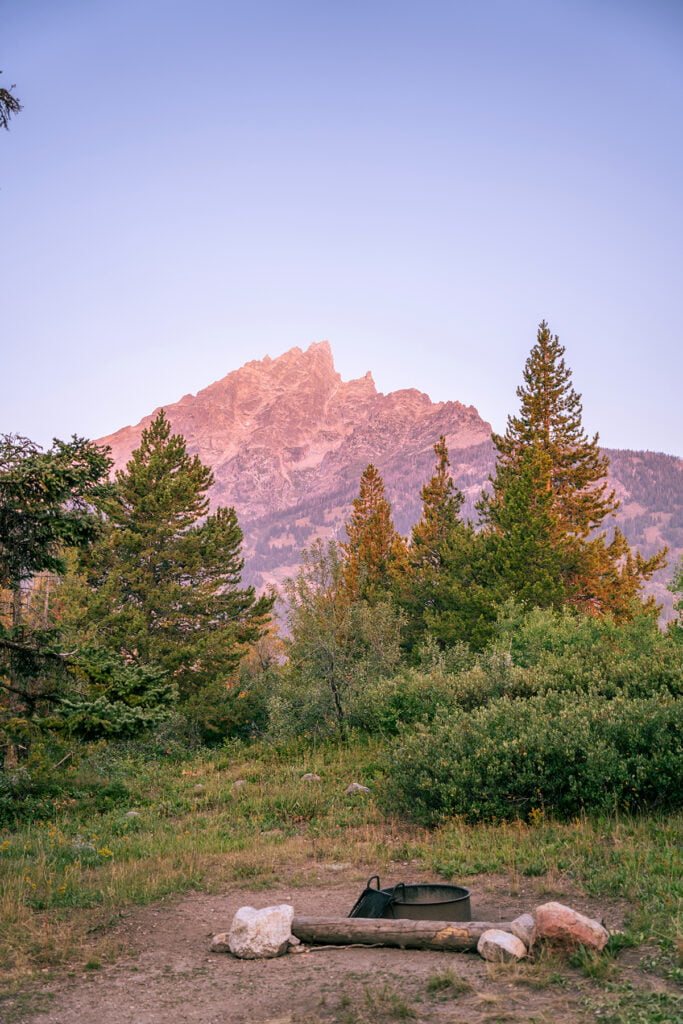 Hike around Jenny Lake
Jenny Lake is just a short walk away from the campground. We started by checking out the visitor center and gift shop and then headed for the lake. We didn't have much planned for the rest of the day, so we decided to hike around the lake. It was very hot while we were there (90F) so we knew we didn't want to go all the way around the entire lake, which is about seven miles. Instead, we would hike about three miles in a clockwise direction to the boat launch. Then, we would take the shuttle boat back to the start.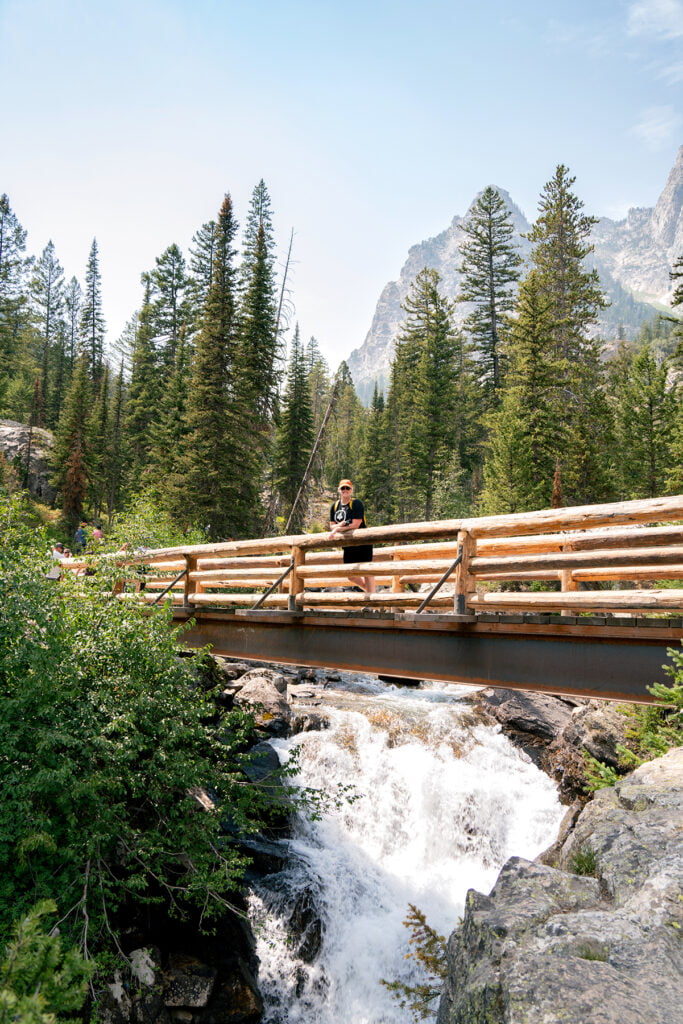 The trail mostly follows the edge of the lake and is fairly easy. It was pretty and a nice way to stretch our legs. The best part of the hike was seeing the waterfall right before getting to the boat launch on the other side. It was very smoky while we were hiking, so we didn't get to see much beyond the lake.
The shuttle was $10 one way or $18 round trip. They allow you to pay when you get back if you are just taking it one way. I thought the shuttle boat was a nice option to get to do some hikes on the other side of the lake if you want to cut off a few miles.
Hammock along the water
When we got back, we were feeling lazy and in the mood to find somewhere pretty to hammock and read for a little while. We found spots that were really close to the campsite, but along the lake.
Schwabacher Landing
Our last stop of the day was to see Schwabacher Landing at sunset. When we arrived, we met a local that told us to take the trail all the way to the end and we could possibly see beavers there. We followed his advice, and while we didn't see any beavers, we were happy we went down this short path to see the pretty scenery.
Day 2
Hike to Delta Lake
Day 2 started early at the Lupine Meadows Trailhead around 7am. This is a strenuous 8.3 mile round trip hike up to a beautiful alpine lake. Read my full trail description here. We finished up our hike around 1:30pm. If this is your main activity of the day, you could start later. However, there is very limited parking, so be prepared to walk a little bit to get to the trailhead. We also wanted to get the strenuous hiking out of the way before it got hot. The weather was beautiful in the morning! From the hike we went back to Signal Mountain to shower.
Moose-Wilson Road
Our next adventure was driving down Moose Wilson Road to get to Teton Village. This is a scenic 8-mile road. About 1.5 miles of the road is unpaved with lots of potholes. Moose frequent the area, so we kept our eyes peeled the entire drive.
The Deck @ Piste
After a few days of eating nothing but tuna and peanut butter sandwiches, we were excited for some hot food. The Deck @ Piste is a restaurant and bar that is on the top of a mountain in Teton Village. You can only reach it by gondola, which is free when the restaurant is open from 5-8:30pm. We arrived right before 5 and there was already a line for the gondola. However, once it started running, the line moved quickly. We took advantage of the town's cell service while we waited.
The gondola took about ten minutes to reach the top. It was quite a bit cooler at the top and I was happy I brought my jacket. We ended up just getting canned beers and pizza at the cafe (which I think closes around 6) because we didn't want to wait for a table at the official restaurant. There are a handful of tables available for people not at the restaurant and we managed to snag one. We took the gondola back down around 6:30.
Teton Village
There was a small music festival going on when we came back down so we hung out there for awhile before making the drive back to Jenny Lake. We made sure to depart before sunset so we could navigate the potholes on Moose-Wilson Road more easily. We caught the sunset from the road that evening!
Day 3
Horseback Riding
After packing up the campsite, we drove about an hour to Swift Creek Outfitters, stopping at Signal Mountain Lodge to get breakfast. We were so excited to go horseback riding, as neither of us had been in a few years. There were options to go for one, two, or three hours. Since it was extremely smoky that morning, we decided to just go for one hour since we probably wouldn't see much scenery.
They saddled us up and took us on a ride with a couple other people. I learned almost immediately that my horse loved to gallop. She worked her way to the back of the line and would wait until everyone else got way ahead before running to catch up. The ride was pretty and scenic. We couldn't see the mountains, and I don't know if that's because of where we were or how smoky it was. The ride was mainly focused around a pretty river going through their property. It was fun to cross it several times.
Mormon Row Barns
From horseback riding, we drove 45 minutes south to the Mormon Row Barns. It was interesting to learn a little about their history. Mormons from the Salt Lake region settled here in the 1890s and built 27 homesteads together in a small community. Mormon Row was acquired by Grand Teton National Park in the mid-1900s during the park's expansion. The buildings are still standing and normally have a very scenic backdrop of the Teton Mountains. However, when we arrived, all we could see were the barns with a smoky background, no mountains in sight!
Blacktail Ponds Overlook
From Mormon Row, we drove five minutes to Blacktail Ponds Overlook, a pretty overlook from a parking lot. This view would be much prettier if you could see the mountains!!
After our stay in Grand Teton National Park, we spent about a day in the city of Jackson before flying out the next afternoon. I loved this national park and would 100% go back!
---
You may also be interested in:
One Day in Yellowstone National Park
Hiking to Delta Lake in Grand Teton National Park