The Dolomites were a bucket list destination for me. Located in northern Italy, this mountain range is a part of the Alps. They completely blew away my expectations.
Day 1
My boyfriend Mike and I started our Italian vacation by flying into Venice on Friday morning. The process of getting through customs, picking up our checked bags, and getting our rental car took about 45 minutes, much quicker than I expected. We would be returning to Venice at the end of our trip, but at this time, we headed straight to the Dolomites.
Drive from Venice to Misurina
The drive to the small town we'd be staying in took just over two hours, plus stops. We pulled out Euros at an ATM, got some snacks at a grocery store, and ate pizza for lunch in Cornegliano.
This drive was the most scenic of our trip, and I highly recommend doing it during the day so you can see it. We passed through some beautiful towns perched up on the mountains, with quaint Italian buildings looking down on the valley below. If we'd had more time, I would've loved to stop in the town of Auronzo.
We checked into our hotel, the Grand Hotel Misurina, around 3pm. We dropped our stuff, showered, and headed out again. Sunset was around 6:30pm, so we didn't have much time to waste. I knew that if we stayed awake until a reasonable time to go to bed, we wouldn't be jet lagged for the rest of the week.
Lake Misurina
First, we stopped at the lake that our hotel was on, Lake Misurina. This is a beautiful lake with mountains all the way around. The town of Misurina is tiny, with only a few hotels and restaurants. It was close to our hiking destination the second day, which is why we chose this location.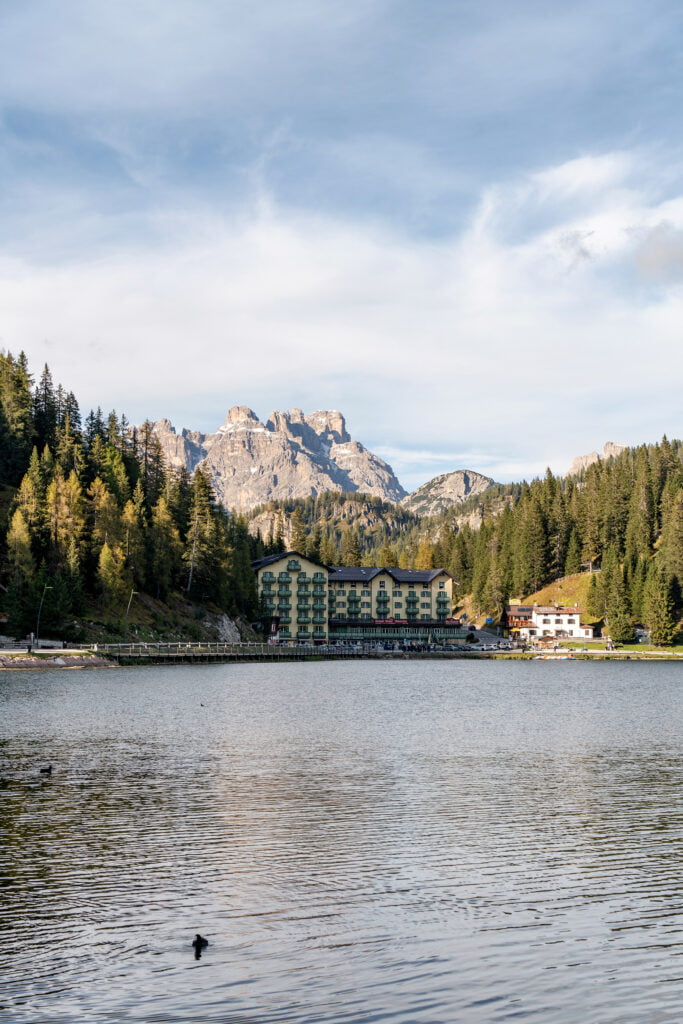 Lago di Braies / Pragser Wildsee
From Misurina, we drove 45 minutes to Lago di Braies, a famous lake in the Dolomites. It is also called Pragser Wildsee. This area has three main languages (German, Italian, and Ladin), so you will see three different names for many locations you encounter. We arrived at 5:20pm, which was the perfect time in my opinion. I had read that it gets very busy early in the day and stays busy throughout, but I guess a lot of people had cleared out before sunset. There were only a handful of people there when we arrived, and some of them were out in the canoes you can rent.
We stayed for about 30 minutes and walked along the shore of the lake. The soft lighting was beautiful and the mountains surrounding the lake seemed to glow. Before heading out, we used the restrooms and paid 5 Euros for parking. Parking is cheaper if you get there after a certain time. Another benefit of going at sunset!
Dinner in Dobbiaco Toblach
We were exhausted by 6 pm, so we figured by the time we ate dinner, we could crash at our hotel. However, it was really difficult to find a place that was open before 7 pm. We were really excited to eat Italian pasta, since we hadn't had any on the trip yet, but there were almost no Italian restaurants anywhere around. Since this area is so close to the border, it has a heavy German influence. We ended up at Pizzeria Hans, and I got some pesto gnocchi and Mike got chicken with polenta. Not quite what we were craving.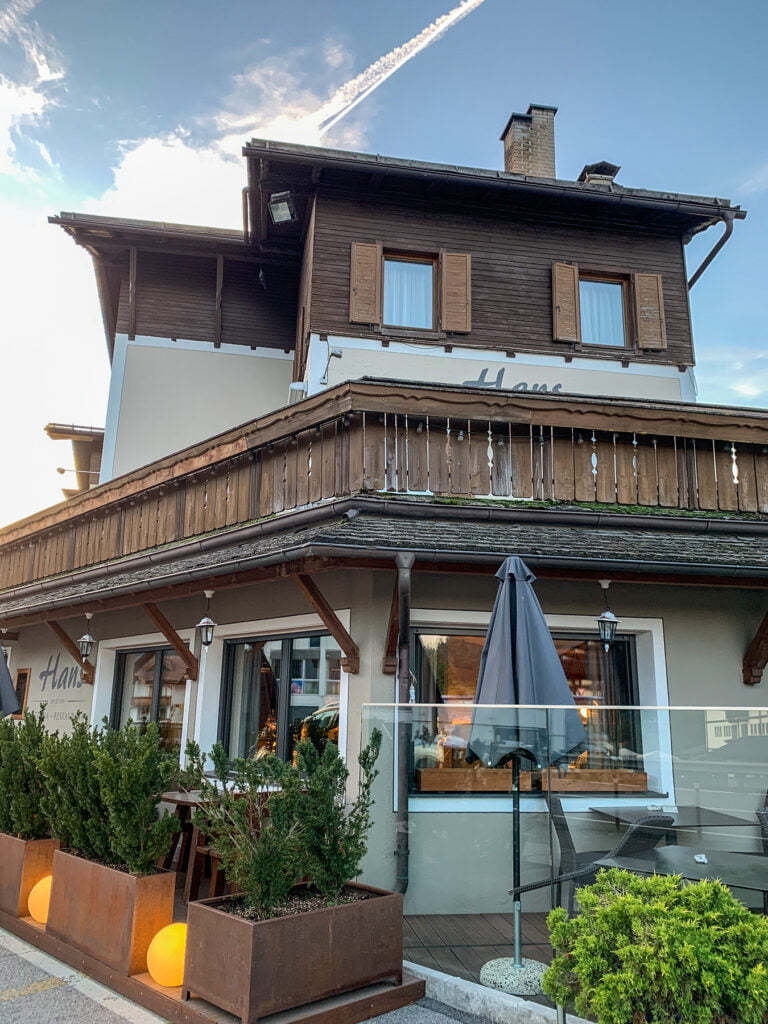 Stay at Grand Hotel Misurina
We arrived back at the hotel around 8pm and went straight to sleep.
Day 2
We woke up on the earlier side our second morning. We started the day with a complimentary breakfast at our hotel. The temperature was below freezing outside and our windshield was icy, so we had to hang out for a bit while it defrosted.
Tre Cime di Lavaredo
Our main activity of the day was hiking Tre Cime di Lavaredo. We arrived at the toll booth to get into the park at 9:30am and there were still plenty of parking spots. The two hikes we did here were some of my favorite hikes I've ever done. The scenery is phenomenal everywhere you turn. Read my post here to see where we went.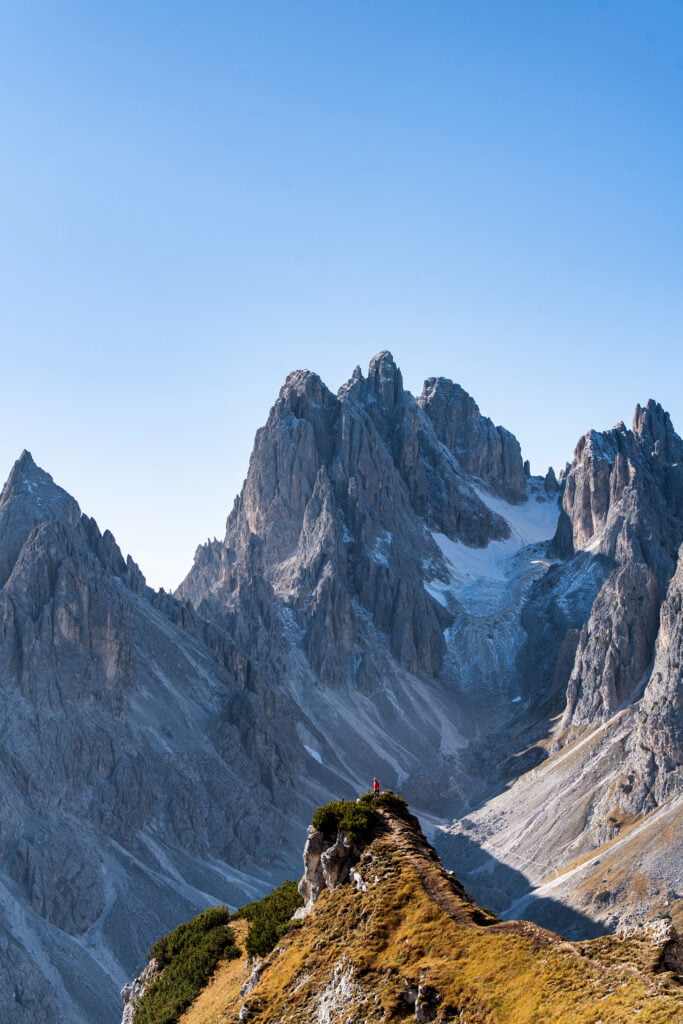 Cortina d'Ampezzo
From Tre Cime, we drove 35 minutes to a popular ski town and the home of the 1956 Winter Olympics, Cortina d'Ampezzo. We found a parking lot just outside of the town center to leave our car while we walked around exploring some shops. I loved seeing the German-style buildings set against a mountain background. The shops weren't anything impressive, but the town itself is cute and worth a stop if you're in the area.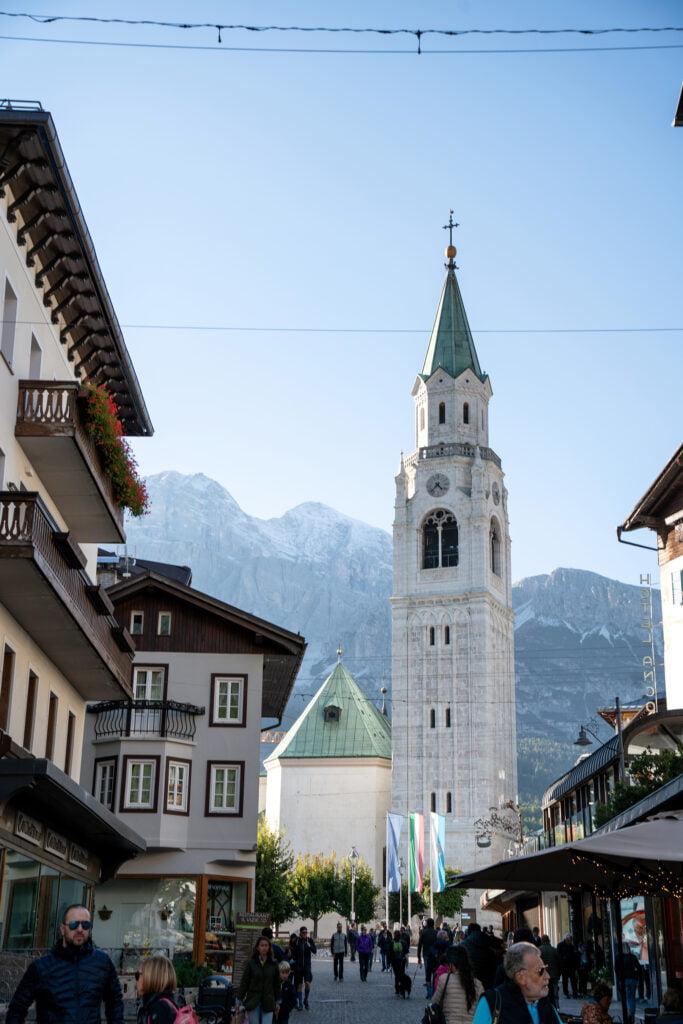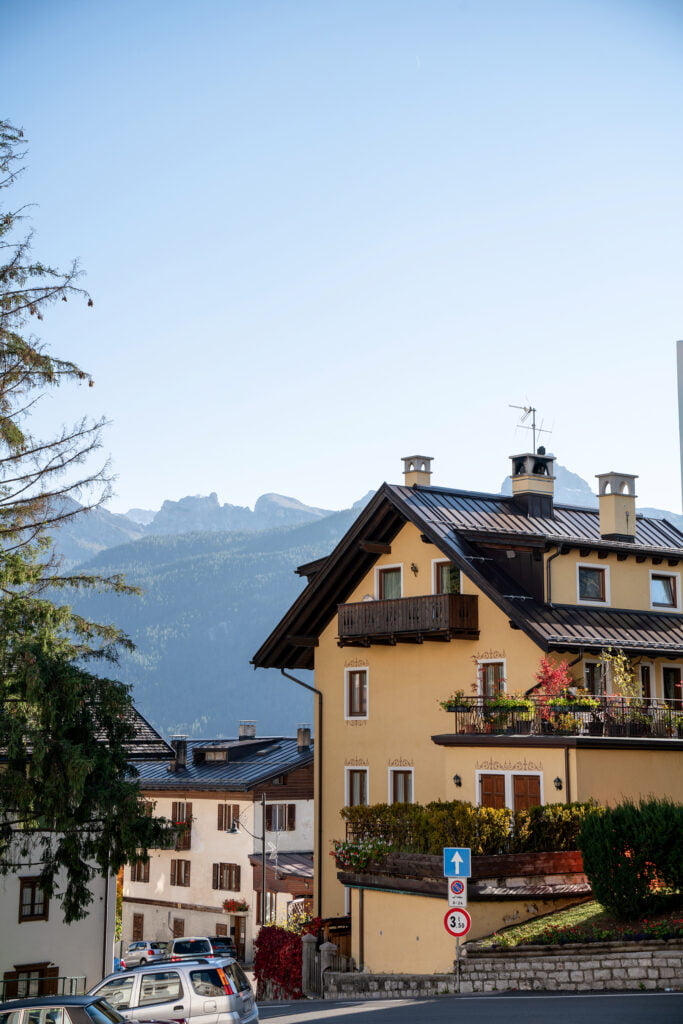 Drive to Ortisei / Urtijëi
Next, we drove to Ortisei (AKA Urtijëi). The drive took about 1.5 hours along winding mountain roads. I don't recommend this route for those prone to motion sickness. This was the most direct route, but there is a longer route you can take on highways. The mountain route we took was very scenic, but the drivers were a bit crazy. They kept zipping past me, making me very nervous.
We stopped at Gardena Pass along the way, to stretch our legs and watch the sunset. From there, it is only about 20 more minutes to Ortisei.
When we arrived at the hotel we had booked in Ortisei, they regretted informing us that Expedia had emailed them to cancel our reservation. The problem was that we had cancelled our other friends' room who were originally supposed to join us, but they ended up cancelling both rooms for some reason. We were very frustrated and Expedia was difficult to get in touch with from outside of the US. The hotel was fully booked for the night. Fortunately for us, the hotel had a sister hotel about 20 minutes away in Castelrotto that had availability. They said we could get a room for the same rate, so we took them up on their offer.
When we arrived at Hotel Villa Kastelruth, the friendly front desk attendant upgraded us to their best room. We were starving, so we ate dinner at the hotel. The dinner was okay, but not what we were in the mood for (Italian pasta, we still hadn't found any).
Day 3
On our third day in the Dolomites, we had breakfast at our hotel. The breakfast buffet was delicious and we had the best croissant we'd had on our trip so far. They also had meat and eggs to provide us some sustenance for our morning.
Seceda
From Castelrotto, we drove 20 minutes back to Ortisei. I really liked the hotel we ended up at, but would still recommend staying in Ortisei if you plan on going to Seceda the next morning. We parked at the Seceda gondola in town at 9:45 am and waited in line for the gondola. The round trip gondola to go up to the top and back cost 35 Euros each, which is a little steep but completely worth it in my opinion.
The ticket price includes two gondolas. The first is private and small, and takes you most of the way up. Then, you will get onto the next one, a big standing-room only gondola that leaves once every 15 minutes. They piled us on and made the short but steep journey up to the top.
We arrived at the top and it was freezing! Fortunately, we were prepared for the cold, and the 25 degree weather didn't slow us down much.
Seceda is one of those places that looks unreal. Once you arrive in the gondola, you can hike around on the top of the cliff. There are several hiking trails that are clearly marked. This is also a popular ski area in the winter.
The most popular view in Seceda is of the Fermeda Towers. You can easily get a good view from any of the paths that go in that direction. We climbed up to the edge which was a tad grueling but well worth it. It's easy to spend a couple hours here without realizing. Before we knew it, it was 12 pm and about time to head back down to town. We were on a tight schedule since we were driving to Cinque Terre that evening. However, you could easily spend a whole day on Seceda.
Ortisei / Urtijëi
We wanted to explore the town of Ortisei before heading southwest. Just when we were starting to get really hungry, we stumbled upon a cute mom and pop restaurant called Restaurant Pizzeria Terrazza. They had Italian pasta options on the menu, so it was a no-brainer!! I ordered the spaghetti carbonara and Mike got lasagna. We split apple streudel for dessert. Everything was delicious.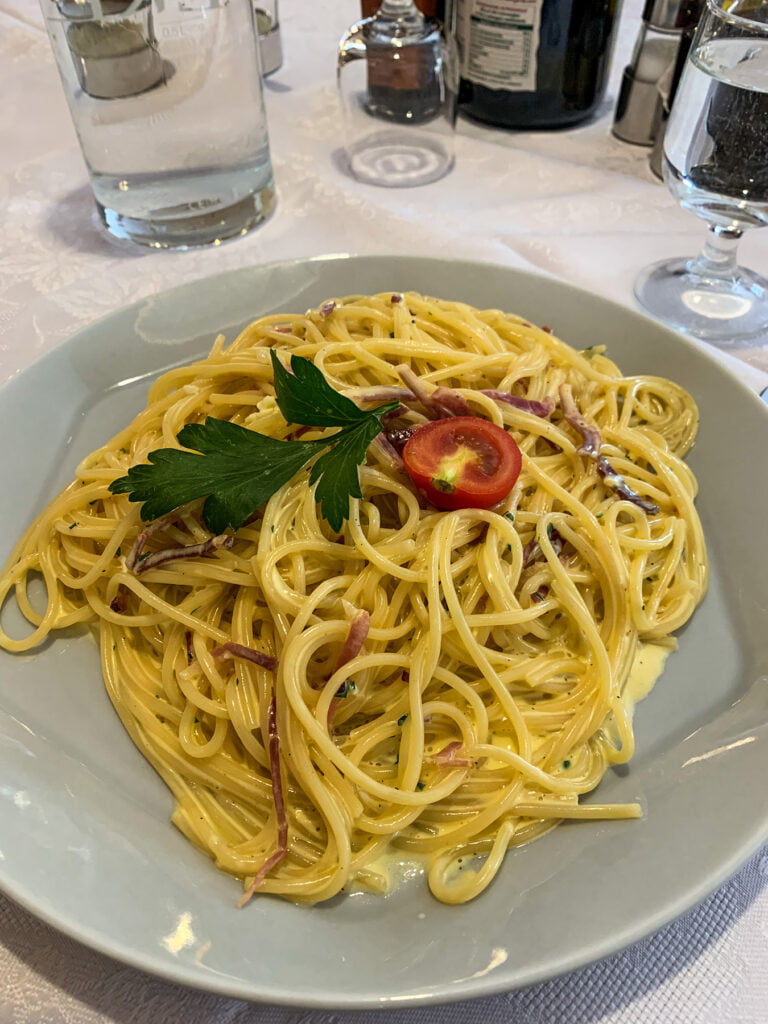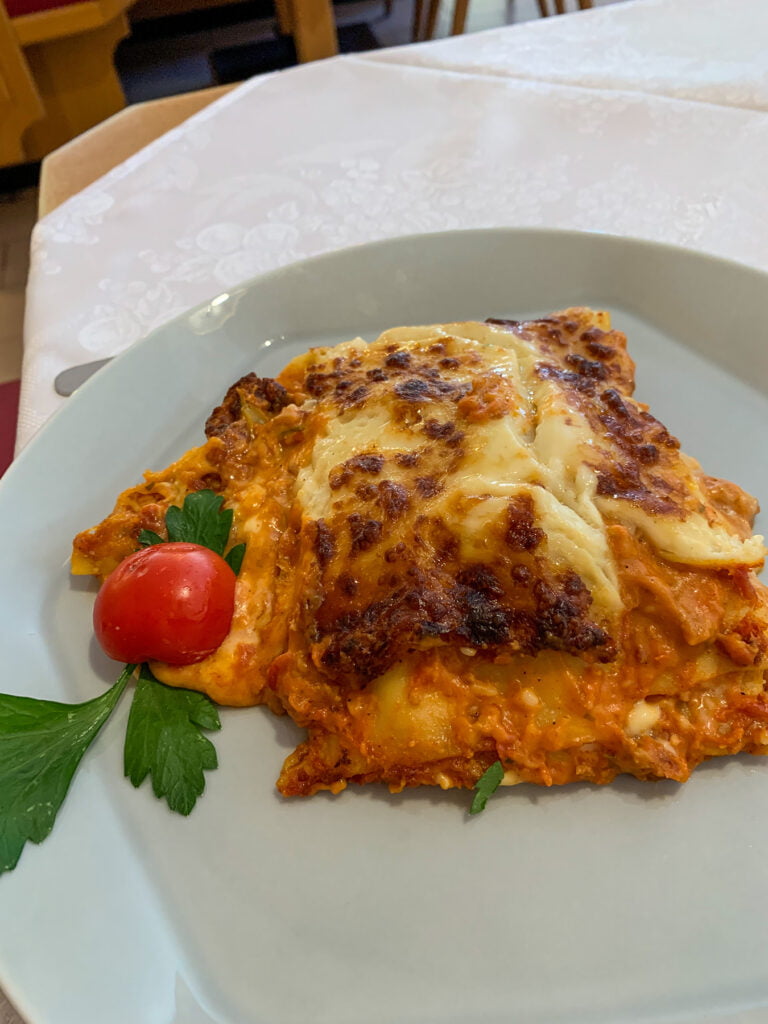 From lunch, we walked further into town, admiring the dollhouse-looking buildings. We stopped in a few more shops before walking back to the car and making the five-hour drive to Cinque Terre.
Overall Thoughts
I loved the Dolomites! There were several things I wanted to see that we just didn't have time for. Keep in mind that everything takes a little longer to get to than you'd expect, between the roads being so windy, and everything being scenic and worthy of stopping to take pictures. I would love to come back one day and spend a week here.
---
You may also be interested in: