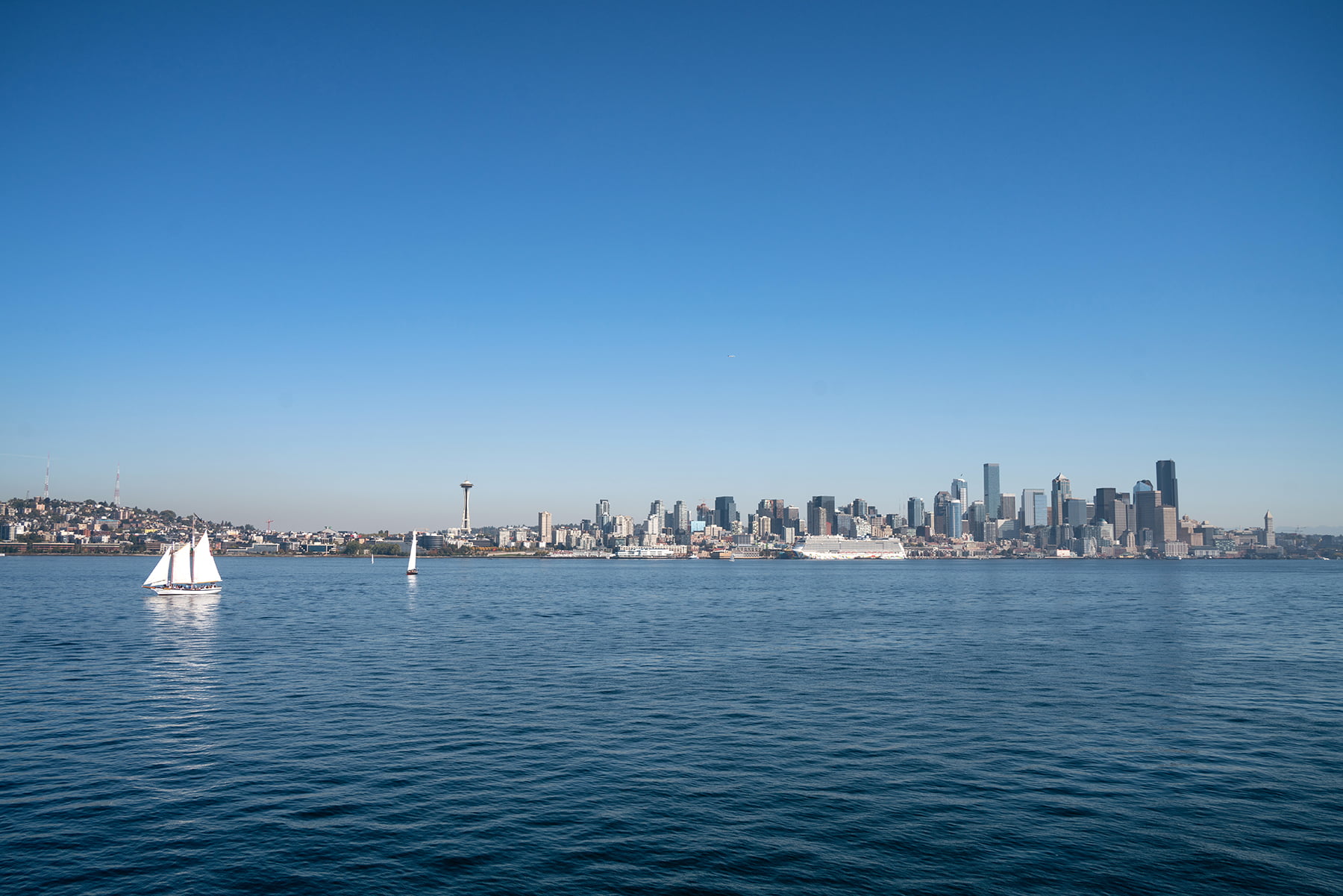 Seattle is a beautiful city surrounded by mountains and bodies of water. What's not to love? My boyfriend Mike and I spent about five days in Washington at the end of September, with two of those days in Seattle. This is what we did in our time there!
Thursday Evening
Getting Into the City
We flew directly from Atlanta to Seattle and arrived around 4pm. The journey from the airport to the city was a long one, as we didn't want to pay the sky-high Uber prices. We opted to take public transportation instead. The light rail is really nice, although limited in where it goes. It does travel from the airport to downtown, which is exactly where we needed to go. The airport station is a ten-minute walk from the baggage claim and it was easy to buy tickets at the kiosks. Once we were on the train, it took 35 minutes to get to the Westlake station.
Next, we had a ten-minute walk to get to our hotel in the Belltown neighborhood. We could've taken an Uber from here, but it was a nice day and our bags were manageable so we chose to walk. Overall, it took about an hour to get from the airport to our hotel.
Check into the Belltown Inn
I was pleasantly surprised how nice the Belltown Inn was! The park across the street did have some homeless people hanging out the entire time we were there, but it still felt like it was a safe area. The location was central and easy to walk everywhere. They even have free bikes you can check out for the day. There is also a nice rooftop with a pretty view of the downtown skyline. We dropped our bags here and walked to the next street over to find some food for dinner.
Dinner at Buckley's Belltown
We were starving and a giant cheeseburger sounded amazing, so when we came across Buckley's, we knew we'd found our spot for the evening. I got a burger with mac and cheese on top with sweet potato fries as a side. It was great! Our bodies were still on east coast time, so we crashed right after dinner.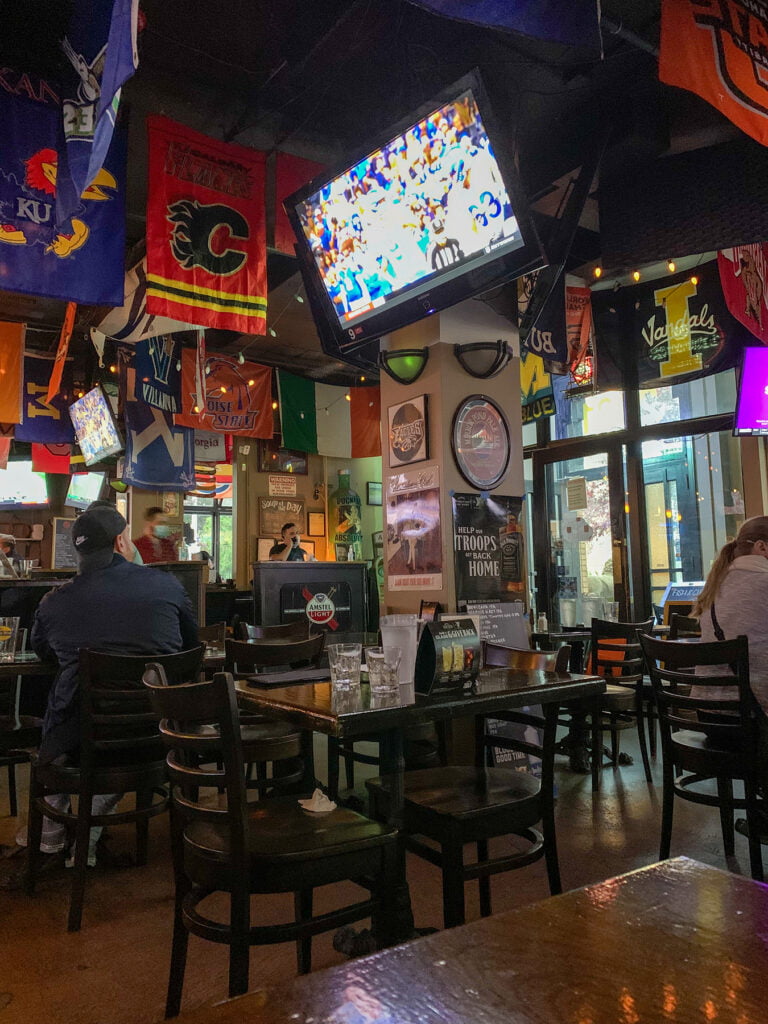 Friday
Queen Anne Coffee Co
We woke up bright and early and started our day by walking about 35 minutes north to the Queen Anne neighborhood. The walk was intense at one point, climbing a good bit of elevation. We stopped for breakfast at Queen Anne Coffee Co. They had decent breakfast sandwiches and a yummy cold brew.
Kerry Park
From breakfast, we walked ten minutes to Kerry Park to get an amazing view of the city. On a clear day, you can see Mount Rainier behind the city skyline. It was a beautiful day, but a little hazy, so we couldn't see the mountain. We still got a great view of the city though. After Kerry Park, we walked down West Highland Street, admiring the mansions along the way, and eventually stopped at Marshall Park. This is another small lookout with views facing the other direction over the water.
Blended Juices
Mike was getting hungry again, so we stopped at Blended Juices to get smoothies before stopping back at the hotel for a little bit. It was really nice having a hotel so central to be able to take little breaks between activities.
Pike Place Market
Around lunchtime, we walked ten minutes to Pike Place Market. This is a staple in Seattle that everyone should see at least once. Pike Place is a continuously operated farmers market. It is very touristy, but still worth checking out. They have everything from fresh fish and vegetables to local art and gifts. There are several restaurants in the area as well.
Sound View Cafe
We ate at the Sound View Cafe for lunch. I had the tomato soup with grilled cheese and Mike had the clam chowder. The restaurant has a great view looking out over the water.
Piroshky Piroshky
I really wanted to try Piroshky Piroshky, a Russian pastry shop I had heard about from several people. I got a chocolate-hazelnut filled pastry and it was delicious. From Pike Place, we headed back to the hotel to change and get ready for dinner.
Mbar
Mbar is a rooftop bar and restaurant overlooking Lake Union. We found the entrance inside the first floor of the building and took the elevator to the top. I had made a reservation a couple weeks in advance. The best time I could get was 4:45pm since sunset was 7pm. We got drinks and enjoyed the view and each other's company.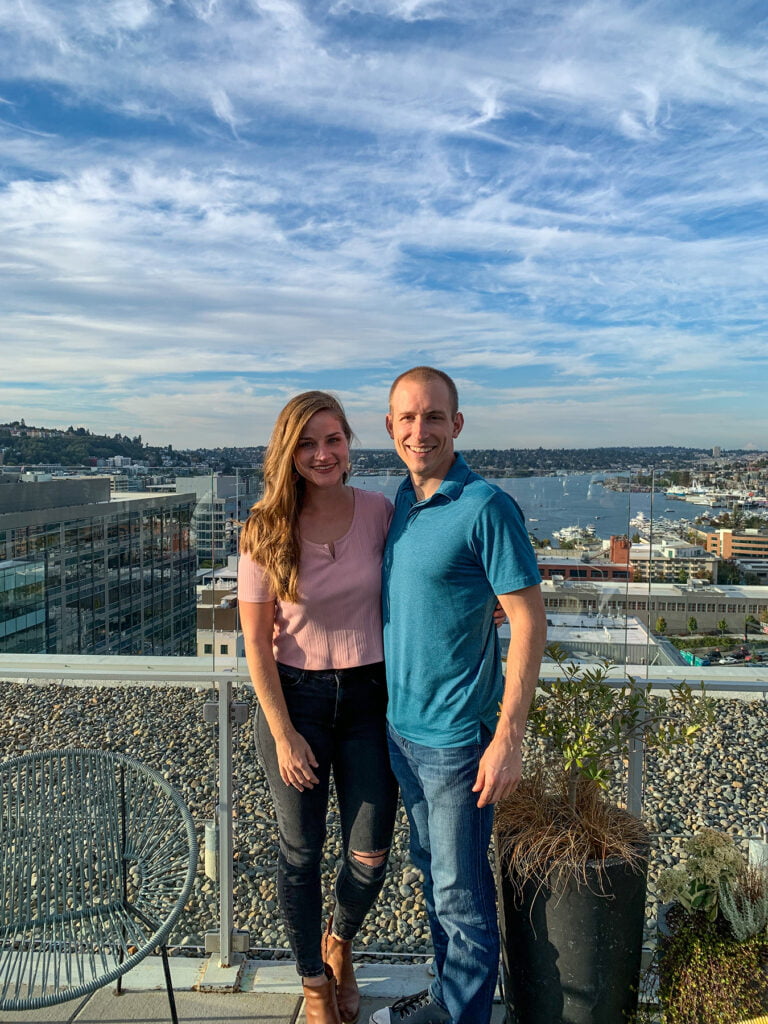 REI
Our dinner reservation wasn't until 7:30pm so we had some time to kill once we were done at Mbar. We stopped at the REI flagship store. Wow! I had never been to this location before and I was impressed. This store is massive! They even have a mountain biking trail outside to test their bikes on.
Poquitos
We showed up at Oddfellows for our 7:30 reservation and they told us their plumbing was having issues and they were shutting the restaurant down. We were disappointed because we were so hungry and we assumed we wouldn't be able to find anything else this late in the evening at a nice restaurant. After doing a little googling, I found Poquitos just down the street. We waited in line and as we approached the hostess, a couple sitting at the bar left. When we asked if we could sit there, she said yes!
We sat down and I got a very tasty spicy margarita and we shared guacamole. I had shrimp tacos for dinner and they were heavenly. I loved the vibe of this restaurant and would highly recommend it. We were very tired again after dinner, so we went straight back to the hotel.
Saturday
Biscuit Bitch
Our day started early again. There was a breakfast restaurant in the same building as our hotel called Biscuit Bitch so we figured we'd give it a try. We noticed the previous day that they had a very long line, so we placed our order online as soon as they opened when we got up at 8 and the biscuits were ready around the same time that we were. The biscuits were awesome and very filling.
Bainbridge Ferry
We walked 20 minutes down to the ferry terminal and made it just in time for the 9:35 ferry to Bainbridge Island. You can find the ferry schedule here. The tickets cost $9 each and include the return trip. There were only about 50 people in line, and all of us easily fit on the ferry.
The ride was so scenic. I recommend taking the ferry even if you aren't interested in spending much time on the island. It takes about 30 minutes to reach Bainbridge. The skies were clear and we were even able to see Mount Rainier!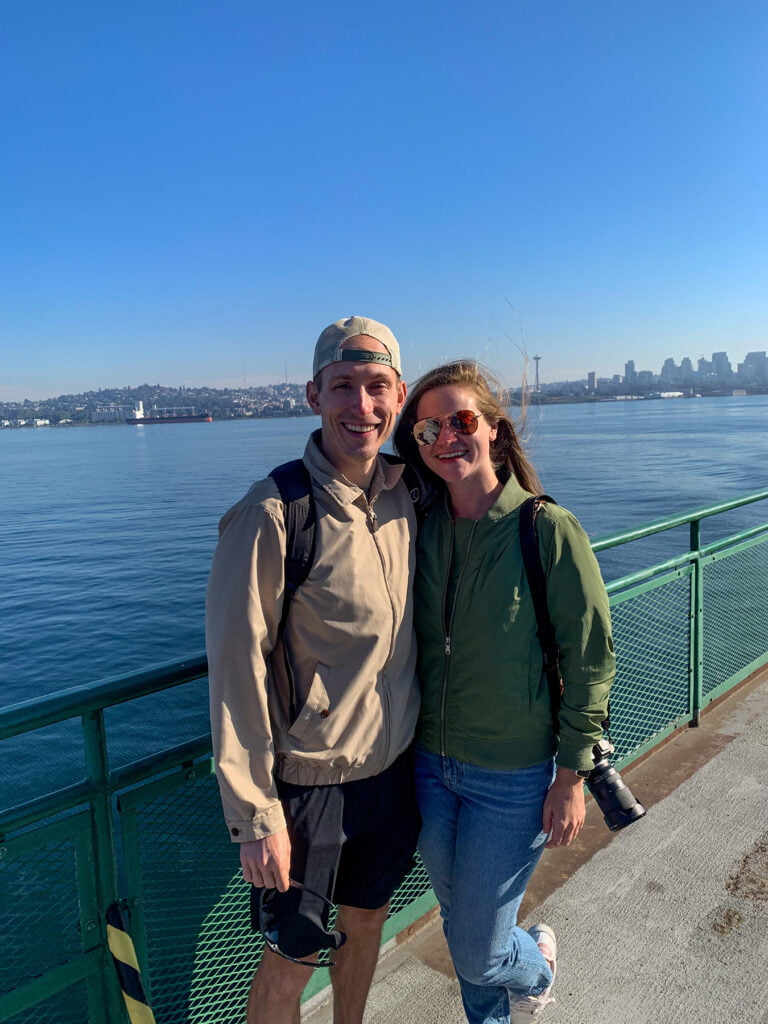 Pegasus Coffee
Once we arrived in Bainbridge, we walked a little bit to get coffee at Pegasus Coffee. This was the best coffee I had in Seattle!
Wander Around Town
We didn't really have anything in mind that we wanted to do in Bainbridge, so we spent the rest of our time here wandering around the shops and even doing an olive oil tasting at the Lively Olive. The main street in town is very cute. We took the ferry back at 12:20pm. When we arrived back in Seattle, the line was hundreds of people long, all the way out to the street. I suggest starting your day early like we did!
University of Washington
After a quick nap at the hotel, we wanted to go up to the University of Washington's campus. It was gameday and Mike was excited to see sail-gating in action. The campus is several miles north, so walking was out of the question (especially since we had been walking so much already). We took the light rail and arrived in 20 minutes.
If our feet had been less sore, we would've walked around campus more, but instead we just popped in the gift store and walked down to check out all the boats sail-gating before the game. It looked like a lot of fun!
Dino's Pizza for Dinner
From UW, we took the light rail back to Capitol Hill and got pizza at Dino's. It was everything that we wanted.
The next day we headed to Mount Rainier to do some hiking.
---
You may also be interested in:
Hiking the Skyline Trial in Mount Rainier National Park