Backpacking Black Balsam Knob
I recently completed a 9-mile backpacking trip in southwestern North Carolina with three friends. This is one of the prettiest and most scenic hikes I've done, and I was so happy we were backpacking overnight and not day hiking. My favorite part of backpacking is waking up and watching the sunrise in a scenic spot that you normally wouldn't be able to get to so early in the morning.
The Route
The hike starts on Black Balsam Knob Road, a side road off the Blue Ridge Parkway. About a mile from Blue Ridge Parkway, there are several parallel parking spots where you can park. We arrived early afternoon on a Friday and there were several available spots.
Day One
From the parking area, we wandered through the woods until we found the trail heading southeast. The trailhead is popular for day hikers heading to the Black Balsam Knob peak, which is only about a mile north. However, we did the loop counterclockwise, so Black Balsam Knob was our last big view of the hike.
The trail goes in and out of tree coverage for the first day and you will catch glimpses of the amazing views to come. We were here in late March and we crossed several small streams and places you could refill your water. However, Anna and Dylan had done the same hike last May, and they said there were no water sources at that time. It had been raining a lot in the last couple months, so I imagine that's why the water was so plentiful.
There was a bit of elevation gain the first day. On a day hike, it probably would've been much easier, but carrying our big packs made it a challenge. We were thrilled when we arrived at the campsite after about four miles of hiking.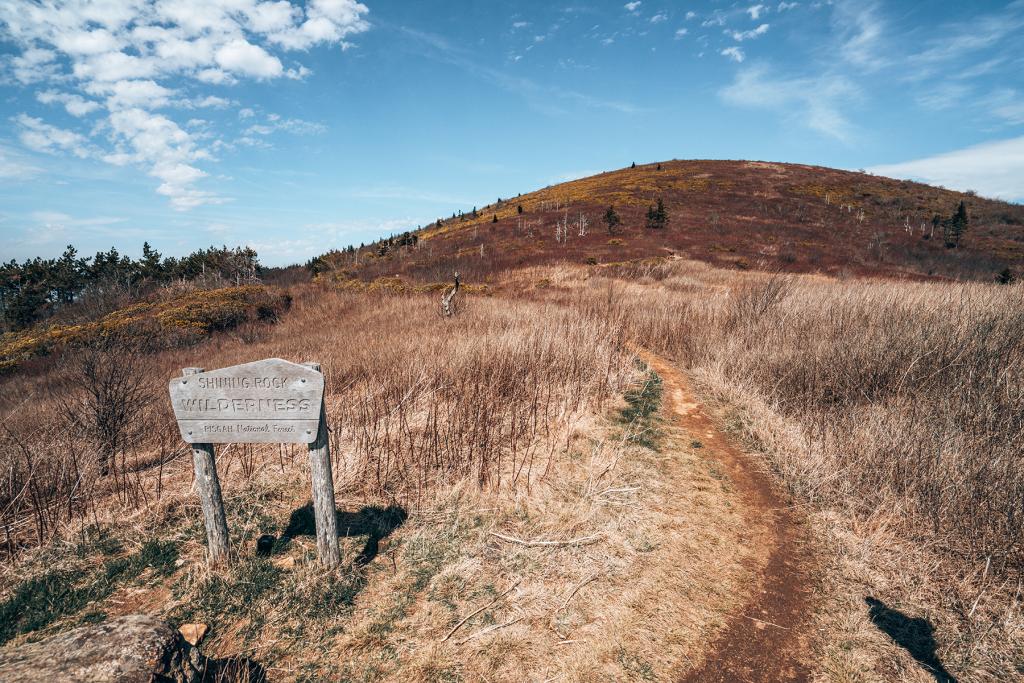 We set up our tents at the little grassy cove near the intersection of several other trails. This was an amazing spot, with the sun setting on one side with an amazing view and rising the next morning with an equally amazing view on the opposite side. I was so surprised we were the only ones that camped here that night! Our dogs loved running around and greeted the few other people and dogs that were hiking through the area.
Side Trail
We had arrived at our campsite around 3 pm. After we had basked in the sun for a bit and then set up our tents, we decided to check out a short trail that wound its way up the mountain to the north of our campsite. We left our packs and gear at the site and walked about a mile to the top of the mountain. There is a loop that we chose to do counterclockwise.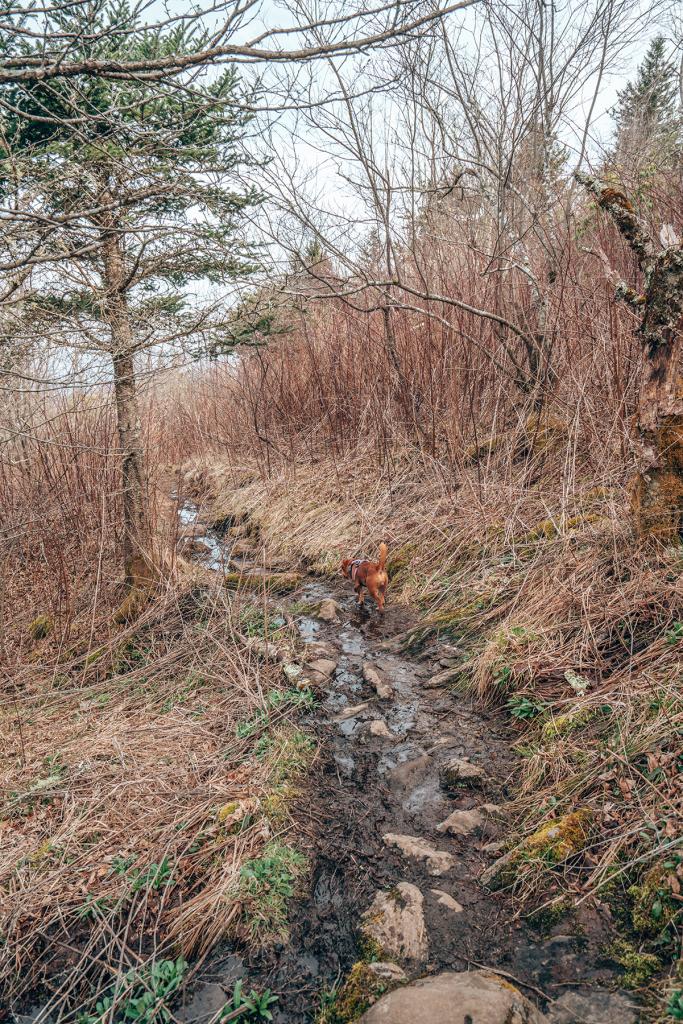 On the way up to the top, the trail was extremely narrow with tons of grassy vegetation over-running the trail. The scratchy plants scraped up our legs and arms. I'd recommend wearing long sleeves and pants in this section. There's not much of a view and I was starting to doubt that we'd be able to see much on this trail. However, once we turned onto the trail heading back down, the views opened up and you could see the mountains in every direction. I loved that we could see our campsite down below that looked so tiny.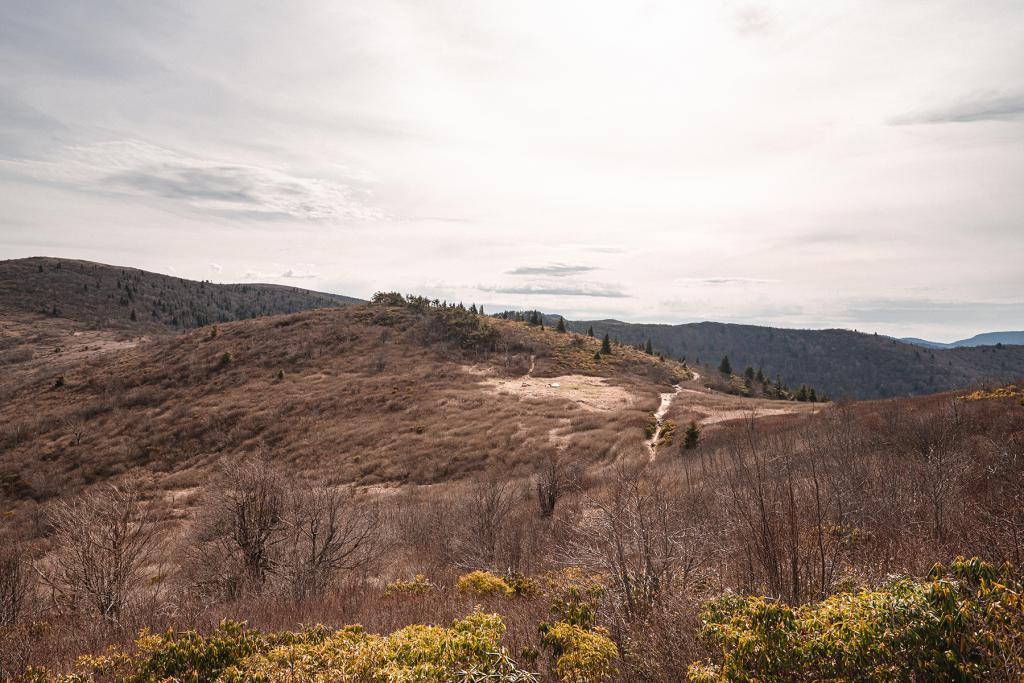 The hike down was extremely scenic, and I was glad we chose this direction to hike the loop. The last half of the section gets super steep with big wobbly rocks. I fell at one point, rolling my ankle and scraping up my leg. I was nervous my ankle would prevent me from enjoying the rest of our hike tomorrow, but it only slowed me down a little.
Enjoying the Campsite
Once we returned from our hike, we made dinner and watched the sunset from the far edge of the campsite. Once the sun started setting, the temperature really dropped, and the wind picked up. It was in the low 80s during the day and dropped to the mid-50s overnight.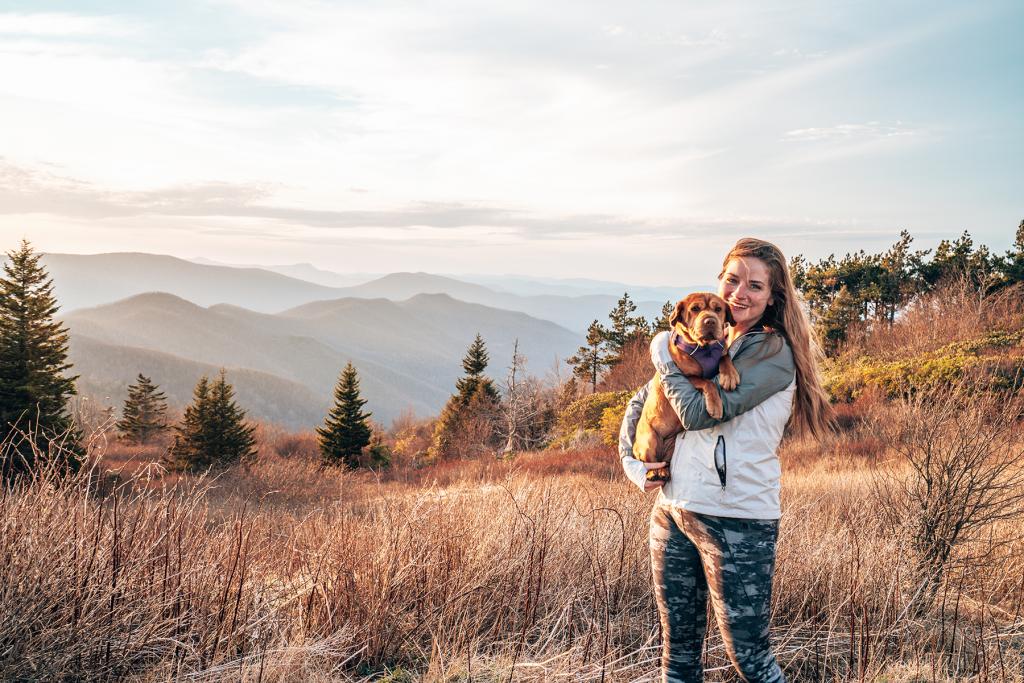 We ended up going to bed after the sun set because none of us had clothes warm enough to sit outside in. The wind was howling all night. The rainfly on our tent somehow got a little twisted and it would flap loudly every ten minutes or so waking us up. That really scared our dog, making it hard for any of us to get decent sleep.
Day Two
The sunrise in the morning made up for the lack of sleep. We opened one side of our tent and it was amazing getting to take in the views while still in our sleeping bags. We had coffee and oatmeal and then we did some yoga once it warmed up a bit.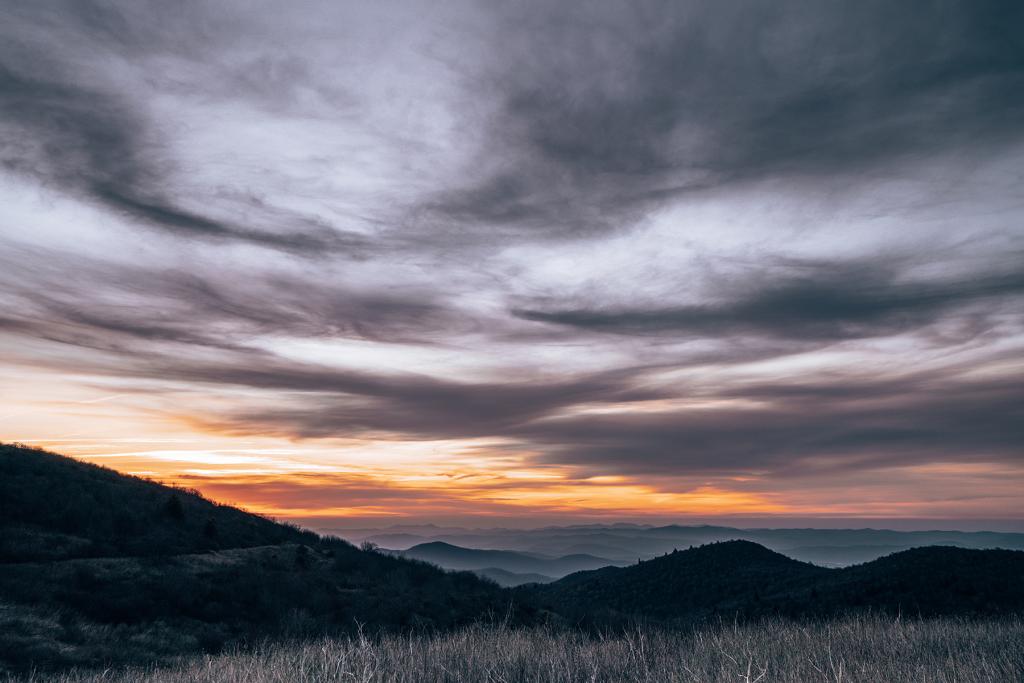 We took our time getting ready and packing up our tents. There was a flowing stream about 100 yards from the campsite that we refilled our bottles in before we left.
The remainder of the hike is along the ridgeline and has epic views the entire time. However, this means there is very little shade. Bring sunscreen and a hat! We all ended up getting sunburnt, me more than everybody else. It's not enjoyable to carry a heavy backpack on burned shoulders!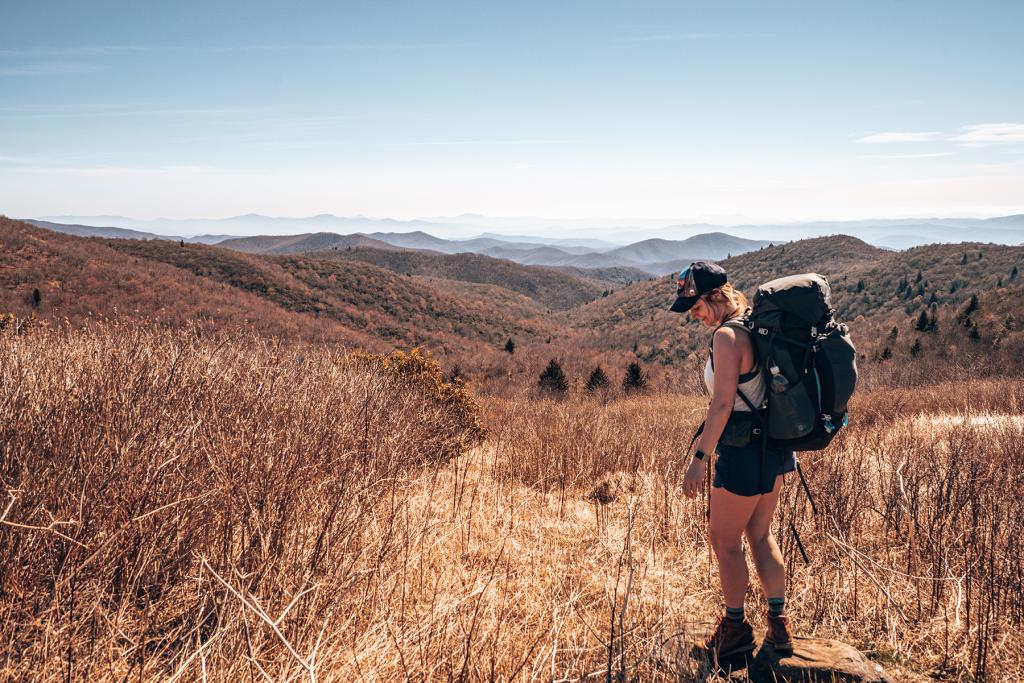 We slowly made our way up the trail. It is mostly uphill from the campsite to the top of a couple peaks along the way. We took our time and stopped for plenty of photo ops and food breaks.
Once we arrived at Black Balsam Knob, there were lots more day hikers around. Our plan was to camp here overnight and have about 1 mile to hike back the next morning before driving back to Atlanta. Lots of factors came into play that led to us deciding to drive back that evening. First of all, it was extremely windy where we were, so we knew we would once again not get a good night of sleep. We were also sunburnt, and I had a rolled ankle. Our dog had also recently started limping, so we knew she was ready to be done. One of us mentioned getting burritos and beers instead, and the rest of us were on board.
We hiked downhill to the cars, loaded up our stuff, and stopped in the small town of Sylva for dinner.
Tips
Bring long sleeves and long pants even if it's hot. It'll help with the scratchy bushes, prevent sunburn, and it'll likely get cooler than you expect once the sun sets.
Get All Trails for your phone. You can download the maps to use offline. The annual plan is about $15/year, so definitely worth it in my opinion. We used it several times to make sure we were on the right path since most of the trails were not well marked.
Be prepared for a very windy night.
Hiking boots are a necessity, especially if you're backpacking. There were lots of big, wobbly rocks that cause you to need all the support you can get. I can't help but think my ankle would be in much worse condition if I didn't have boots with great ankle support.
Bring enough water for your whole hike in case the streams are dry.
Bring a hat, sunglasses, and sunscreen, especially for the second half of the hike.
A bear canister is required for this area. You must store all food and toiletries in it overnight and place it away from where you are sleeping. Black bears are prevalent in this territory.
Overall Thoughts
This is one of the most beautiful hikes I've ever done! It has been on my bucket list for several years and I'm so happy I finally got to do it. There are so many other trails in this area I would like to check out in the future as well. I will be back!
---