Carvers Gap
The Grassy Ridge Bald hike starts from Carvers Gap, a popular trailhead along the Appalachian Trail. Carvers Gap is near the border of North Carolina and Tennessee, about 1.5 hours north of Asheville. There is a fairly large parking lot at the trailhead. Ashley and I arrived around 2:30pm on Friday and there were plenty of parking spots. However, when we came back Saturday morning, most of the spots were taken!
The Grassy Ridge Bald Hike
From Carvers Gap, follow the AT north (white trail markers), starting across the highway from the parking area. The trail enters a wooded area almost immediately for about 0.3 miles. Once you leave the woods, the rest of the hike has amazing views of the surrounding mountains. The first stop we made was at Round Bald at 0.6 miles from the start. The elevation climbs steadily up to this point. It was a hot day so we let the puppies rest a bit while we all drank some water. Round Bald is a beautiful stop to take some pictures. We noticed there were a few tents set up here, which would be a great spot to camp if you didn't want to hike very far.
From Round Bald, we continued onwards to Jane Bald. The trail descends a bit and gives you a little break from climbing before you ascend again. You can see Grassy Ridge Bald to the east of the AT. We stopped again just before Jane Bald to rest a bit and take some more photos.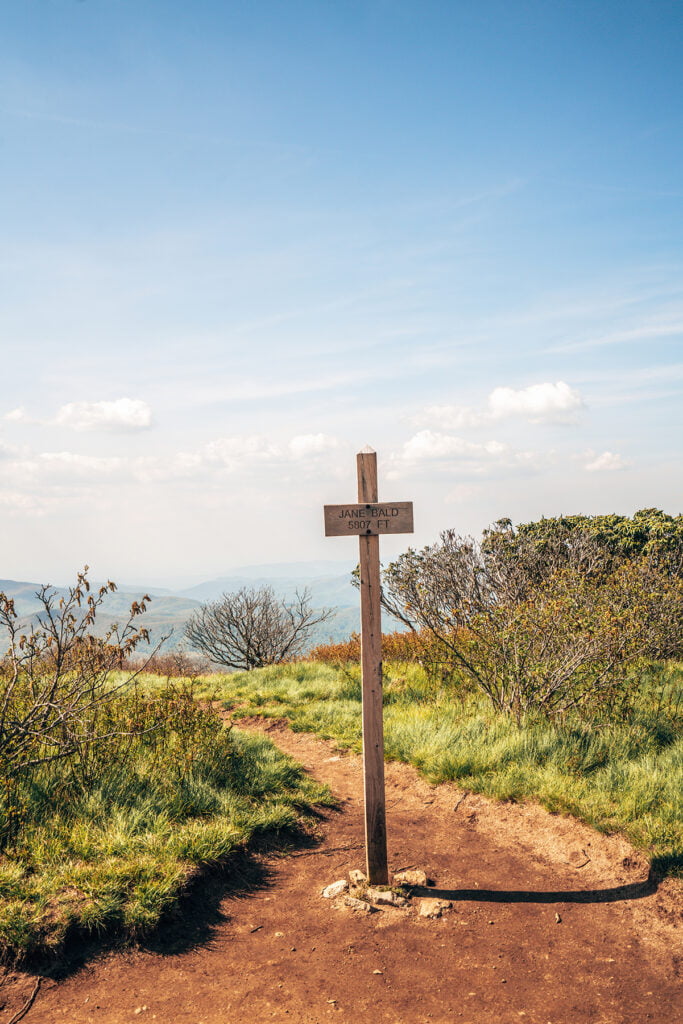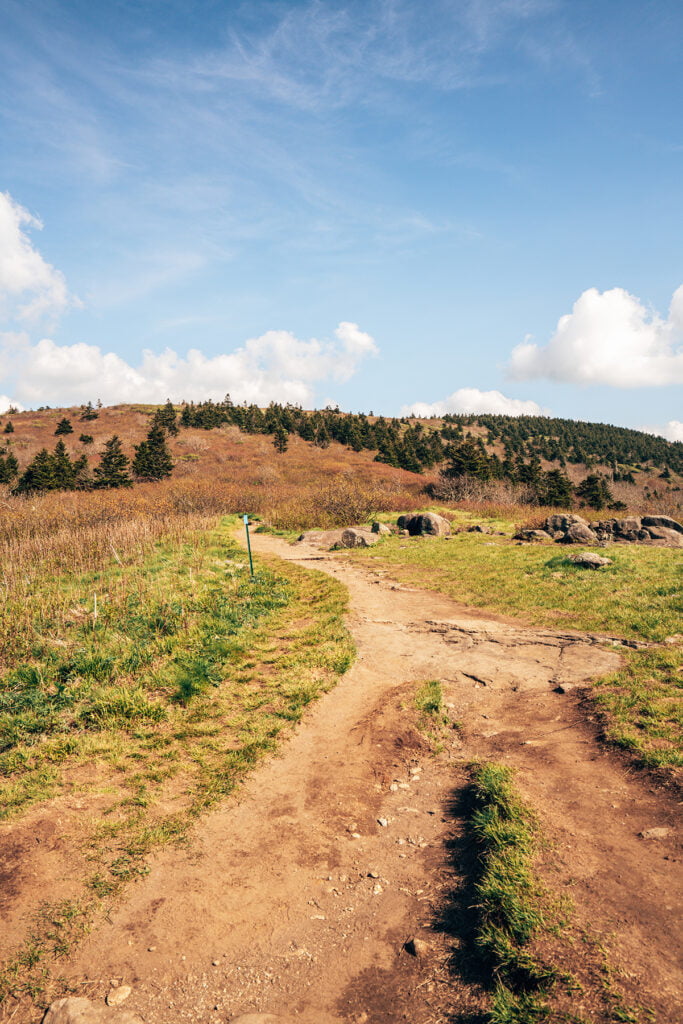 The AT intersects with Grassy Ridge Bald trail at 2 miles. There is an obvious intersection with a blue trail marker and a sign. Turn right and follow this trail for another 0.5 miles. The trail narrows and will go through head-high bushes. It's also very rocky along this part, so be careful with your footing. The trail ends at Grassy Ridge Bald, at an elevation of about 6100 feet.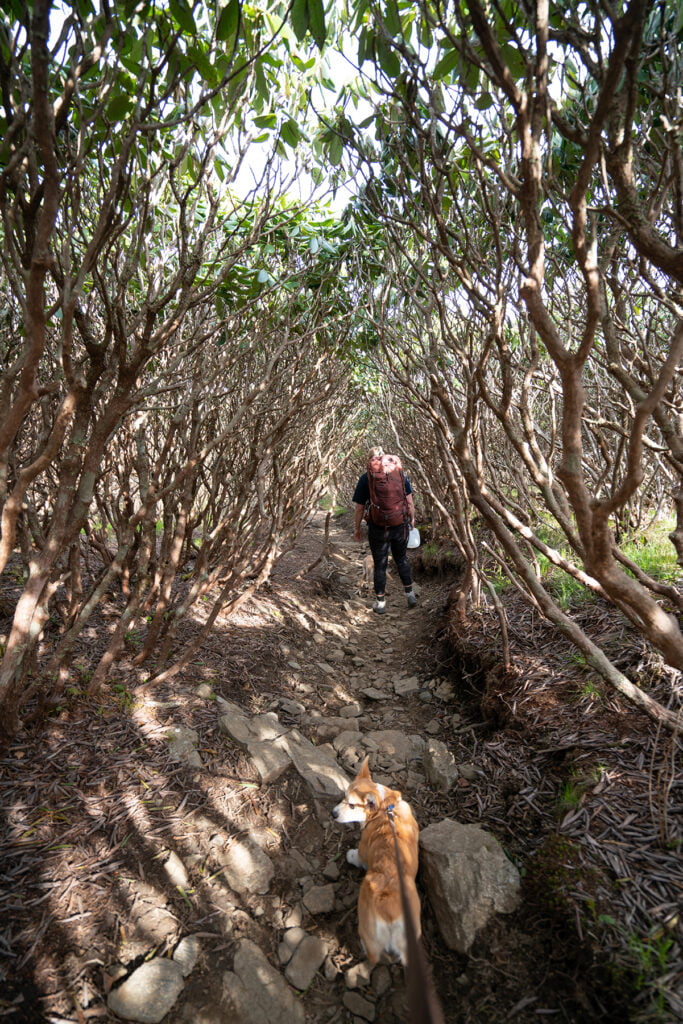 Camping at Grassy Ridge Bald
You will know you've reached your destination because there are some large rocks with a big plaque on one of them. Views span 360 degrees. The bald is bigger than I expected. There were tons of spots you could camp and have a little privacy from others. From the big rocks, we headed east and found a perfect site overlooking the mountains to the southeast. There was a fire ring already set up along with a level site that looked like many people had camped here before.
We arrived at the campsite around 5pm, which left us plenty of time to set up our tents, make dinner, and take photos of the sunset before it got dark around 9. As we were hanging out, we noticed many more people arriving and we were happy we got there when we did to claim our spot. We ended up going to bed around 9:30. It got much colder than we expected. It was about 20 degrees colder than Asheville overnight for reference.
The Next Morning
I woke up just before sunrise and unzipped my tent to find the prettiest pink sky. I got up to take some pictures and then made tea and oatmeal for breakfast. We let the dogs run around and play while we relaxed a bit. I took the drone out and then we packed up. The hike back down went much quicker since it was a lot cooler and mostly downhill. We reached our car around 10:30am.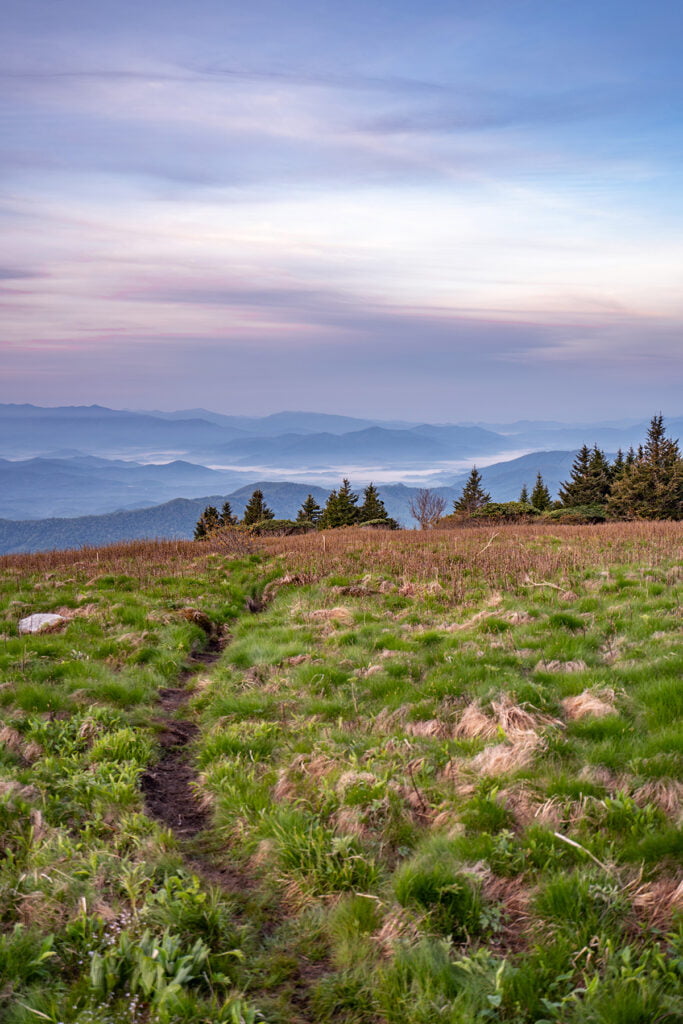 Linville Falls Winery
Ashley and I decided to reward ourselves for completing our hike with a trip to a nearby winery. It's about a 45 minute drive southeast of Carvers Gap. I loved this place! Their wine was really good and reasonably priced. Plus they let us keep our glasses! There were tons of outside tables that were mostly covered with a shaded canopy or umbrellas. They are dog friendly and even brought out a big water bowl for our pups. There was a food truck there when we arrived around 11:30am. I highly recommend it!
From the winery, we headed south to spend a day in the Asheville area. I definitely recommend this hike. It would be a great day hike too if you aren't interested in camping at the top.
Tips
-There is very little tree coverage here, so bring sunscreen, a hat, and sunglasses!
-It is a lot colder here than in Asheville, due to the much higher elevation! Asheville's elevation is around 2100 feet and Grassy Ridge Bald is at 6100 feet.
---
Check out the AllTrails description here.
You may also be interested in: