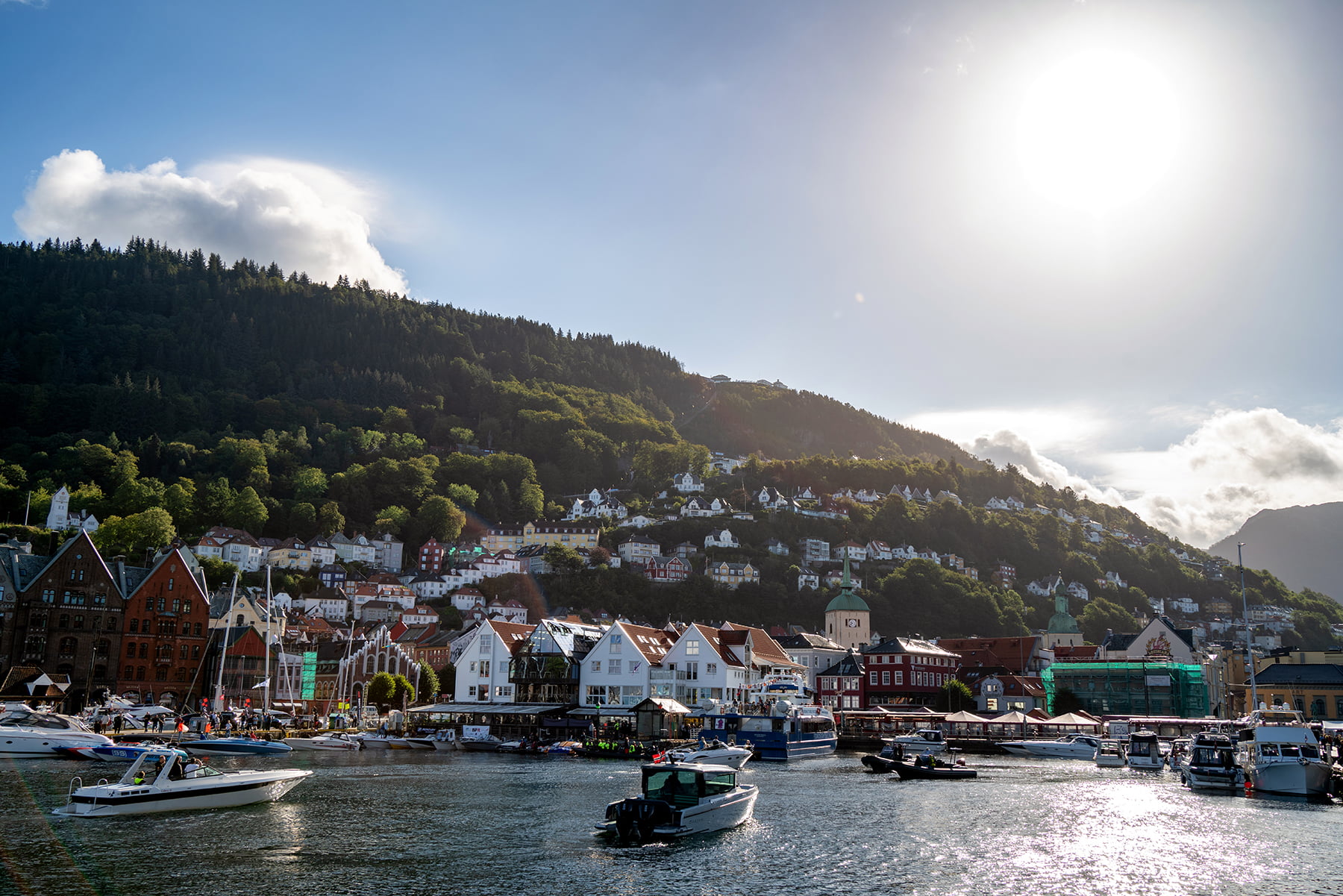 Our last three days in Norway were spent in and around the city of Bergen. Bergen is the second most populated city in Norway (after Oslo), and is perfectly placed on the western coast, close to many fjords. We were mainly interested in seeing the fjords, but we wanted to make sure we had at least one full day to explore the city.
Day One
We woke up in our hotel, Clarion Hotel Admiral, very early before a day trip to Sognefjord.
Sognefjord Day Trip
Sognefjord is the longest and deepest fjord in Norway. Our destination was about three hours from Bergen, so we started our drive at 6:30am. Our day consisted of a boat tour from the village Flåm to Gudvangen, a viking village tour, and a lookout of the fjord from the top of a nearby mountain. This was one of my favorite days of our trip and I highly recommend visiting this area! Read about our day here.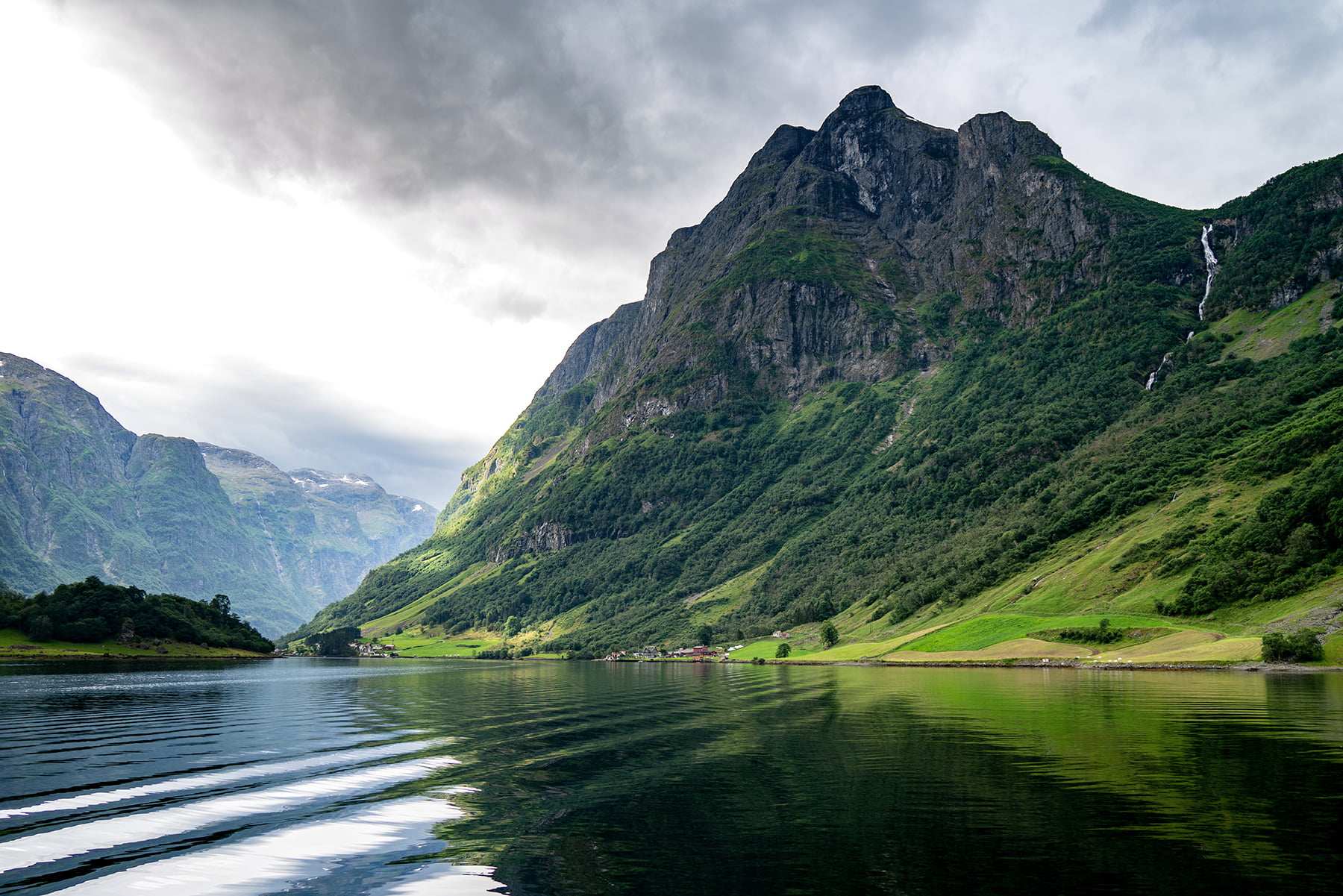 Eat at the Fish Market
We arrived back in Bergen around 6:30pm and were very hungry. After trying to get a table at a couple restaurants near our hotel and getting rejected because they were full for the night, we decided to try the fish market, which was a spot we had wanted to try anyway. There are several vendors with restaurants along this market and most of them had available tables when we arrived.
We picked one with a menu that all of us liked and were seated right away. They had fur blankets on the chairs and heating lamps to keep us warm since it was chilly out. I decided on the fish soup, which was awesome. This is a great spot to try when in Bergen!
Day Two
Our second day in the area would be spent in town. We were excited to see what Bergen had to offer.
Breakfast at Hotel
Our hotel offered a huge buffet breakfast with lots of tasty options. We arrived at 8, the same time as a large tour group that was staying at the hotel, so it was hard to find a table. The food was delicious and was included in the price of the room.
Fløibanen Funicular
We started our day of exploring with a funicular ride to the top of Fløyen mountain. The Fløibanen Funicular starts right in town and was only a five-minute walk from our hotel. We arrived at the ticket line around 9am and there was already a small line. After a short wait, we bought tickets for 150 NOK (~$15 USD) each and waited a few minutes to board the funicular. Note that the line on the left is to buy the tickets from a person. The line on the right is to buy tickets from a kiosk, and will move more quickly. The journey is a short ride to the top and the views are amazing once you arrive.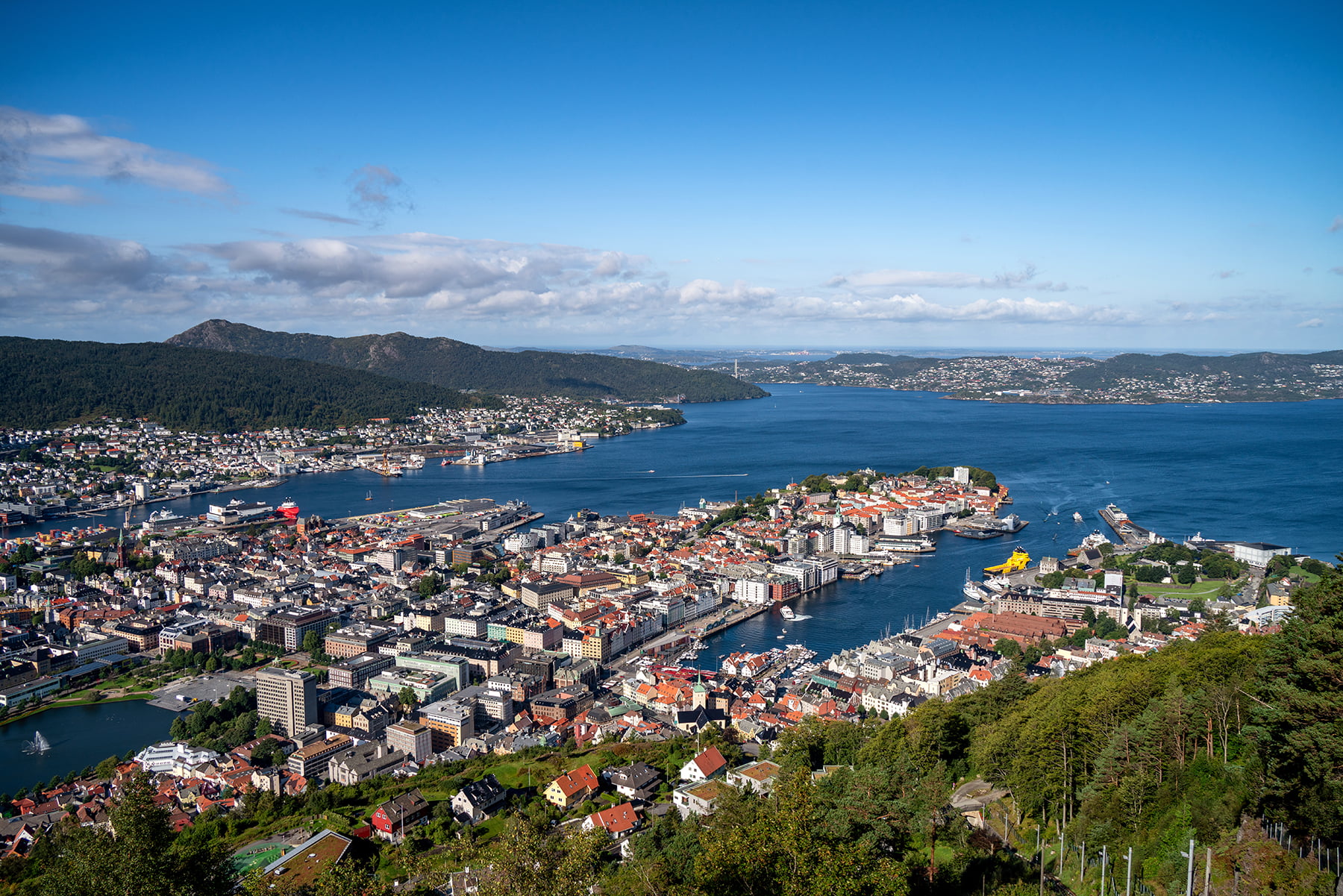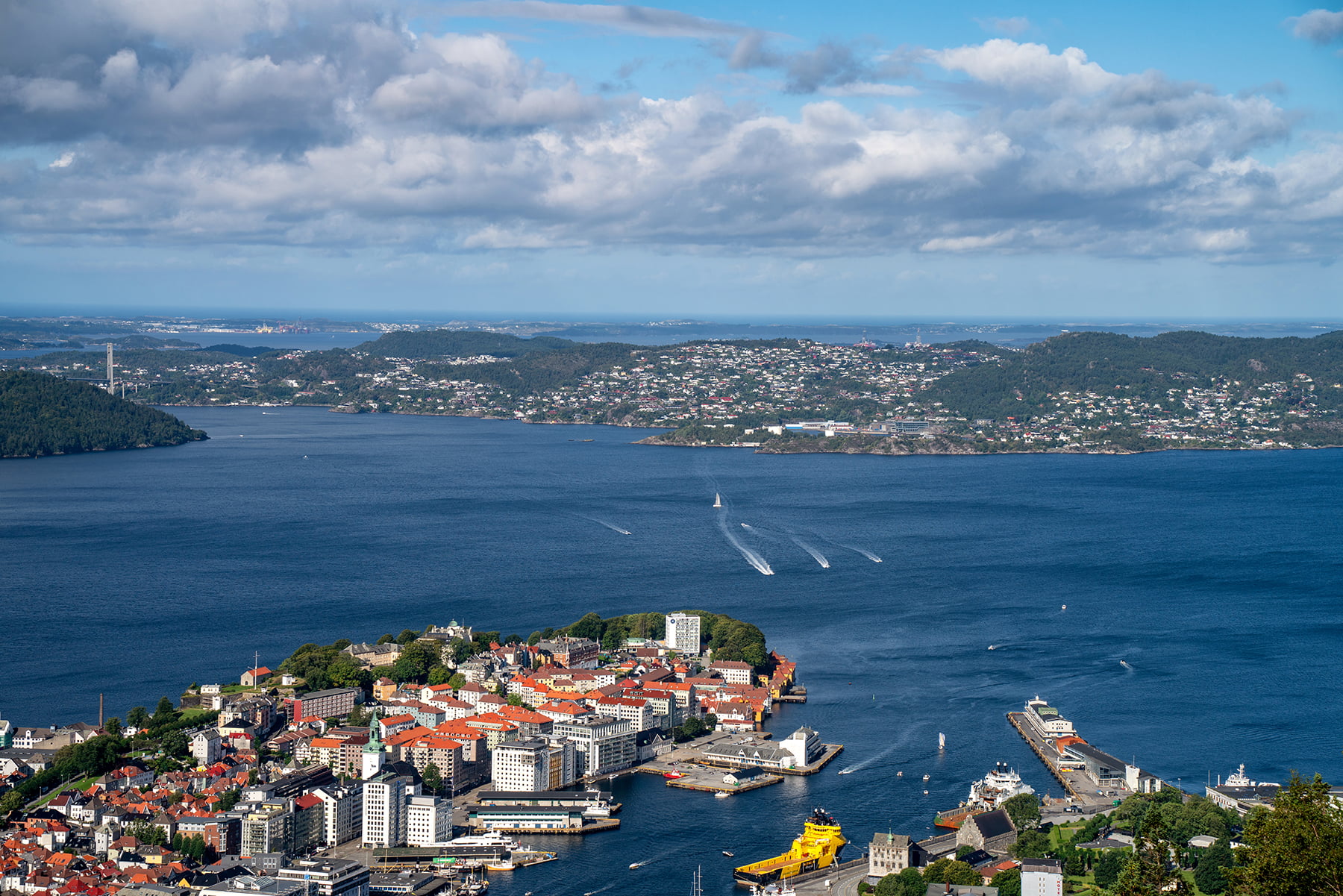 The mountain looks out over the Bergen Harbor and surrounding mountains. Once at the top, there are several hiking trails you can choose to walk on, and there are bathrooms and a gift shop as well. We spent about 30 minutes wandering around, but weren't dressed for a hike so took the funicular back to town.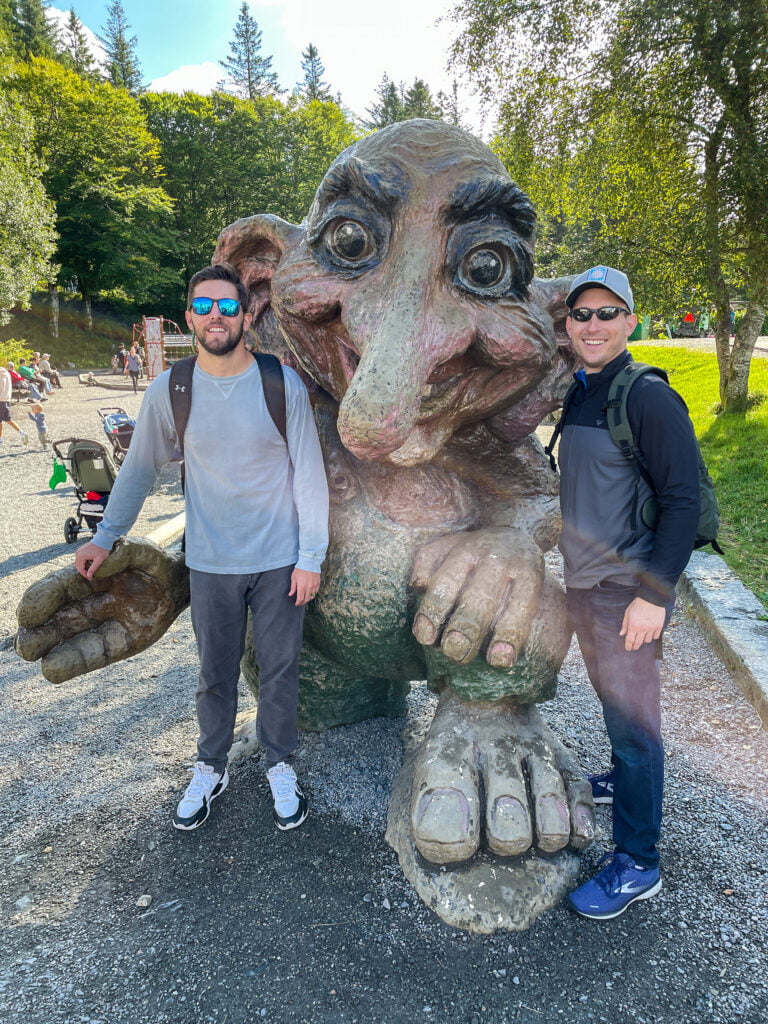 When we arrived back at the base around 9:45, the line was LONG! I was so glad we got there when we did.
Walk Around Bryggen and Shop
The funicular is right next to Bryggen, the historic district next to the harbor. We checked out several shops in this area and wandered around until lunch time.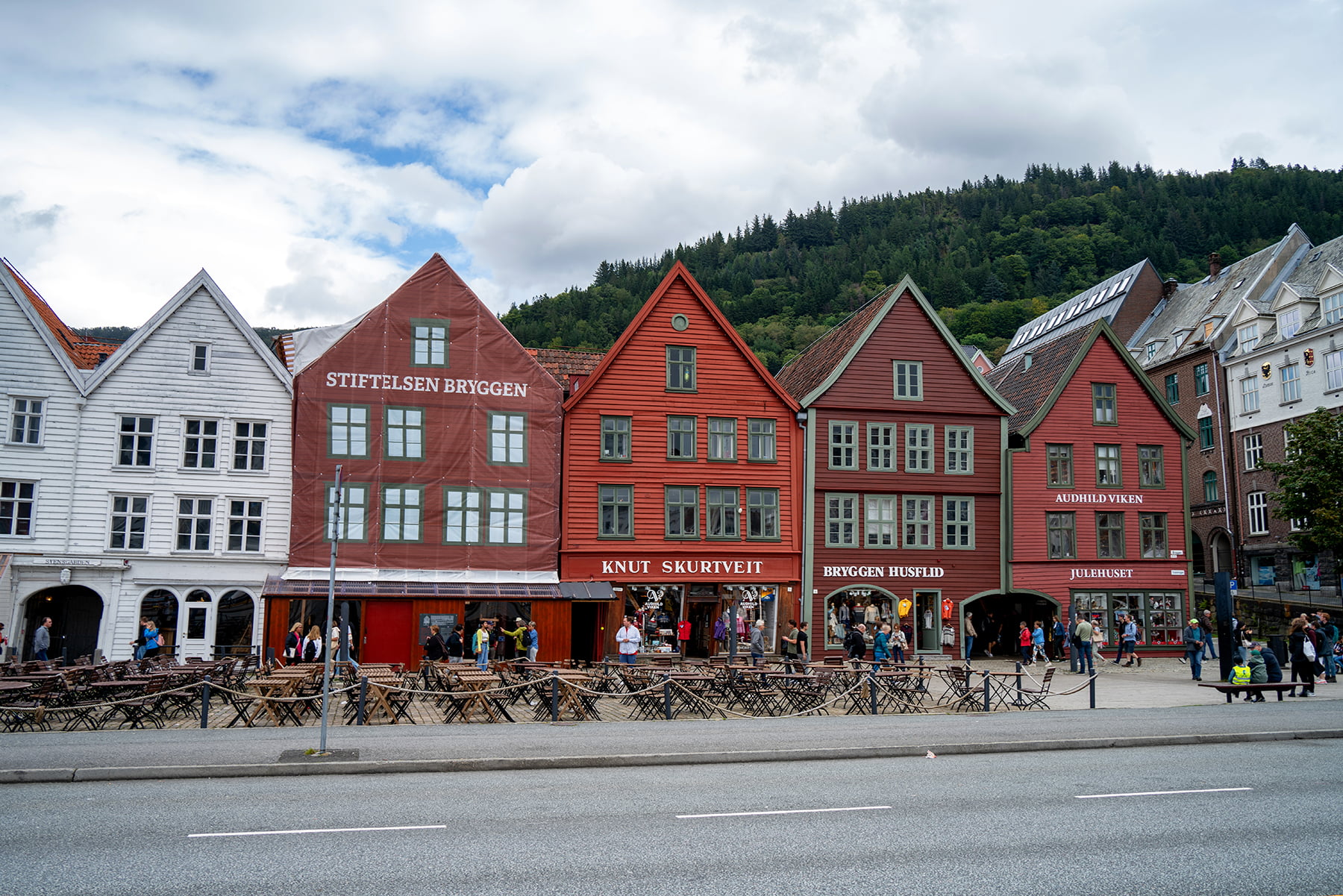 Eat Lunch in Bryggen
We picked a restaurant along the harbor that had lots of open seating and standard bar food. We were pretty hungry so it sounded perfect for us. After that, we got ice cream.
It looked like it was about to storm, so we headed back to the hotel for a little R&R time and to wait out the rain.
Explore the City Centre
We wanted to check out the city centre that was not quite as touristy as right by the harbor. We wandered around and enjoyed the architecture and had fun people watching.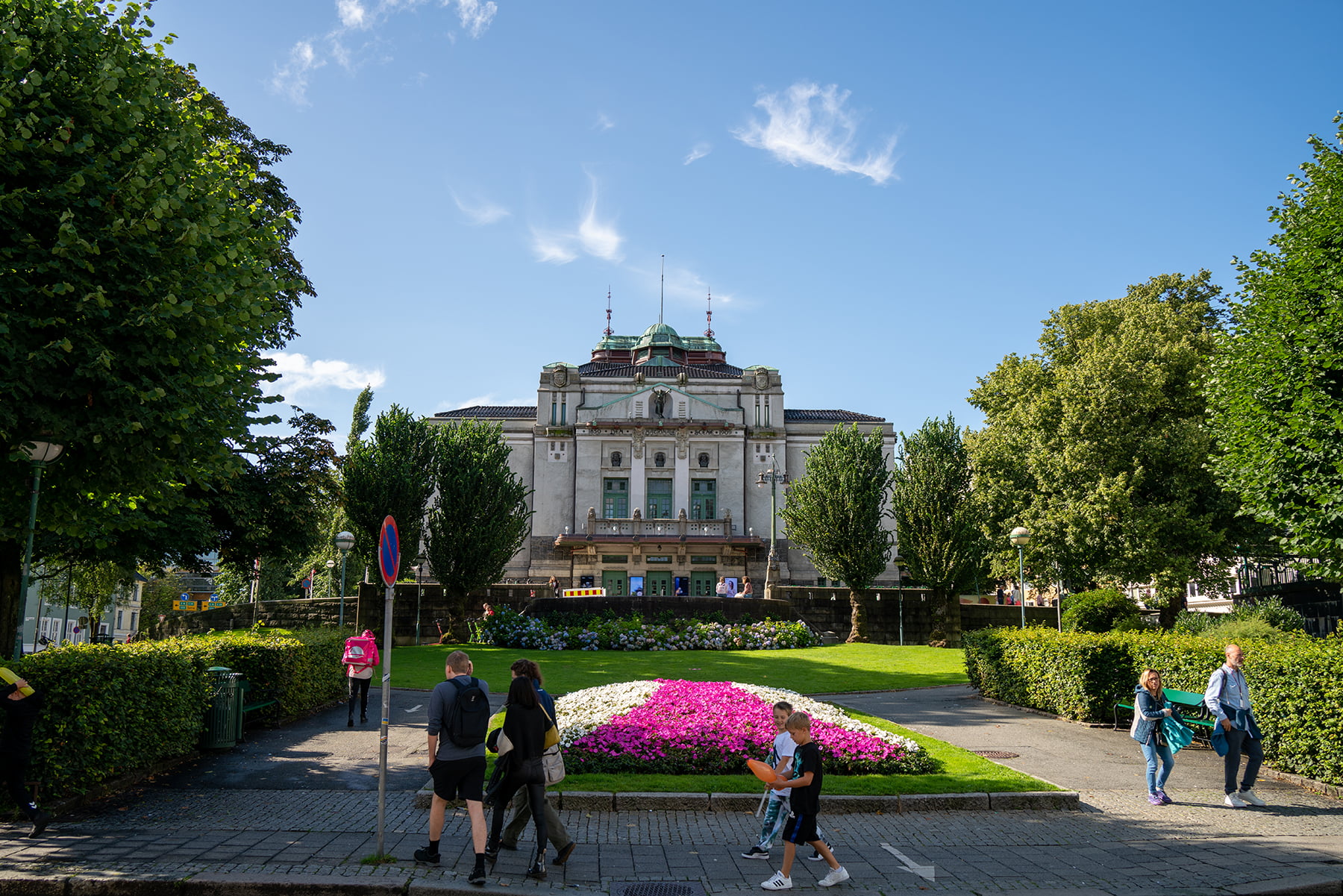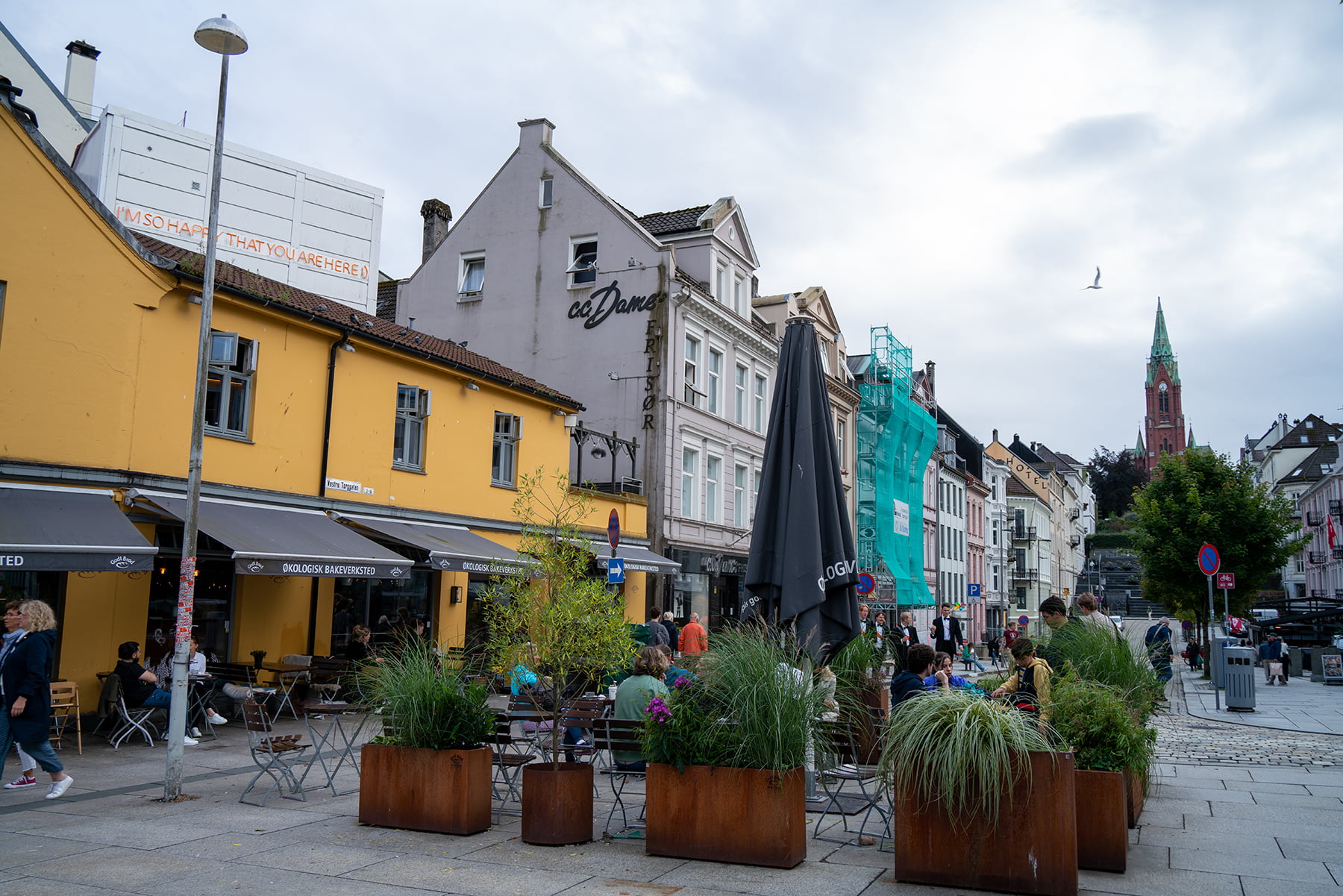 Have a Drink at Henrik
Before dinner, we got a beer at a super casual bar called Henrik. We enjoyed the chill vibe and being the only non-locals there.
Dinner at Pingvinen
I wanted to try some traditional Norwegian food for dinner, so we ate at a restaurant called Pingvinen. We made reservations the previous night, and were glad we did since it was fully booked when we arrived. Our waiter was very friendly and the food was delicious. Mike got a whale steak and I got plukkfisk (a mixture of cod, mashed potatoes, and bacon). It was fun to try something new! We finished it off with a raspberry blondie for dessert.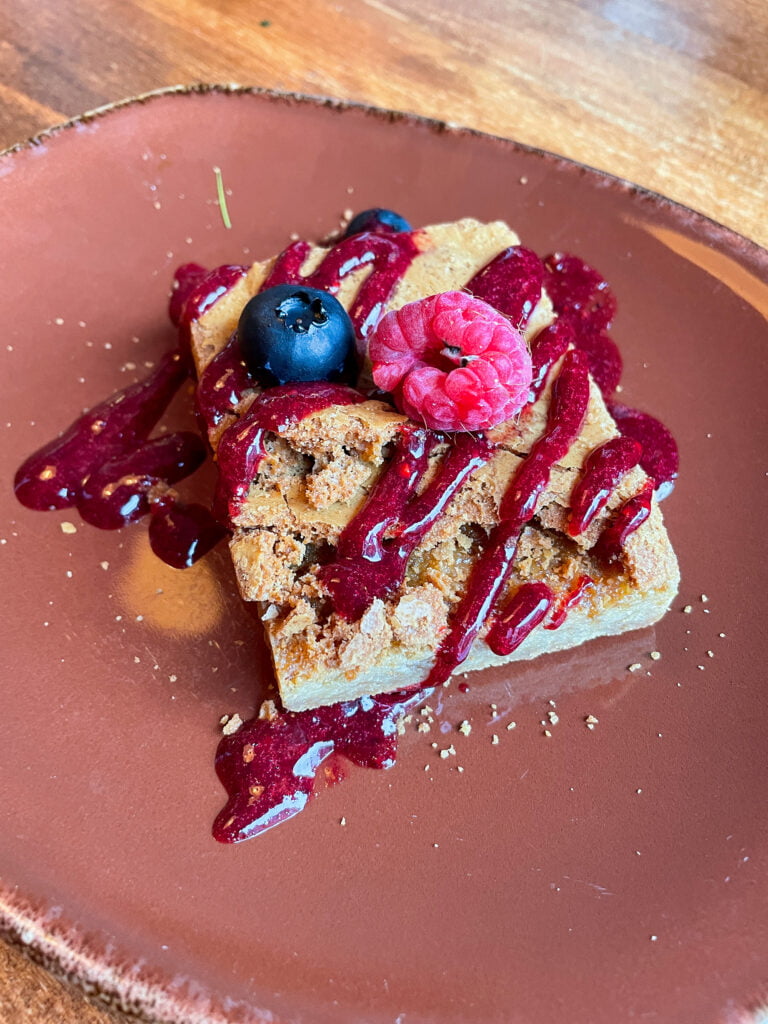 Watch a Game at Fotballpuben
Nat is a big Arsenal fan, so we watched the game at a nearby pub called Fotballpuben. We enjoyed the atmosphere and how much the fans were into the games.
Day Three
We started our last day with breakfast at the hotel again before heading out on another fjord day trip.
Hardangerfjord Day Trip
The fjord we visited on this day was Hardangerfjord, the second longest fjord in Norway. This drive was shorter than the last, at only 1.5 hours. We drove to Norheimsund (the meeting place) and took a RIB tour of the fjords and waterfalls. We really enjoyed our day! After the boat tour, we stopped at a waterfall you can walk underneath. Read about our day trip here.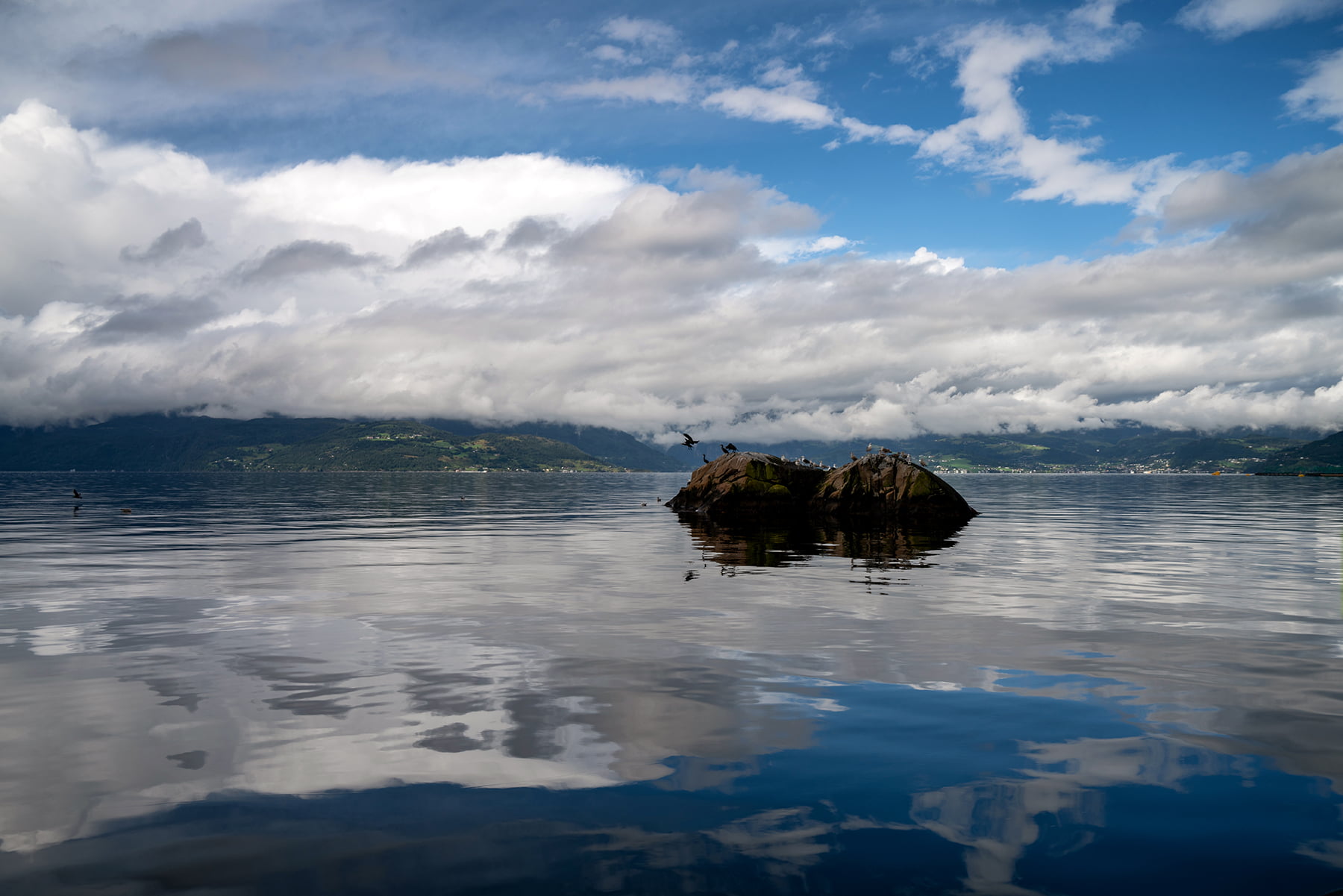 Dinner at Cartel's Latin American Kitchen
We were getting tired of seafood, so we opted for Mexican at Cartel's Latin American Kitchen. The food and margaritas were delicious but small for the price. We made a reservation ahead of time to secure a spot.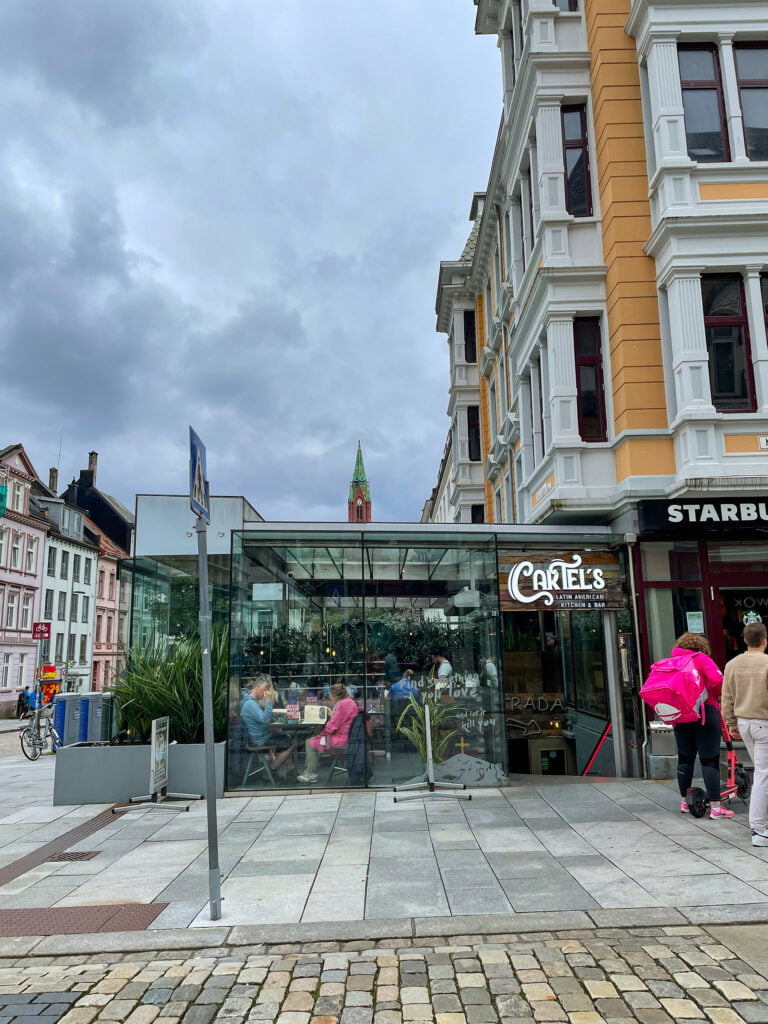 I thought Bergen was lovely and a perfect home base for day trips to the surrounding fjords!
---
YOU MAY ALSO BE INTERESTED IN:
Two Epic Hikes in the Lofoten Islands
Three Days in the Lofoten Islands
Day Trip to Sognefjord from Bergen
Day Trip to Hardangerfjord from Bergen
Logistics of a Trip to Norway
28 Photos That Will Make You Want to Visit Norway