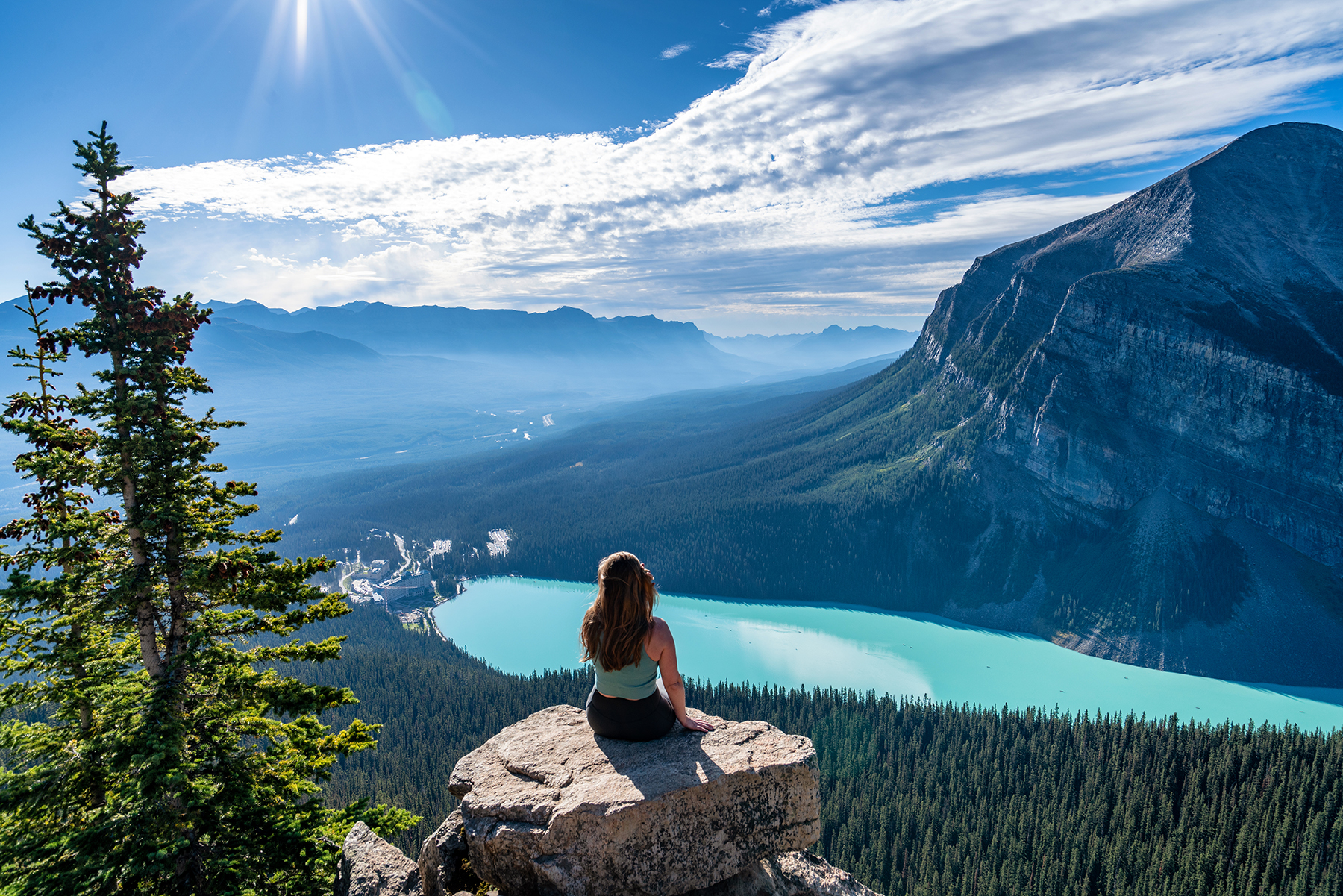 Banff National Park is one of the most beautiful places on Earth. I had been there before on a hiking and camping trip with some friends, but this time I went on a 10-day adventure through the Canadian Rockies with my fiancé Mike and his parents Denise and Joe. We stayed in the Banff area for four days of our trip.
We flew from Atlanta to Calgary on a Thursday night in August and stayed at the Marriott in the Calgary airport. Depending on flights, you could do it this way or fly earlier in the day and go ahead and drive to Banff. The drive from Calgary to Banff is 1.5 hours.
Day 1
We got up Friday morning and walked to the Hertz rental counter at the airport. It was great to stay at the airport since we got in on the later side the night before. We started the beautiful drive and headed straight to the gondola in the town of Banff. We purchased the Pursuit Pass ahead of time and had scheduled our gondola tickets for 10:30am.
Banff Gondola
We arrived at the gondola parking lot, which is way too tiny for the number of visitors there. We stopped to talk to the parking attendant and told them we already had tickets and he let us through. There were several other cars circling the small lot, all waiting for a spot. We made several trips around, but finally snagged one! We were about 15 minutes late for our ticket time, but had no problems getting checked in.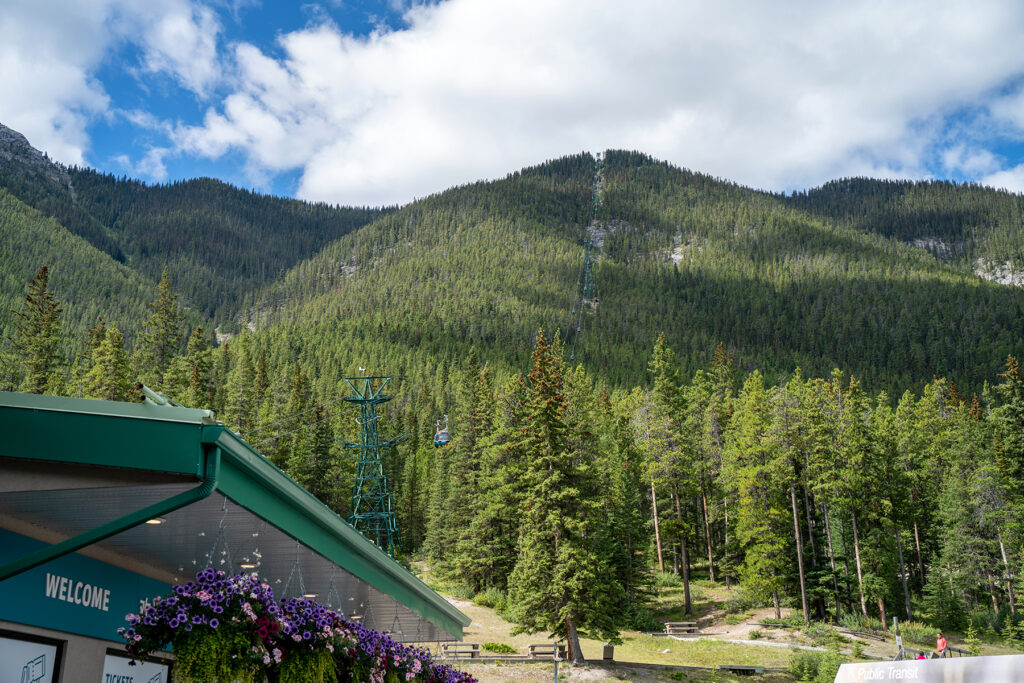 After a short wait in line, we boarded the gondola and took the eight-minute journey to the top of Sulphur Mountain. The views kept getting better and better as we climbed. The top was quite a bit colder than it was at the base of the gondola. I was glad I had my jacket! We walked on the Sulphur Mountain Boardwalk along the top, which is about 0.4 miles long and ends at Sanson Peak.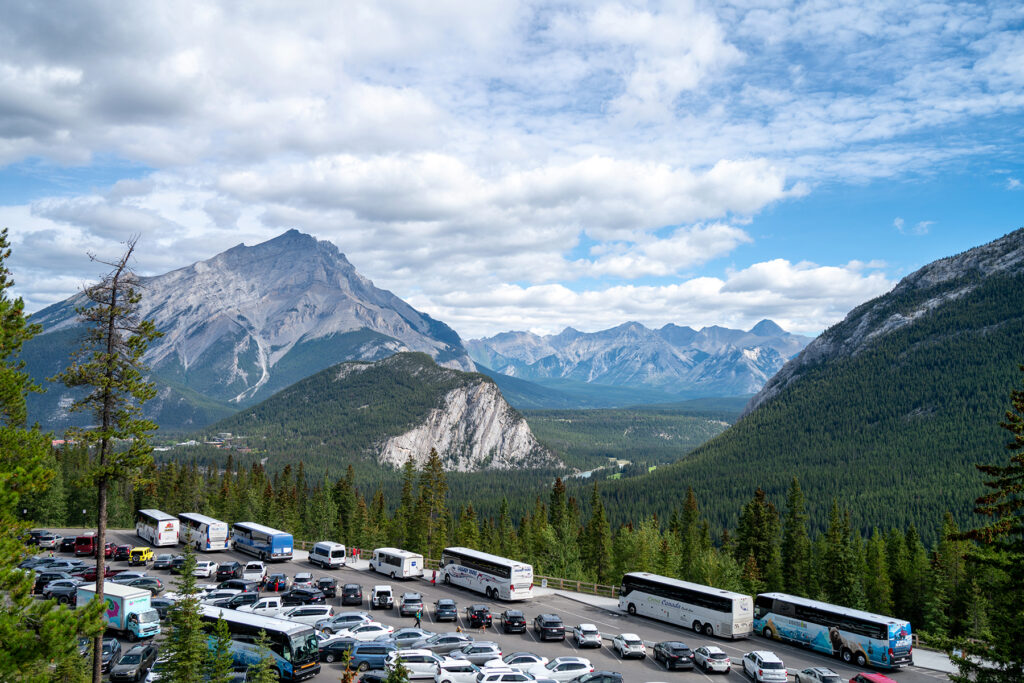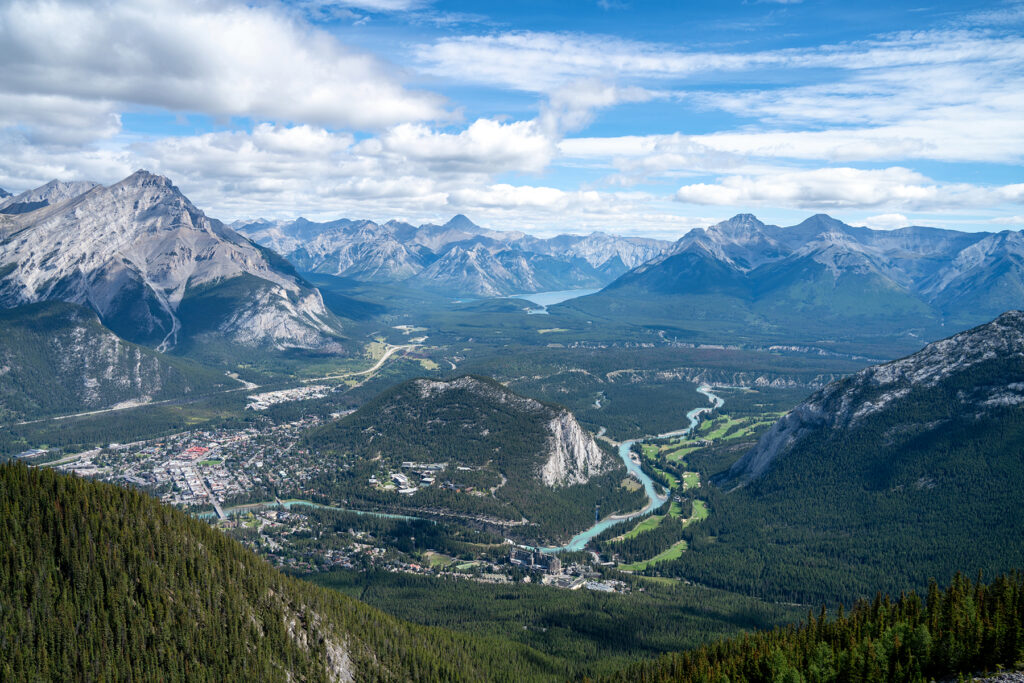 We had tickets to take the gondola back down at 12:10pm, but we were ready a little sooner than that, so we headed down early. From the gondola, we drove about ten minutes into town.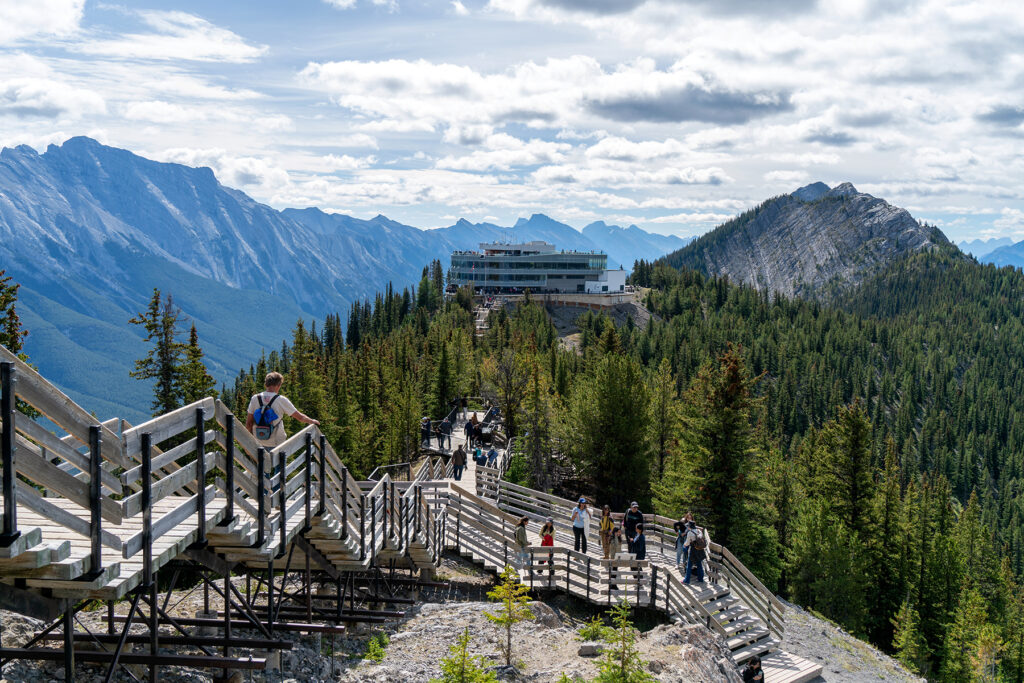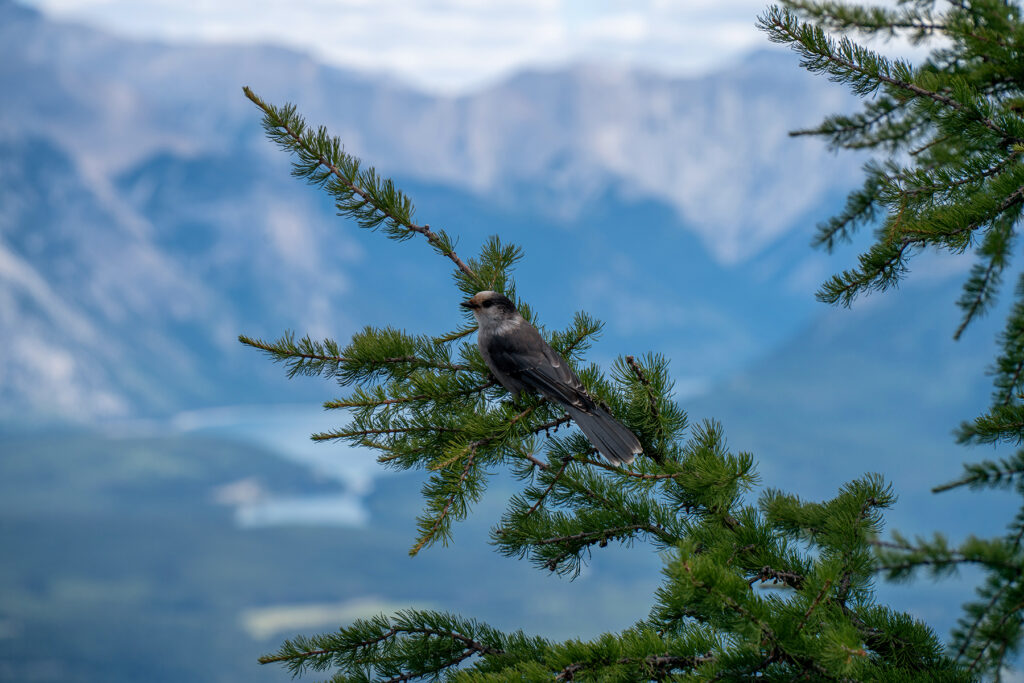 Parking Downtown
We parked at the Bear Street Parking Deck, which has free parking for floors 2 and above. There were still several spots on the top of the deck. This parking deck is in a perfect location, right next to all the shops and restaurants.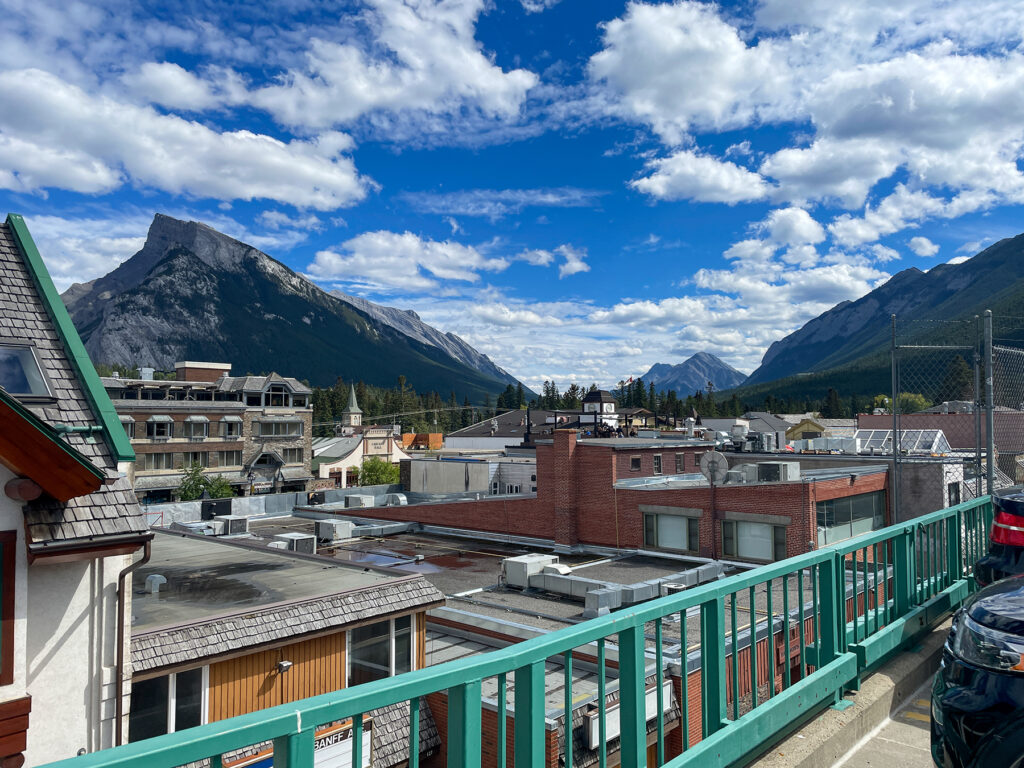 Lunch at Park Distillery
We headed straight to lunch at Park Distillery. It was a gorgeous day, so we sat outside on their front patio. I had the brisket quesadilla, and it was one of the best quesadillas I've ever had. Everyone loved their meals, and we loved the vibe of the restaurant as well.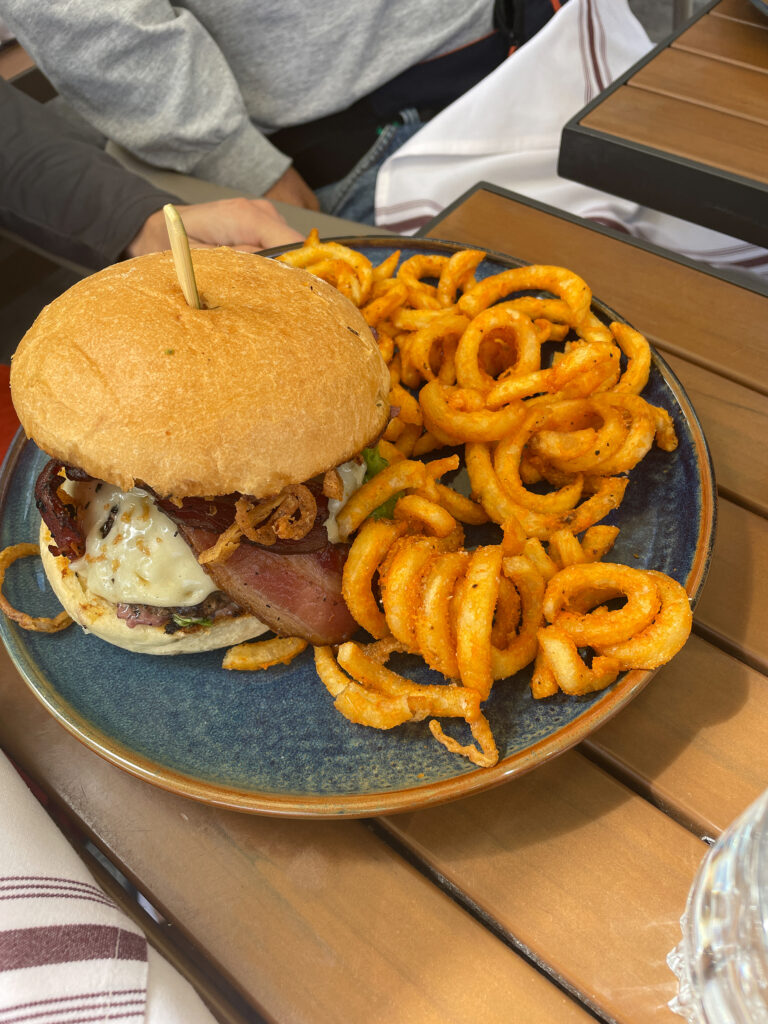 Souvenir Shopping in Downtown Banff
After lunch we wandered around the downtown area, stopping in a few souvenir shops along the way. There were plenty of shops to choose from. We also stopped by the Banff Convenience Store to buy a can of bear spray. I wanted to buy it here because they will buy it back from you if you don't use it.
Gelato at BeaverTails
Mike and I got gelato at BeaverTails. They had birthday cake flavored gelato, which we hadn't had before. It was delicious!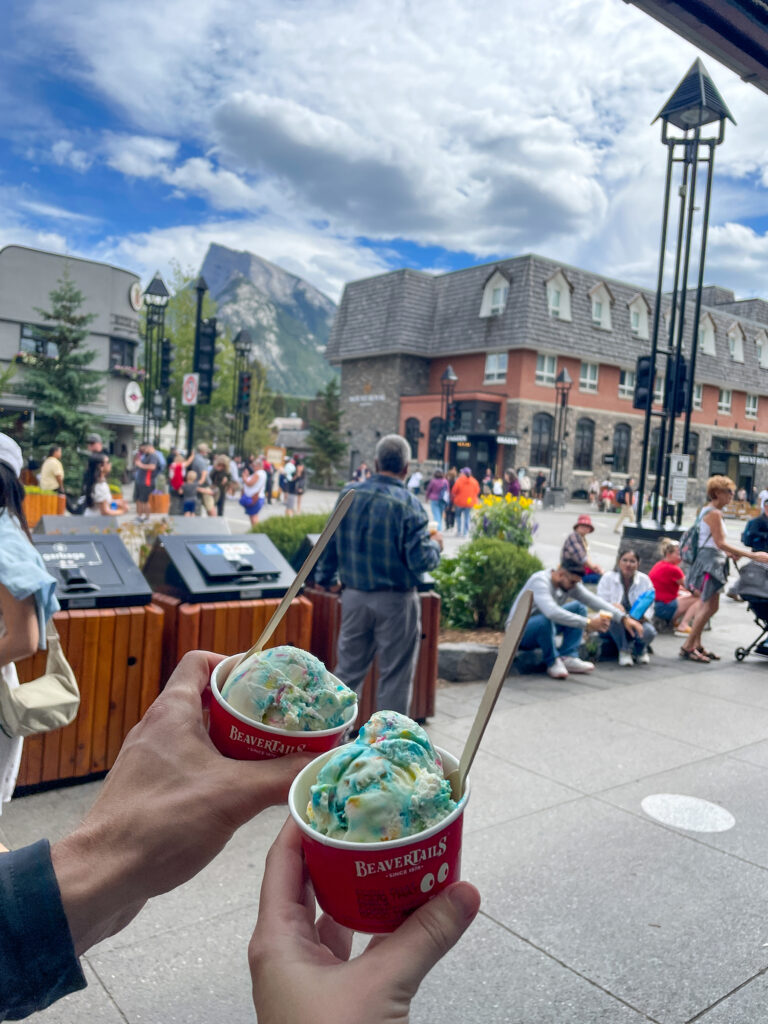 Bow Falls Trail
Next, it was time to walk off some of our lunch along the Bow Falls trail, just south of downtown. The trail goes from the pedestrian bridge at the southern edge of the downtown area and crosses the Bow River. The 0.6-mile trail heads south and ends at the Bow Falls viewpoint. There was an outdoor art exhibit set up along the trail while we were there, featuring over 65 displays. You'll also pass the Fairmont Banff Springs towards the end of the trail, which is gorgeous and looks like a castle!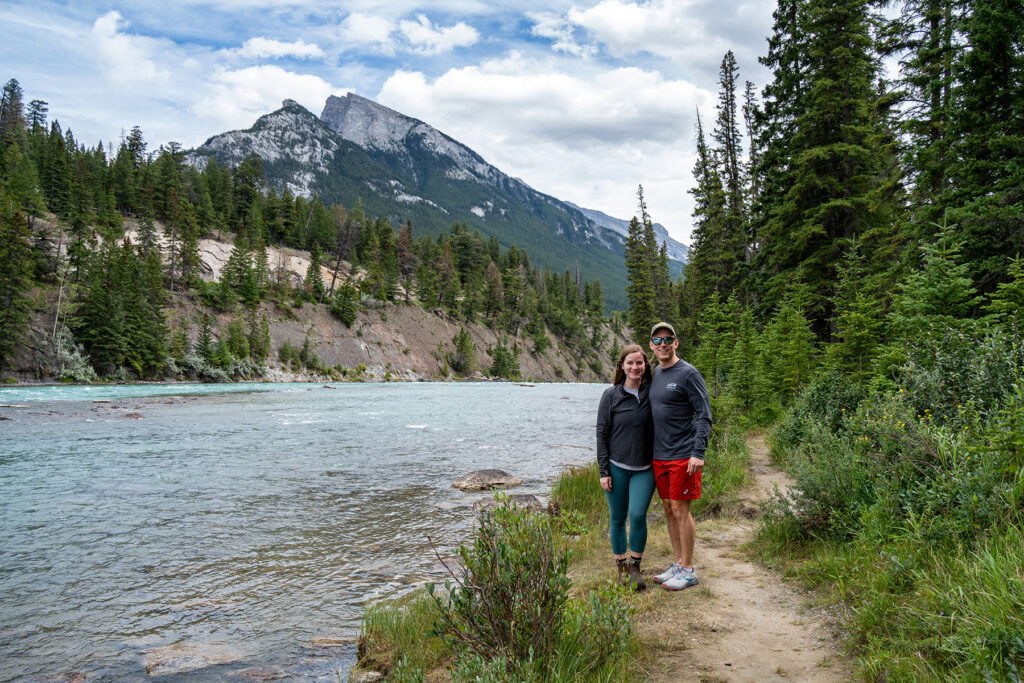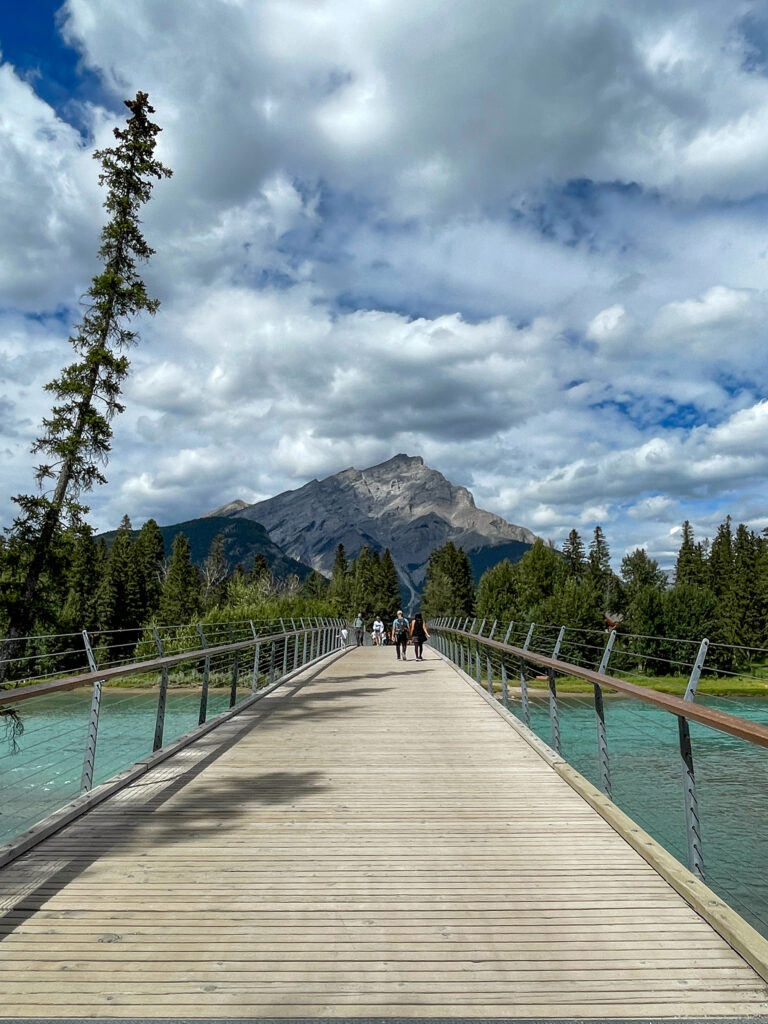 Check into Airbnb in Canmore
We were able to check into our Airbnb after 4pm, so we planned to get there around then. We were staying in Canmore, about 15 minutes south of the town of Banff. It was nice to get unpacked and settled for a couple hours before heading to dinner in Canmore.
Dinner at The Wood Restaurant in Canmore
The Wood Restaurant was one of the highest rated restaurants in town, so since it was a Friday night, I'd made a reservation for us ahead of time. We were seated right away on their outdoor patio. It was a gorgeous day, and we had an amazing view of the mountains in front of us. We all loved our food! Joe and I split the wonton nachos and the buffalo chicken poutine. The nachos were amazing! The poutine was just okay.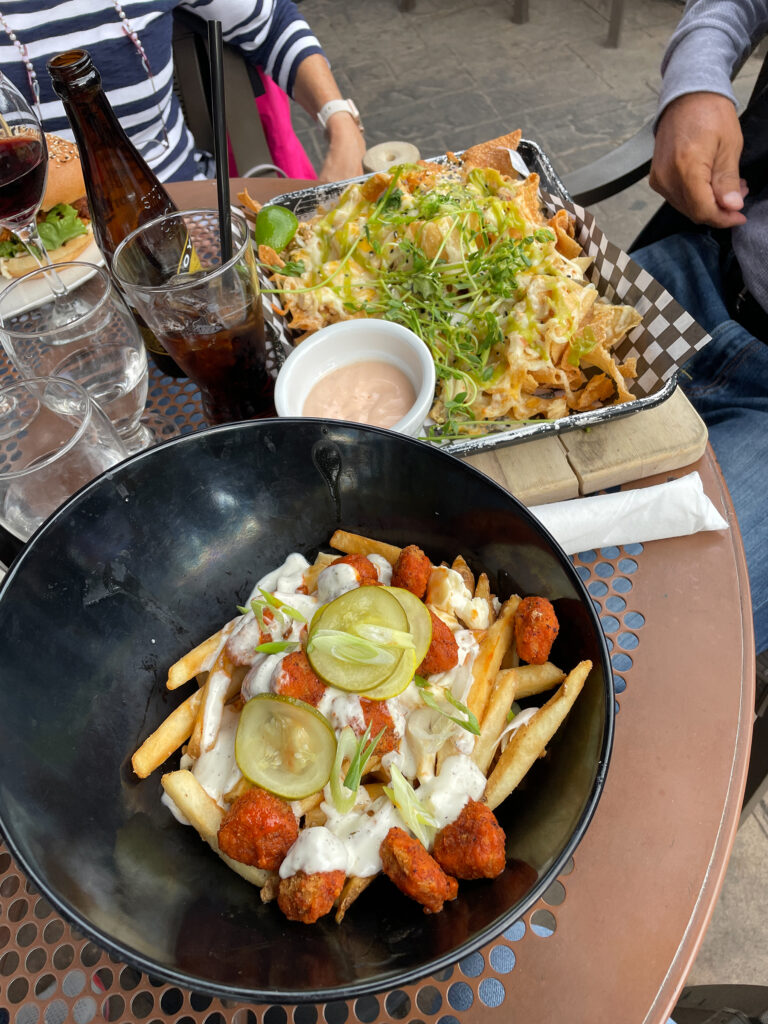 Grab groceries in town at Safeway
On our way back to the Airbnb, we grabbed some groceries at the Safeway in town. We got food for breakfast, a couple lunches, snacks, and drinks. I always love getting some groceries when I travel to help save some money!
Day 2
We got to sleep in a little on our second day (by my standards anyways). Our first stop of the day was a boat tour of Lake Minnewanka. This tour was part of our Pursuit Pass. I'd read that the parking lot at Lake Minnewanka fills up quickly and to get there early. For that reason, I chose the first tour of the day.
Lake Minnewanka Boat Tour
We arrived at the lake around 8:30am. After walking around and taking some pictures, we checked in with the attendants who gave us a seating assignment for the boat. We then stood in line and waited to board. The boat left promptly at 9am and was out on the water for one hour. The lake is very long, so they only took us about halfway down before turning around. The lake and surrounding mountains are very pretty.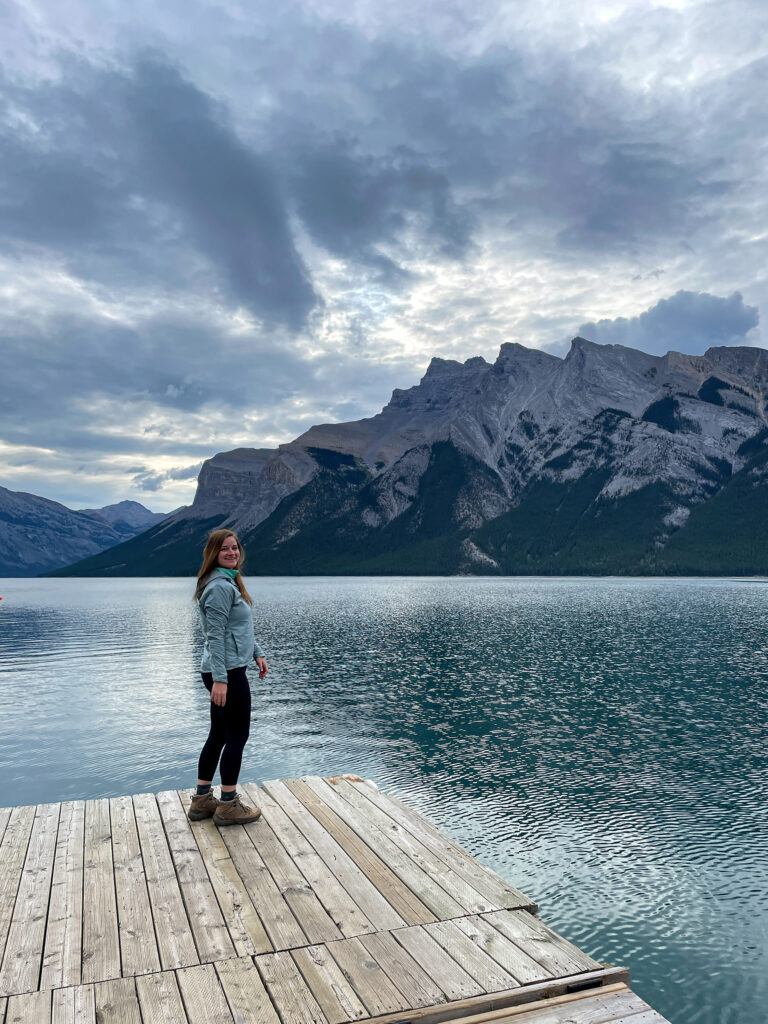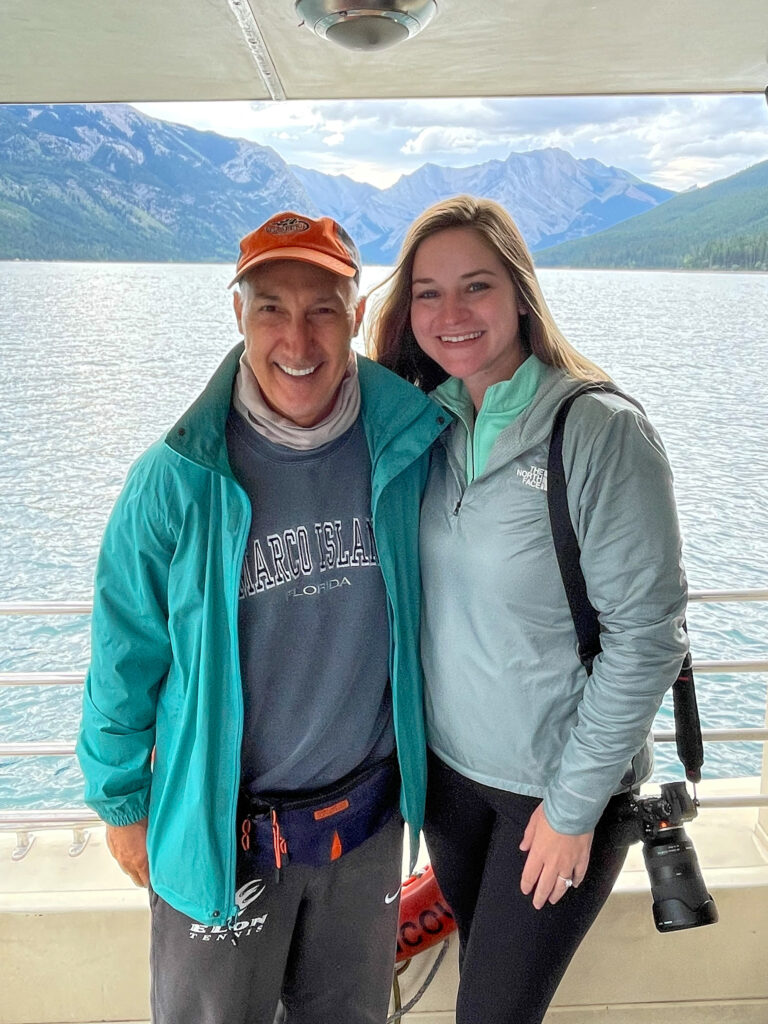 After our tour, we were planning on hiking on the lakeside trail. However, the tour guide informed us that you must hike in groups of four or more and have at least two cans of bear spray. Since we only had one can of bear spray, we decided to head back to the Airbnb and figure out a plan B. We had lunch while we were there.
Rundle Forebay Reservoir
I found a beautiful trail in Canmore, not far from our Airbnb at the Rundle Forebay Reservoir. The trail is very flat and easy and is about 1.3 miles each way. For a Saturday with beautiful weather, I was shocked that we only encountered one other group on the trail while we were there. There were several kayaks and paddle boards out on the water. This would be a perfect spot for it!
Horseback Ride with Banff Trail Riders
Our main activity for the evening was horseback riding with Banff Trail Riders. We arrived at the stables at 4:30pm for our 5pm ride. Mike, Joe, and I all went horseback riding, and Denise chose to ride on their covered wagon. They gave us our horses and a quick tutorial on how to ride. My horse was named Tumbleweed 🙂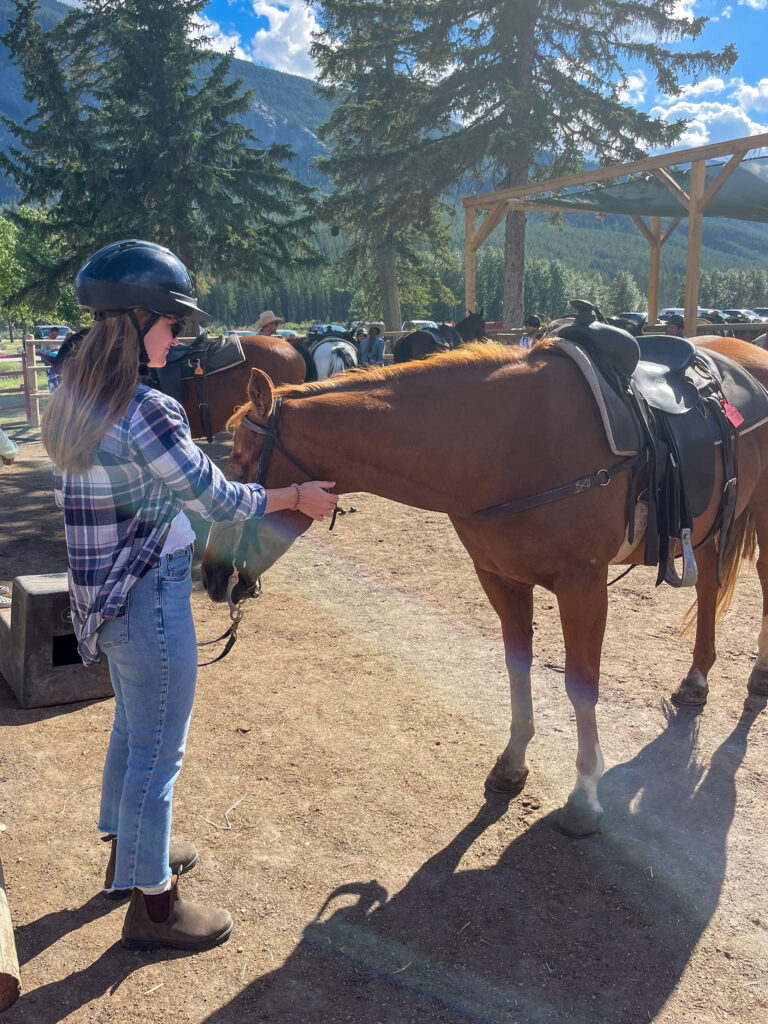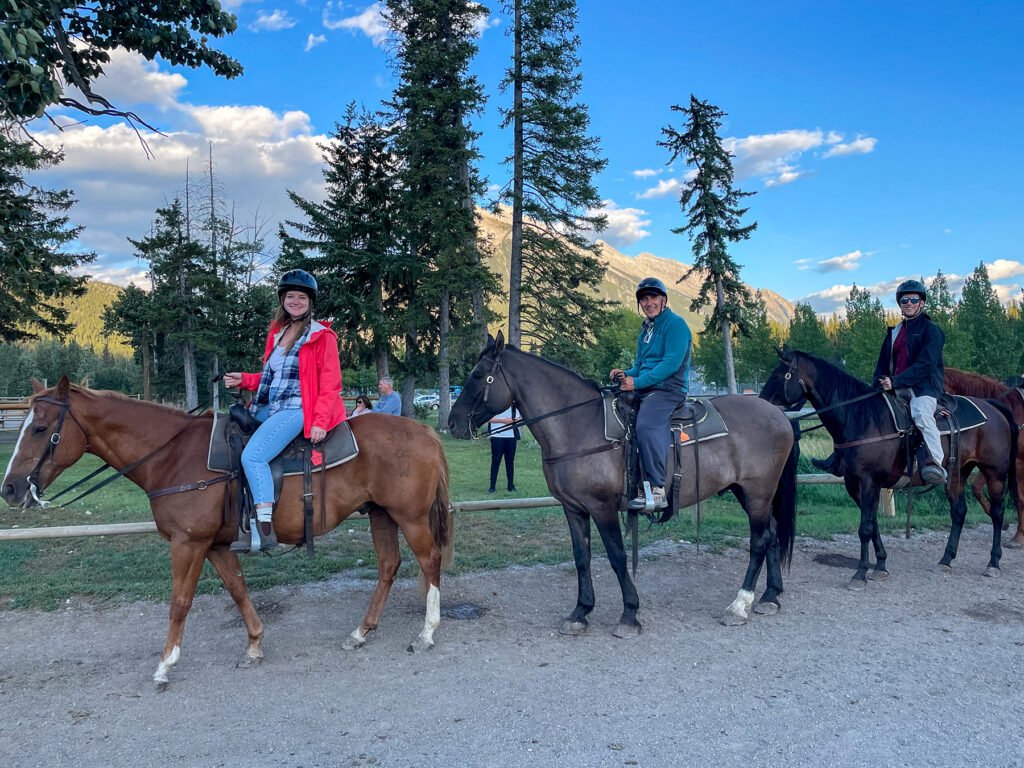 It was about a one hour ride to the location for dinner. The scenery along the way was gorgeous! We arrived at the dinner site, and they took our orders for how we wanted our steak cooked. Shortly after, we received our food, and it was delicious.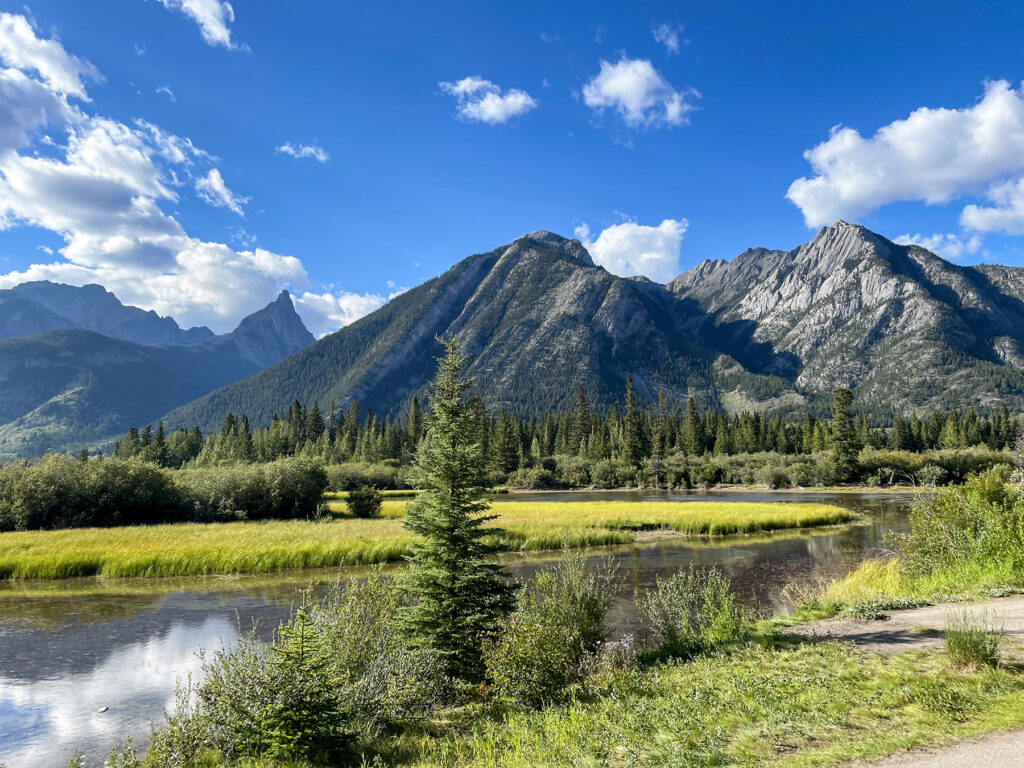 On the way back, we took a different route that was even more beautiful than the way there. We really enjoyed this horseback ride!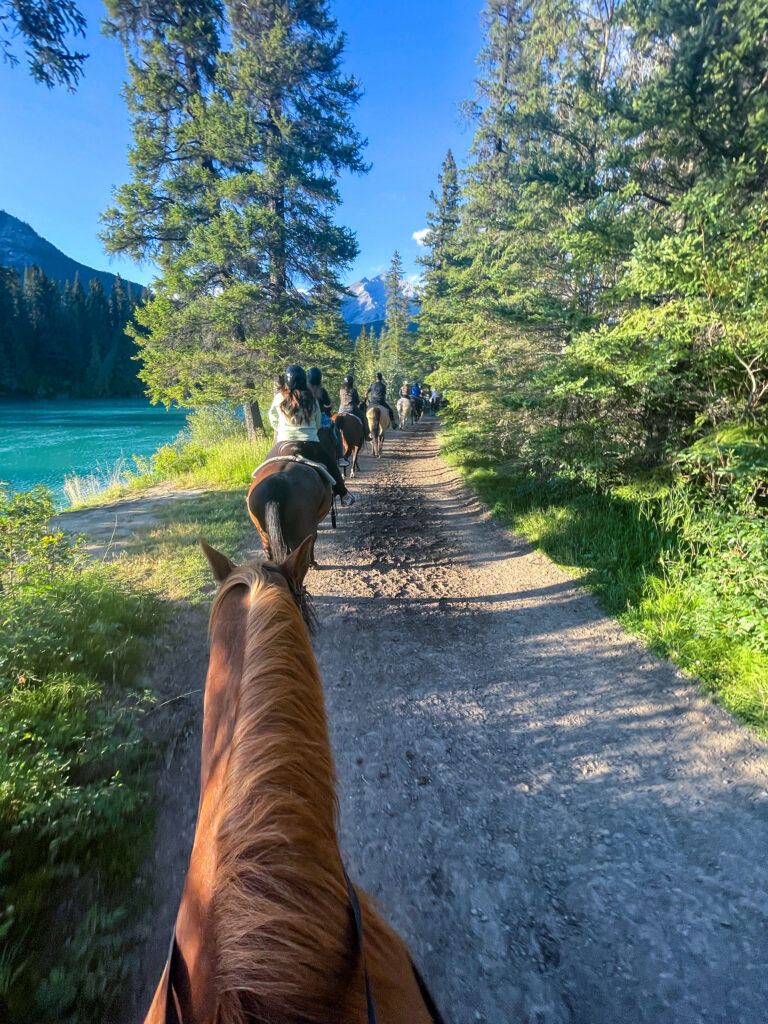 Vermillion Lakes
After we departed from the stables around 8pm, we were only about ten minutes from Vermillion Lakes, a spot well-known for its sunset views. It was perfect timing since sunset was at 9pm. There were several other people there when we arrived (one guy was even swimming), and we waited our turn to walk out on the dock and take some pictures. A perfect end to the day!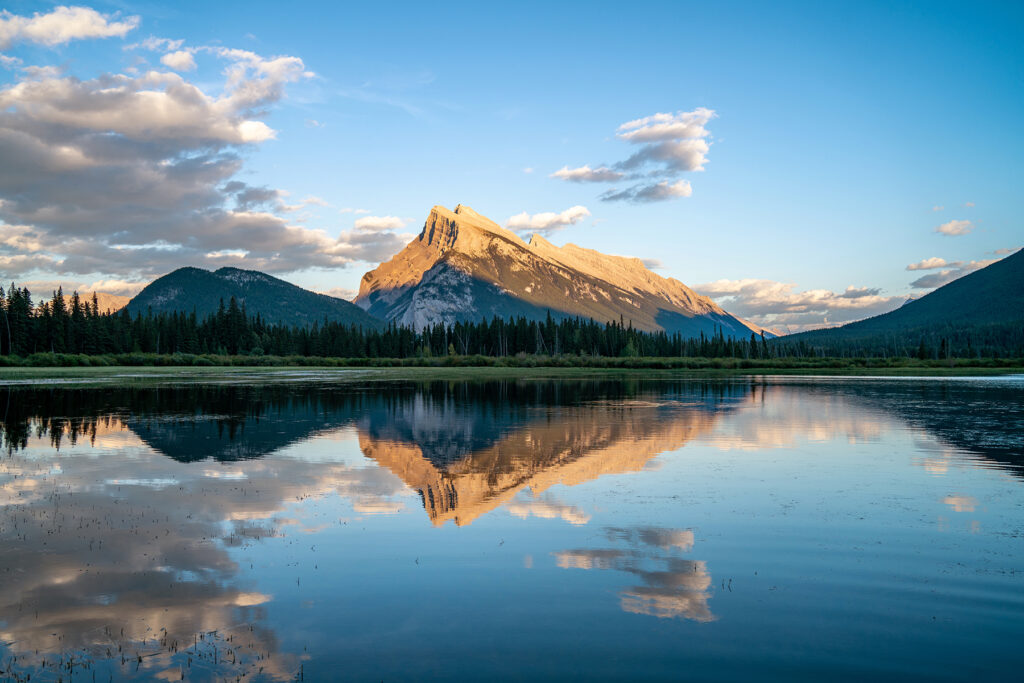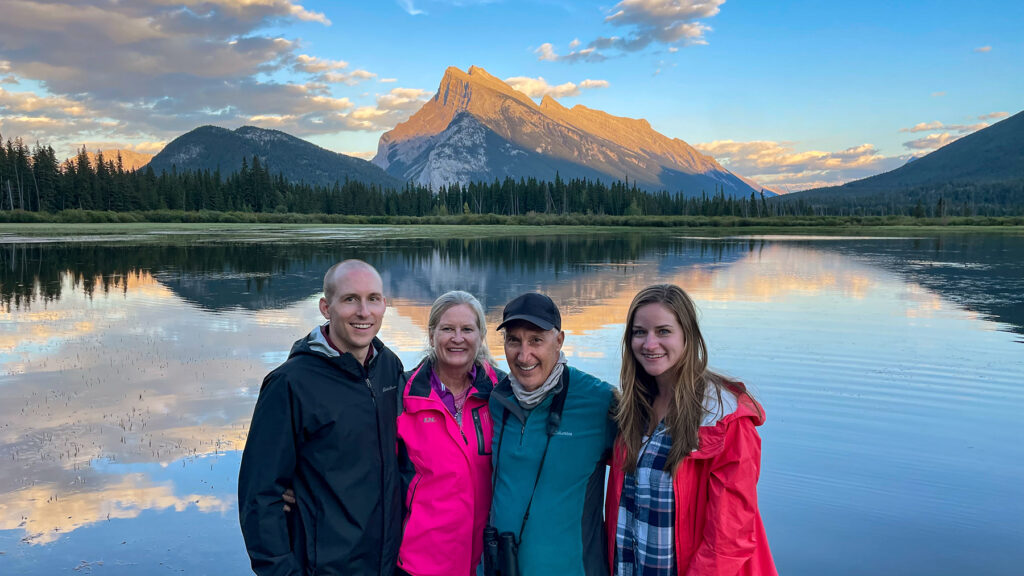 Day 3
Our third day was spent in Yoho National Park and the town of Golden. We hiked around Emerald Lake, saw the natural bridge, walked across the Golden Skybridge, and saw wolves at the Northern Lights Wildlife Wolf Centre. Stay tuned for my detailed post next week about our day trip!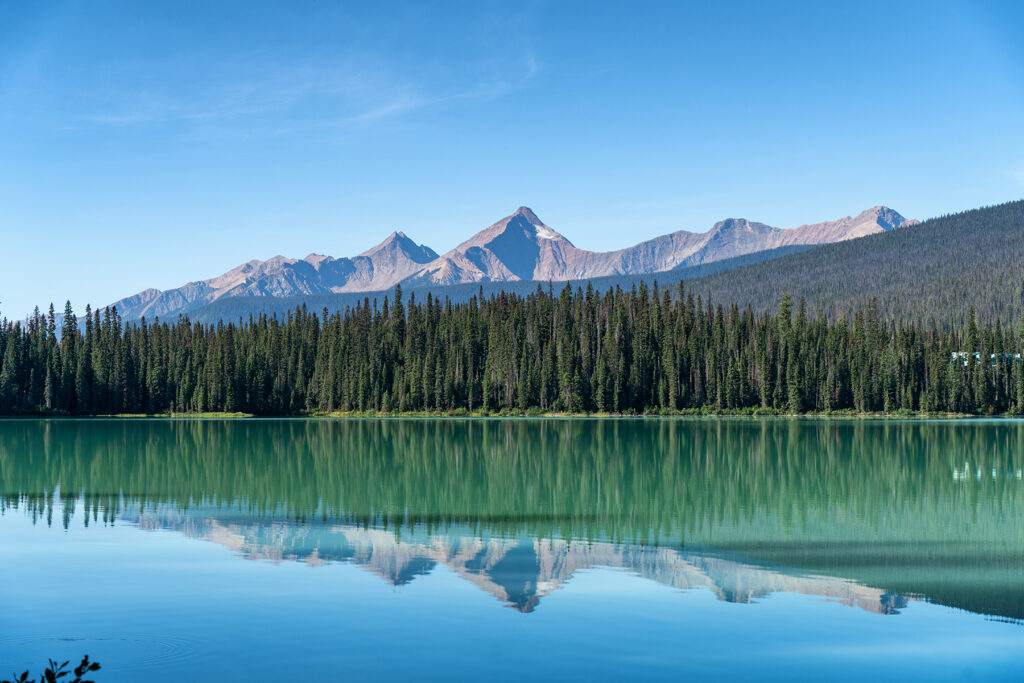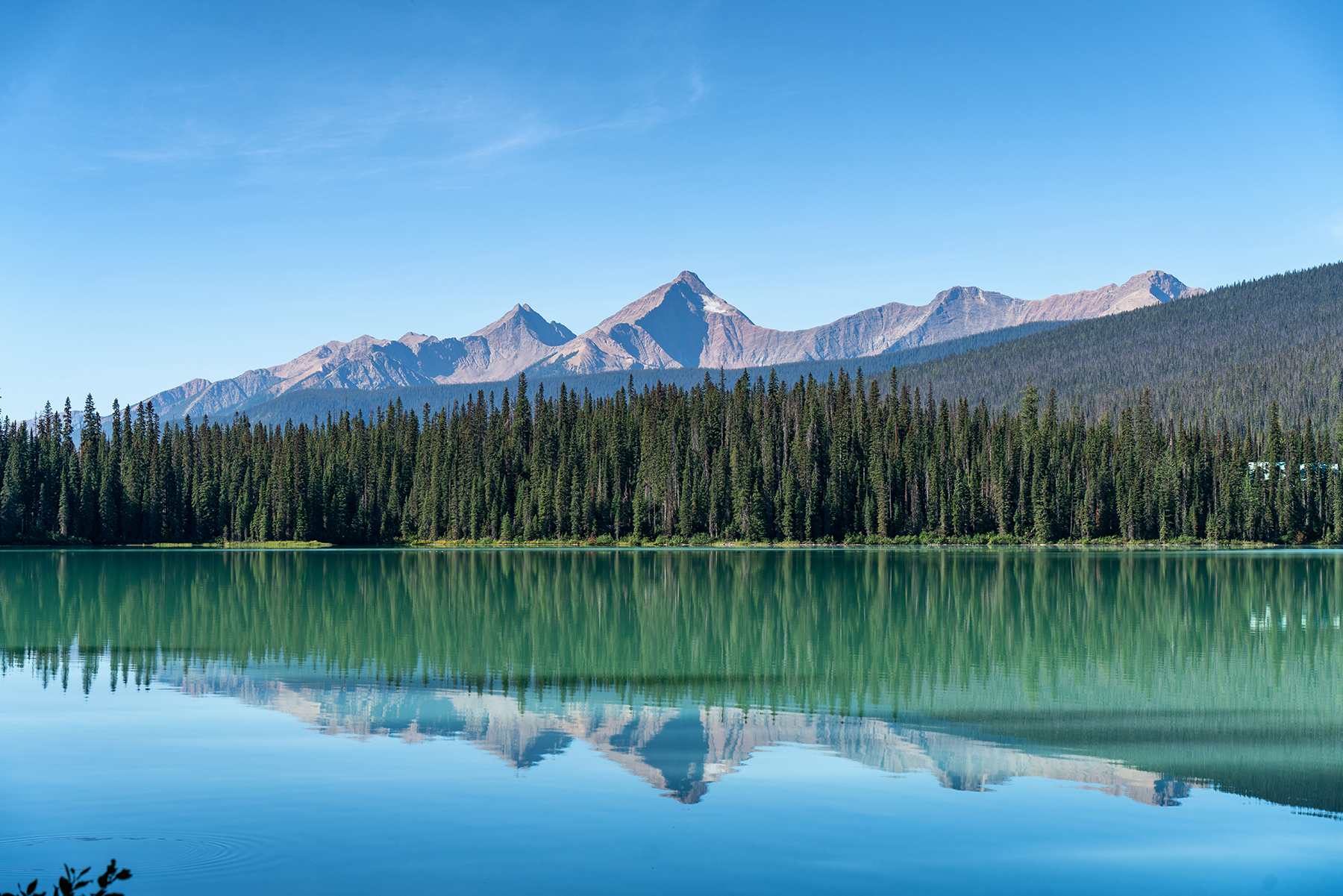 Moraine Lake
On our way back from Golden, we stopped at Moraine Lake, which is about halfway between Golden and Canmore. I would've normally planned to go to Moraine Lake the same day that we were going to Lake Louise. However, this year Parks Canada has closed down the parking lot at Moraine Lake and implemented a shuttle system. When I looked to book the shuttle a few months before our trip, the only time I could get was Sunday at 5pm. It was a little annoying to have to be at the mercy of the shuttle, but it ended up working out fine.
Our shuttle tickets were for any time between 5 and 6pm. We arrived at 4:30, used the bathrooms, and they let us on the shuttle early. The shuttle ride took longer than I expected – about 25 minutes each way. When we arrived, we headed straight for the trail that goes up the rockpile. The last time I was here, we climbed across floating logs and scrambled up boulders to get to the top, having no idea there was a trail to get up there. There are several stairs on the trail up, but it is fairly easy.
The color of Moraine Lake is the bluest you can imagine! There's really nowhere quite like it. We spent a little time taking pictures at the top of the rockpile and then down along the shore as well. We boarded the shuttle back to our car. I will say that when I was here in 2018, we came for sunrise and I actually enjoyed late afternoon better. The rockpile was filled with photographers waiting to get their perfect shot. This time, there weren't many people at all, so we could wander around and take all the pictures we wanted.
Eat at Outpost Pub
We were all very hungry at this point and wanted to get something to eat nearby. We found Outpost Pub, a pub-style restaurant in the Post hotel in the Lake Louise area. All four of us ordered burgers and they were great.
Day 4
On our last full day in Banff, our top priority was seeing Lake Louise. This lake has become overrun with tourists, so parking can get a bit tricky. The last time I was in Banff in 2018, we arrived at 7am and had no issue getting a parking spot. I was a little nervous this time, since Banff has become even more popular since then. We arrived around 6:45am and found a parking spot easily. At first, we saw a sign saying "parking lot full", but then we realized that was just the lower parking lot. There is an upper parking lot for overflow parking. Parking costs $21 per vehicle for the day. Note that we were here on a Monday. I imagine it would be even busier on a weekend morning.
Lake Louise
By the time we got our packs ready and everyone had visited the bathrooms, we got down to the lake shore around 7am. The sun was rising but the lake was still relatively dark and quiet, compared to what it would be like in a couple hours.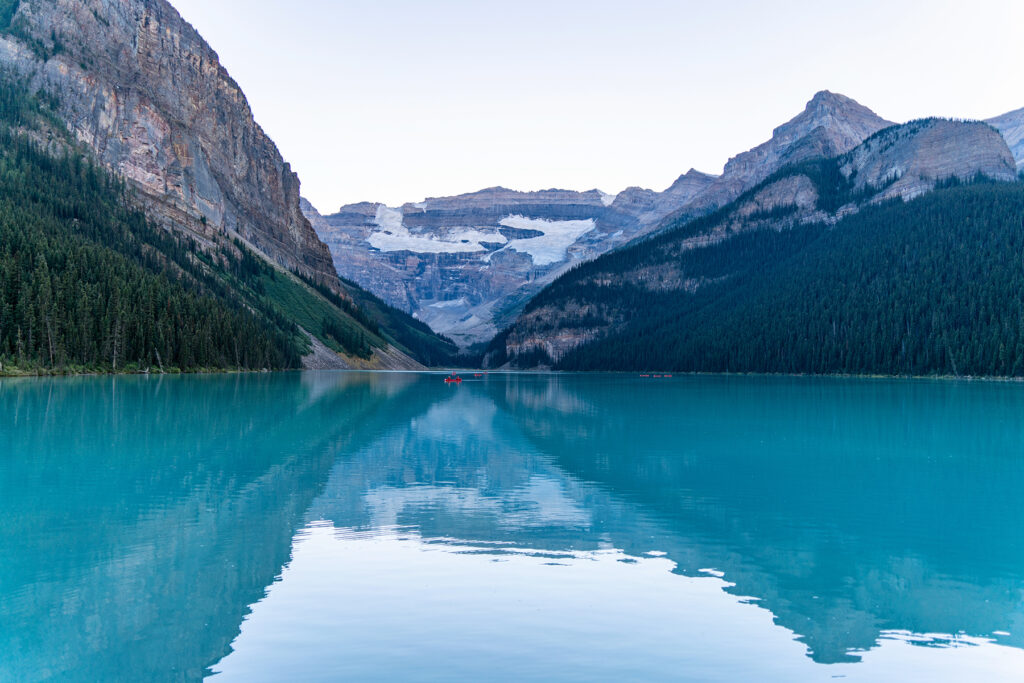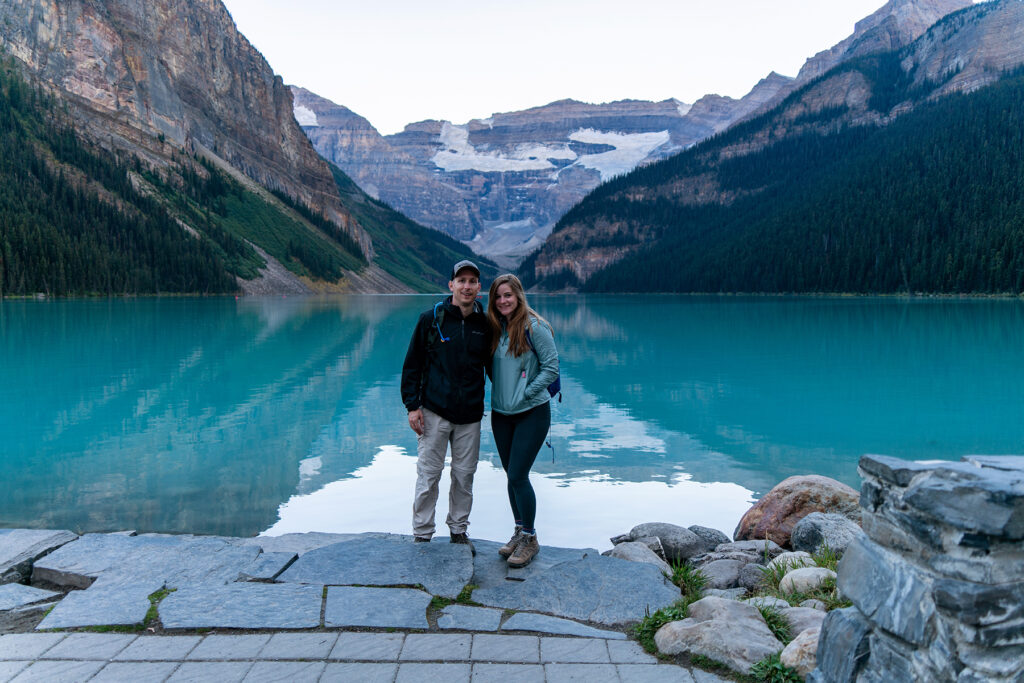 Hike to Little Beehive or Walk Along Lakeshore
Mike, Joe, and I would be hiking up to Little Beehive, which is a moderately strenuous 5.5 mile round trip hike. Denise was not comfortable doing that big of a hike, so she walked along the lakeshore trail and then hung out at the Fairmont Lake Louise while she waited on us to finish our hike.
The hike to Little Beehive is gorgeous! I had done the first portion of it the last time I was in Banff, to Lake Agnes Teahouse. However, we kept going another mile or so past the teahouse this time to Little Beehive, which has a fantastic view over Lake Louise.
Most of the hike is through the woods, with a few views of Lake Louise peeking through the trees. You will first come to Mirror Lake, which has a perfect reflection of Big Beehive towering over it. Then you will continue the climb to Lake Agnes. This is the perfect place to take a break. There are outhouses and you can buy food and drinks at the teahouse if you wish. Most of the climb is over, so we cooled off here for a bit before continuing the last little stretch.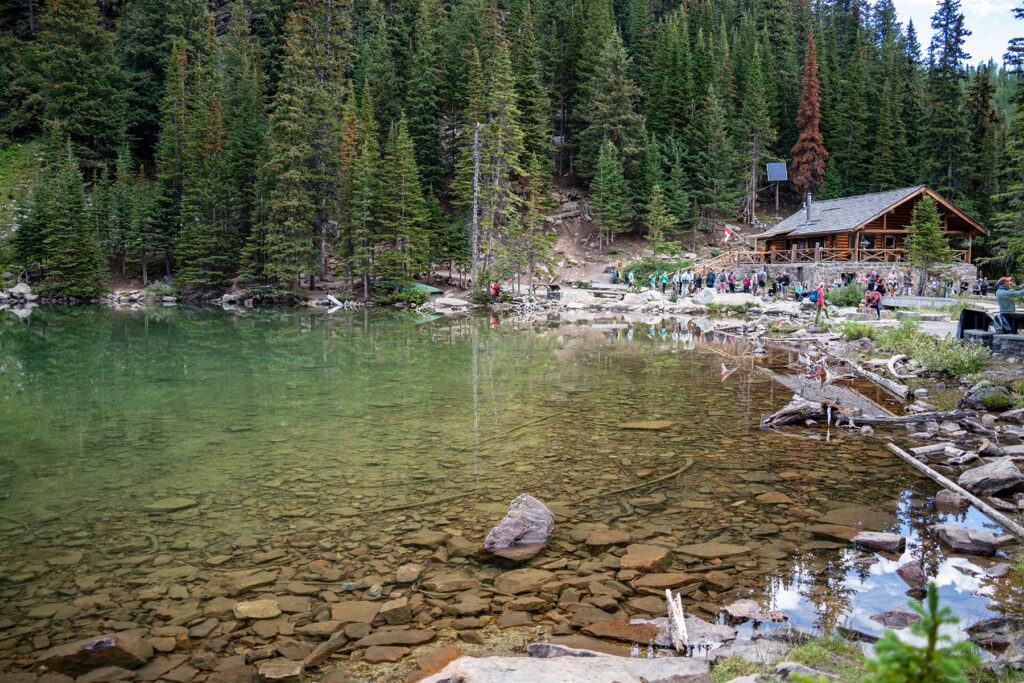 Little Beehive was our last stop. I couldn't believe how amazing the view was! You could see all of Lake Louise, the Fairmont, and the mountains surrounding us. It was a tough hike, but it felt so good to conquer it. On our way down, we took a little short cut and skipped Lake Agnes. I believe this took about a quarter mile off our trek. I highly recommend this hike!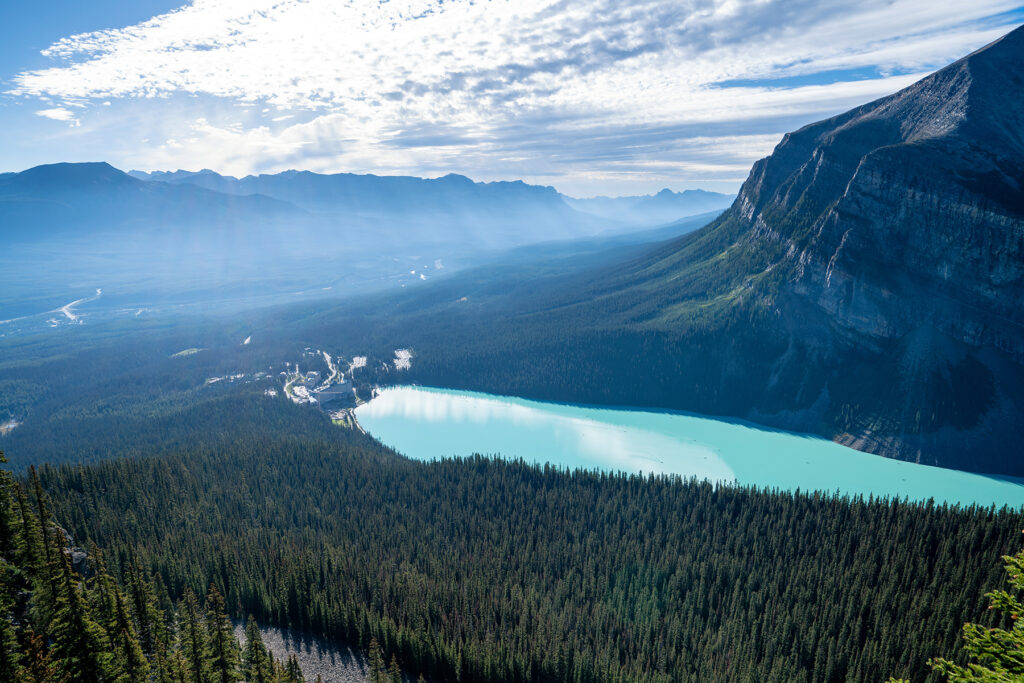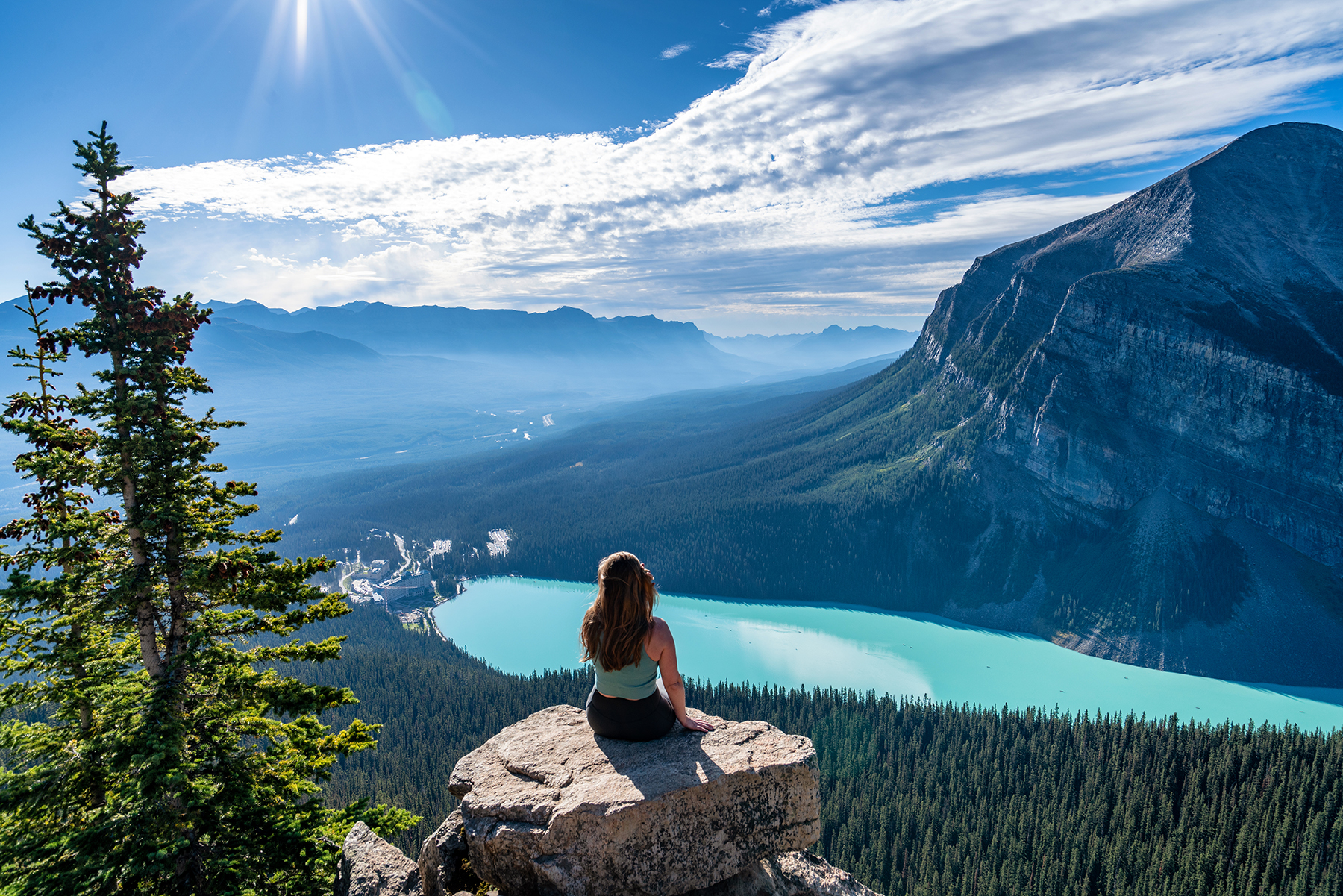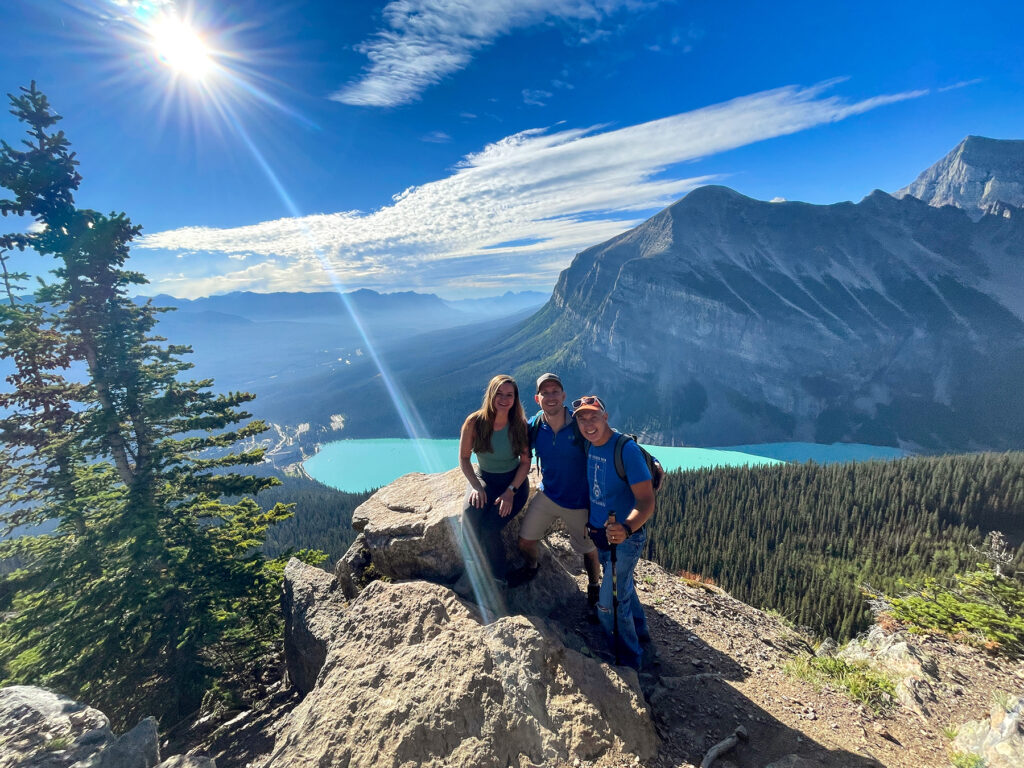 Bow Valley Parkway
On our drive back to Canmore, we drove the Bow Valley Parkway. This scenic road is known for its wildlife sightings and many pretty stops along the way. We didn't see any wildlife here, but we stopped at Morant's Curve and saw a train on the tracks.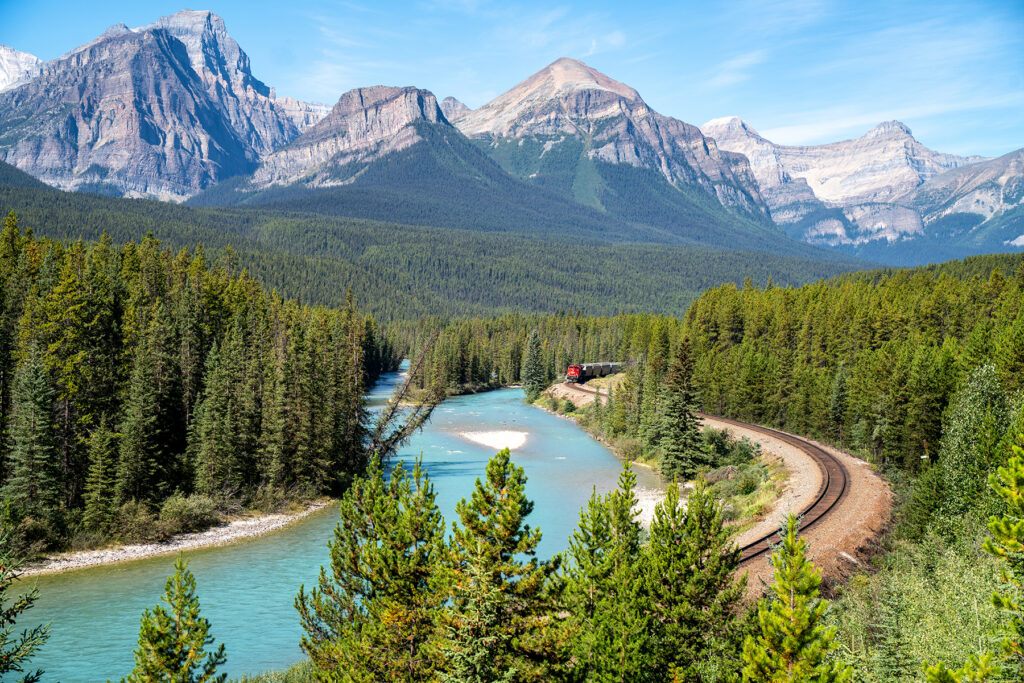 Relax and have dinner at Airbnb
We arrived back at our Airbnb just in time to have a late lunch. It was nice to do a couple loads of laundry and pack up our things before heading out the next morning. We made dinner at the Airbnb so we didn't have to go anywhere and could just chill. Everyone was exhausted and it was the perfect night in the trip to stay home. Our next day would be a big one!
---
You may also be interested in:
Banff National Park Trip Logistics
Hiking Banff
The Lakes of Northern Banff
Activities Near Banff Townsite