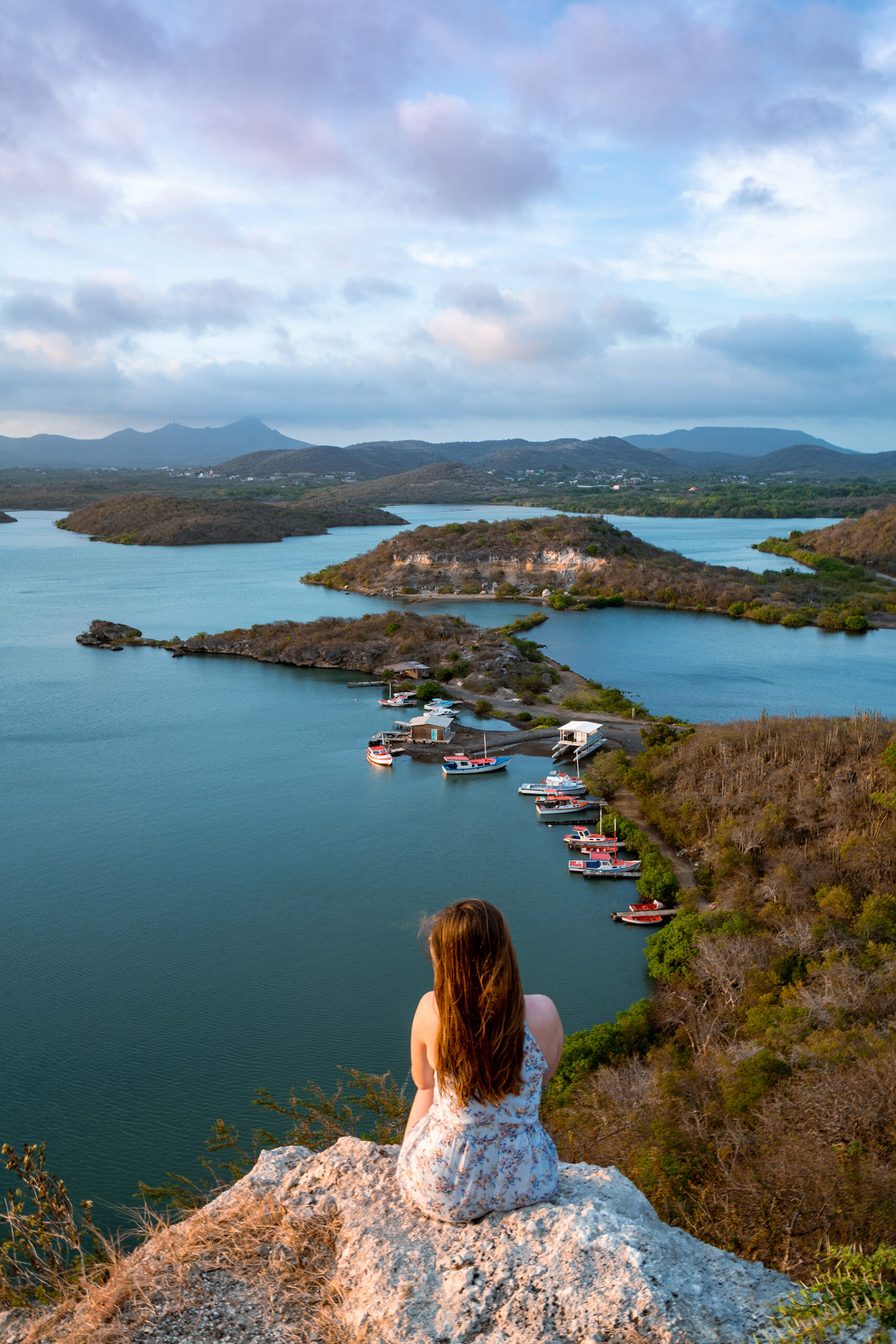 Logistics of an Eight-Day Trip to Curaçao
If you're looking for a beautiful Caribbean destination to spend your holiday, look no further! Curaçao is the perfect mix of adventure and relaxation. Curaçao is in the southern part of the Caribbean, off the coast of Venezuela. It's part of the ABC islands with Aruba and Bonaire. My fiancé Mike and I spent eight days here in May 2023. I hope this post is helpful if you are planning a similar trip to Curaçao!
Itinerary
Saturday
We flew from Atlanta to Curaçao on Saturday morning, with a stopover in Miami. Our flight landed at 1:30pm and luggage came out quickly. We called Europcar to get a shuttle to come get us and take us to our rental car. We stopped at the Centrum Supermarket to get some groceries for the week. Having breakfasts in our room as well as snacks and drinks are a great way to save some money! There is also an ATM at the supermarket, so we picked up some cash there.
Next, we drove about 30 minutes to our first resort, Coral Estate Luxury Resort, which is located northwest of the airport in the Sint Willibrordus area. We arrived a little after the check in time and our room still wasn't ready. There were also a few other people trying to check in at the same time which clogged up the office. By the time we got to our room, it was around 4:30 and we were exhausted. We settled in our room and then drove to dinner.
Dinner at Bistro E Lanternu
When we arrived at this adorable bistro on the side of the road, we were still very early so there were no other customers there yet. By the time we left, there were several other groups there. The atmosphere of the restaurant was cute and felt very European. I had the chicken salad, and it was good. Note that they only take cash, no cards.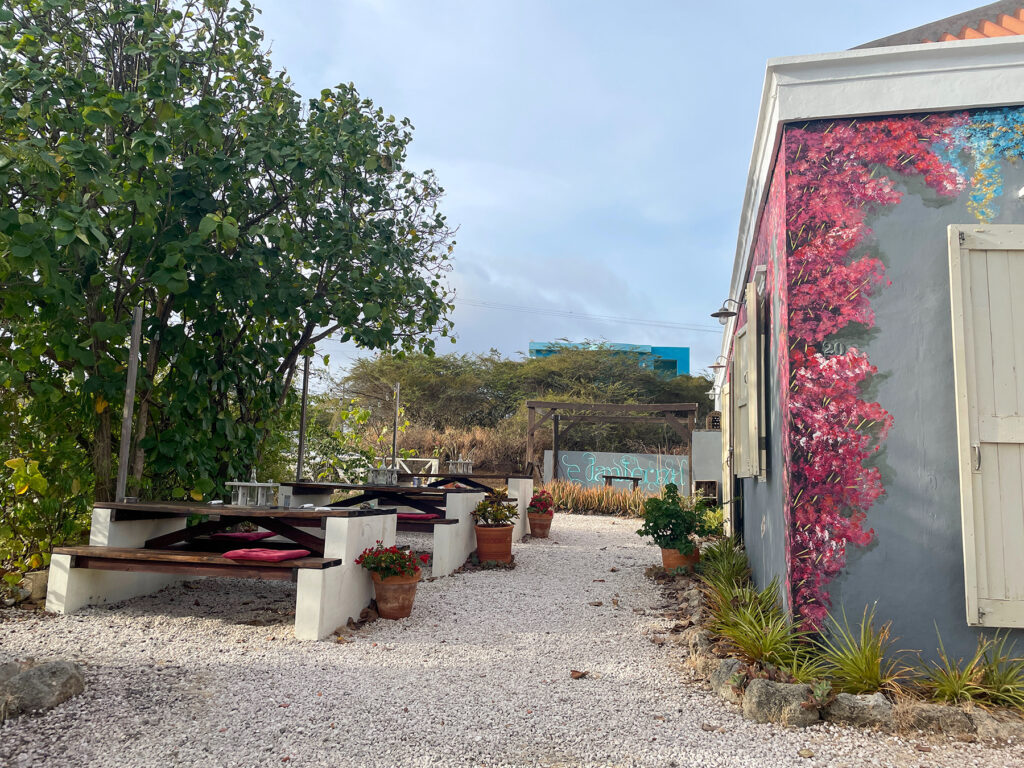 Sunset at Santa Martha Bay
One of the best views from our entire trip was at Santa Martha Bay, which is only about 20 minutes north of where we were staying. The lookout is located right off the road; there is no hiking required. We made it just in time for sunset and wow, was it phenomenal! You can see over Santa Martha Bay and the surrounding mountains. Definitely add this stop to your must-see list!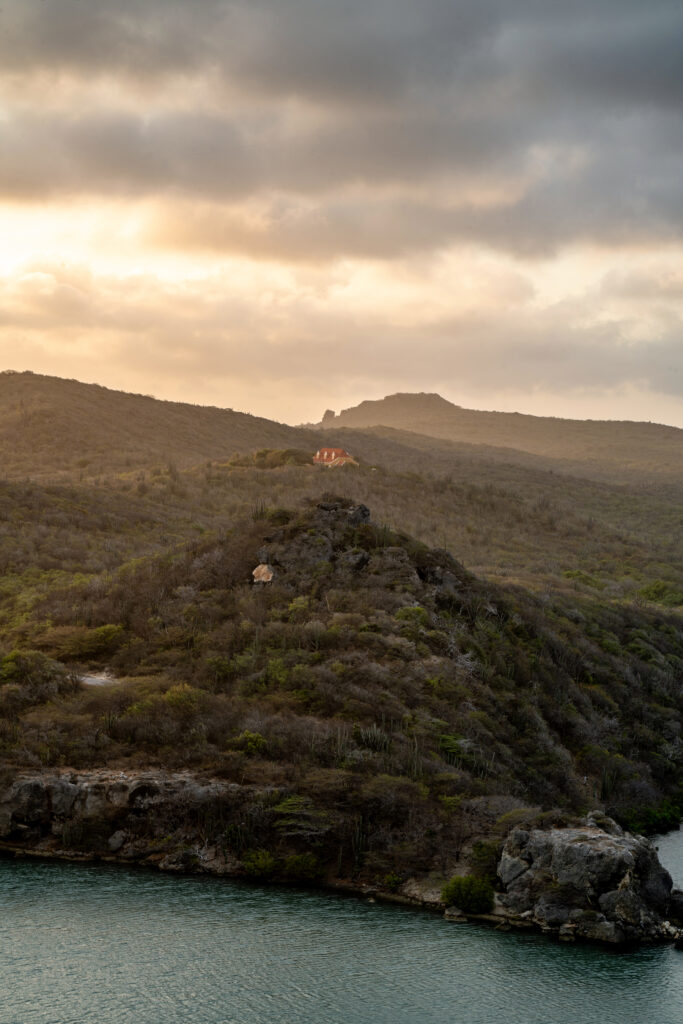 Sunday
On our first full day, we hit several beaches around this island. We started our day by seeing the flamingos right near our hotel. I'd read to get there early while they are still active. We arrived around 8am and saw several! The rest of our day was spent at Playa Grandi snorkeling with turtles, relaxing on Grote Knip beach, and finishing our day at Kokomo Beach Club. We had dinner that night at our resort. Read in detail about the beaches we experienced here.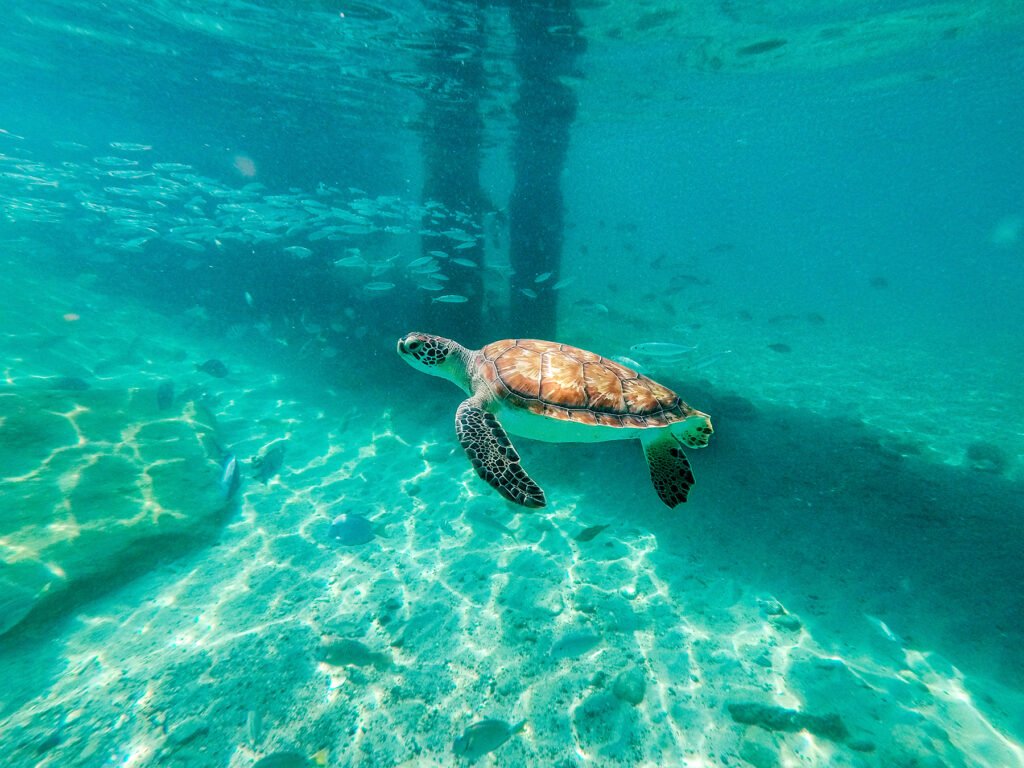 Monday
The next day was spent in the city of Willemstad. We had a great time exploring this bustling city filled with pastel-colored buildings. Highlights included the Museum Kura Hulanda, taking a tour of the Curaçao Liqueur Distillery, lunch at Mundo Bizzarro, shopping along the Handelskade waterfront, watching the ships pass through the pedestrian bridge, and having a sunset dinner at Bijblauw. See my post about our day in Willemstad here.
Tuesday
We headed back down to Willemstad Tuesday morning for our ATV tour of Curacao. We loved this tour and would recommend it! After lunch at Mambo Beach, we drove back to our hotel and spent the afternoon on the hotel's beach. That night we had an Indonesian feast at Landhuis Daniel.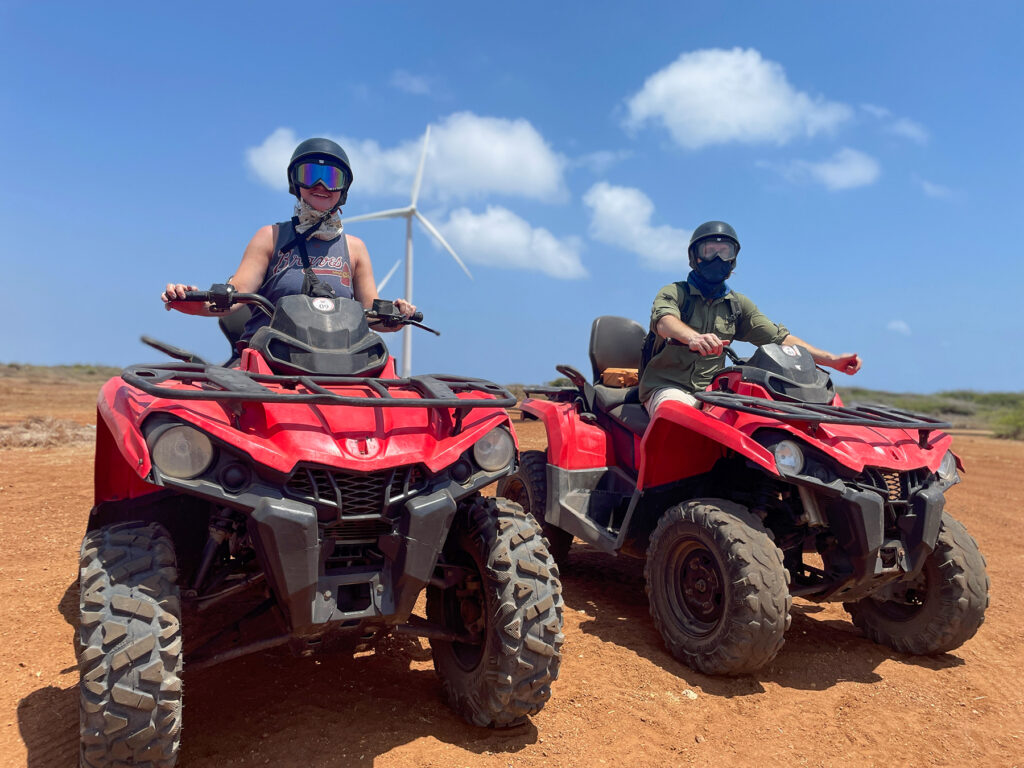 Wednesday
Wednesday was an adventurous day! We visited two national parks and then spent the afternoon at Cas Abao beach. Dinner that night was at our resort.
Thursday
We slept in a little this morning before packing up our stuff and checking out of the resort around 10am. We got gas and then dropped our rental car back off. The driver dropped us at the airport, and we walked over to the Sandals counter to start the last part of our trip at the all-inclusive resort. Read my Sandals review here.
Friday and Saturday
Our last two days were all about eating, drinking, and relaxing! We had a wonderful time at Sandals Royal Curacao!
Sunday
Our flight home was at 8:30am, so the resort shuttled us back to the airport around 5am. It was a long day!
Costs Per Person
The amount we spent per person is below for a two-person trip to Curaçao. Keep in mind that our food and drinks were included at Sandals, so the food & drinks total would be higher if you don't stay at an all-inclusive place.
Flights + baggage fees: $740
Hotel for first five nights: $405
Food & drinks for first five nights: $335
Sandals for three nights (all-inclusive): $1435
Rental car: $145
Gas: $20
Travel insurance: $70
Activities: $220
Airport parking: $30
TOTAL: $3400
Tidbits
-If renting a car from Europcar, they will ask for your arrival time when checking in online. If you arrive earlier than that, call to get a pickup at the airport.
-You can pay in cash with US dollars or Netherlands Antillean Guilders.
-There are so many Europeans vacationing here! This is a Dutch Caribbean Island and there is a direct flight from Amsterdam. I didn't realize it was such a popular spot being so far from Europe!
-It is so hot! Every time we walked outside our breath was taken away by the heat and humidity. Stay hydrated and be mentally prepared!
---
YOU MAY ALSO BE INTERESTED IN:
The Best Beaches in Curacao
Visiting Two of Curacao's National Parks
How to Spend a Day in Willemstad, Curacao
ATV Tour of Curacao
Three Days at Sandals Royal Curacao