My fiancé Mike and I spent eight days in Curaçao in early May. The small Dutch Caribbean island is located off the coast of Venezuela and is part of the ABC islands, with Aruba and Bonaire. We spent our first five days here exploring the island and our last three days of the trip were spent relaxing at Sandals Royal Curaçao. For those who are unfamiliar, Sandals is an all-inclusive resort where everything is included: food, drinks, lodging, gratuity, activities, and transportation to and from the airport. Once you land at the airport, everything is taken care of. After several days of exploring the island on our own, it was nice to be pampered.
We had an incredible experience at Sandals Royal Curaçao! Everything was fantastic: the service, food, our room, and the aesthetic of the resort. It's pricey compared to a normal vacation we would go on, but I would highly recommend splurging for a few days.
Arrival at Sandals Royal Curaçao
Since we were already in Curaçao and did not fly in and go directly to Sandals, we figured we could get to the airport any time the day of check in. We checked out of our first resort, dropped our rental car off at the airport, and headed straight for the Sandals counter. We arrived there around 11am. There were several Sandals employees standing around and they seemed confused when we approached them, as no flights had arrived yet that morning. We let them know we had been exploring the island and they were happy to transport us to the resort within five minutes of us arriving at the airport.
We were the only ones on the shuttle. The ride took about 50 minutes with traffic. It was only about 30 minutes on our way back first thing in the morning. As we pulled up to the entrance, I was blown away by how beautiful the buildings were! They greeted us with cold towels and champagne. They fortunately had a room ready for us, even though we were there a couple hours before the check-in time officially started.
Rooms
The woman who checked us in guided us to our room and gave us a room tour, which I thought was a nice touch. Our room was beautiful. It was in the main building, which was very convenient. Some of the rooms/suites were quite far away from the central area.
We had picked one of the cheaper room options (a Subi Club Level Room) and it was so nice! We had a view of the pool and garden from our balcony. The service was wonderful. They had turn down service every night, which I loved. There was also a mini fridge that was restocked daily.
Pools
We split our relaxing time between the pool and the beach. On our first day, we got lunch after we arrived. By the time we were ready to get some sun, there were hardly any chairs available. We figured it was similar to other resorts and cruises – people get up early and put their stuff down on their chairs before heading to breakfast. We weren't sure exactly how early though. On the morning of our first full day, we got going around 9am and were disappointed that all of the chairs with umbrellas or any type of shade on the beach were already taken, so we checked the pool. We got the last two chairs that had an umbrella. It was a great spot though, overlooking the ocean.
Our day at the pool had a party atmosphere, and they had a DJ playing music and hosting games. We loved the swim-up pool bar to get drinks right in the pool. The main pool is a double level infinity pool. Both levels have glass around the front where you can see people standing in the pool.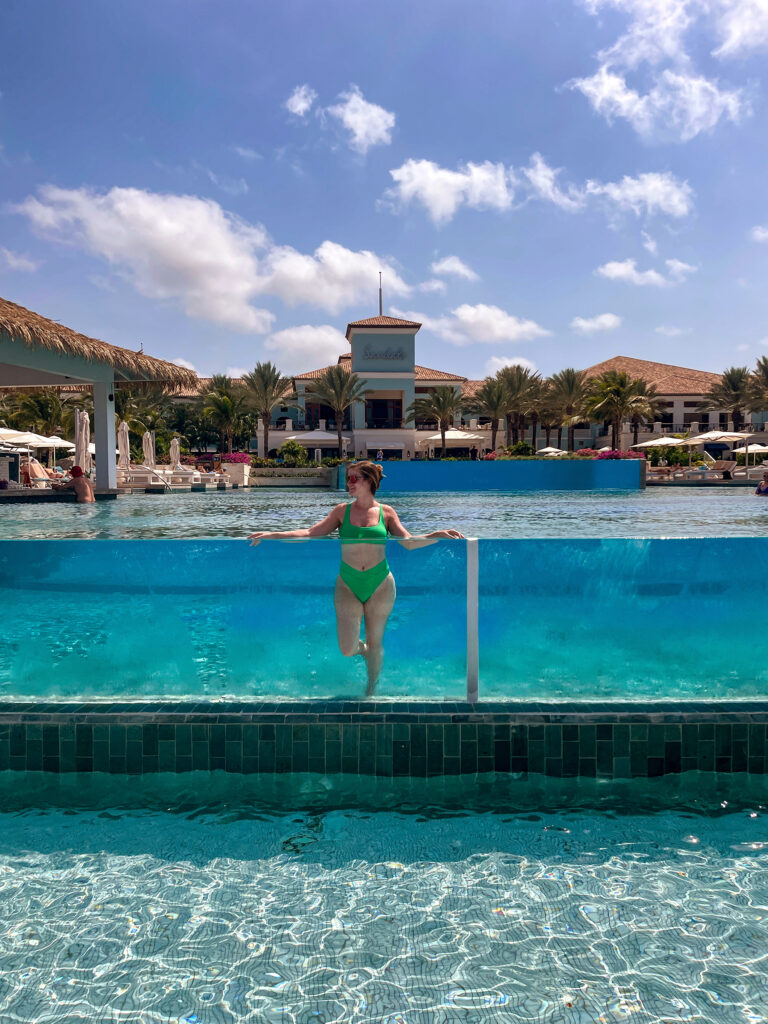 Beach
On our last full day, I got up at 8am and went out to the beach first thing. There were still several spots left with umbrellas. I put our bags down and went back to the room to get ready. The beach was much more relaxing than the pool. They did have some music playing, but it was a more chill vibe.
Bars
There are several bars all over the property and plenty of bartenders, so we rarely had to wait for a drink. The busiest one was the pool bar, but even that wasn't too busy. I loved most of the mixed drinks we got! Mike was a little disappointed with their beer selection. We thought they would at least have a couple basic beers like Coronas or Millers. However, they only had one local Curaçao beer with two options, one of them being bad. Since he is primarily a beer drinker, this was a little bit of a let down. Fortunately, he really liked their margaritas at Sandals!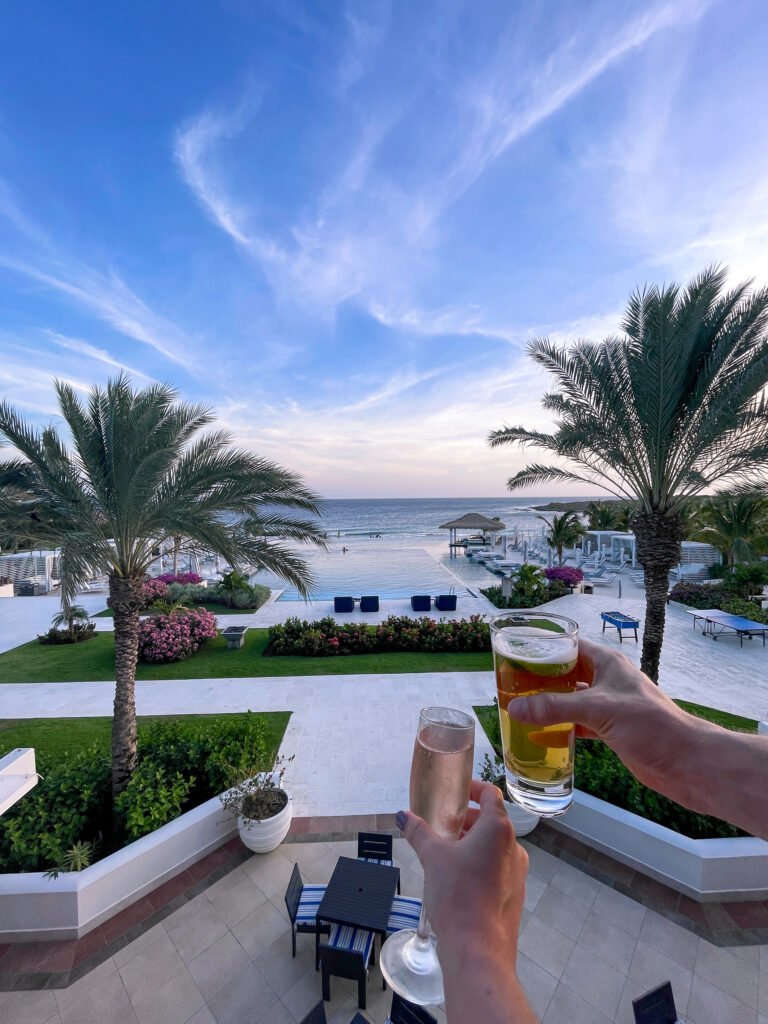 Restaurants
The food here blew us away! I came in without high expectations, but every meal we had was fantastic. The resort has eight restaurants and three food trucks. Plenty of options, especially since we were only there for three days.
Strand Seafood
We ate at the seafood place for lunch twice and it was delicious. This restaurant is right on the beach and a little more casual than the others. I loved the shrimp Caesar wrap.
Butch's ChopHouse
This is one of the nicer restaurants on the property. You have to have a reservation (which you can only make in person) and it requires you to dress in "resort evening attire", which basically means no shorts. We made reservations when we arrived for our third and final night. They only had the last reservation of the night available (around 9pm), so we ended up eating two light dinners that night. I got the surf and turf, and it was great.
Zuka Latin
We ate here for our first dinner on our last night before the chop house. I had the best drink I had the entire time at the resort, a Caipirinha. The bartender really knew what he was doing. We also shared a couple appetizers. The vibe in this restaurant was the coolest out of all of them! I wished we had another night to have a full meal here.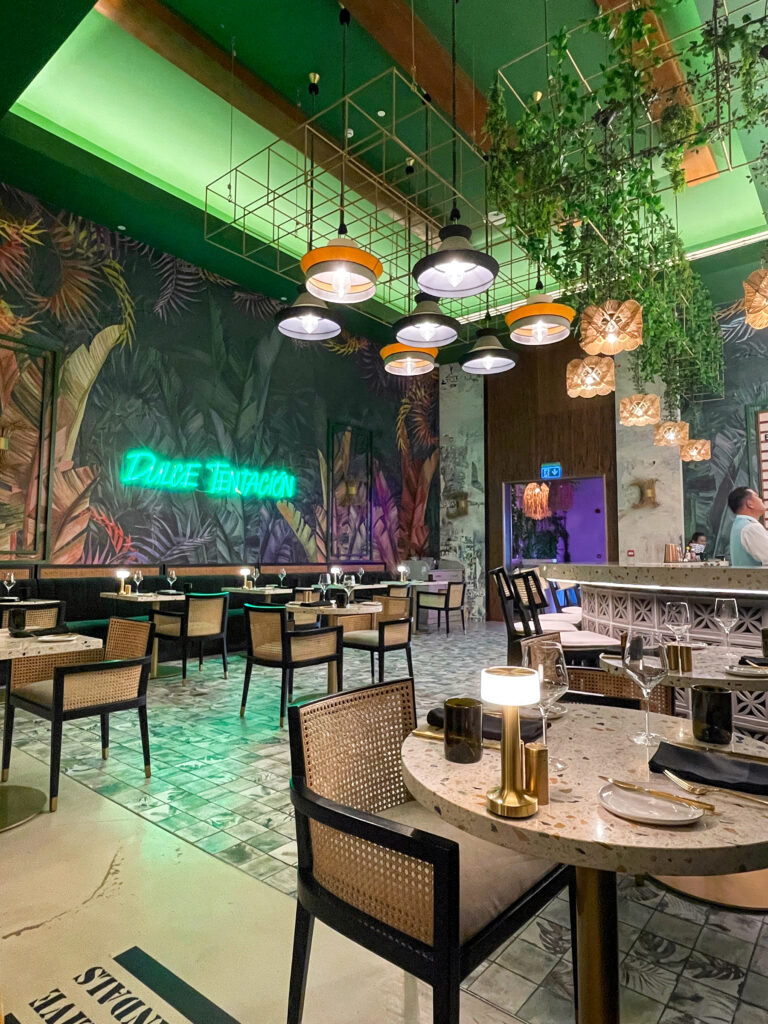 Aolos Mediterranean
We ended up only eating here for breakfast one morning, but it was delicious. They also have a fantastic view of the ocean and golf course.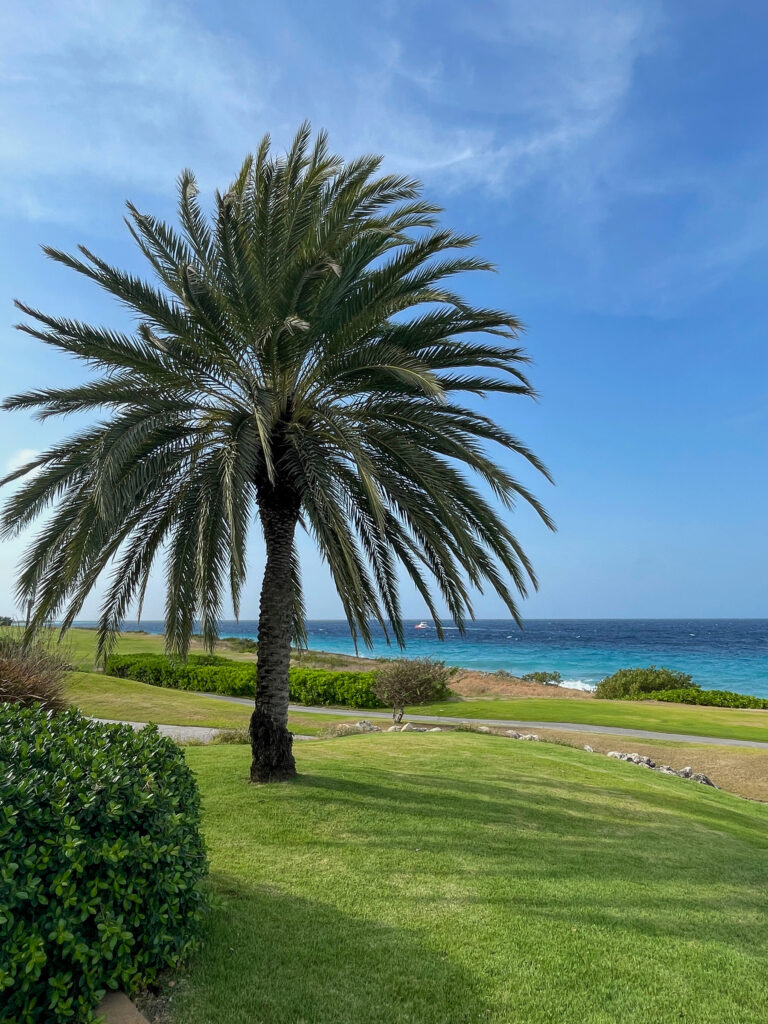 Gatsu Gatsu Sushi
We binged on sushi our first night there and it was amazing!! Highly recommend eating there. They also had other food options, like ramen and Ishiyaki (meat that you cook yourself on a hot stone). This was the busiest restaurant we visited, so we were glad we got there on the earlier side.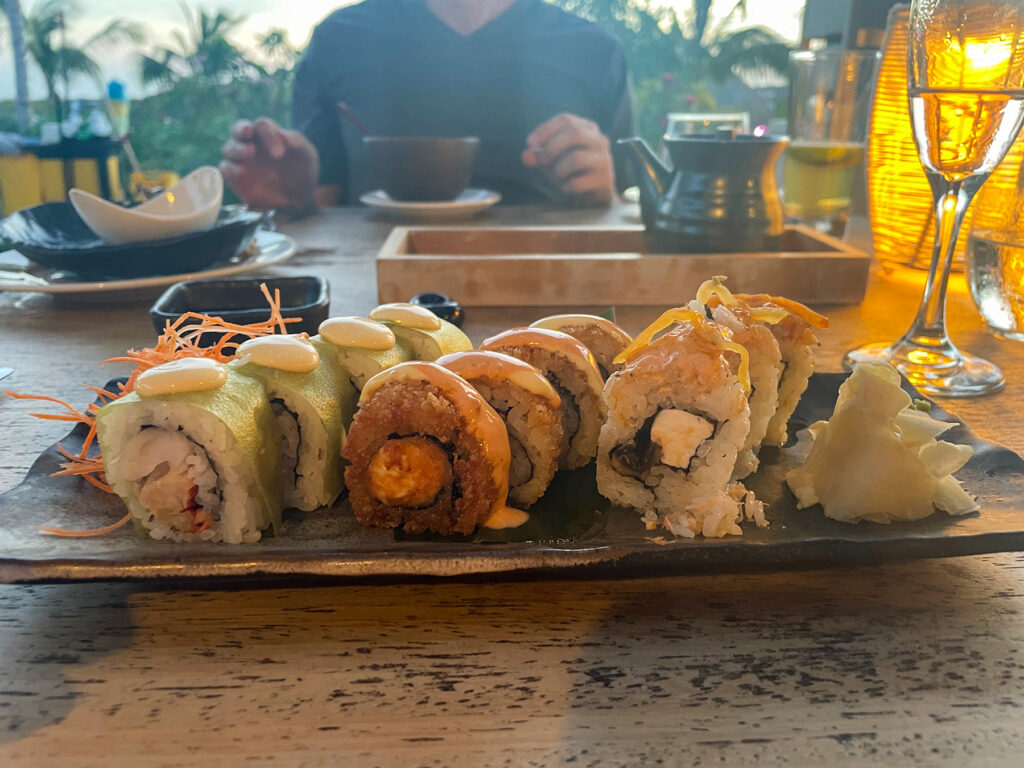 Pietra Italian
The Italian place was great and where we had breakfast one morning as well as one dinner. The shrimp alfredo and chicken parmesan were awesome.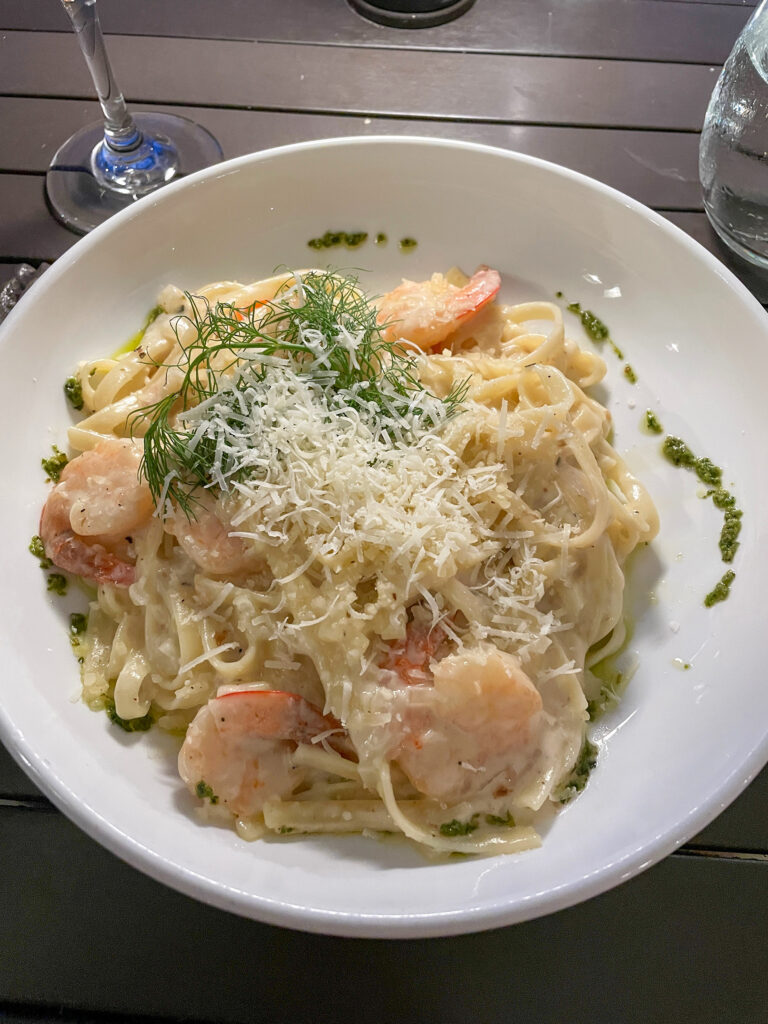 Kanaal Cafe
We stopped at this cafe many times to get desserts and coffee. It was so easy to pop in and take something to go.
Food Trucks
The resort also has three food trucks. It was really fun to be able to get a sample of a couple small items from each truck for lunch one day and share everything. The food trucks are also the only food options that are open during the whole day and don't close between lunch and dinner, so it was nice to get snacks in between meals there.
As you can see, we ate a lot. We had to get our money's worth!!
Amenities We Took Advantage Of
Since we were only at the resort for three nights, we didn't feel like we had to do a ton of activities to keep ourselves entertained. We were perfectly content sitting at the pool and beach for most of our time (in between meals). However, we did take advantage of a few of their amenities.
Biking around the property
There are a bunch of Dutch-style bikes all over the property, which was great to be able to take from one side of the property to the other! We never had any issues finding a bike when we were in the mood to ride.
Paddle boarding
We went out paddle boarding one day, which is included in their available water sports. However, it wasn't the most fun. We had to stay within the enclosed beach area which was fairly small. We ended up just paddling to the end of the beach and back, which took about 20 minutes.
Shuffleboard
We did have a lot of fun playing shuffleboard every day. We didn't know the specific rules, but we made up our own and had fun with it!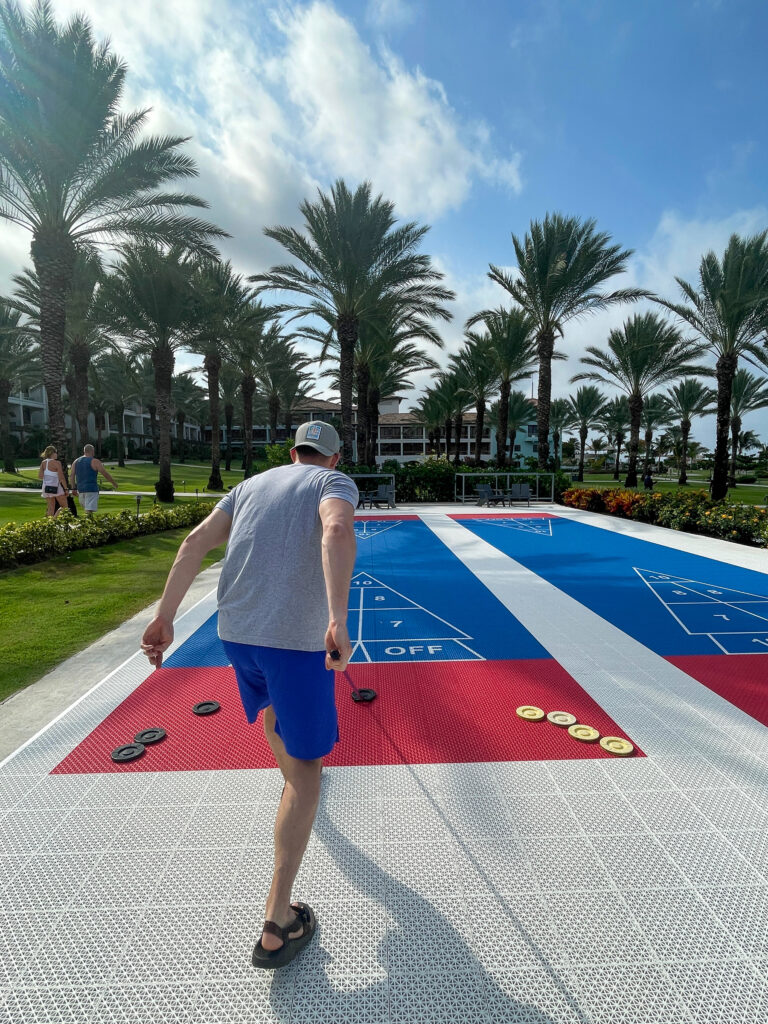 Professional Photographers
There are photographers with DSLR cameras all over the property asking to take pictures. It is free to take the pictures, and if you want to buy any in the end, you can for about $20 each (or they have packages). On our first afternoon, we met a photographer who was very nice and offered to do a sunset shoot for us. We hadn't taken any engagement photos yet, so we took advantage of this opportunity and got some photos taken. They actually turned out great and we bought about 10 photos!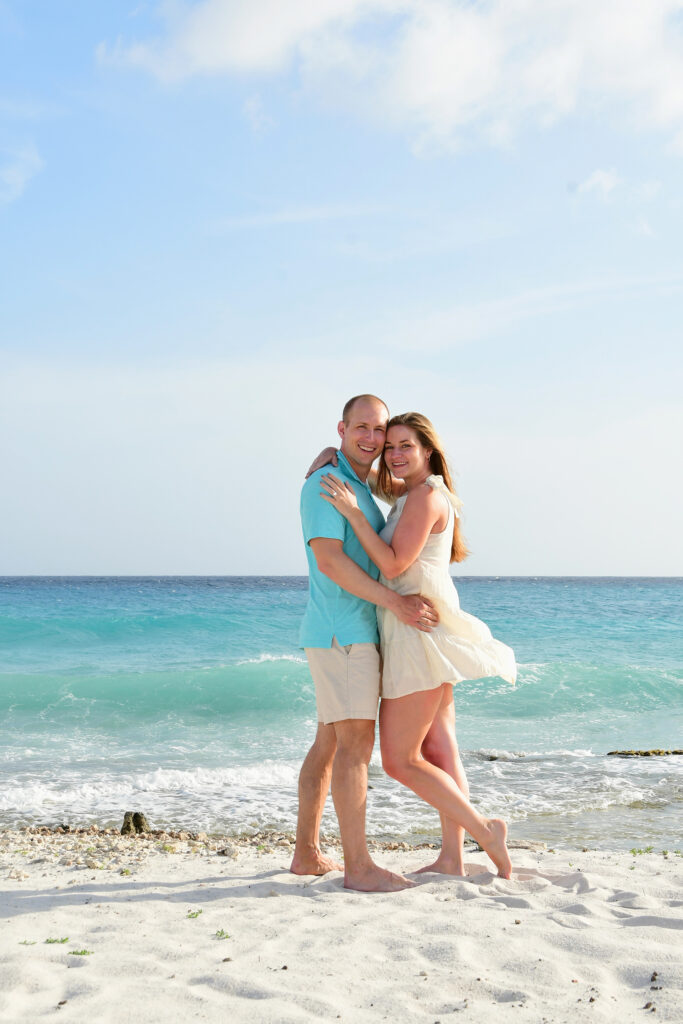 Overall, I highly recommend this resort! It definitely made me want to visit other Sandals resorts in the future!
---
YOU MAY ALSO BE INTERESTED IN:
The Best Beaches in Curacao
Visiting Two of Curacao's National Parks
How to Spend a Day in Willemstad, Curacao
ATV Tour of Curacao
Logistics of an Eight-Day Trip to Curacao
Staying at the Royalton in Saint Lucia