I recently visited the island of Curaçao with my fiancé Mike in May. Curaçao is in the southern part of the Caribbean, off the coast of Venezuela. It's part of the ABC islands with Aruba and Bonaire.
We decided to make this trip a good balance of fun adventures and relaxation time. For the first five days, we stayed towards the northwest side of the island, where the best beaches and scenery are. For our last three days, we stayed at Sandals, which is towards the southeast side of the island. We thought this was the perfect combination!
In our first five days, we visited several beaches around the island. These were the beaches in Curaçao that we went to.
See the Flamingos
While this is not technically a beach, we loved getting to see flamingos in their natural habitat along the coast. There are a few locations where you can see them on the island. We were staying near Sint Willibrordus, so this is the spot we chose. I had read that the best time to see them is first thing in the morning between 6:30 and 7:30 while they are up and looking for fish. We arrived a little before 8am and they were still up and active.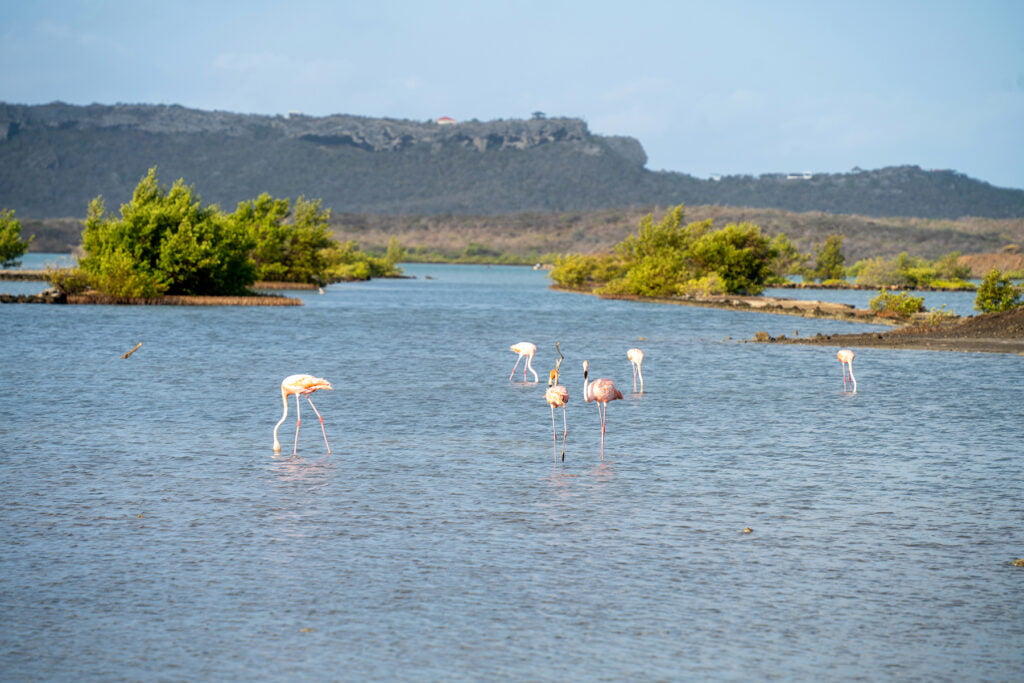 Playa Grandi
After seeing the flamingos, we drove north to Playa Grandi to swim with sea turtles! This is a very popular beach to see turtles, because when the local fishermen come back from their early morning boat trips, they come back and throw out pieces of fish into the water that they don't want. This attracts sea turtles and lots of varieties of fish. The best time to go is when the fishermen come back, between 8 and 9am.
We arrived around 8:30am and no other tourists were there. There were a few fishermen and workers around, but we were almost wondering if we were in the right spot. There was a guy renting equipment, so we talked to him. He said it was the right spot and we could rent lockers for $6. We had brought masks and snorkels with us, but he had fins to rent as well, which we took advantage of.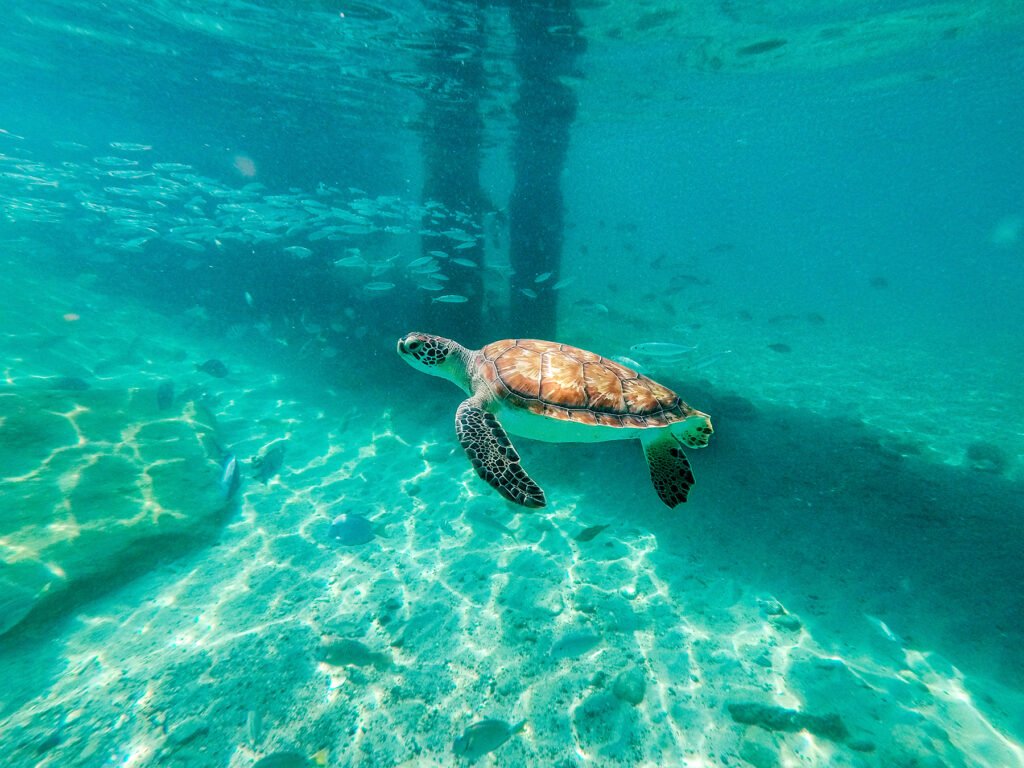 We walked out into the water from the beach and almost immediately saw multiple turtles swimming around. It was the coolest experience! We saw at least four different turtles consistently in the hour and a half we were swimming. After we had been out for about 30 minutes, we noticed several tourists admiring the turtles from the pier where the fishermen were. We were still the only ones in the water! The turtles swam right up to us, and it took all of our willpower not to touch them.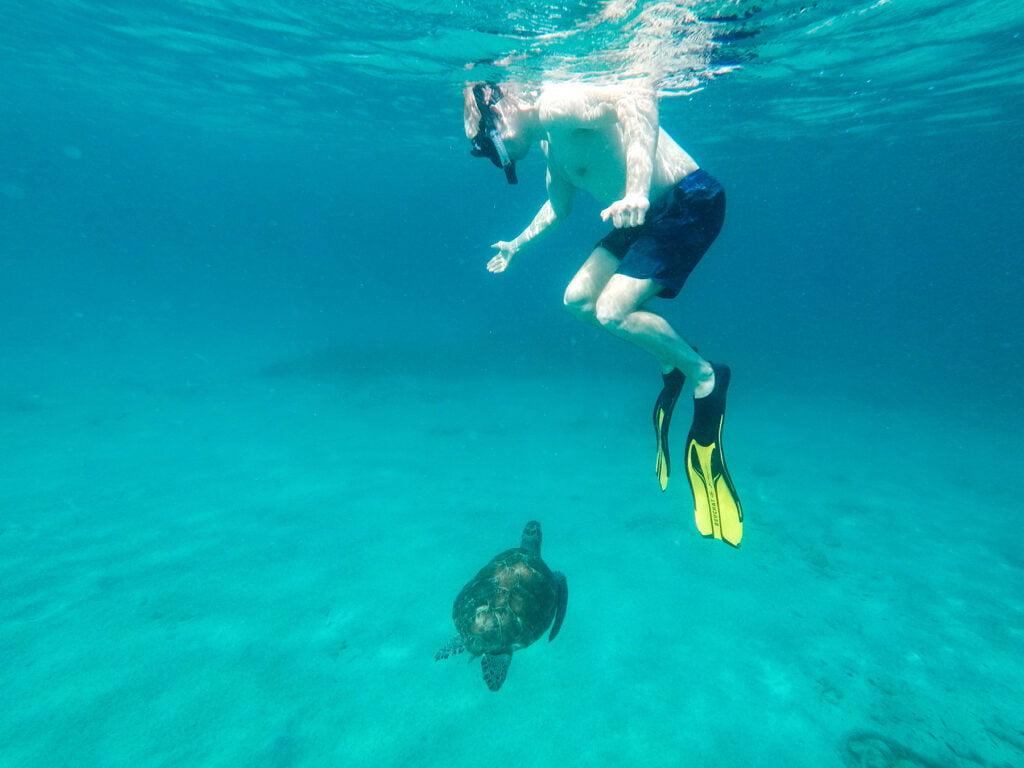 As time went on, tourists started accumulating in the water and we swam over to a little reef that the rental guy had told us about. There were tons of really beautiful fish there. After we were done at that spot, we decided to go back and see if the turtles were still by the pier. There were tons of tourists in the water at this point (probably around 10am) which made swimming there unappealing. We decided to get out then. The actual beach here isn't anything special, so we moved on to our next beach of the day, Grote Knip.
Grote Knip
Grote Knip is about 10 minutes from Playa Grandi. There is a very large parking lot there, and several spots were still available when we arrived around 10:15am. Note that when we left in the afternoon, there were no spots left and people had started parking on the side of the road.
Our first stop was at the tropical smoothie stand at the entrance to the beach. They had tons of flavors to pick from. I got papaya guava and Mike got strawberry banana. We walked down to the beach and grabbed some available chairs. The rental guys eventually came around after we had been there for an hour or so to collect our payment. It was $15 USD for two chairs and an umbrella.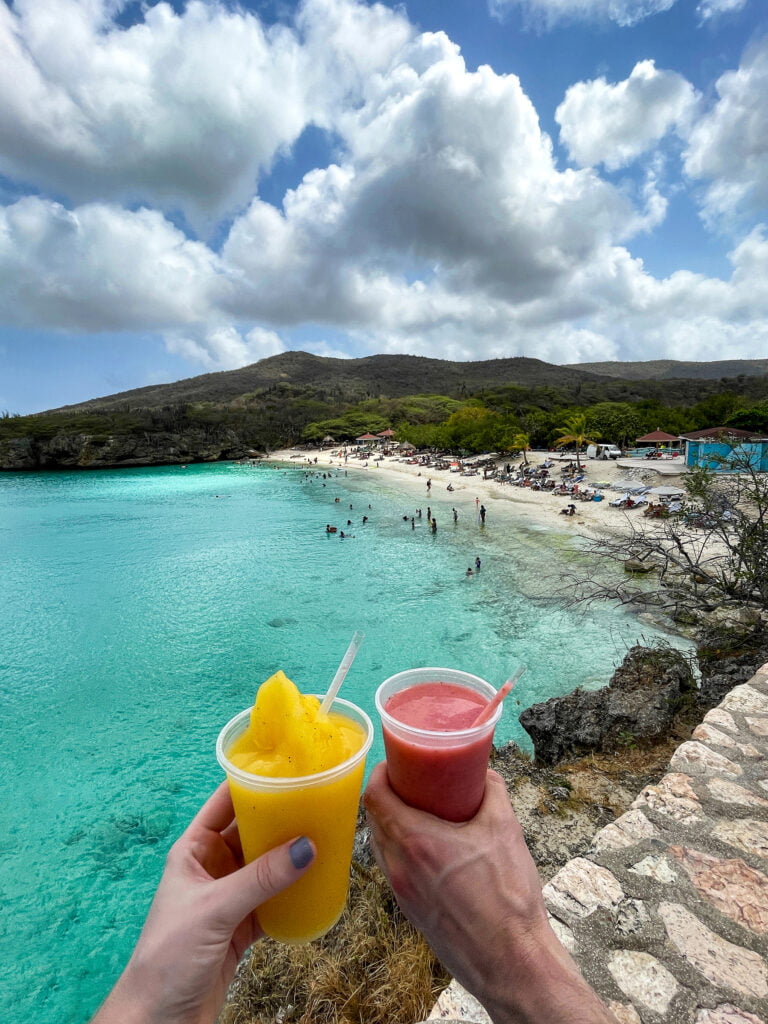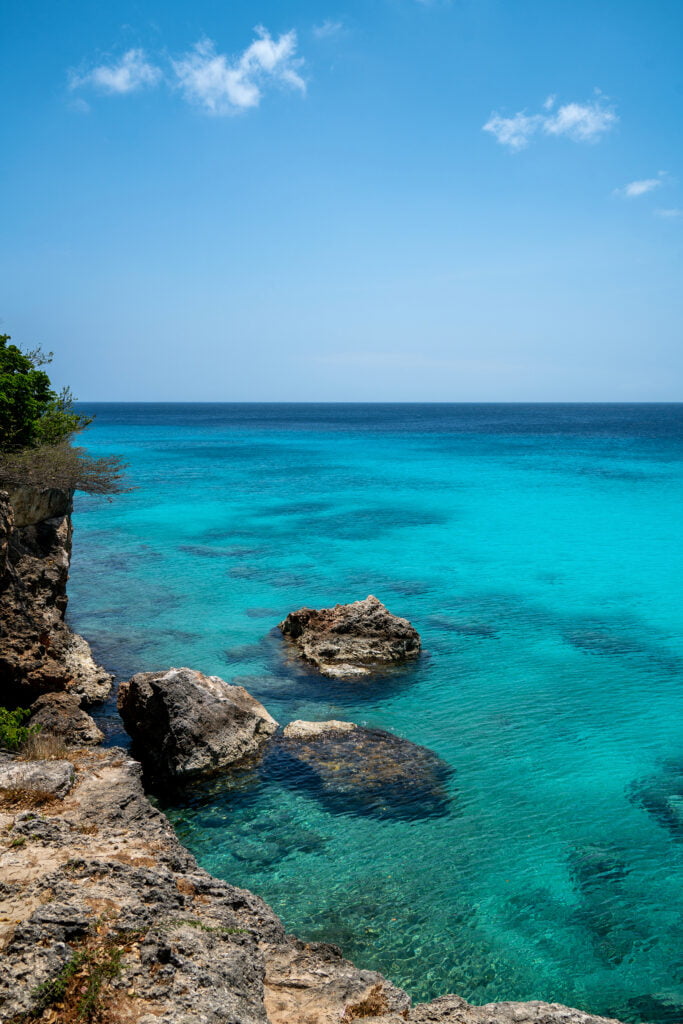 The water here is insanely blue! We lounged on the beach for several hours and got lunch at the restaurant there. There were a ton of locals here and we were entertained by their version of tug-of-war that they played for at least an hour.
Kokomo Beach
Kokomo Beach is what the popular Beach Boys song is named after, and I can see why they wrote about it! Once again, the water is super blue, and their beach club has a resort feeling. The beach chairs are free, assuming you will buy food and drinks. We were only there for a few hours and weren't in the mood for anything to eat or drink at the time. A waitress came by a couple times but never stopped us to pressure us to order anything.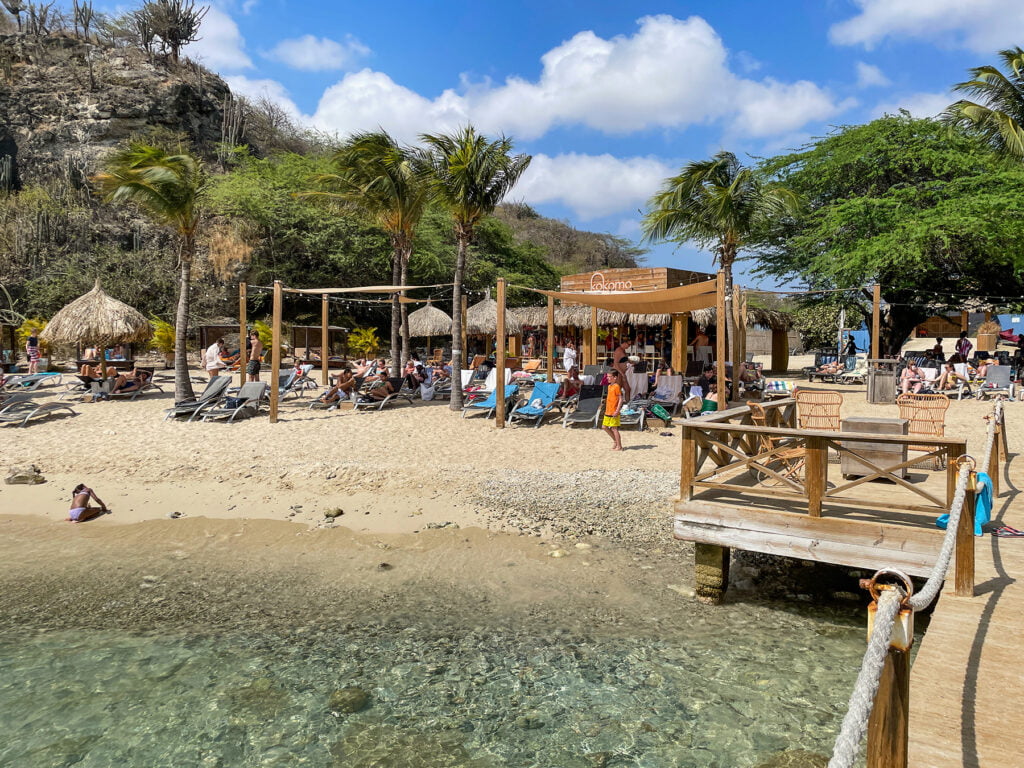 We left after a few hours because there wasn't much shade available, and we were very hot. There are a few little tiki huts and shade canopies, but the only spots available when we arrived were in the direct sun. We ended up stopping at the bar and getting a drink before we left.
Cas Abao
Cas Abao is another beach with BLUE water (see a pattern here?). There is a $6 USD entrance fee per car to get to the beach (unless you are staying at their hotel I believe). There are some tiki huts for shade and lots of palm trees, but no umbrellas. We found a spot beneath the palm trees, which was a perfect mix between sun and shade. The chairs were $3 each to rent.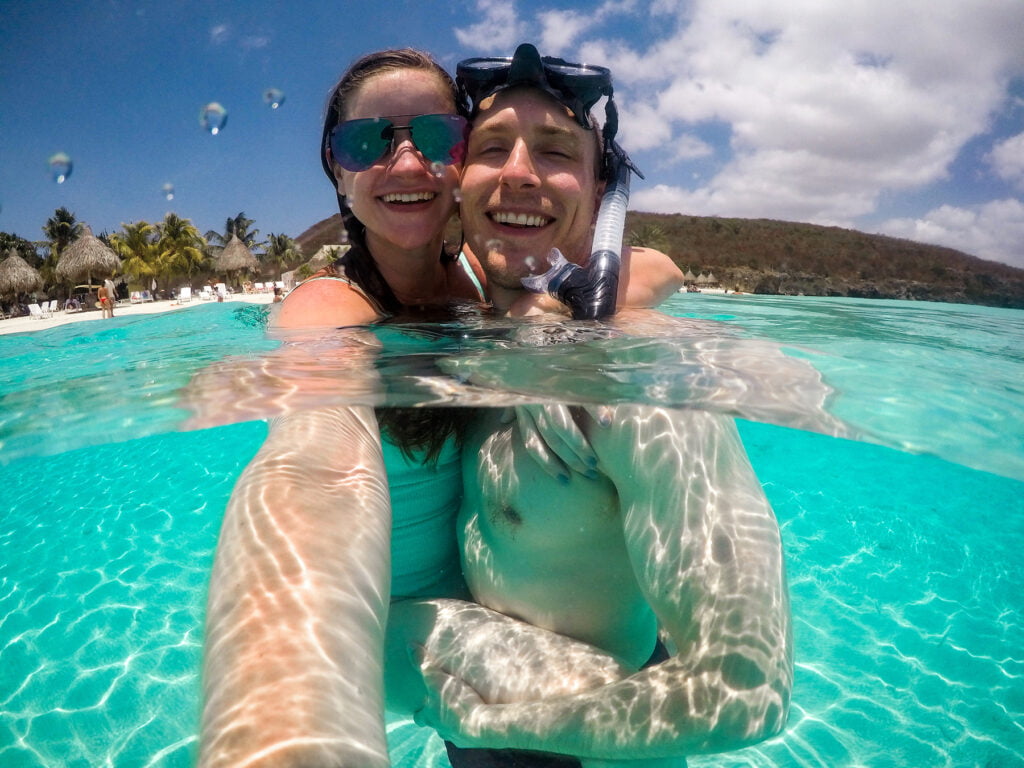 We tried a little snorkeling here, but it wasn't anything special after our experience at Playa Grandi. We had lunch at the beach restaurant, and it was good!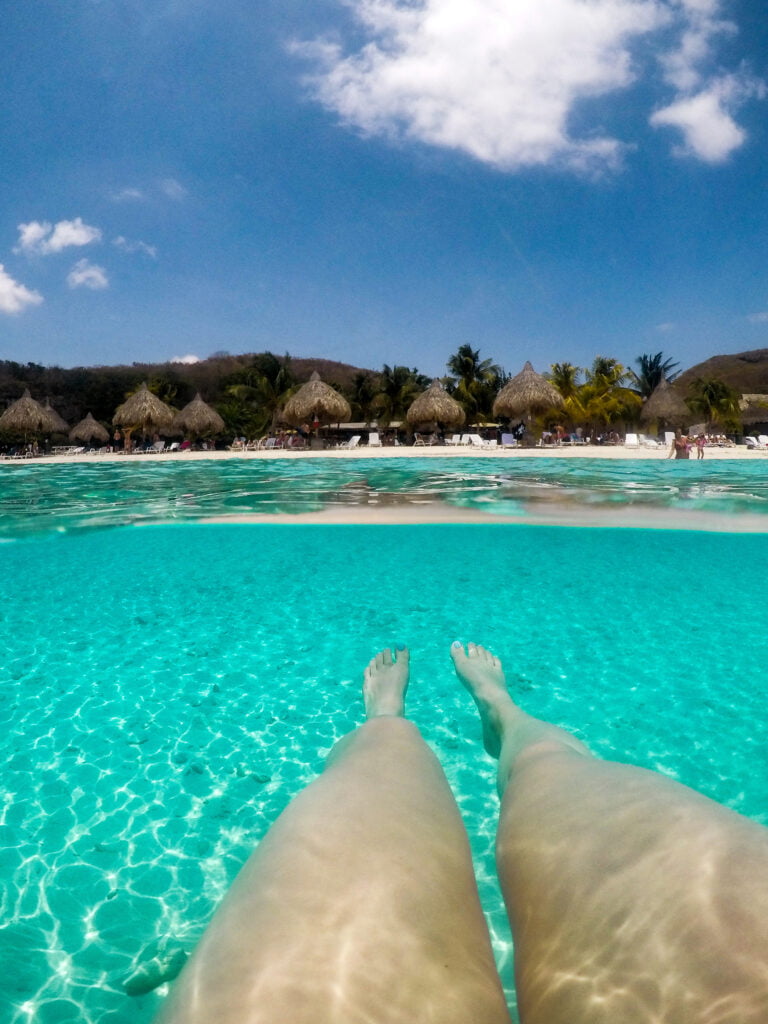 Beach at Coral Estate
We really enjoyed the beach at the resort we were staying at, Coral Estate. You don't have to be a guest to visit it. If you're a resort guest, you are supposed to have something to eat or drink to use the chairs, but there isn't a minimum. I think if you aren't a guest there is a $25 USD minimum per person to use the chairs. There isn't any sand at this beach; it's all rocks. There is a ladder to get down into the water and a swim platform to jump off of.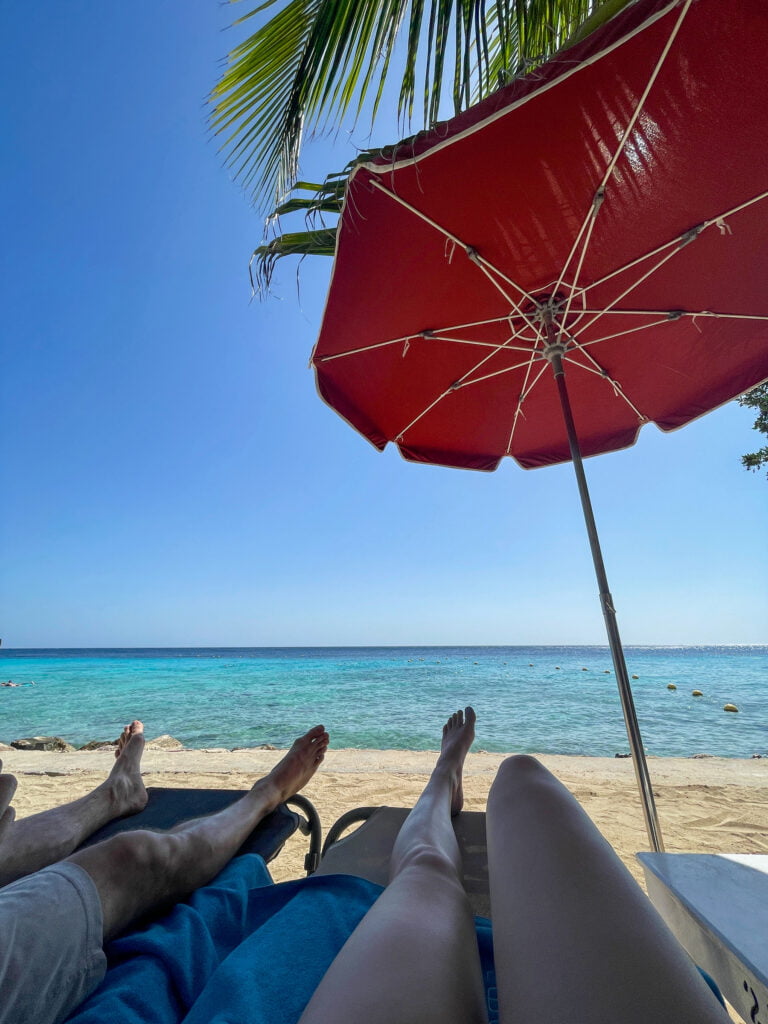 Mambo Beach
The last beach on my list is Mambo Beach, a very popular beach close to the town of Willemstad. We came here after our ATV tour, which started/ended across the street. There is a large plaza that has lots of shops and restaurants right by the beach. We got lunch at a restaurant called Bliss the Berry. I got an açai bowl and Mike got a chicken caesar salad. They were both really good! We stopped at an ice cream shop after lunch called Dushi Scoops. They have homemade ice cream. It may be some of the best ice cream we've ever had.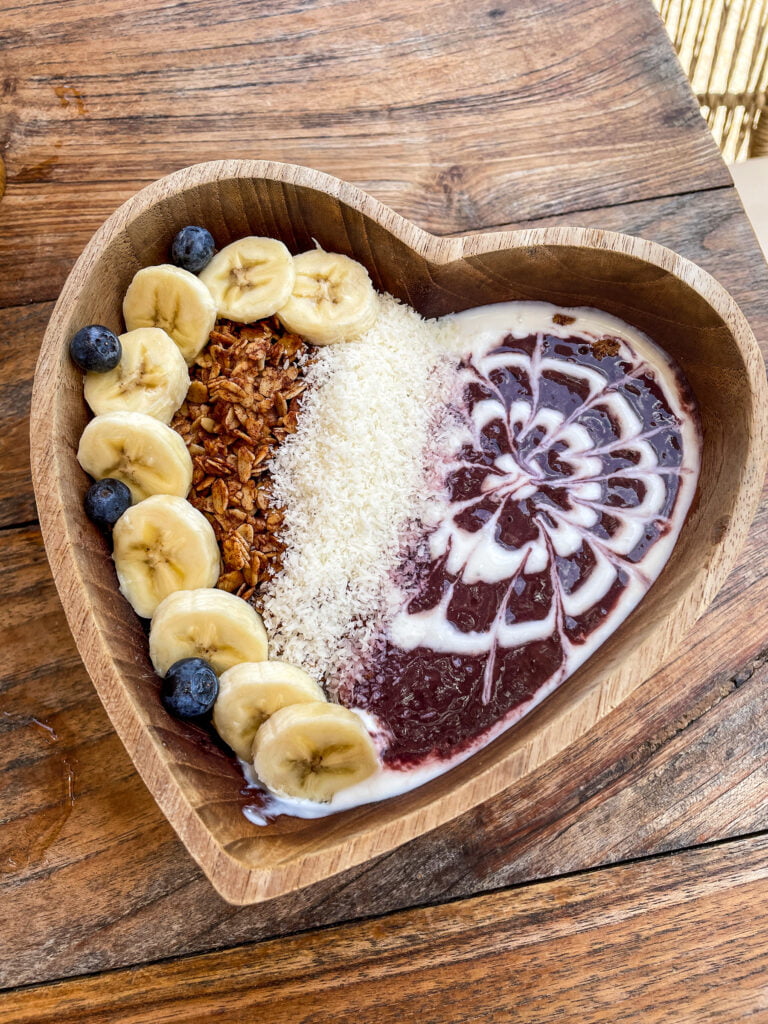 The beach here looked so pretty, and there are several beach clubs along it that have different prices for chairs. We didn't have time to chill at the beach here, but I'd like to if we ever come back!
We really loved the beaches in Curaçao! The water is beautiful, cool, and refreshing. Our favorite beach experience was swimming with the turtles at Playa Grandi, because you really don't get to do anything like that very often!
---
You may also be interested in:
Visiting Two of Curacao's National Parks
How to Spend One Day Exploring Willemstad, Curacao
ATV Tour of Curacao
Three Days at Sandals Royal Curacao
Logistics of an Eight-Day Trip to Curacao
Staying at the Royalton in Saint Lucia
Hiking Gros Piton in Saint Lucia