I spent six days doing a Utah Road Trip in October 2022 with my friend Ashley. We had an awesome time and saw so much!! Utah is one of my favorite states after this trip. It's so diverse and there are so many things to do and see. It's difficult to fit all of this into a week, but we did it!
Itinerary
This is an overly ambitious itinerary! If you know you like to take things at a slower pace, I'd suggest adding a few days and spreading everything out a bit. There is a lot of driving involved if you want to see everything that we did.
Wednesday
Fly into Salt Lake City. Stay the night in a hotel or camp near the city if you get in early enough. We arrived close to midnight, so we crashed at a hotel near the airport.
Thursday
Pick up your rental car, have breakfast, and pick up supplies. We stopped at Walmart for all our groceries as well as REI for a fuel canister for our camp stove. Then, you've got a four-hour drive to Moab.
You should arrive in Moab just in time for lunch. Grab some food at a restaurant in town. Hike Corona Arch (just outside of Moab), which will take about two hours.
Head to your campsite in Dead Horse Point State Park and set up your tent. We stayed at the Wingate Campground and really liked it. Have dinner at the campsite and watch the sunset at Dead Horse Point.
Friday
Rise very early this morning, as you're trying to get to Canyonlands National Park before sunrise. Arrive at Mesa Arch by 6am, which is about 35 minutes from the campsite. Start the short hike to Mesa Arch (don't forget a head lamp!), get your spot at the arch, and wait for the sunrise. There will be plenty of other photographers waiting with you.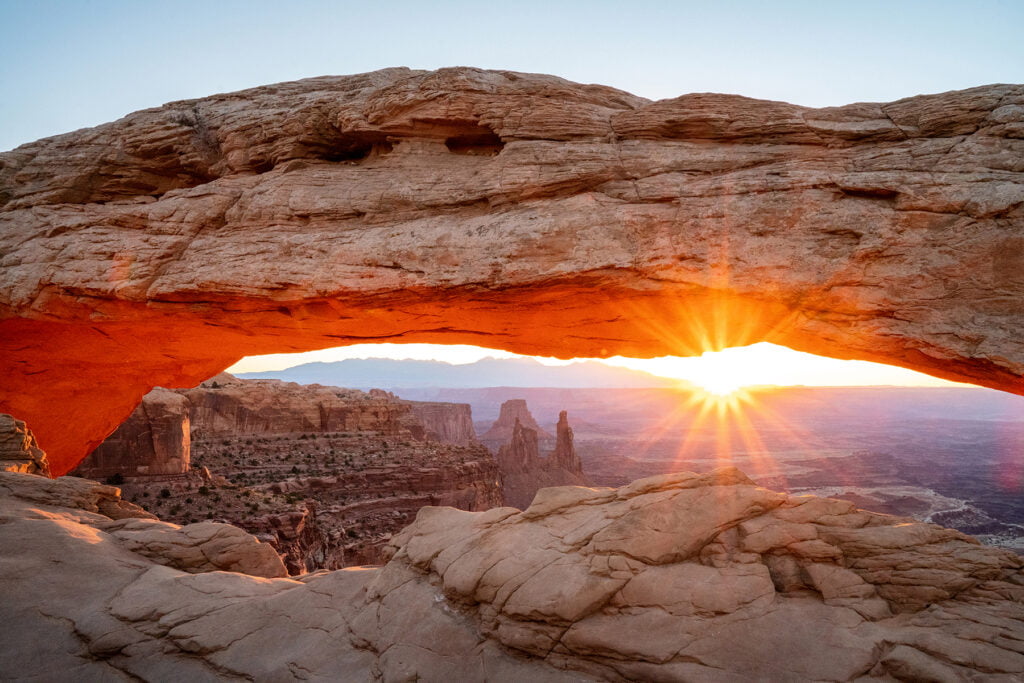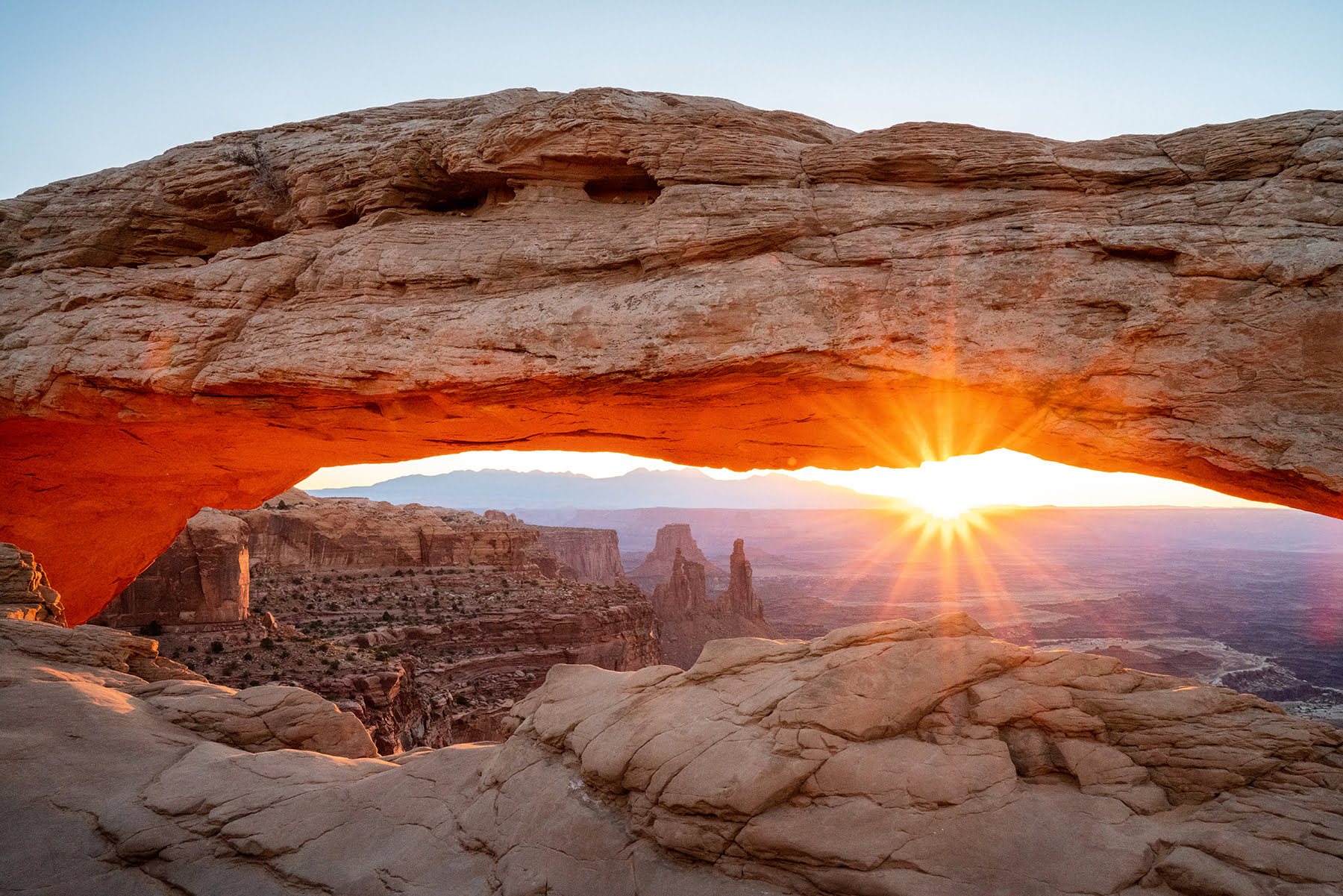 After you've gotten your sunrise shot, check out the rest of Canyonlands National Park. We really enjoyed the views at Grand Viewpoint, Buck Canyon Overlook, Green River Overlook, and Shafer Trail Overlook.
Next, head back into the town of Moab. We were ready for a shower, so we stopped at the Aquatic Center in town. The campgrounds at Dead Horse State Park don't have showers. Grab lunch in town before heading to your second national park of the day, Arches National Park.
We stopped at the Visitor Center and found out that the Double Arch hike we were excited to do was closed that day, so we went to the Devil's Garden instead. Then make sure to do the Delicate Arch hike at sunset! From there, head back to your campsite at Dead Horse Point State Park.
See all the details about our two days in Moab here.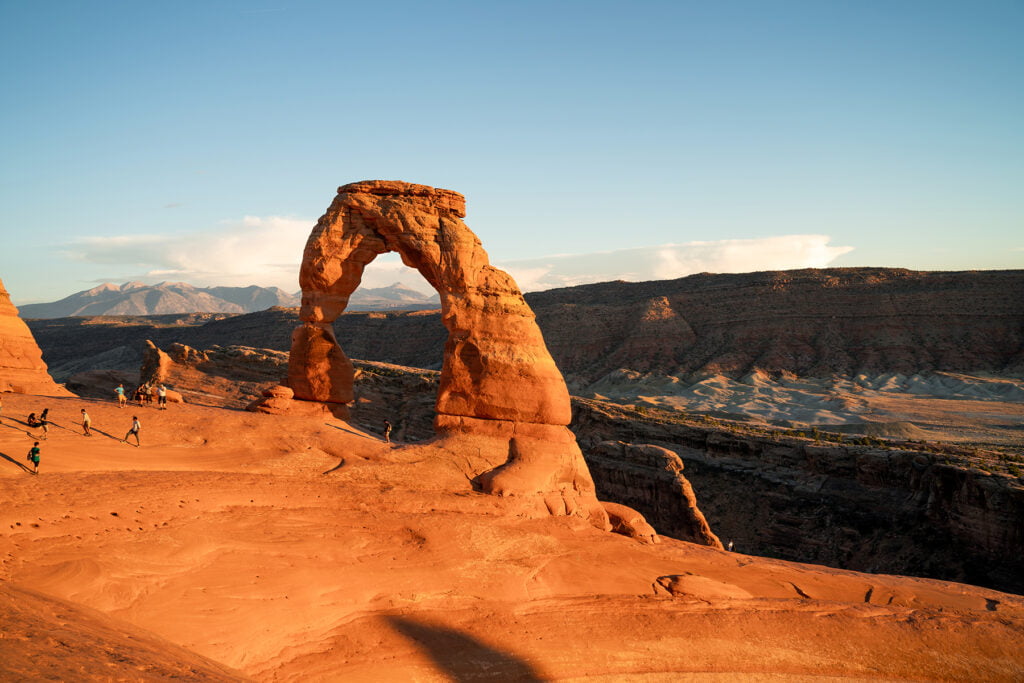 Saturday
Pack up your campsite and head south to Monument Valley. The drive will take about three hours. Depending on the time of year, you may gain an hour since Arizona doesn't follow daylight savings time. We arrived around 1pm and stopped at the Visitor Center. We got a free map at the checkout counter with suggested rock formations to stop at. The scenic drive through the park is about 45 miles long and took us three hours with all of our stops.
Stay at Goulding Lodge, which is a ten-minute drive from the park entrance. We camped here, but they also have a hotel. We set up our tent, showered, and made dinner at our campsite. It was an early night after a long day of driving and exploring!
Read about our day in Monument Valley here.
Sunday
Monument Valley is the furthest south you'll go on this trip, so you'll start your drive back north this morning. We watched the sunrise on the Goulding Lodge property on a short hike behind our campsite overlooking Monument Valley. As we were driving, we stopped at Forrest Gump Point (just past Monument Valley) to get the famous photo. Make sure to get gas in the Monument Valley area, as you won't be seeing civilization for several hours of your drive.
The drive to Capitol Reef National Park takes four hours and is very scenic! There were moments we would go a long time without seeing any other humans or civilization. It felt truly wild. We hadn't been smart and gotten gas ahead of time, so when we arrived in the town of Hanksville (our gas tank nearly on fumes), we filled up there.
From Hanksville, Capitol Reef is another 45 minutes. Once in the park, we stopped at the Visitor Center, Goosenecks Overlook, Gifford Homestead for homemade pies, and hiked to Hickman Bridge.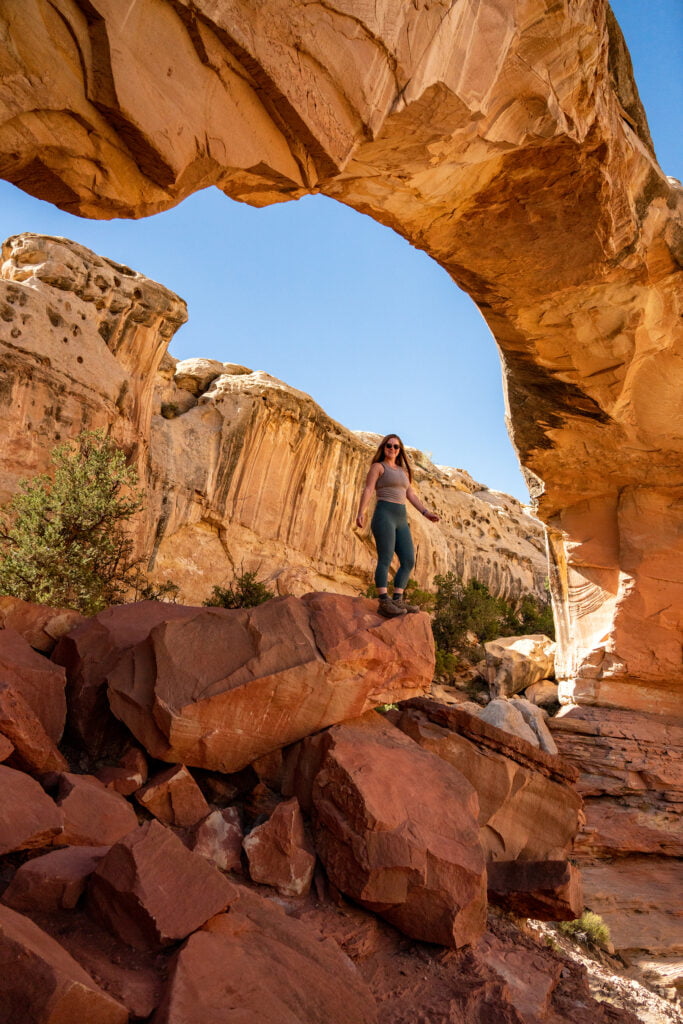 When you get your fill of Capitol Reef, head to your hotel (Cathedral Valley Inn) to check into your room for the night. After three nights of camping, a nice bed will be so satisfying. We had some extra time to explore before our final stop of the day, so we explored around the moon-like terrain near our hotel.
The last stop of the day is sunset at Bentonite Hills. This desert landscape looks bland during the day, but during the blue hour just after sunset, the colors pop and it really looks like you're on Mars! We got here just before sunset and played around until it got dark. The views from the drone were great.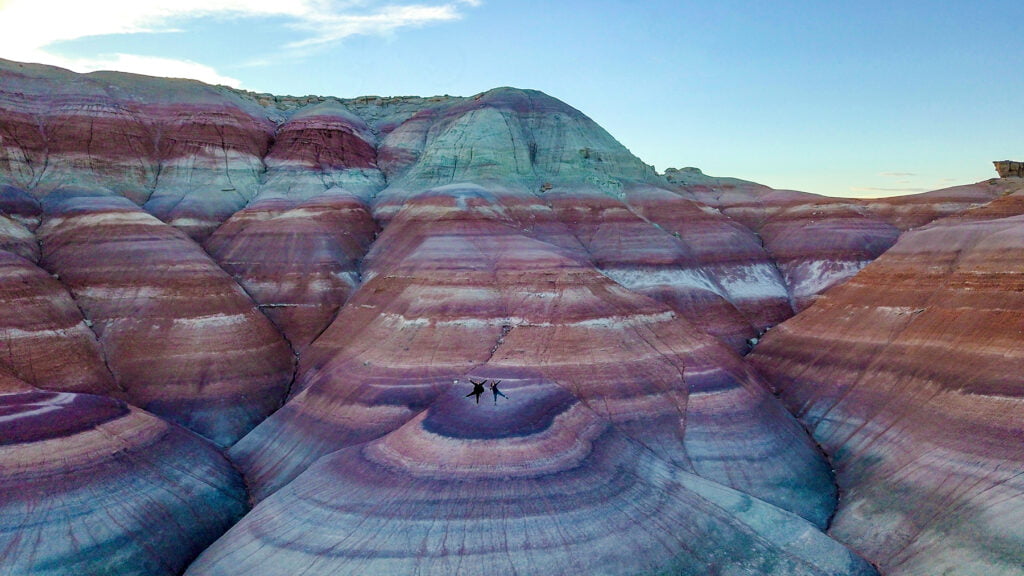 Get dinner in Hanksville at Outlaw's Roost, a delicious Mexican joint. It'll be a great end to the day!
Check out my post on our day around Capitol Reef here.
Monday
Prepare yourself, because this day has a LOT of driving! I recommend splitting this day into two if you have the extra time. You'll start with a five and a half hour drive to Bonneville Salt Flats. You don't need too much time here. We had fun driving on the flats and taking photos.
Next, head back towards Salt Lake City and stop at Stansbury Island. This portion of The Great Salt Lake is pink because of the algae growing here! It is really cool to see.
For your final stop of the day, head to Antelope Island, where you'll be camping. Drive around and admire the buffalo roaming the island. Set up your campsite and watch the sunset. Make sure to bring bug spray, as the mosquitos were horrendous while we were there!!
Read the specifics of our day exploring the Great Salt Lake here.
Tuesday
Pack up your campsite and catch a flight back to your city!
Costs Per Person
These were the costs per person (two people total) for our six-day trip. We stayed in hotels two nights and camped our other four nights. We only ate out about once a day to keep food costs down and got groceries for our other meals.
Flight: $530
Lodging / camping fees for 6 nights: $235
Rental car: $180
Gas: $130
Airport parking: $20
Park passes: $10 (would be $40 if you don't have national park pass)
Food: $130
TOTAL: $1235
Tips
-When driving from Monument Valley to Capitol Reef, you climb a mesa and there is no gas or service for at least 2 hours. Make sure you have a full tank of gas.
-I recommend getting a high clearance vehicle for this trip. We had a small SUV that made it but there were some really sketchy dirt roads that we would've been much more comfortable in with a bigger SUV. Four-wheel drive is not necessary unless it has rained recently.
-Bring bug spray, no matter what time of year if you're going to Antelope Island. We didn't think we'd need any in October, but the mosquitos were horrible.
---
YOU MAY ALSO BE INTERESTED IN:
48 Hours in the Moab Area
24 Hours Around Monument Valley
How to Spend One Day in the Capitol Reef Area
Exploring the Great Salt Lake in Utah
Hiking Angels Landing in Zion National Park
The Narrows in Zion