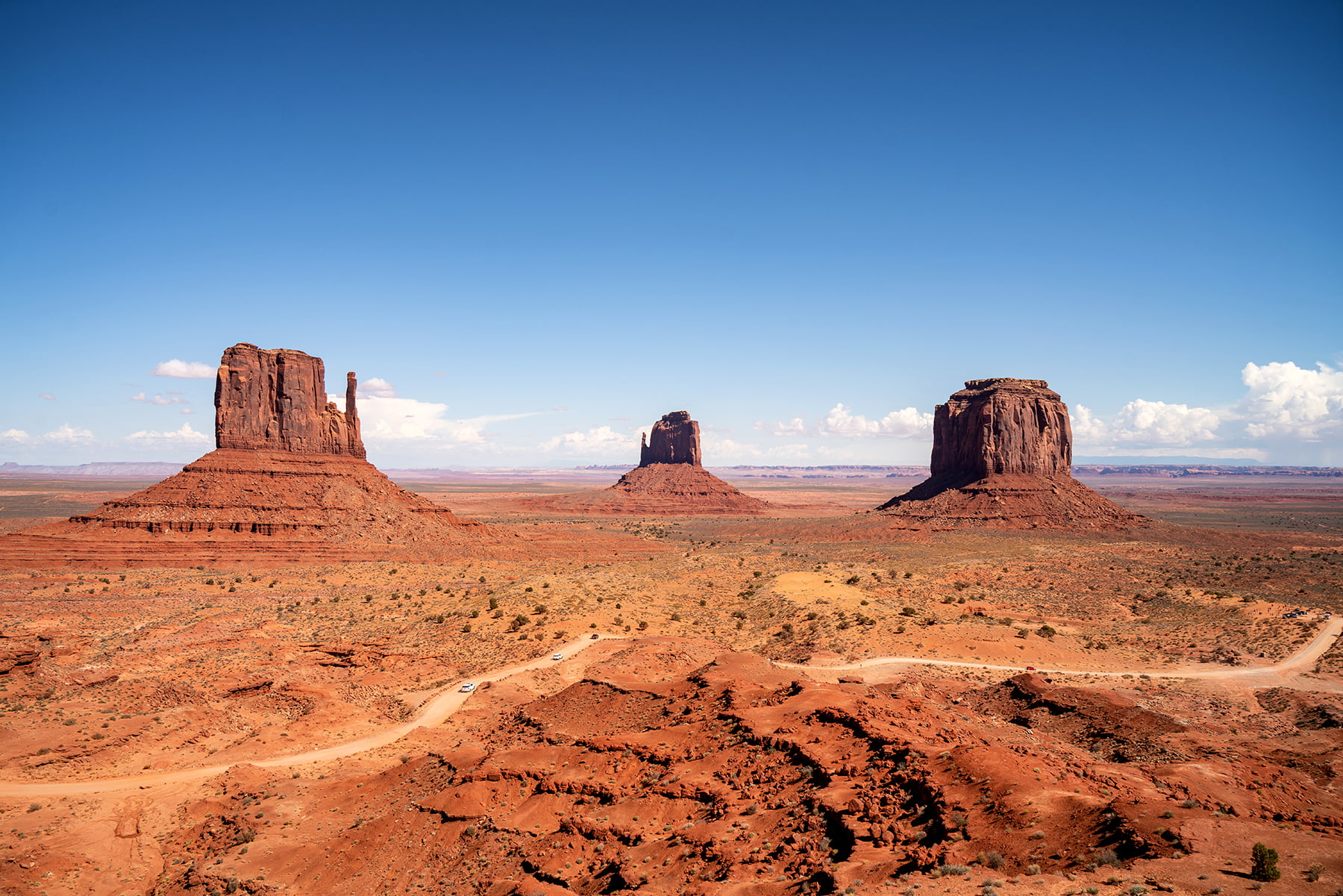 Monument Valley had been on my bucket list for as long as I could remember. Monument Valley Navajo Tribal Park is located on the Navajo Nation Reservation. When I think of the wild west, this is what it looks like.
When we were planning our trip to Utah, I knew it was a few hours out of the way from everything else we wanted to see, but who knew the next time I'd be back in that area. Ashley was up for the extra drive, so we added a 24-hour stop in this magical spot to our itinerary.
Drive to Monument Valley
Monument Valley is located about three hours south of Moab, just across the border of Utah in Arizona. The drive was really easy, and there are multiple scenic places you could stop along the way if you are trying to break up the drive. We had limited time though, so we drove straight to Monument Valley.
After looking up the open hours of the park, we saw that it closed at 4pm (check their website, because it changes based on the season). We weren't sure if this meant everyone had to be out by 4pm, so we made sure to arrive at the park by 2pm just in case. What we didn't think about was that Arizona does not follow daylight savings time, so it was actually an hour earlier there than in Utah.
Monument Valley Scenic Drive
There aren't many options to see Monument Valley without a tour guide. You can drive the main scenic loop or do one of the hikes there on your own. Otherwise, there are many tours you could choose from. Entrance to the park was $10 per person or $20 per vehicle. After we paid, we stopped at the Visitor Center which has a nice gift shop inside as well as restrooms. We picked up a map from the shop and started our drive.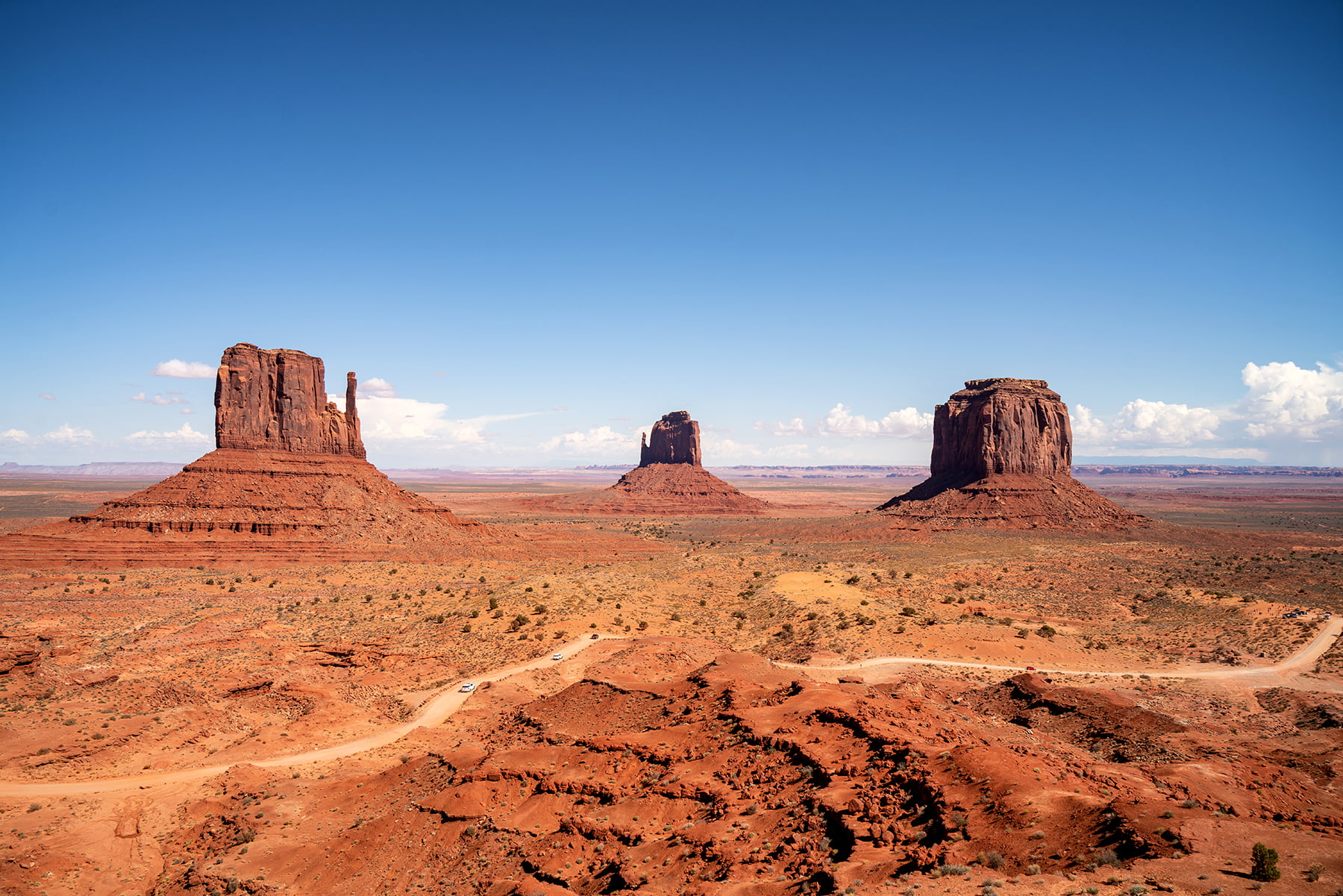 The road is unpaved but was in good condition. We saw a few sedans doing the drive, but it was mostly SUVs or trucks. The road is super dusty, so when we passed all of the open-air tour guide vehicles, I was glad we decided to do the drive in our car. Our first stop where we got out to explore was John Ford point. This is an iconic spot where several movies were shot. You can get your picture taken sitting on a horse out on the point if you want to pay. Or you can wait until the horse takes a break and get a picture on your own for free. After we took our pictures, we stopped at Linda's Fry Bread Stand and tried Navajo Fry Bread for the first time, drowning it in honey. It was yummy!
We continued our drive on the loop and saw many rock formations I'd never seen in pictures or movies before. One spot I really enjoyed was the North Window, where hardly anyone else was around, and it was a gorgeous spot!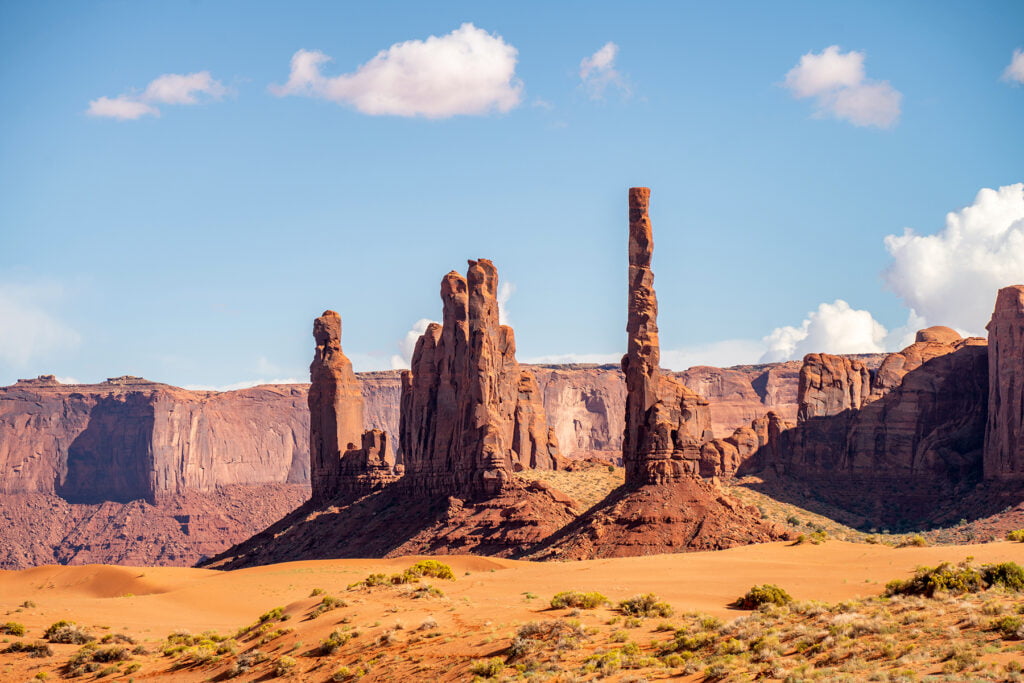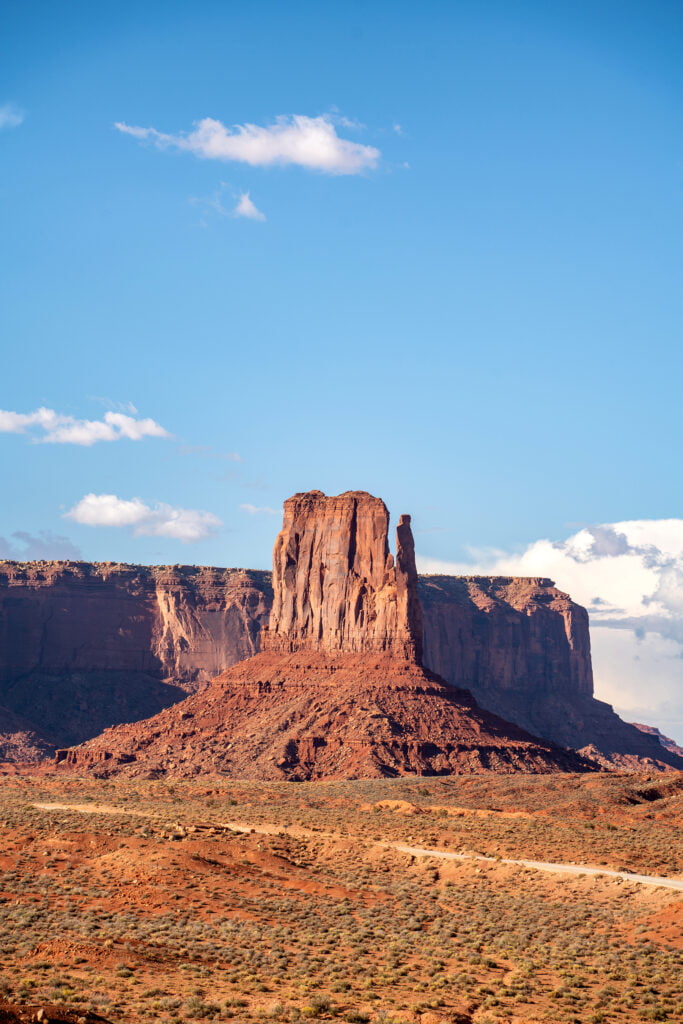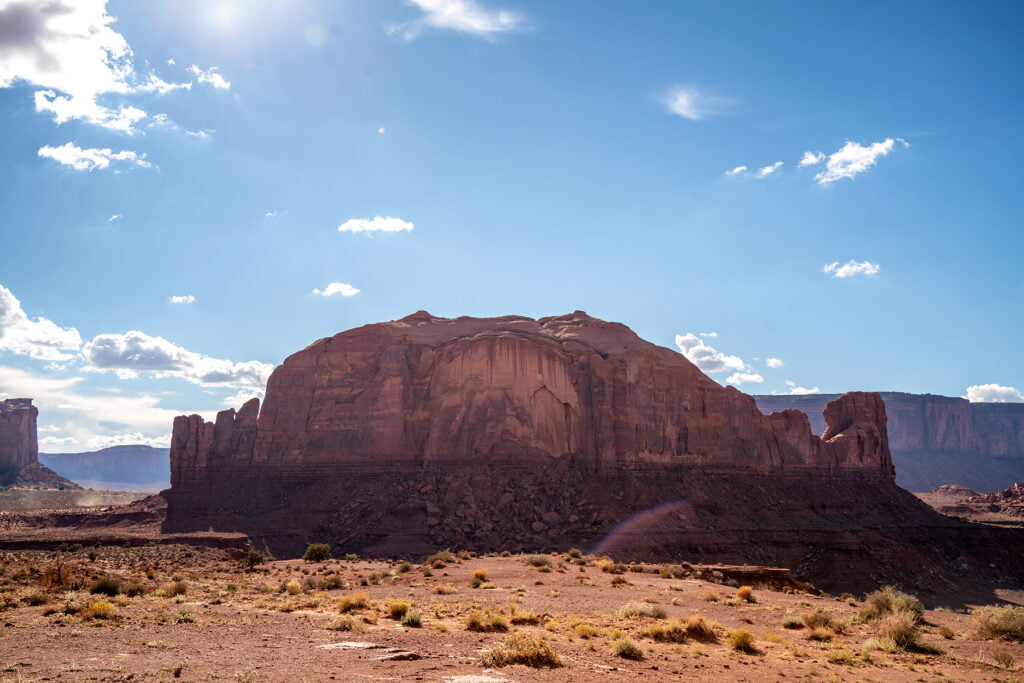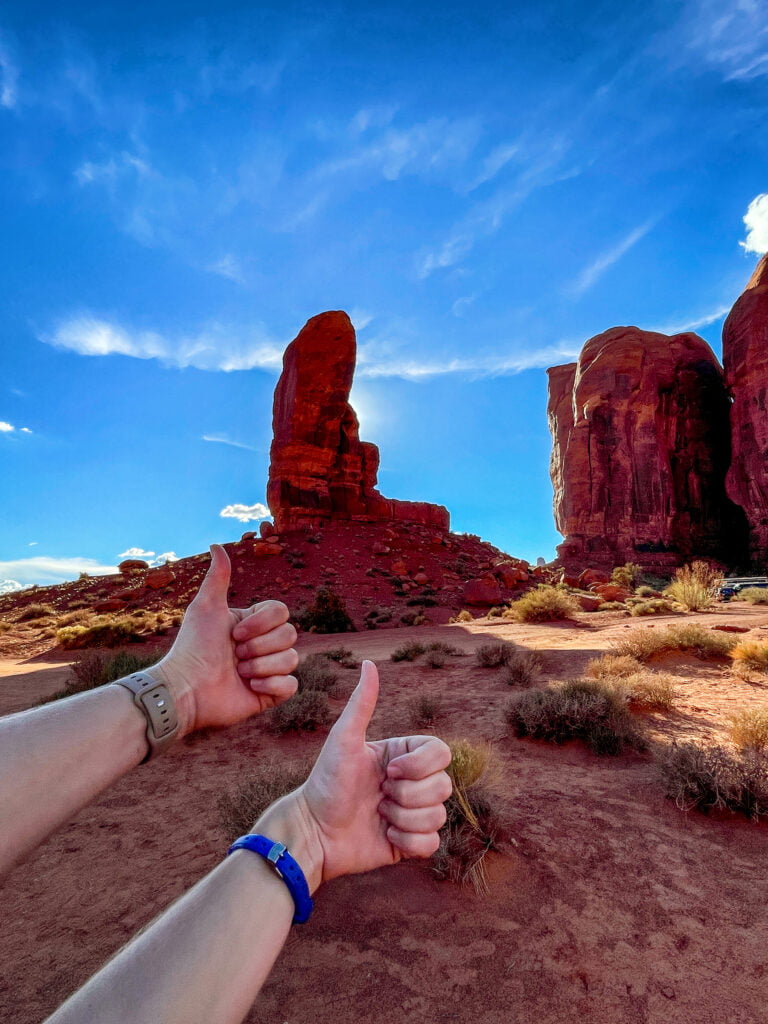 The drive is about 45 miles long and took us roughly three hours with all of our stops. I certainly thought it was worth the drive from Moab. After we left the park, we stopped at the Welcome to Utah sign to get a shot with Monument Valley in the background.
Camp at Goulding Lodge
We had reservations to stay at Goulding Lodge, which is only a ten-minute drive from the park entrance. The lodge has both a hotel and a campground, and it was way nicer than I expected. The showers were great, and it was nice to have a bathroom close to our campsite since the campgrounds are fairly large. They also offer tours of Monument Valley that leave from the lodge. They have a sunset tour that would've been great to know about in advance, because that is the only way you can see the park at sunset and after dark.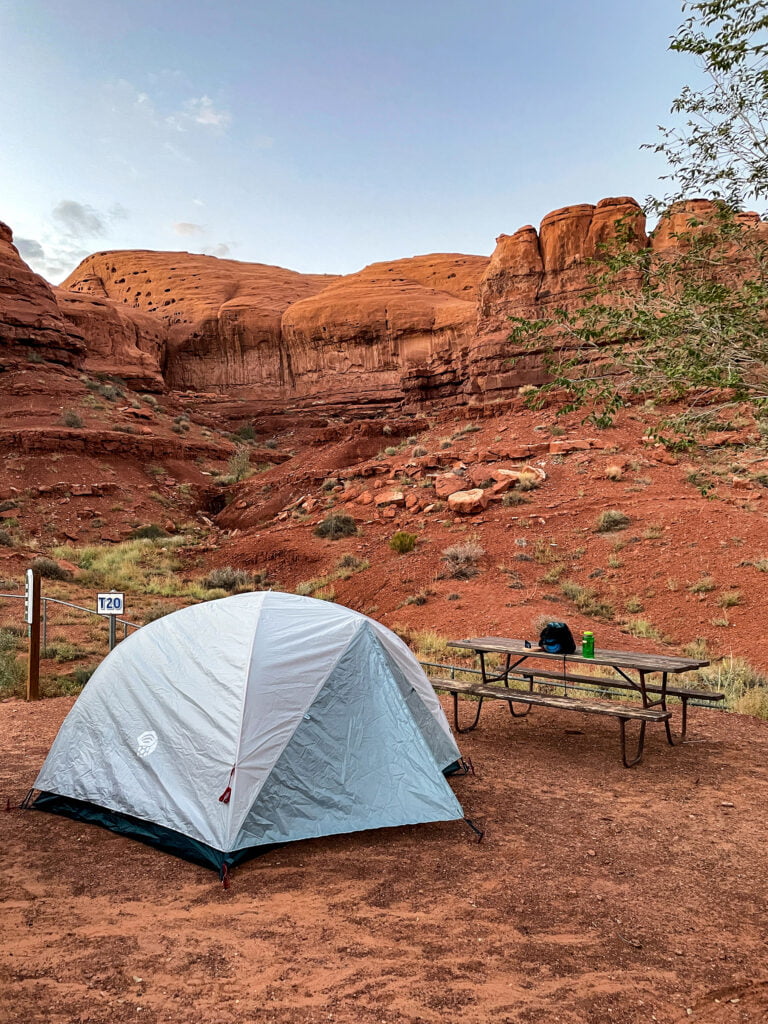 We'd had a very fast-paced few days, so it was nice to have a relaxing evening at our campsite. We made dinner and went to sleep early. At sunset, we noticed multiple people hiking behind our campsite. We looked it up, and there is a trail that is on Goulding's property, only for Goulding guests. We decided to do the hike at sunrise.
Sunrise at Goulding Lodge
After a great night of sleep, we got up and packed our site up in the dark. Then we started the short hike with our headlamps, hoping to catch the sunrise over Monument Valley. There were a couple other people already there watching the sun come up, and we chatted while admiring the view.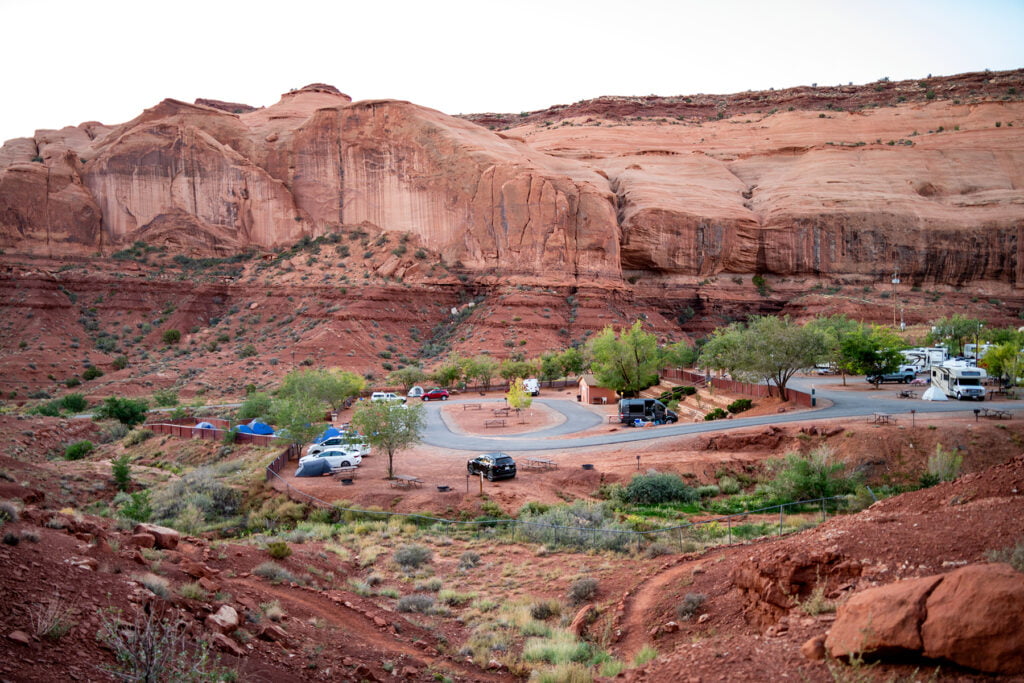 Once the sun was fully up, we headed back to our car and started the four-hour drive to the Capitol Reef area.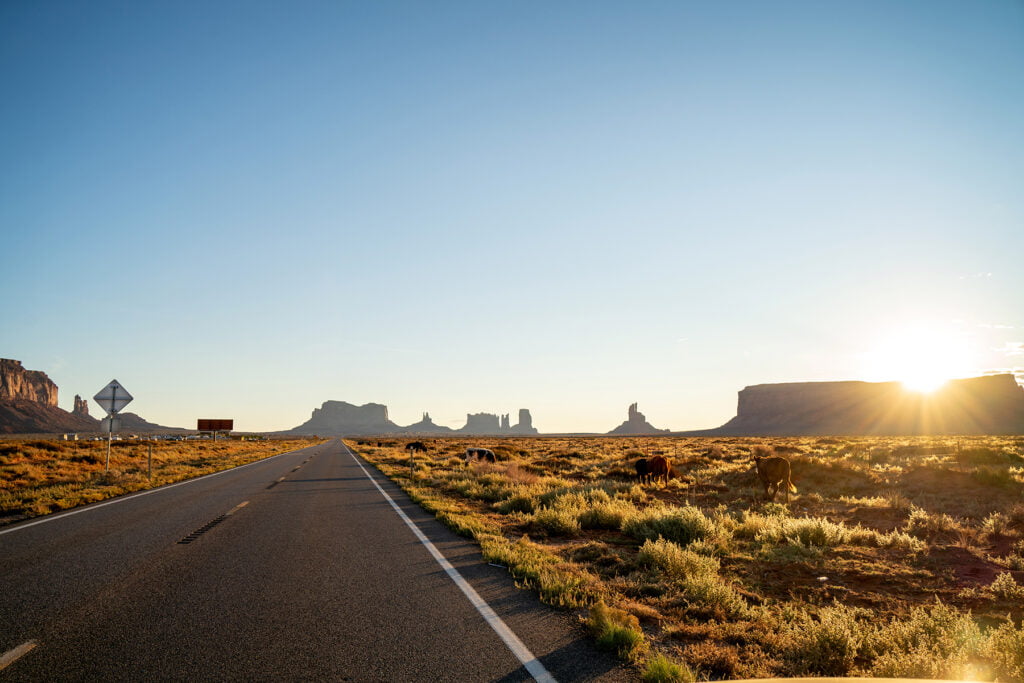 Forrest Gump Point
About 20 minutes north of the park is the famous spot from the Forrest Gump movie where he decides he wants to quit running and go home. This has become a very popular place to get a photo taken with Monument Valley behind you. This spot is on the highway on the way out, so we stopped for a few minutes. There were several other people trying to take pictures, so we waited our turn and finally got the shot.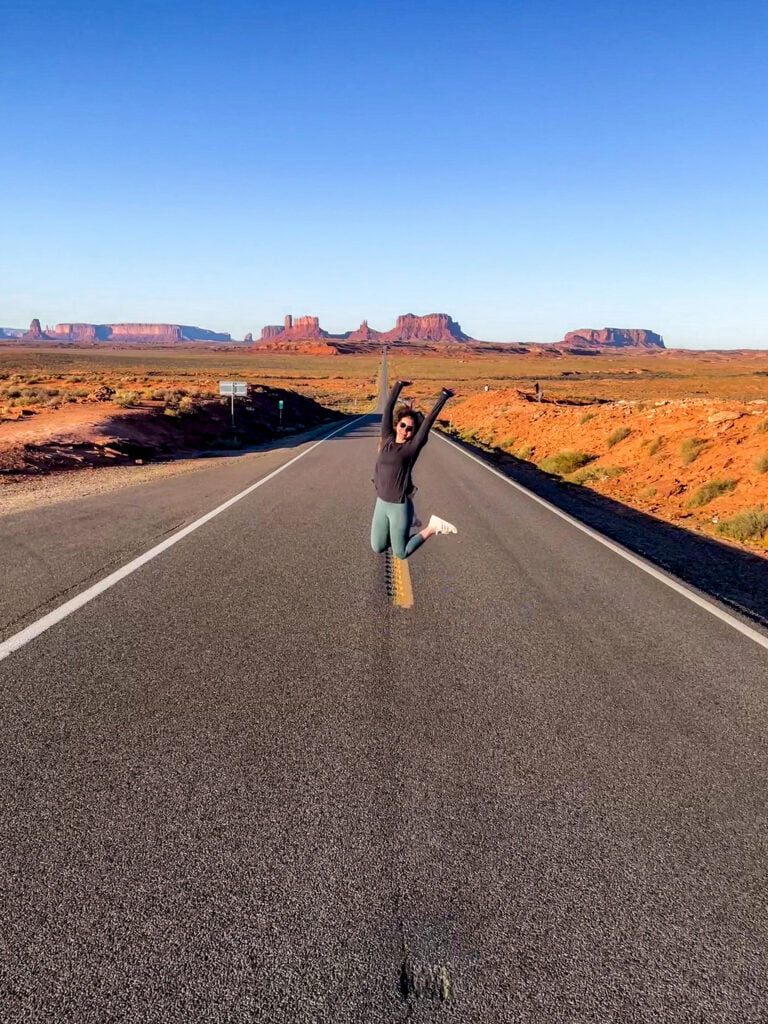 The rest of the morning was spent doing a very scenic drive to Capitol Reef. I loved our time in Monument Valley! I thought 24 hours was plenty of time, as there isn't much else to do in the area.
---
You may also be interested in:
48 Hours in the Moab Area
How to Spend One Day in the Capitol Reef Area
Exploring the Great Salt Lake in Utah
Logistics of a Six-Day Utah Road Trip
Hiking Angels Landing in Zion National Park
The Narrows in Zion