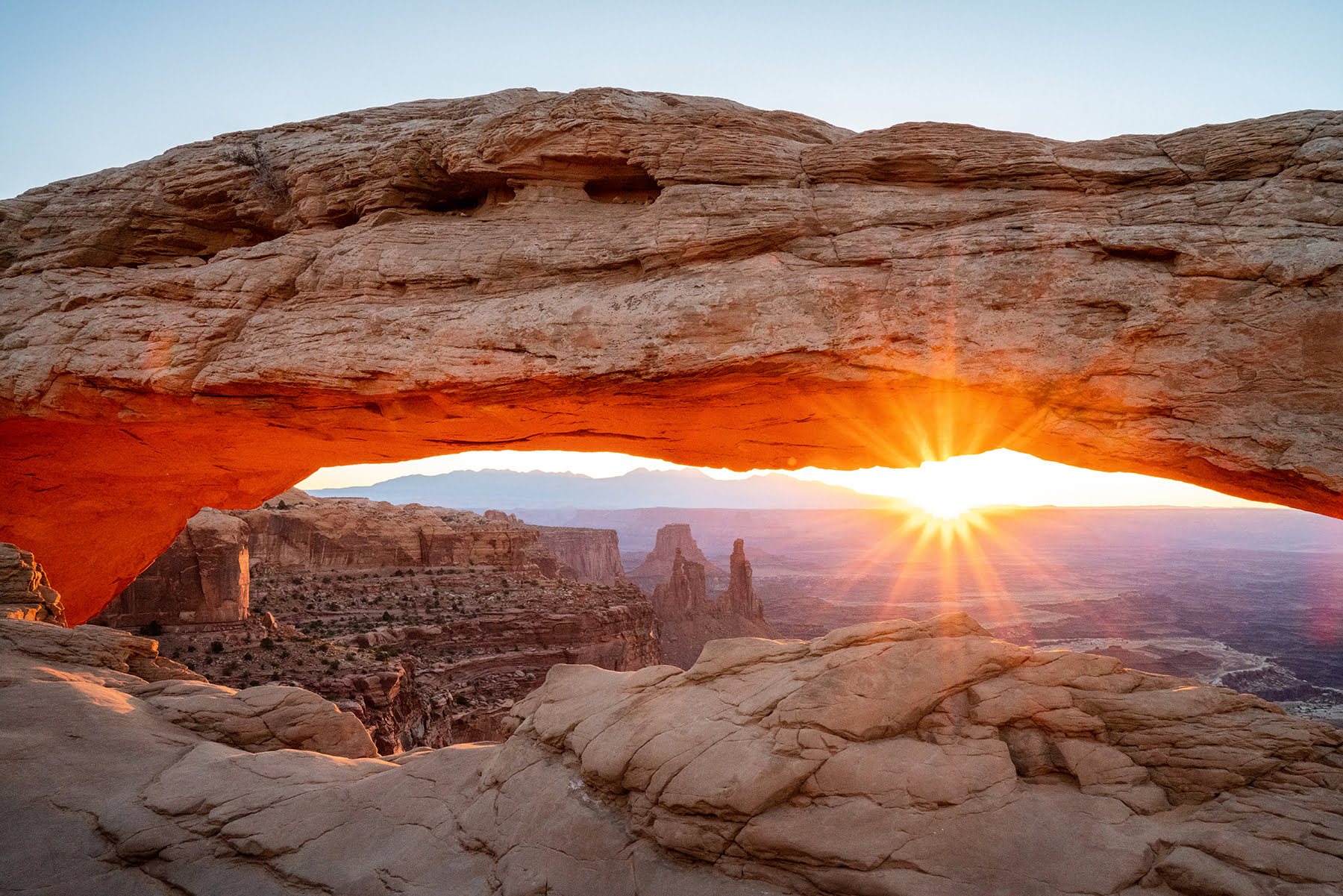 On our recent Utah road trip in October 2022, my friend Ashley and I spent two action-packed days in the Moab area. We camped in Dead Horse Point State Park, visited two national parks, and more!
Thursday
After flying into Salt Lake City Wednesday evening and staying at a hotel near the airport, we started our drive to Moab Thursday morning and picked up food and supplies on our way out of town. The drive is just under four hours and is scenic.
Lunch at Milt's Stop and Eat in Moab
We arrived in Moab just in time for a late lunch. Milt's Stop and Eat had been recommended to us, so we figured that would be a quick and easy lunch. We got burgers and shakes and ate them in their cute outdoor eating area. Everything was yummy!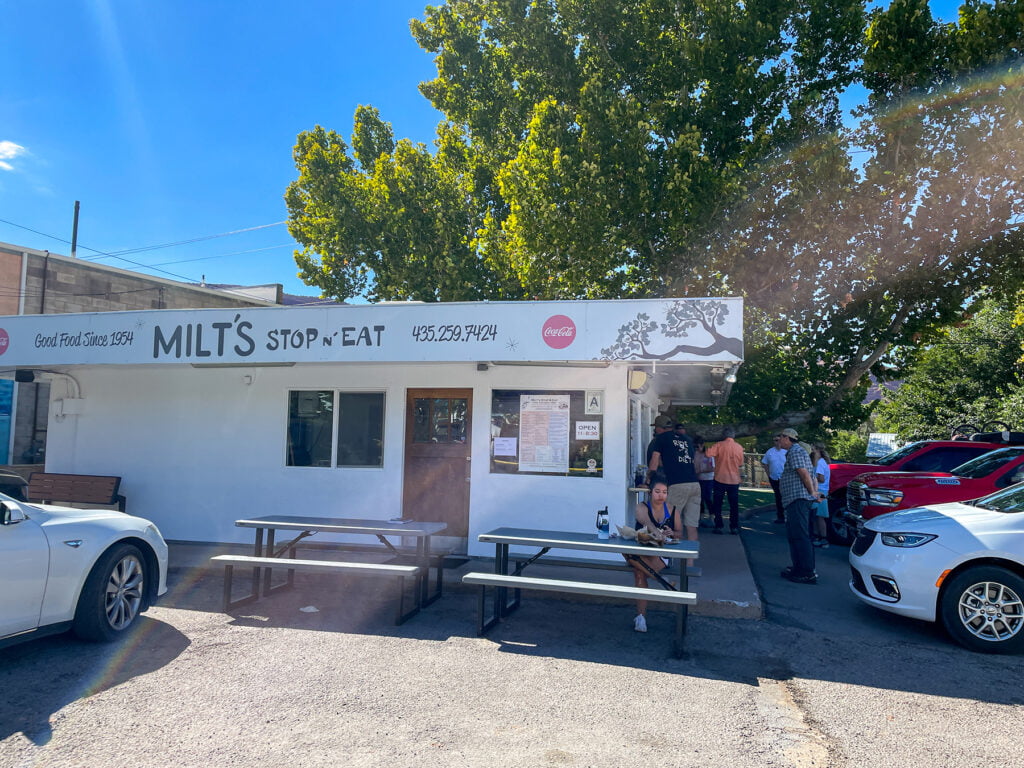 Corona Arch Hike
From town, we drove 20 minutes to the Corona Arch Trailhead. This hike is not inside a park, so it is free to access. The drive follows the Colorado River, and you'll pass the famous climbing area called Wall Street on the way. There were lots of climbers out when we drove past.
We started the hike around 3pm, and boy was it hot! The temperature was only in the high 70s, but with very little shade or breeze, it felt as if it was at least 90F. I also forgot to bring my hat on the hike, so I struggled with the heat. This hike is fairly easy and is only about 3 miles round trip. There is a bit of elevation change, as well as climbing a ladder and steep section with a chain, but those parts weren't difficult.
You'll start to see the arch after just about half a mile. It's huge! Bowtie Arch is another arch along the hike that was pretty cool. There was hardly anyone else there, so we had the place mostly to ourselves to take pictures. This was my favorite hike we did in Moab!
Petroglyphs
Our next stop was Dead Horse Point State Park, where we would set up our campsite and then watch the sunset. When we plugged it into the GPS, it said it was only about 14 miles away. As we started driving though, the super rough road turned worse, and we were worried our rental wouldn't make it. We talked to an oncoming camper that said it was even worse ahead and suggested we turn back. We turned back the way we came and went the long way to the park. It actually only added a few minutes to the trip, so I suggest going this way from the start!
As we were driving near the Wall Street area, we noticed some petroglyphs. There was a road sign pointing them out as well. They were easy to see from the road.
Dead Horse Point State Park Sunset & Camping
We arrived at our campsite at Wingate Campground around 6pm and quickly set up our tent. This campground is one of the most well-maintained I've stayed at! The bathrooms were really nice, and it was also great to have a shelter over our picnic table at the campsite.
We knew we wanted to get to a viewpoint in the park before the sun set at 7pm. Dead Horse Point is at the end of the road in the park, and there is a large parking lot with bathrooms and lots of spots to enjoy the view. Most of the good hang out spots were taken when we arrived, but we managed to find a place a little walk down. This point overlooks a big bend in the Colorado River. I could see similarities to the Grand Canyon, which makes sense since the canyons were both carved by the same river.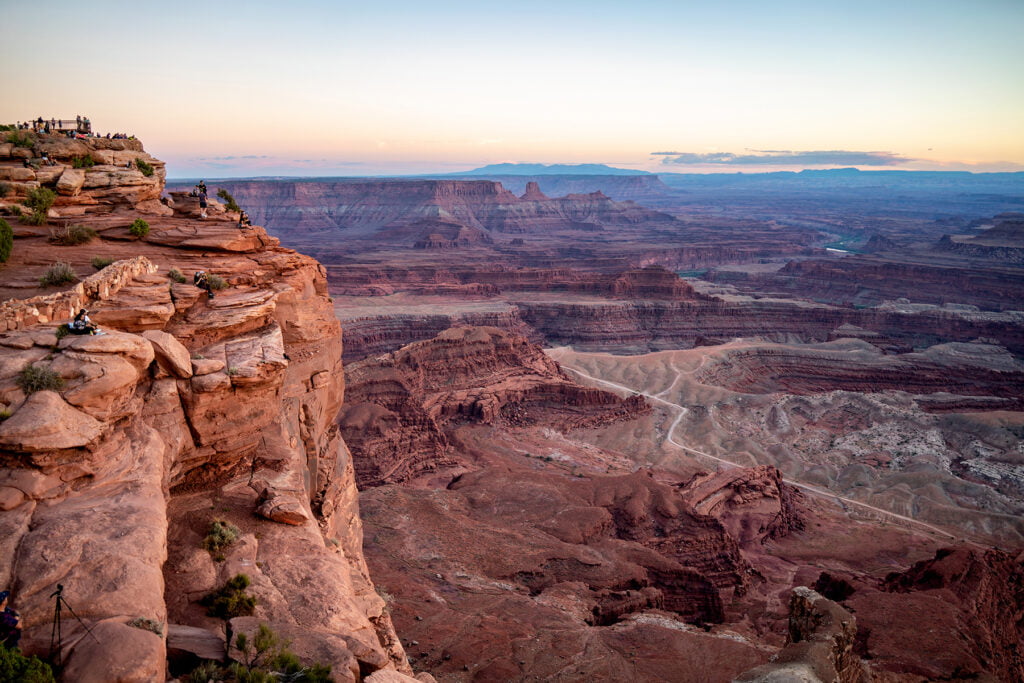 Friday
Canyonlands National Park
Sunrise at Mesa Arch
We left our campsite early Friday morning and drove 30 minutes into Canyonlands National Park. We arrived at the parking lot at 6am and there were only a few other cars there, so it was no problem getting a parking spot. Mesa Arch is an iconic sunrise spot and is very popular. I had read that parking can be difficult. However, we sat in the car and made coffee and breakfast, while we should've been walking to the arch to get a spot to take pictures. When we arrived at the arch around 6:30, there were already dozens of people shoulder to shoulder, and we had to find a spot in the second row of people. It was difficult to take pictures over people's heads without getting their arms and cameras in the photo.
The moment that the sun rose over the mountains (around 7:30am) was magical! It lit up the valley below and the mountains turned red. The photographers cleared out shortly after.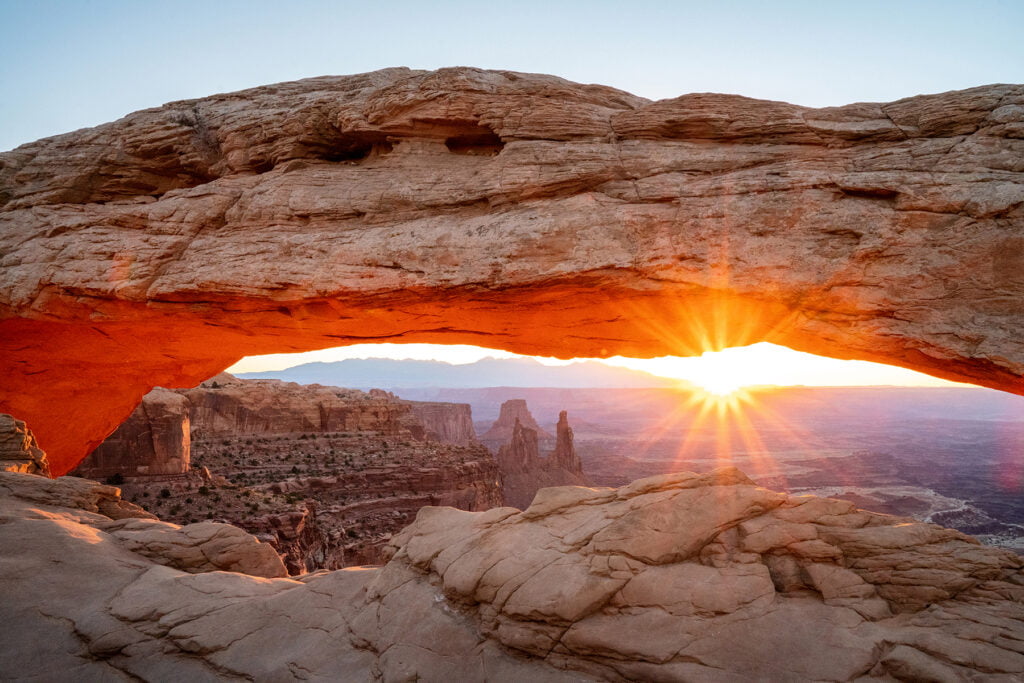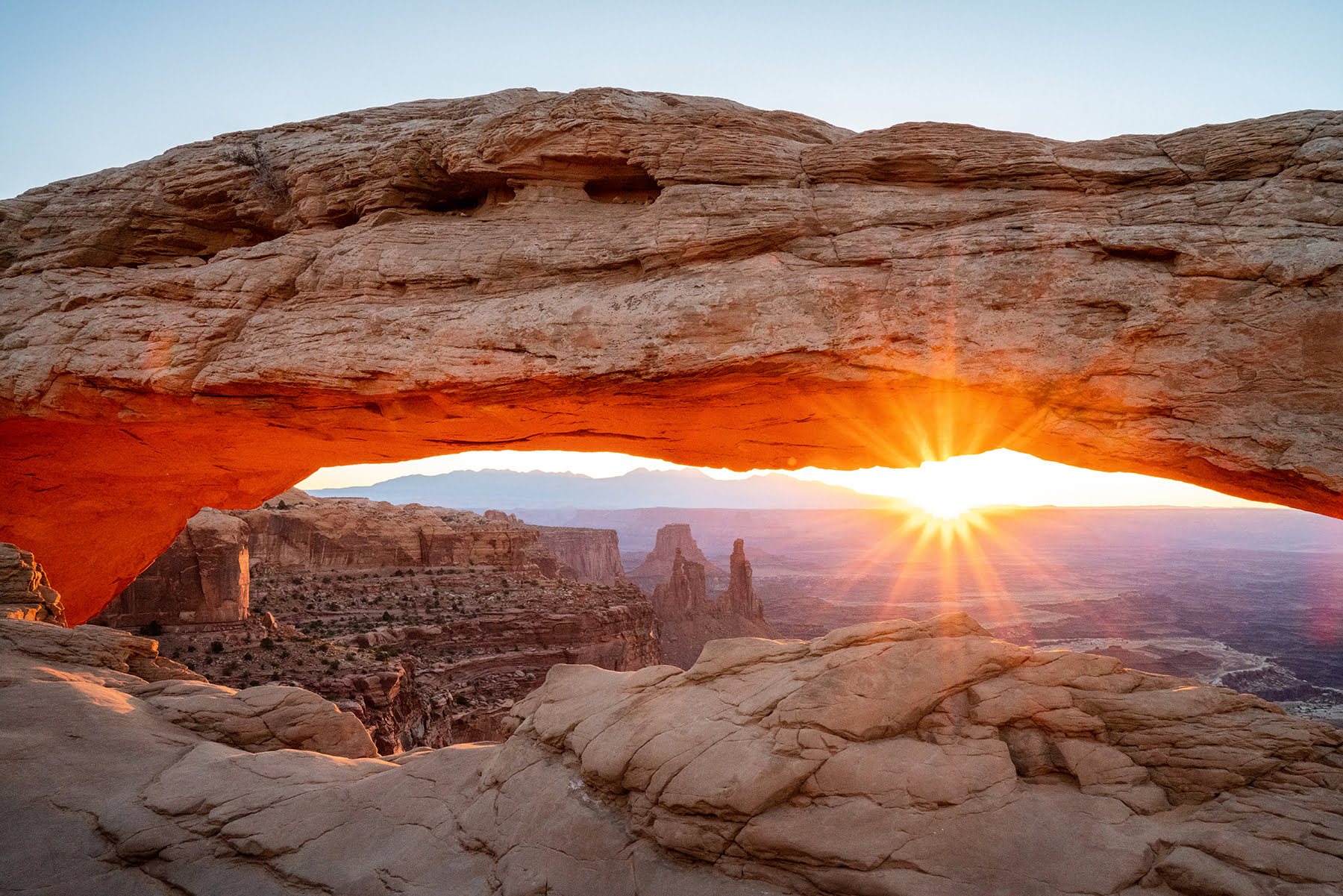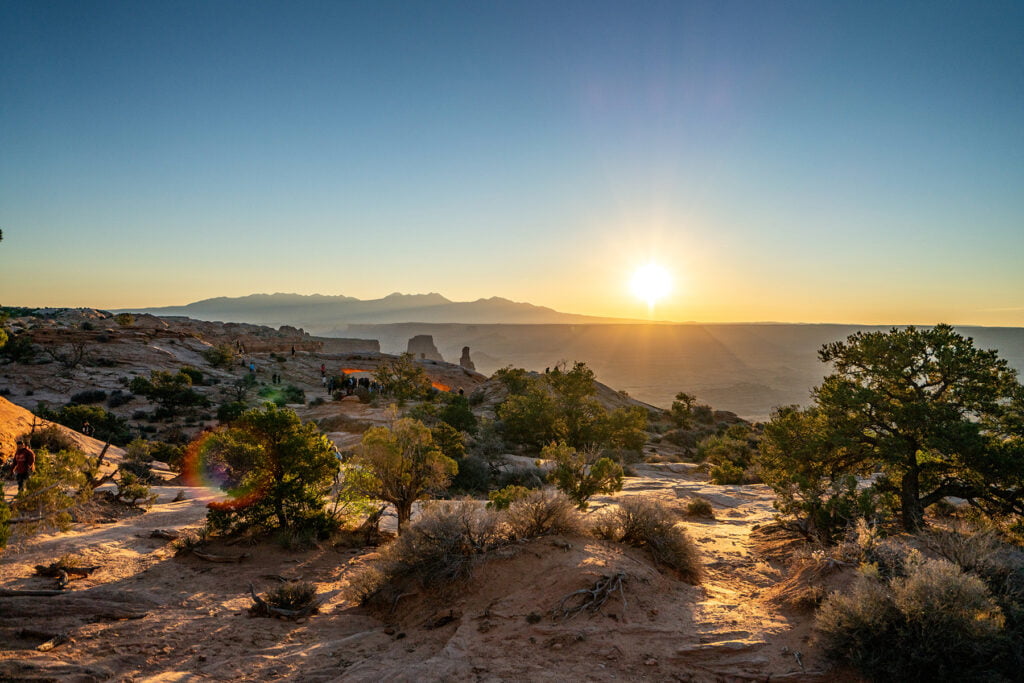 This was a beautiful experience, but too crowded for me. I'd say doing this once it is worth it for the pictures, but I wouldn't repeat it a second time. We didn't have any hikes around this park planned, but there were a few overlooks we wanted to check out before heading into Moab.
Canyonlands Overlooks
Canyonlands National Park has one long road that dead ends at Grand View Point Overlook. Since we were already about halfway down the road at Mesa Arch, we decided to drive straight to the end of the road and make our way back, stopping along the way.
Grand View Point Overlook
Our first overlook stop was at Grand View Point, the end of the road. There is a large parking lot here and bathrooms. We enjoyed wandering along the edge of the viewing area and looking down on the cars making the trek on White Rim Road through the canyon below. This overlook reminded me a lot of the Grand Canyon.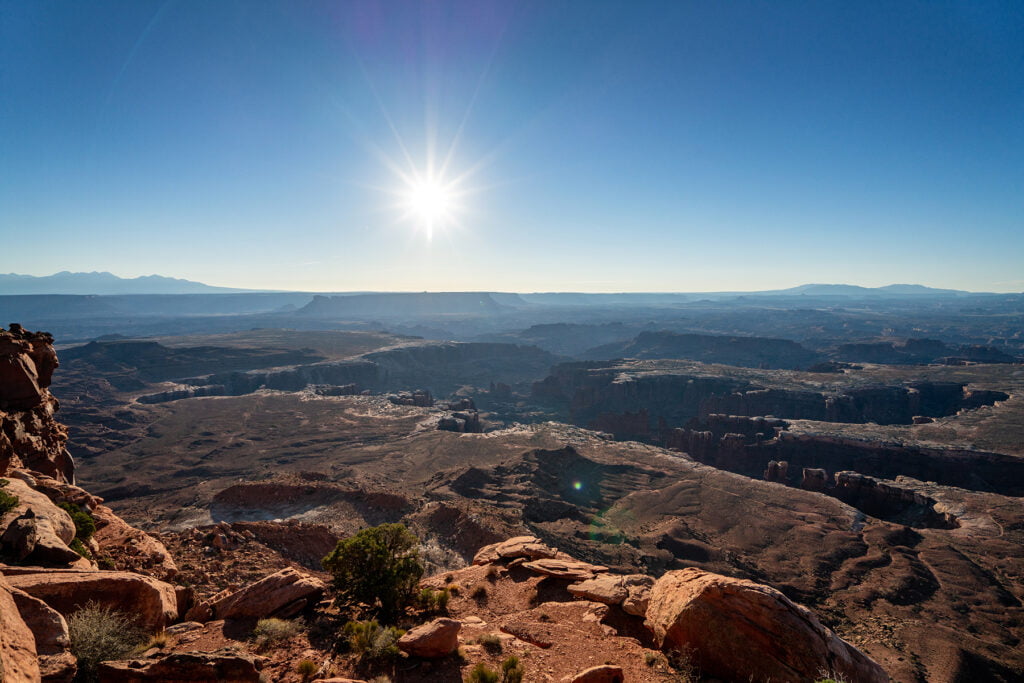 Buck Canyon Overlook
Our next stop was at Buck Canyon Overlook. This is a much smaller stop, with only a few parking spots and a tiny viewing area. There was no one here though, which made taking photos way more fun!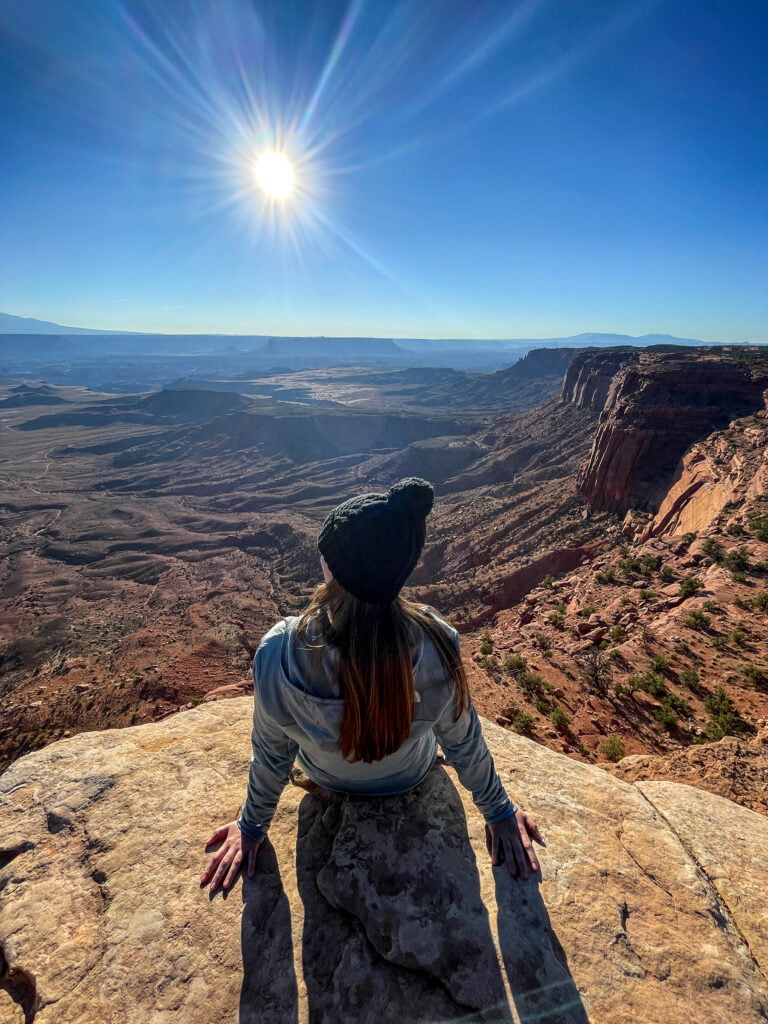 Green River Overlook
Next, we headed to Green River Overlook, which is another big stop. We wandered around until we found an amazing viewing area for pictures, far away from everyone else. It was worth the wander!!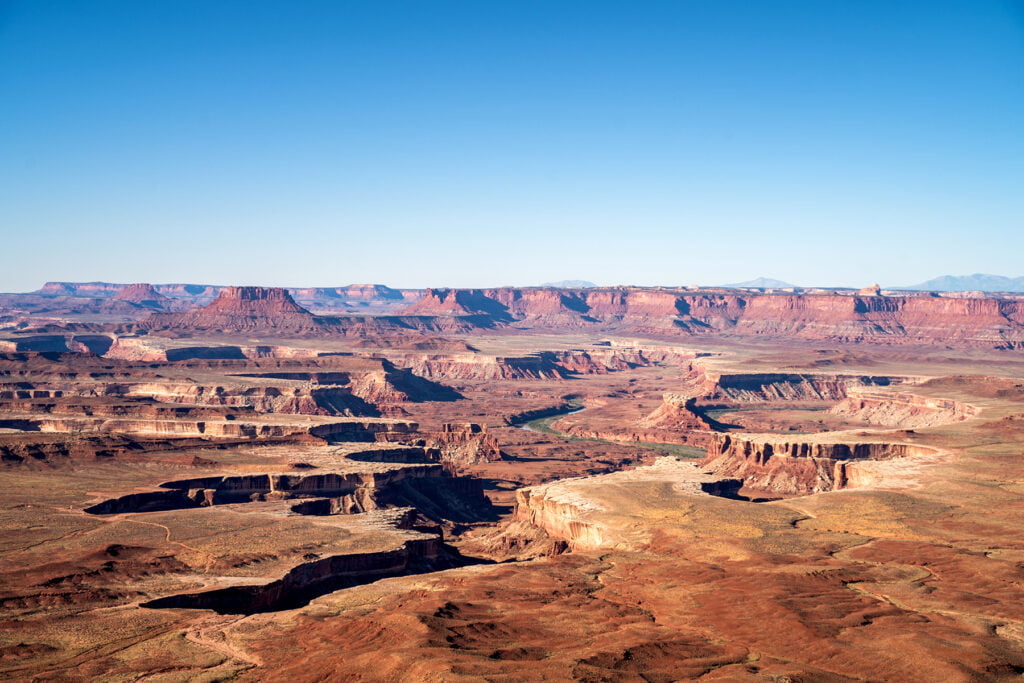 Shafer Trail Viewpoint
On our way out of the park, we stopped at Shafer Trail Viewpoint, where you can see Shafer Canyon Road zigzag its way down into the canyon. Only 4×4 vehicles are allowed on that road, and I could see why!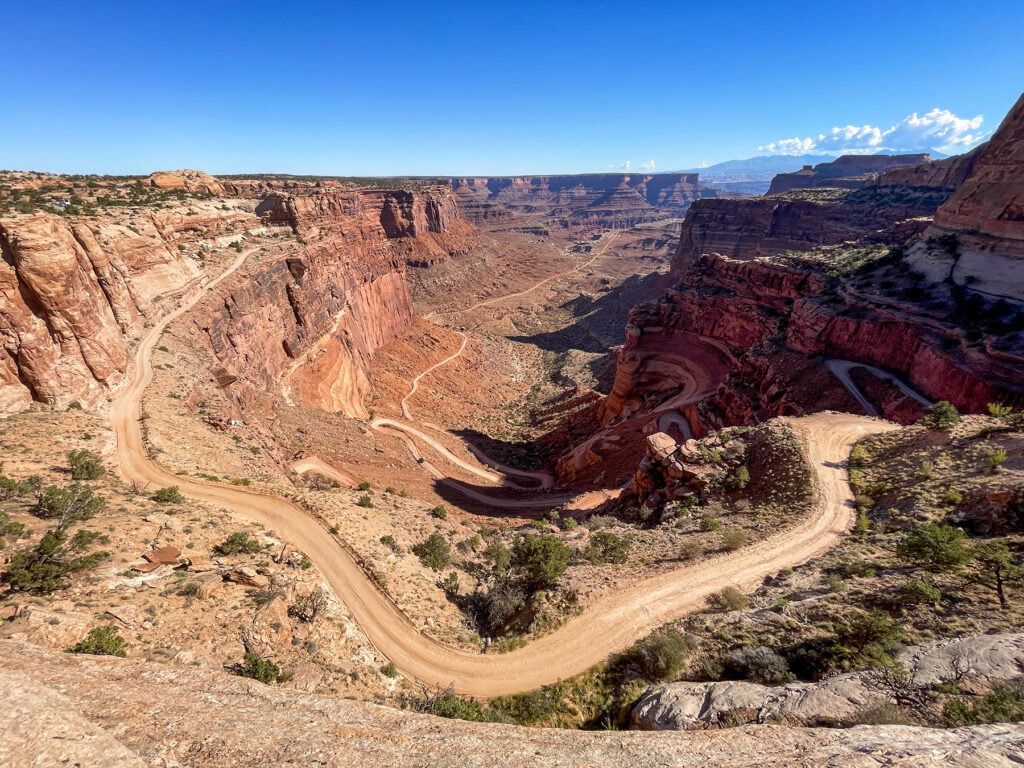 We stopped at the Visitor Center on the way out to get our National Park passports stamped. As we were leaving around 11am, the line to get in the park was over 1.5 hours long! They have signs at each 30 minute mark, letting cars know how long the wait will be. I was so glad we got there for sunrise.
Lunch at Moab Brewery
Moab is about 45 minutes from Canyonlands National Park and an easy stop if you're heading to Arches National Park, like we were. Ashley loves checking out local breweries, so we decided to get lunch at Moab Brewery, right in town. I got the bang-bang shrimp tacos with a root beer, which were both delicious! Ashley tried a beer sampler and a salad and was a bit disappointed. Utah's alcohol laws require beer to be watered down, and it just wasn't good in our opinion. I'd eat my meal again though and we both loved the root beer!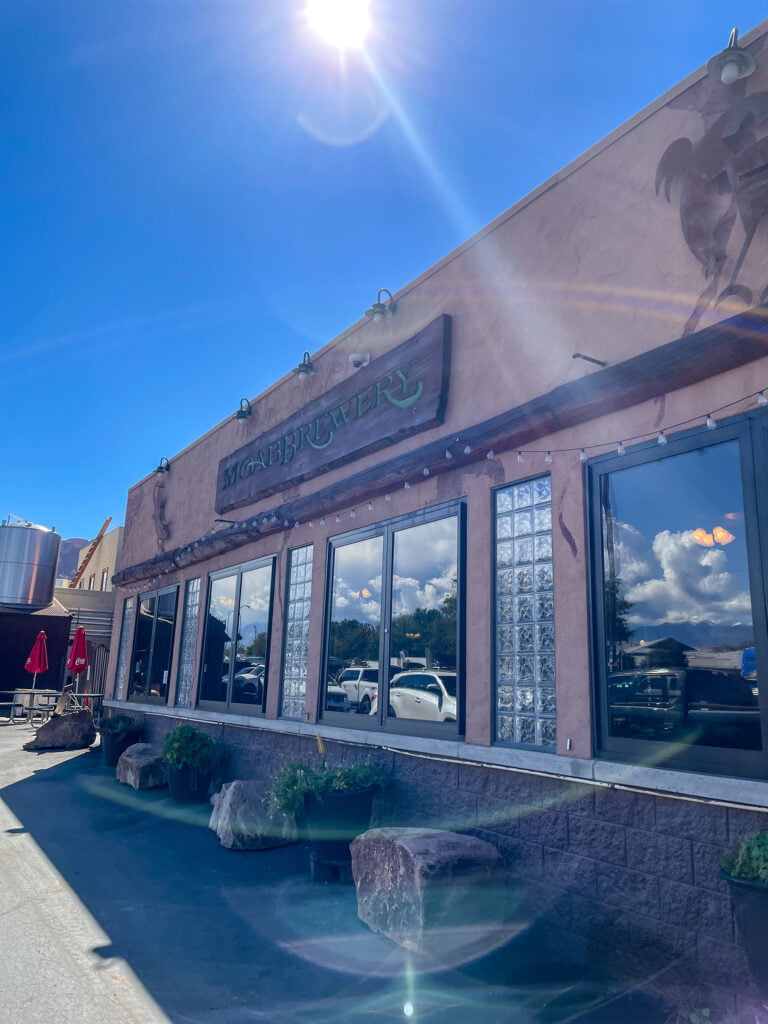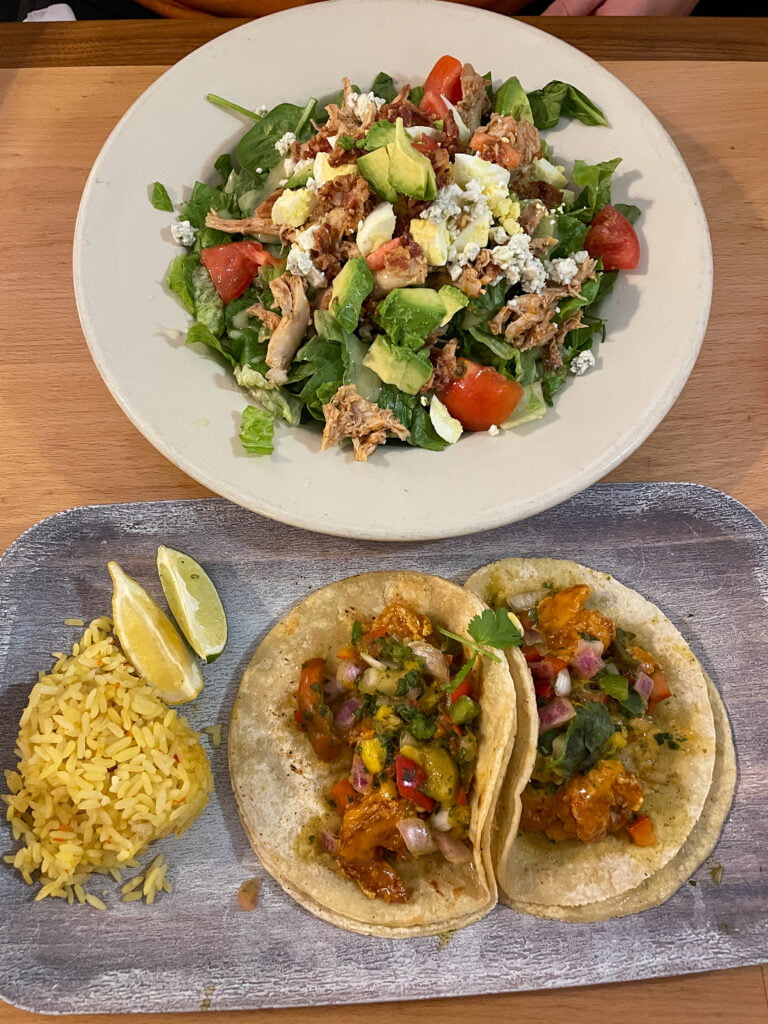 Arches National Park
Arches National Park is well named, seeing as there are over 2000 documented arches in the park! It's a fairly small park and can be seen in half a day.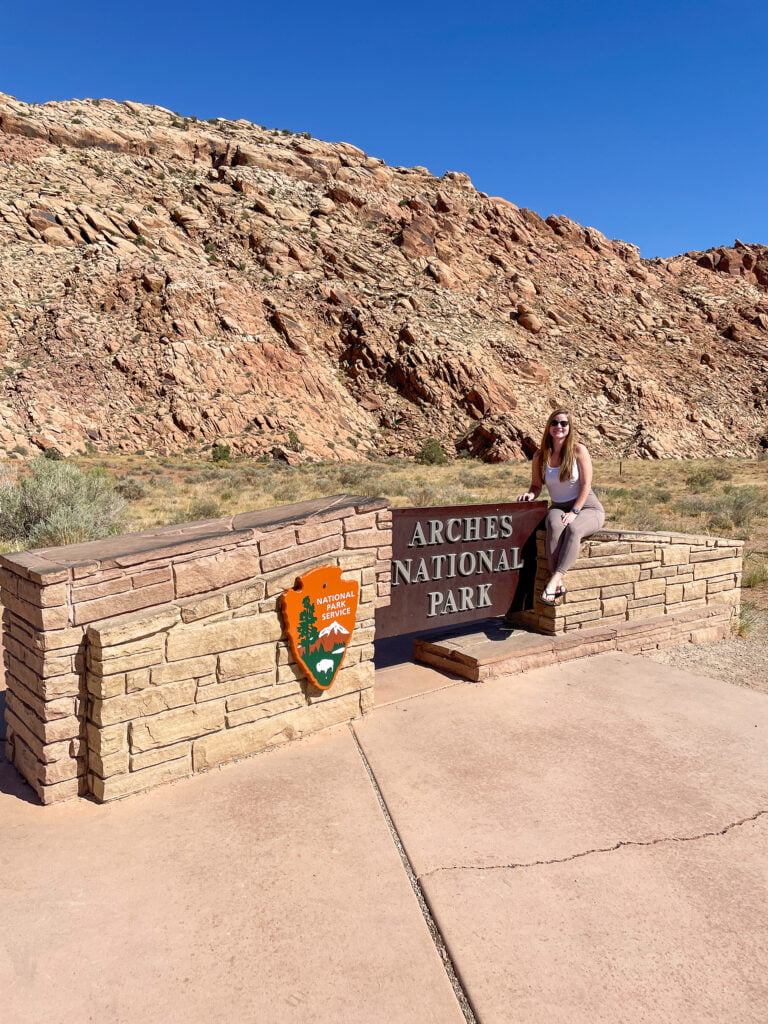 We arrived at our second national park of the day around 1:30pm. The entrance is just outside of Moab and was a ten-minute drive from lunch. We ended up having to wait about 15 minutes at the entrance since there were still many people trying to enter the park. We would be staying in the park the rest of the day until sunset.
When we arrived at the Visitor Center, we learned that the Double Arch area was closed for road construction. We were super disappointed, since this was what we were planning to do before our sunset hike. We talked to a ranger who suggested heading to the Devil's Garden area.
Balanced Rock
Balanced Rock is exactly what it sounds like: a giant boulder balanced on top of another rock. You can see it from the main road, but there is a parking lot pull off, and you can do a short walk around the rock. We got out to take a picture and headed on our way.
Landscape Arch Hike
We arrived at the Devil's Garden Trailhead, which is about 35 minutes from the Visitor Center and is at the end of the road. The Devil's Garden area is very cool and reminded me of Red Rocks Park in Denver. Since we did have another hike planned for sunset, we really only had time to do a short hike to Landscape Arch. The walk is easy and on a well-maintained pathway the entire 0.8 miles to Landscape Arch, the longest arch in North America. The trail does continue on the Primitive Loop Trail, and you could do a total of 7.9 miles through the Devil's Garden if you wish. We turned around at Landscape Arch though, so we only went 1.6 miles total.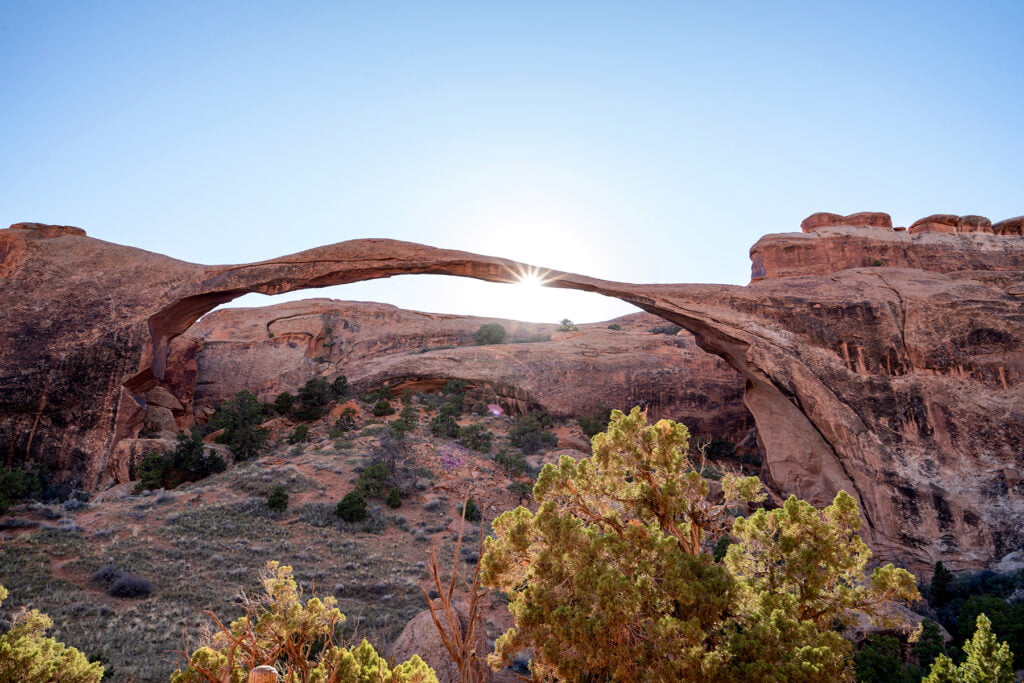 Delicate Arch Sunset Hike
The hike we were looking most forward to was the 3.2 mile round trip hike to Delicate Arch. We arrived at the trailhead around 4:30pm and started our climb. The trailhead is moderate and climbs steadily the entire way. It was very hot when we started, and I was thankful I brought my hat and water.
There were lots of people out hiking, but it wasn't crowded while we were there. We arrived at Delicate Arch around 5:30pm and enjoyed the view while we caught our breath from the hot climb. I had been mentally prepared for an overcrowded experience similar to our morning at Mesa Arch, but I was pleasantly surprised. The bowl surrounding Delicate Arch provides lots of space for visitors to spread out and sit down. There was a very short line of people waiting to have their picture taken under Delicate Arch.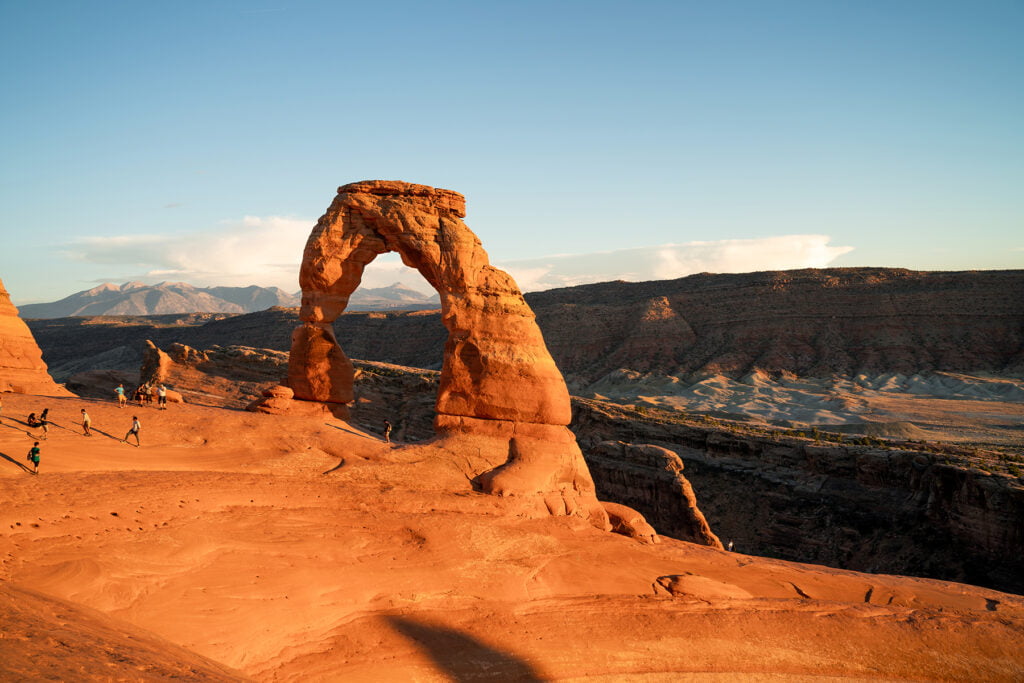 Once we had some time to chill, we climbed up to another small arch that we had noticed on our way up to Delicate Arch. You can see it from the trail. The view of Delicate Arch was awesome and there was no one else up there! A few people noticed us standing there while they hiked by and climbed up to check out the view. It was the perfect spot to watch the sunset and moonrise. Sunset was at 7pm, so we left just after that to try to get most of our hike out of the way before it was completely dark. We ended up needing to turn our headlamps on for the last little stretch before arriving at our car.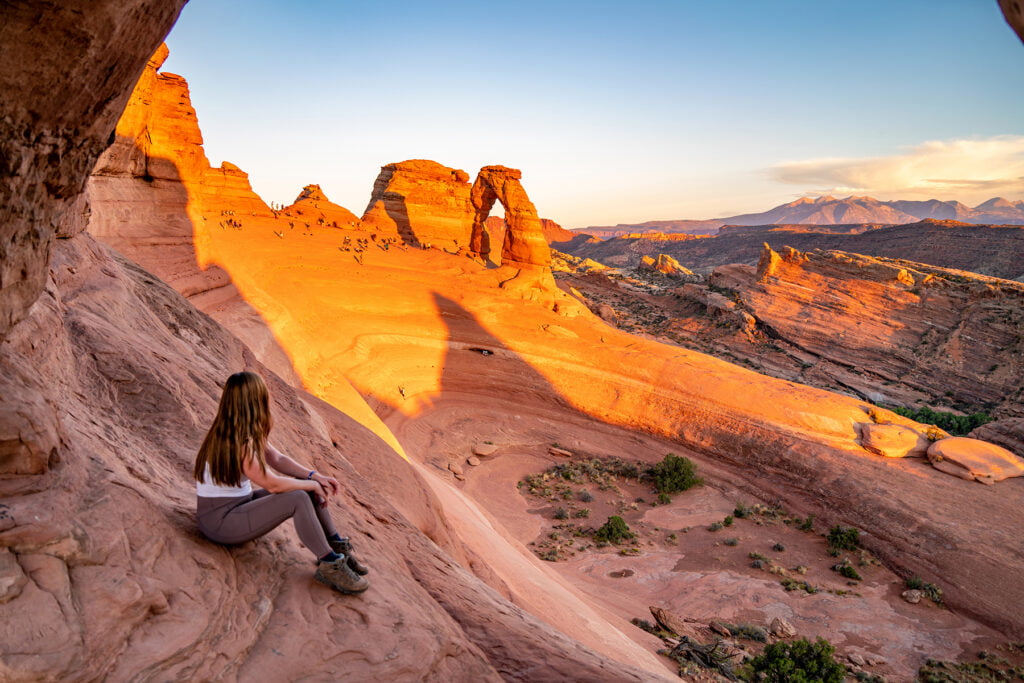 From Arches National Park, we drove one hour back to our campsite at Dead Horse Point State Park and made dinner when we arrived around 9pm. It was a long but fun day!
Saturday
Sunrise at Dead Horse State Park
Our last adventure in Moab took place not far from our campground. We enjoyed watching the sunrise over Dead Horse State Park.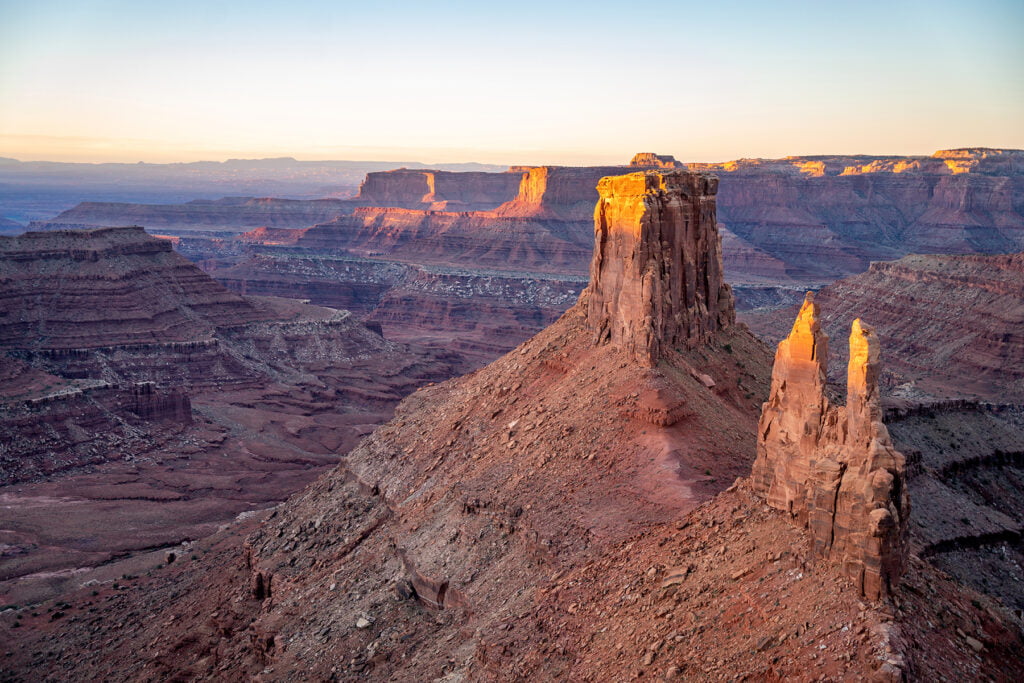 From Moab, we drove three hours south to Monument Valley. I had an awesome two days in Moab!
---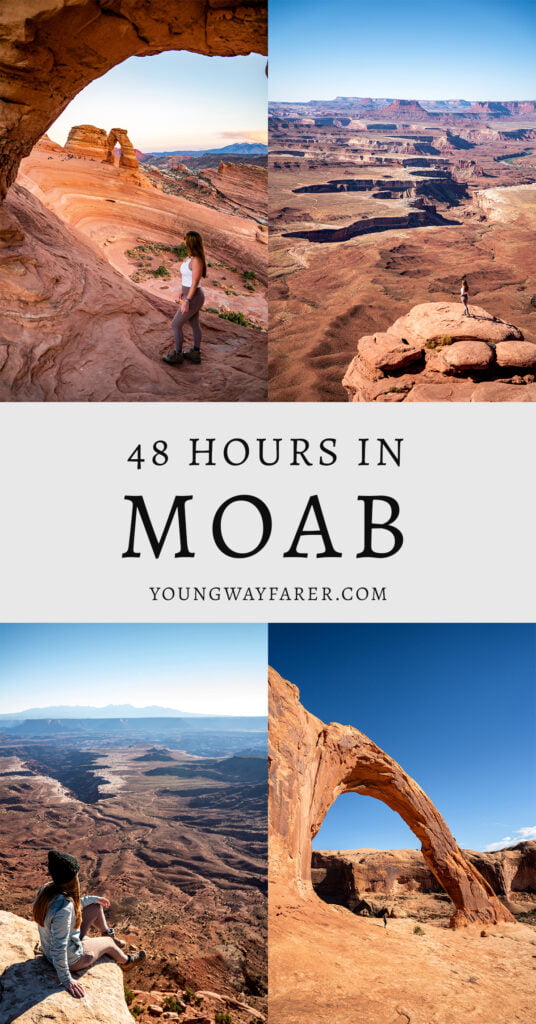 You may also be interested in:
24 Hours Around Monument Valley
How to Spend One Day in the Capitol Reef Area
Exploring the Great Salt Lake in Utah
Logistics of a Six-Day Utah Road Trip
Hiking Angels Landing in Zion National Park
The Narrows in Zion