I just got back from a six-day trip to Glacier National Park in Montana! We flew into Kalispell and camped all week at St. Mary Campground.
Getting There
Our group of 7 was coming in from all over the country. The four of us from the southeast flew into Kalispell, which is located on the west side of the park. Carson and I were flying from Atlanta with a stop in Denver. When our first flight was close to arriving in Denver, the pilot came on saying we were detouring to Albuquerque because the Denver airport was shut down for bad weather. Our flight had already been delayed so our two-hour layover looked like it would be cutting it very close. After a 45-minute stop in Albuquerque to refuel, we took off again and landed in Denver at the time our second plane was supposed to depart. Luckily, they held the plane for us and we sprinted to the gate. I felt like we had won the Amazing Race when we arrived at the gate.
We landed in Kalispell around 11pm Friday and the four of us stayed in town that night. The other three in our group were coming in from Milwaukee and Minneapolis and drove overnight. We would all meet at the campsite Saturday afternoon.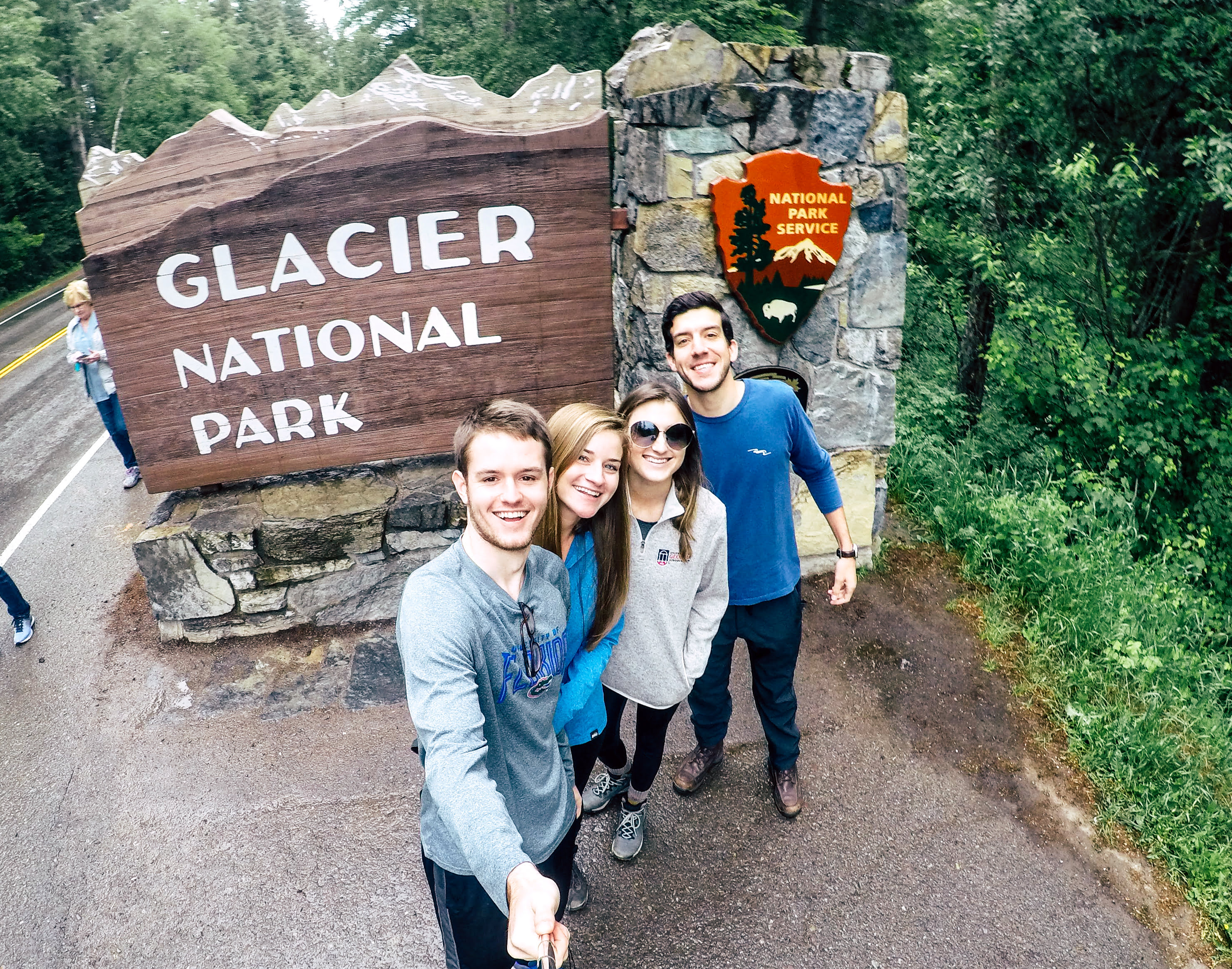 Rental Car
We had a reservation with Payless Car Rentals (part of Avis) and the counter was right next to the baggage claim. The lady at the counter was very friendly and upgraded us to a roomy Subaru and also let us add another driver for no charge! The car was great and fun to drive through the mountains. However, when we got back to the airport, they charged us $125 more than they originally quoted us. We finally figured out that it was due to a $21/day roadside insurance protection fee. The lady that originally checked us in tried to say that we had agreed to this and we argued with her until she agreed to drop it. Make sure you read all fine print before initialing and signing everything!
Going to the Sun Road
This road is a 50-mile scenic drive that cuts across the mountains in the center of the park. The only other way to get from the west to east side is to go all the way around the southern side of the park. Since parts of the road are at such high elevations, it is only open a few months each year, once the snow plows are able to get all the way through the massive snow banks. In the weeks leading up to our trip, I was religiously checking the road status page to see if it had opened yet. By the day that we left, it hadn't opened, and I had given up hope for us to be able to do the drive.
On Saturday morning, we woke up to an announcement that the road had opened that day (June 23)! We got ready for the day, stopped at Montana Coffee Traders for breakfast (which was delicious), picked up groceries, and hit the road. It was raining on and off all day, so we didn't get the incredible views we were hoping for, but still got to stop at most of the pull-outs and watch the epic clouds rolling in to completely cover the roads. By the time we reached Logan Pass (the highest point you can reach by car and the continental divide), the fog had completely taken over and we couldn't see anything further than ten feet in front of us.
Luckily, on our last full day spent on the west side of the park, we drove the road again and got to see it in all its glory. It's definitely worth checking out. We spent about five hours driving across the first day and made a ton of stops. The whole thing can be done in two hours without any stops.
Camping
I made a reservation at St. Mary Campground on the very east edge of the park. This campground is one of three that take reservations. We didn't want to risk not having a spot and just showing up at one of the first-come, first-serve sites. I picked a spot that would be big enough for two tents. I was glad I did my research, because some of the campsites were very small and barely big enough for one tent.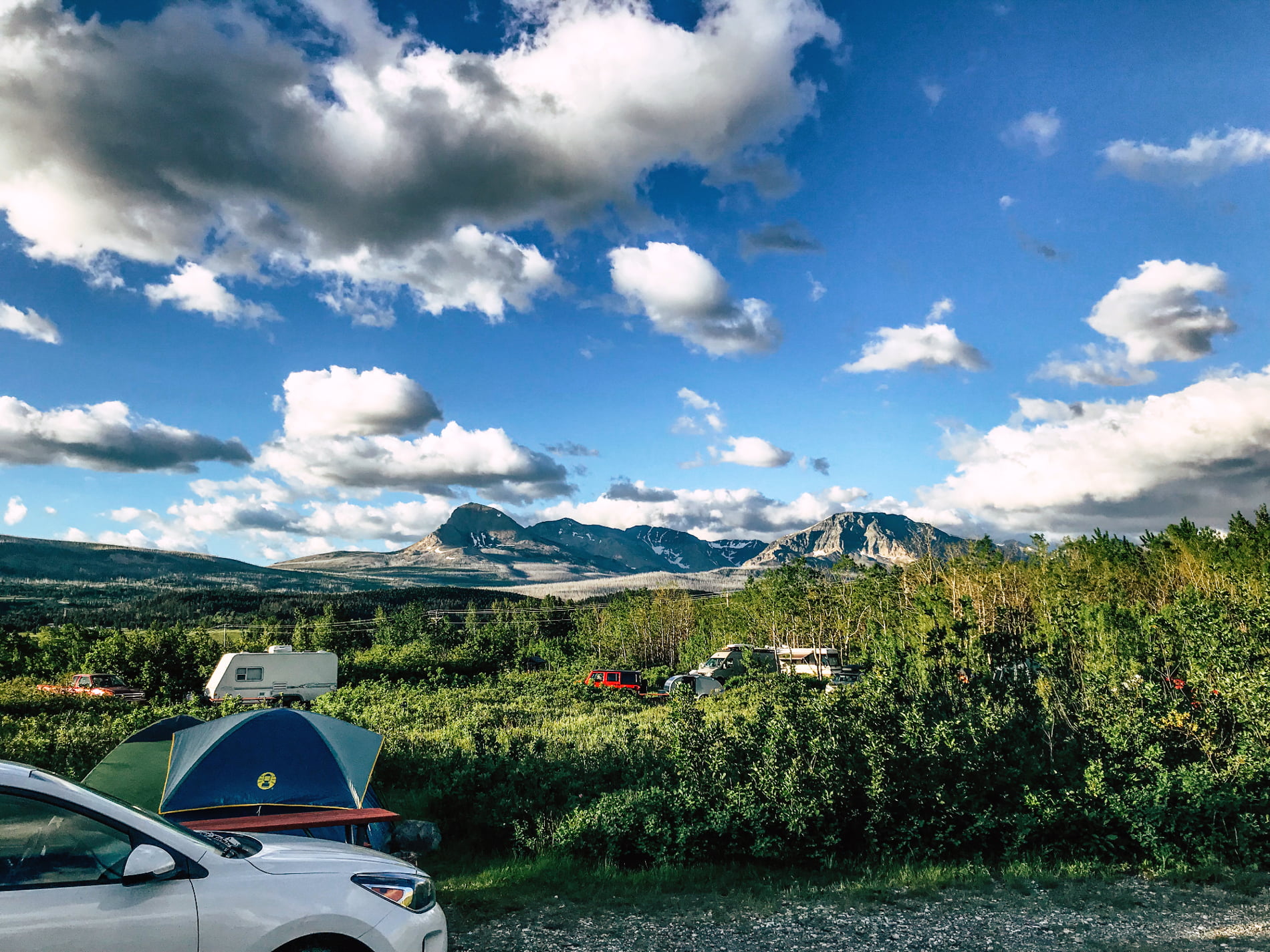 As far as the campgrounds go, they were probably the nicest I've ever stayed in. They had nice roomy showers with HOT water, plenty of bathrooms scattered across the grounds, and even cell service since it is close to the edge of the park! My favorite part was the cute bridge that crosses the river on the ten-minute walk to St. Mary Visitor Center.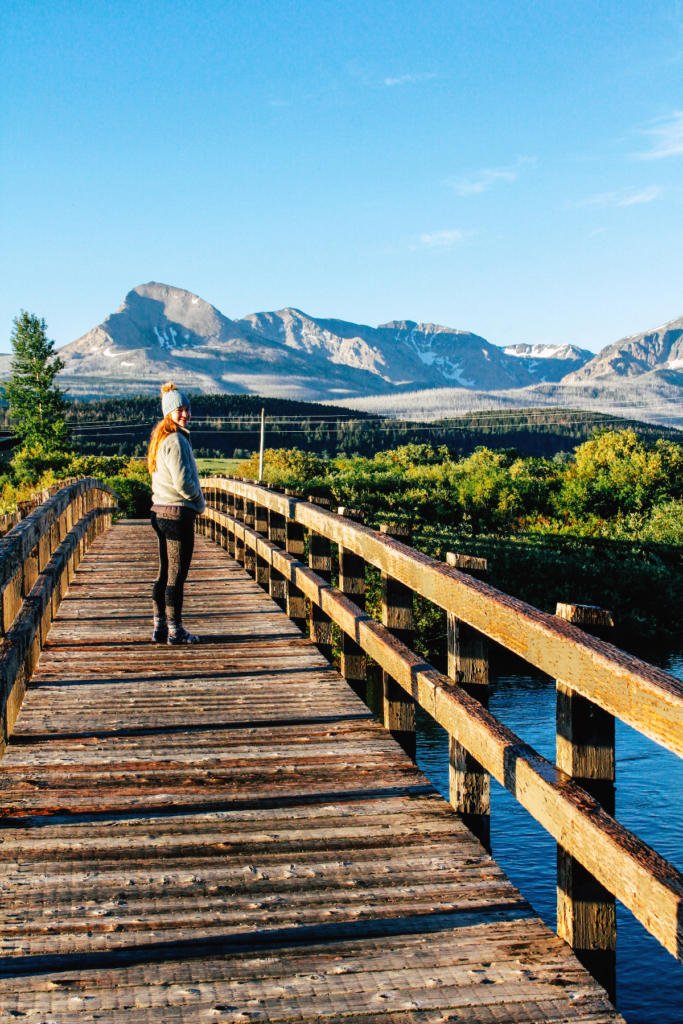 Renting Gear
We all brought sleeping bags
but didn't have space in our luggage to bring a tent or sleeping pads. We stopped at Glacier Outfitters on our way into the park to pick these up, along with bear spray
. I would've bought bear spray, given that it's the same price to rent, but you can't fly with it, even in a checked bag. The staff was very nice and helpful and got us loaded up quickly.
Weather
Glacier is located in northern Montana, so it is much colder than most of the US. We were here in late June, and there was still a lot of snow in the higher elevations. On our first day, it was raining and misting off and on, but that didn't slow us down much. The next three days were sunny and 75, absolutely perfect for hiking! The sun seems to be more intense here than what we were used to, because we all got fried even with plenty of sunscreen on. I was typically hot when the sun was out, and chilly when there were clouds. The evenings cooled off a lot, and it got down in the 40s. With enough layers, it felt great to be camping.
Since we were here just after the summer solstice, the days were very long! Sunrise was around 5:30am and sunset at 9:40pm. It felt strange for it to get dark so late, as it didn't get completely dark until around 11.
Itinerary
Friday 6/22: Fly to Kalispell, stay night in Kalispell

Saturday 6/23: Drive Going to the Sun road across park and set up campsite in St. Mary's

Sunday 6/24: Hike to Cracker Lake in Many Glacier area

Monday 6/25: Spend day in Two Medicine area, hike to Aster Falls and Aster Park

Tuesday 6/26: Hike to Avalanche Lake, rent boats on Lake McDonald

Wednesday 6/27: Drive back to Kalispell, fly home
Costs (per person)
Flight to Kalispell: $590

Campsite and rental gear: $65

Food: $120

Transportation (including rental car, gas, Ubers): $95

Entertainment (including boat rental, national park pass, drinks): $35

Souvenirs: $35

Airbnb Friday: $50

TOTAL: $990
Tips
If you want to hike the trails in higher elevations, wait until July or August. They were still closed or partially closed due to snow hazards when we were there in late June. You can check the status of the trails here.

The busier trailhead parking lots fill up early! We got to Avalanche Trail around 9am and it was completely full. We ended up parking about a mile away. I noticed when we drove by later around 7pm that there were almost no cars here. This hike in particular is short enough that you could start around 6 or 7 and have plenty of time to finish the hike with time to hang out at the lake as well!

Bring bug spray and spray it everywhere, not just on exposed skin. The mosquitoes are huge and bite through clothes.
---
You may also be interested in:
Hiking Cracker Lake in Glacier National Park
Two Medicine in Glacier National Park
Avalanche Lake and Lake McDonald in Glacier National Park
Check out my video on our week in Glacier!