The third day of our Washington trip was a long one! We left North Cascades National Park first thing in the morning and stopped in Seattle for lunch and to visit a few friends. From there, we drove south a couple more hours to Mount Rainier and completed a sunset hike.This hike was one of my favorites I've ever done.
Camping
We found a campsite near Enumclaw, WA on Hipcamp that was a good location for our trip. By the time we'd decided to add the Mount Rainier hike to our itinerary, there were no public campsites available anywhere near the trailhead. So we turned to Hipcamp, which is similar to Airbnb but for camping. Our host, Debbie, was so kind and generous! She gave us fresh eggs from her chickens to make for breakfast, a big fire pit to cook on, and allowed us access to their bathroom to take showers in the morning.
From Seattle, we stopped in Enumclaw and set up our tents. The drive from Enumclaw to the hike was about 1.5 hours, so we then continued on to Mount Rainier.
Mount Fremont Lookout Tower Hike
We arrived in Mount Rainier National Park a little after 6pm and the entrance station had already closed. I thought this seemed a little early, but it may have been due to COVID. We got to the Sunrise Visitor Center, which is where the trail starts, around 6:30pm. We wanted to make sure we caught the sunset at the top, so we rushed to get our things together. The parking lot views of Rainier were incredible! I couldn't imagine how much better it was about to get.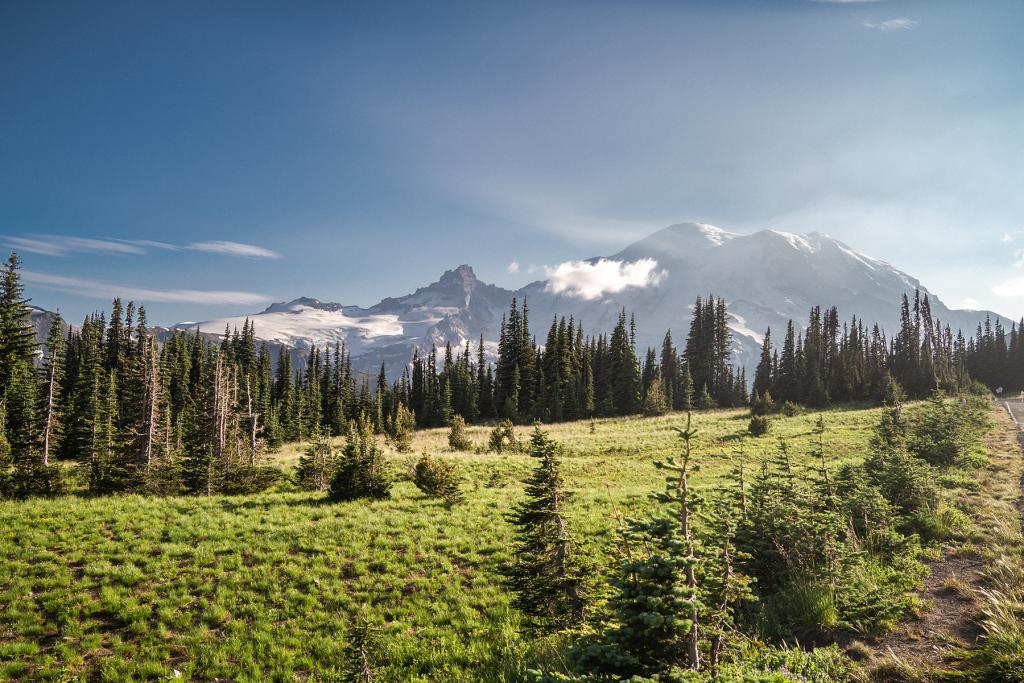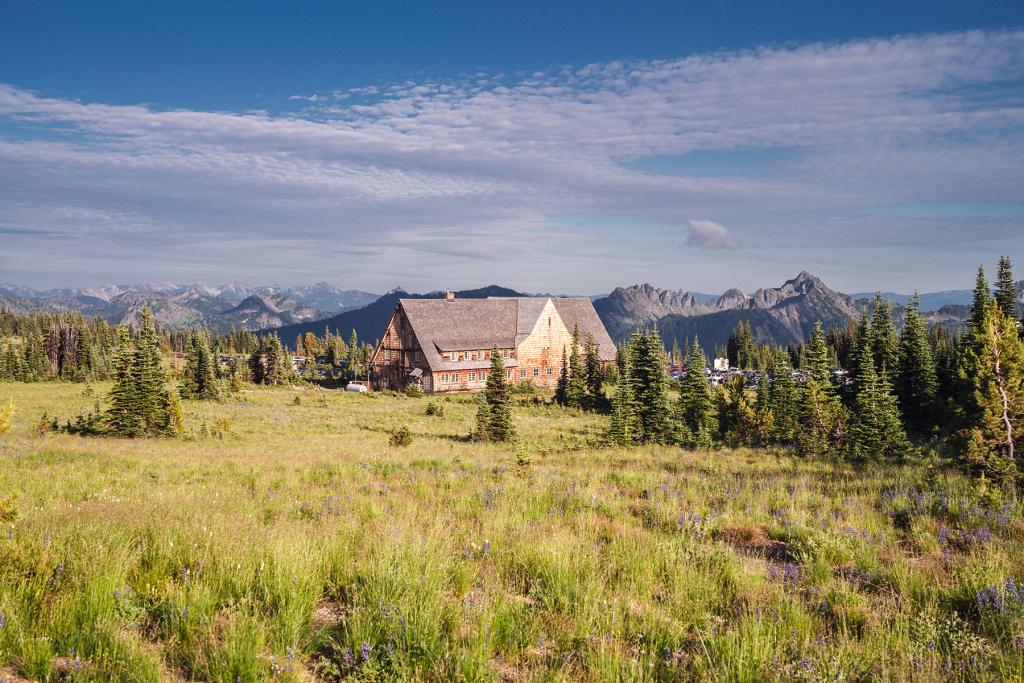 The trail starts out fairly steep for the first 0.75 miles or so before leveling off. This trail is about 2.9 miles each way, for a total of 5.8 miles. Hikers will follow signs to Mount Fremont and Frozen Lake. There are a variety of trails here, and the views were amazing every step of the way. I'm sure the other trails are gorgeous as well. The hike follows along Mount Rainier the entire way. Don't forget to look up every now and then to take in the awesomeness!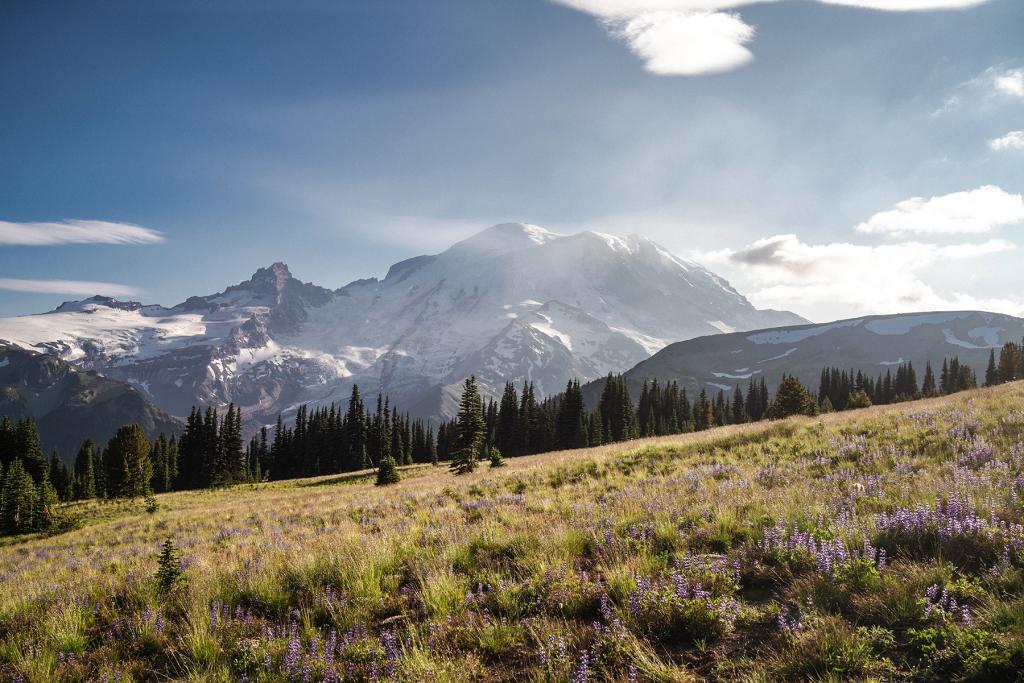 The trail veers right once you pass Frozen Lake and starts to climb again for another 0.5 miles or so. Trust me, the views at the top are worth it!! The last half mile is pretty flat, but there are lots of loose, unstable rocks that make walking tricky at points. Hiking boots are a must in my opinion.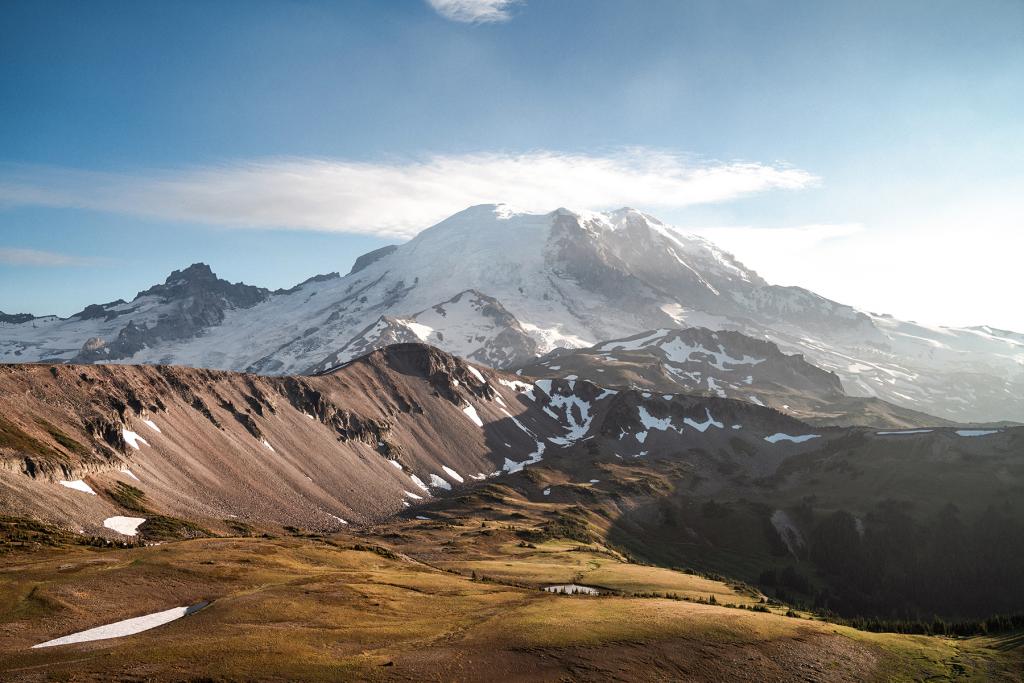 Lookout Tower
The lookout tower was once a watchtower for rangers to look for wildfires. Now, campers can claim the tower to sleep in overnight. We arrived at the tower around 7:45pm. This was great timing to watch the sunset, which happened at 8:40pm that evening. There are a few great spots to take in the view and we wandered around to all of them. We ended up spending most of our time down a little way past the lookout tower, where there is a compost toilet actually out in the open! There was no one else around down there and we enjoyed the views and company.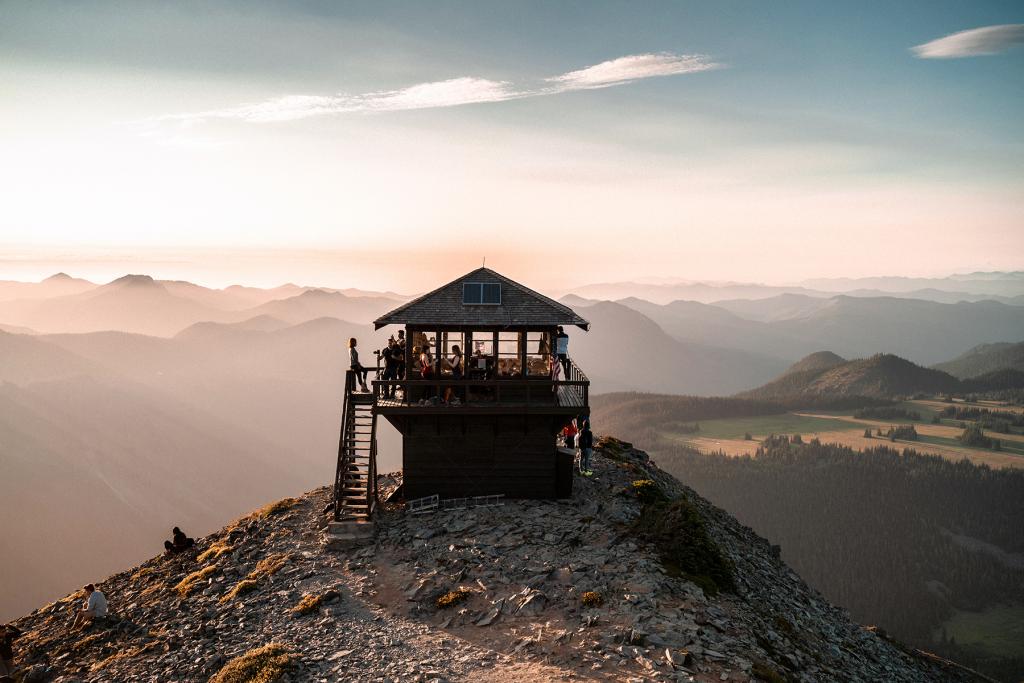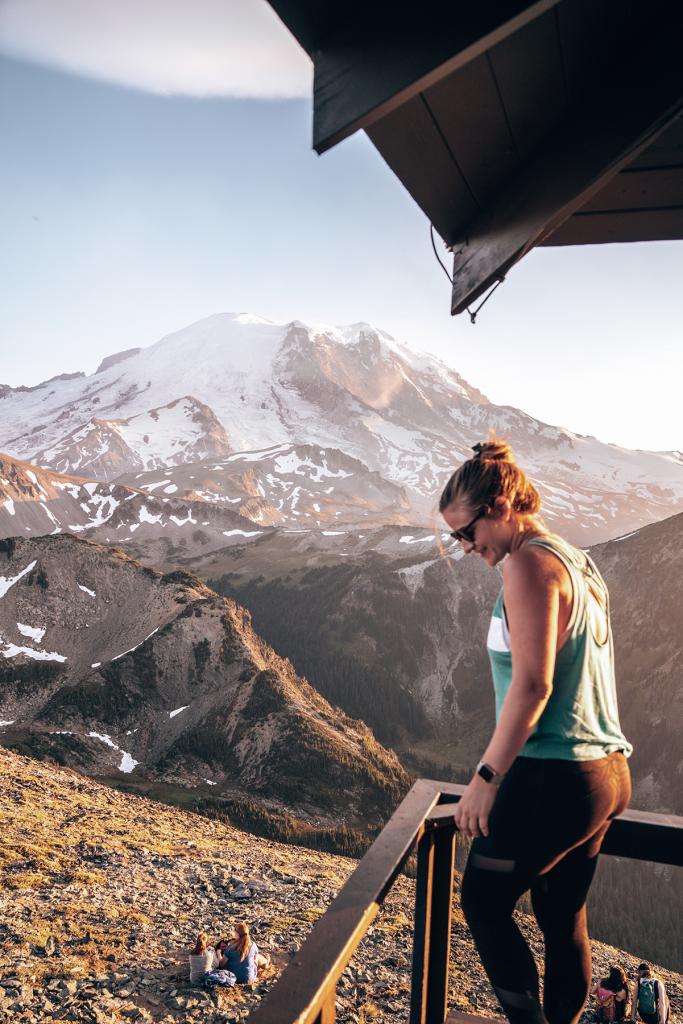 Once the sun set, we knew we had to hustle so we wouldn't have to hike down in complete darkness the whole way. It ended up taking us around an hour to get down, and about half of that was in the dark. With headlamps though, it wasn't bad at all! I loved watching the moon come out and reflect over Frozen Lake. Also, getting to see everyone's headlamps turning on at twilight, coming down the mountain was kind of magical.
By the time we were back to the parking lot, we hit the bathrooms, made sandwiches for the ride back, and left around 10pm. We didn't get back to our campsite until almost midnight and went straight to bed. Olympic National Park was our next destination the following day!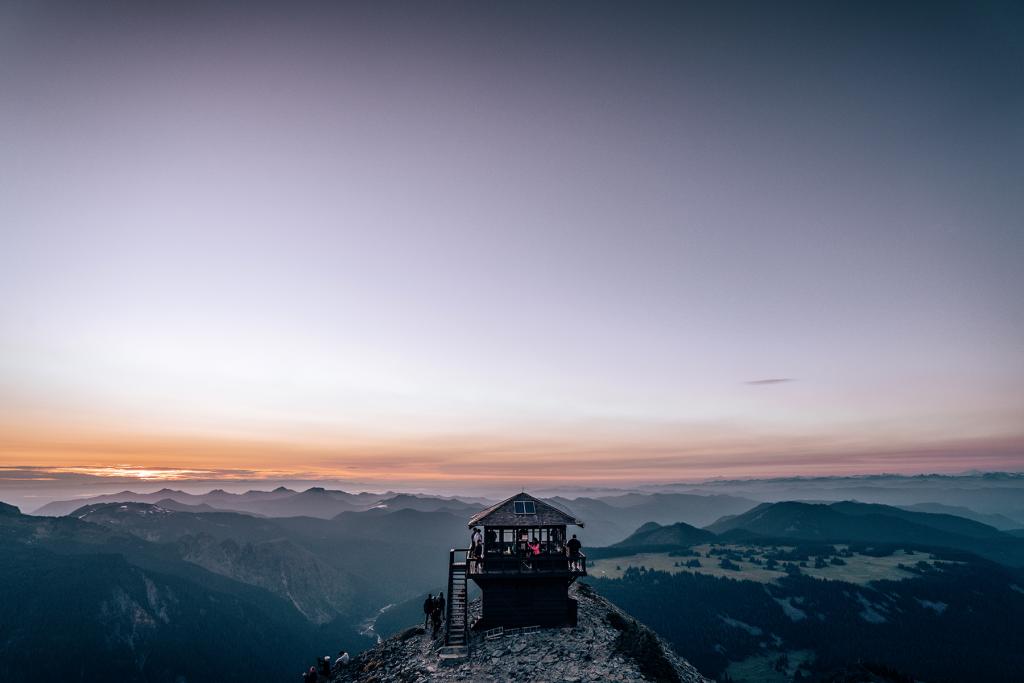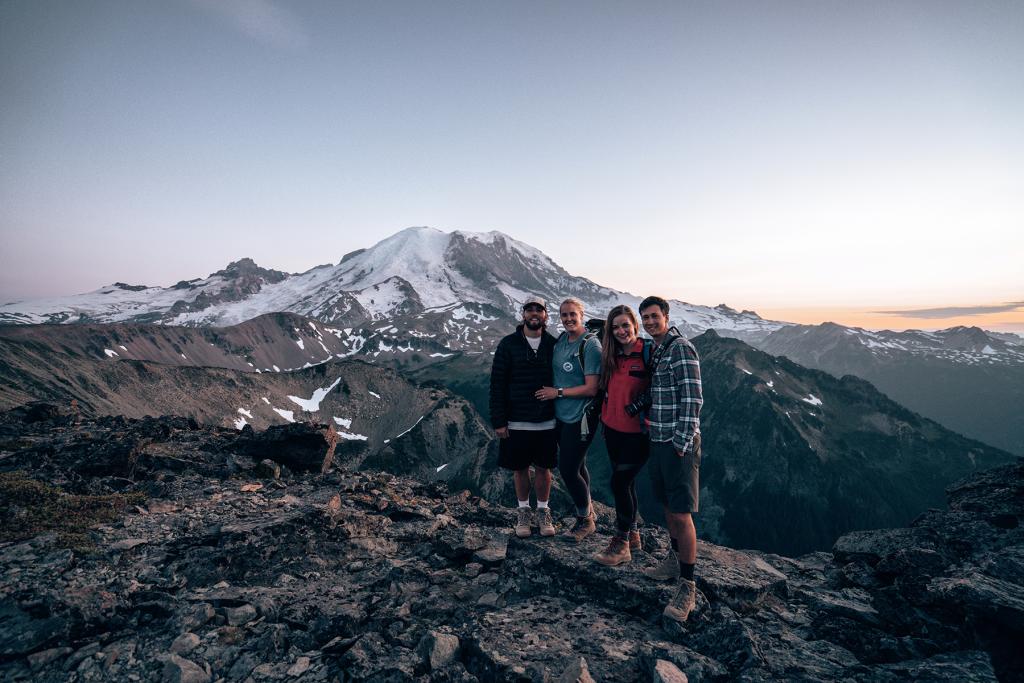 ---
You may also be interested in:
Two Days in North Cascades National Park
One Day in Olympic National Park
Five Day Washington State Trip Logistics
---