The last park on our Washington trip was Olympic National Park. We camped in Enumclaw, WA Saturday night, and drove to Olympic Sunday morning. Our first stop was in Port Angeles, about a 2.5 hour's drive from Enumclaw. We stopped here to get gas and snacks before entering the park.
Lake Crescent
Our first stop in the park was Lake Crescent. This is a large lake with aqua-blue waters. We stopped briefly before continuing on. There was a wildfire burning on the mountain across the lake while we were there. Devastating, but interesting to see!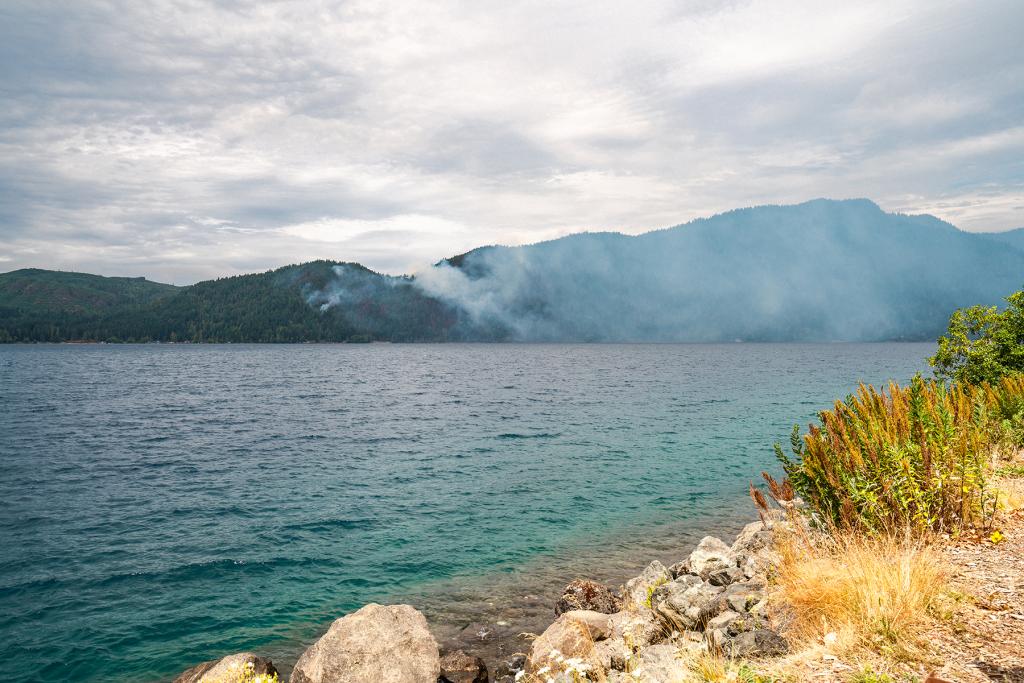 Hoh Rainforest
Our next stop was at one of the largest rainforests in the United States, the Hoh Rainforest. I thought it was interesting that this was the only part of the park we went into that required us to pay an entrance fee. Since we didn't have a lot of free time, we chose to do the short 1 mile trail called the Hall of Mosses. This dirt trail was flat and super easy! It loops around the rainforest as you get to explore some giant trees covered in moss. Worth a stop if you are in the area!
Forks
We had originally planned on going to Rialto Beach for sunset, but it started raining on our drive to the campground. So, we decided to stop in Forks for dinner and to hang out for a bit. We got pizzas and drinks at Pacific Pizza. It was really good! We also stopped for coffee the next morning at A Shot in the Dark. It was so yummy.
Camping at Mora Campground
We got to our campground just after the rain stopped and roasted marshmallows over the fire before bed. The campground was really pretty and looked similar to the rainforest we had just visited. We stayed at site 58D which was plenty big enough for our two tents and located right next to the bathrooms. It was nice for our one night there.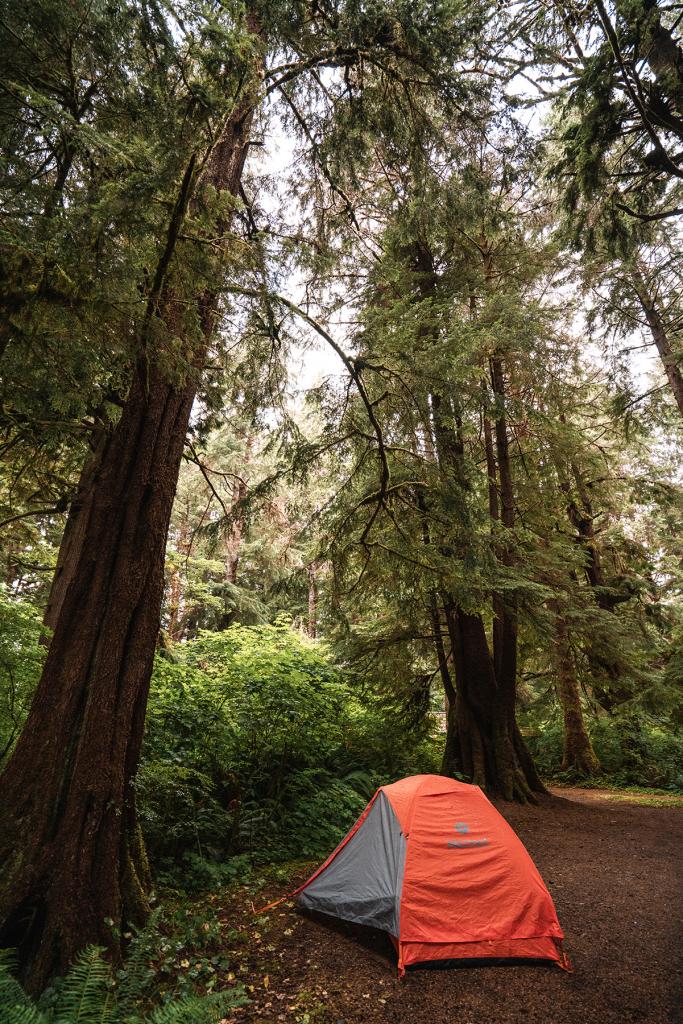 Rialto Beach
Since we had to make the drive back to Seattle our last day in order to make our flight, Ashley and I got up for sunrise and drove to Rialto Beach. Rialto is only a five minute drive from Mora. It had rained overnight, and the beach was still a little misty. I really didn't mind it though — I felt like it added to the atmosphere of what I expected a Washington beach to look like. Rialto has a few large land masses that make it extra scenic. There were also a ton of large driftwood logs. If we had more time, I would've liked to do the two mile hike to Hole in the Wall. But we were on a strict timeline this day, so we explored for about 30 minutes before heading back to the campground, waking the boys up, and packing up our stuff.
Ruby Beach
From Rialto, we drove south about 50 minutes to Ruby Beach. This was my favorite stop in Olympic, and I'm so glad we didn't choose to sleep later and skip it! I thought Ruby was even more scenic than Rialto. There were more land masses here and other interesting things to check out.
Thoughts on Olympic National Park
I felt like one day was not enough to see this park. We felt rushed the whole time (partly because we had a flight to catch), and I would've loved to have seen more of the mountains. The rainforest and beaches were definitely worth stopping at if you're in the area. However, now that I've seen them, I don't think I would go back again. I definitely liked Mount Rainier and North Cascades better.
---
YOU MAY ALSO BE INTERESTED IN:
Two Days in North Cascades National Park
Hiking Mount Fremont Lookout in Mount Rainier National Park
---