The logistics are the most important part of planning a trip in my eyes. How much money will you need? Where will you go exactly? How much time will you spend in each place? How will you get there? These are all important questions to consider.
I traveled to Washington State in July and visited the three national parks with three friends. We were there for a total of five days and four nights, all of which were spent camping. Below are what I consider to be the topics that can help you plan a similar trip.
Itinerary
Thursday 7/30: Fly to Seattle-Tacoma airport, pick up groceries, drive to North Cascades National Park, set up campsite at Newhalem Campground, see Diablo Lake Overlook and Washington Pass, dinner at campsite
Friday 7/31: Hike Cascade Pass, dinner at campsite
Saturday 8/1: Pack up campsite, drive to Seattle, lunch and sightseeing in Seattle, drive to campsite to set up tent (we stayed in Enumclaw), Mount Fremont Lookout Trail for sunset
Sunday 8/2: drive to Olympic National Park, stop at Lake Crescent, set up campsite at Mora Campground, Hoh Rainforest, dinner in Forks
Monday 8/3: Rialto Beach, Ruby Beach, drive back to Seattle and fly back that evening
Traveling to Washington During COVID-19
We flew direct on Delta from Atlanta to Seattle. Because of the pandemic, we were required to wear face masks from entering the Atlanta airport until we picked up our rental car in Seattle. Our flight was only about ⅓ full. Sam and I had the entire row to ourselves (across the aisle included). On the flight back we even had the rows in front of and behind us empty! I did see a few people take off their masks on the flight and the flight attendants did not say anything to them.
The Atlanta airport was actually busier than I had expected. Seattle was empty. While in Seattle, everyone was required to wear face masks in public (even outside), which was very different from how it was in Georgia. Not many people were wearing them while hiking, although you did see some people pull them up while they were passing others.
Camping
We camped all four nights that we were in Washington. In the North Cascades, we stayed two nights at the Newhalem Campground inside the park. This was my favorite campsite of the trip! We stayed right along the river. Our third night was at a Hipcamp site in Enumclaw (outside of Tacoma). The last night was at Mora Campground in Olympic National Park. The two national park campgrounds we stayed at had bathrooms with toilets and sinks, but no showers.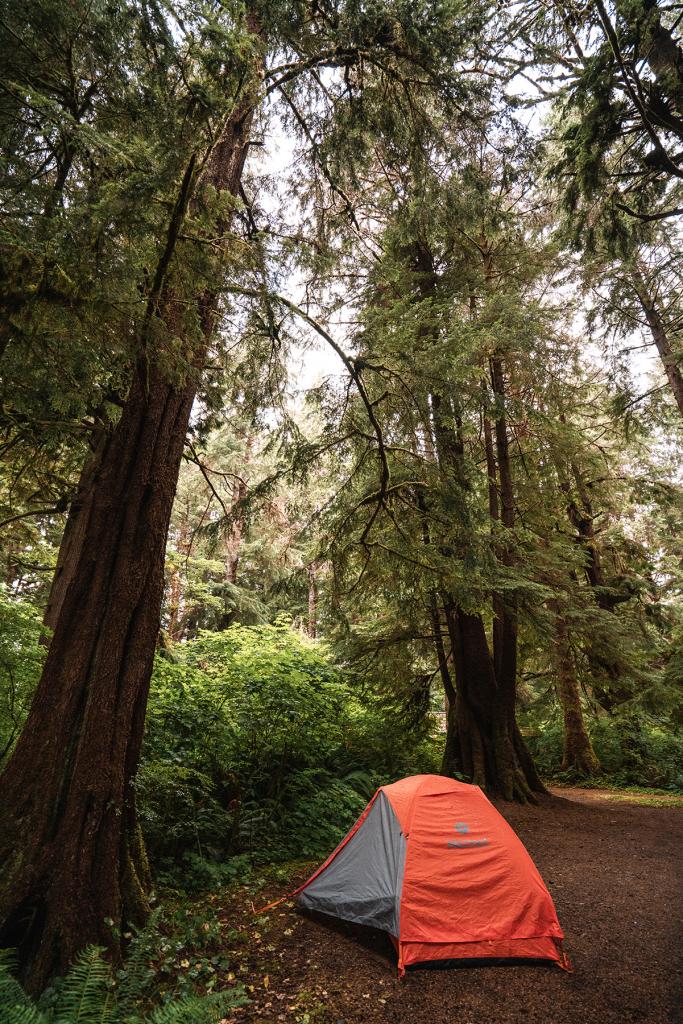 Park Entrance Fees
Out of the three national parks we visited, we only had to pay fees at one. North Cascades does not charge an entrance fee. Mount Rainier usually does, but we had arrived after the attendants had left for the day (probably earlier than usually due to COVID), so we got in for free. We did have to pay $30 to get into the Hoh Rainforest area of Olympic. Every other area we entered in Olympic did not charge a fee. Since I knew I'd be visiting several national parks within the next year, I went ahead and bought an $80 annual park pass to all the US national parks. Well worth it if you'll be visiting at least 3 parks!
Eating
Since we were camping with limited access to restaurants, we loaded up on groceries on our way to the North Cascades. We were able to purchase a foam cooler at a gas station to keep the meat we bought cold. In addition to cooking, we also ate out twice while we were passing through Seattle and the evening in Forks when it was raining. We ended up stopping to get a few more groceries on our way back through Seattle on Saturday.
Weather
The weather was absolutely perfect while we were there from the end of July to early August! The North Cascades were a little warm (mid 90s as the high), but we were used to it coming from Georgia. Mount Rainier was in the mid-70s. Olympic was a bit cooler (highs in the 60s) and it rained the first evening we were there. I felt that the rain added to the atmosphere of what I expected Olympic to look like. It was still a little misty the second day we were there.
Costs per Person (Four People Total)
This trip wasn't too expensive since we were camping and not eating out much.
Flight: $440
Rental Car: $80
Gas: $20
Food & Firewood: $140
NP Entrance Fees: $7.50
Souvenirs: $15
Campsites: $25
Parking (Home Airport and Seattle): $15
TOTAL: $742.50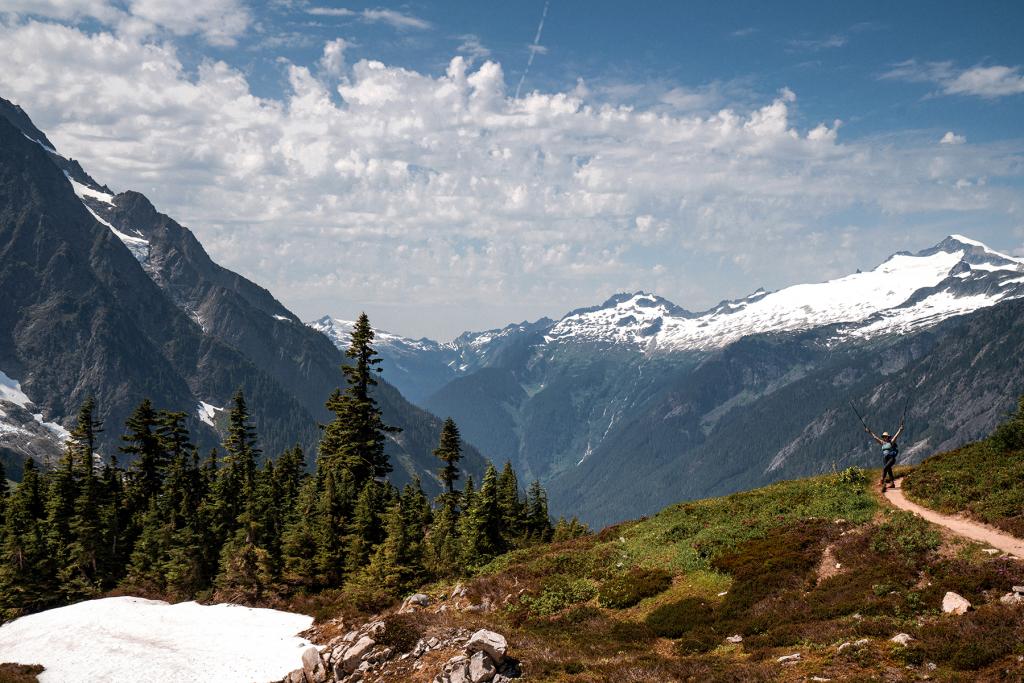 Overall Thoughts
I loved our time in Washington! This state is so diverse in scenery that it was hard to believe we were only in one state. My favorite park we went to was Mount Rainier. If I were to go back, I would like to spend a few days there. My least favorite was Olympic. Since I've hit the highlights now, I probably wouldn't go back.
---
You may also be interested in:
Two Days in North Cascades National Park
Hiking Mount Fremont Lookout in Mount Rainier National Park
One Day in Olympic National Park