Alaska is one of my favorite states I have been to. It was always on my bucket list, but with the pandemic restricting us from leaving the country and finding cheap flights, we thought this was the perfect time to go. We traveled to Alaska the first week in September, over Labor Day. 
Traveling to Alaska During COVID-19
Alaska is one of the few states requiring visitors to take a COVID test before entering the state. Your options when flying to Alaska are:
Take a COVID test at the Alaska airport for $250 and quarantine until the results come back.
Take a COVID test within 72 hours before you fly to Alaska and provide negative test results when you enter the Alaskan airport.
Take a COVID test within 72 hours before you fly to Alaska and provide proof that you have taken the test when you enter the Alaskan airport if your results have not come back yet. You must quarantine until your results arrive.
We chose option number 2 (3 as a backup). We found a mega-testing facility near the Atlanta airport and got tested exactly 72 hours before our flight. I was very stressed about whether the results would come in or not. Fortunately, our negative test results came back in just under 48 hours.
The state of Alaska has a travel portal that you upload your results to and fill out a brief survey. Once at the airport, they funneled all arrivals into an area where they checked our IDs and looked at the results we had uploaded. Once through, we were good to go!
All of the restaurants required masks while we were there, as well as leaving our name and signature on a form when we arrived. I didn't notice anything that was shut down due to COVID, besides things involving the national parks.
Itinerary
We ended up rerouting our itinerary because of bad weather on one of our scheduled camping nights. The below itinerary is not the exact order we went in, but the order I would go in if I were to do it again (and have good weather the whole time).
Friday 9/4: Fly to Anchorage, land around dinner time, get dinner, stay in Anchorage Airbnb.
Saturday 9/5: All day in Anchorage. Pick up groceries and goods for the trip, Anchorage Market, Coastal Trail, Point Woronzof, breweries. Second night in Anchorage.
Sunday 9/6: Start the drive to Kenai Peninsula. Byron Glacier hike, Alaska Wildlife Conservation Center, explore Seward. Seward Airbnb for the night.
Monday 9/7: Fishing or other activity in Seward in the morning (would have loved to kayak in the fjords if the weather had cooperated!), hike Harding Icefield in afternoon / evening, camp overnight.
Tuesday 9/8: Hike back to car, drive 3.5 hours to Homer, explore the town that evening. Stay in Homer Airbnb.
Wednesday 9/9: Drive 2.5 hours to Cooper Landing, set up campsite at Russian River Campgrounds, fish, Cooper Landing Brewing Company, dinner at campsite that night.
Thursday 9/10: Drive to 1 hour to Hope, check out town (if it's before Labor Day and things are open) and beach, drive 6 hours to Healy, stopping in Anchorage to get supplies and gas, stay near Healy for the night.
Friday 9/11: Tundra Wilderness Tour in Denali until around 2pm, drive 2.5 hours south to Talkeetna, check out town, shops, and get dinner. Stay near Talkeetna.
Saturday 9/12: Pack up things, scenic drive through Hatcher's Pass and stop for a quick hike if you'd like. Drive back to Anchorage and return any rental gear you may have gotten. Pick up last-minute souvenirs. Dinner and drinks in Anchorage before flying out that night.
Lodging
We chose to spend most of our nights in Airbnbs. There are lots of cute, small cabins all over the state that looked perfect and cozy. We also brought our camping gear and camped for two of our nights. Another option that lots of people go with is renting an RV or camper van. I definitely looked into this, but it ended up being quite a bit more expensive, especially since we knew we wanted to tent camp a couple nights.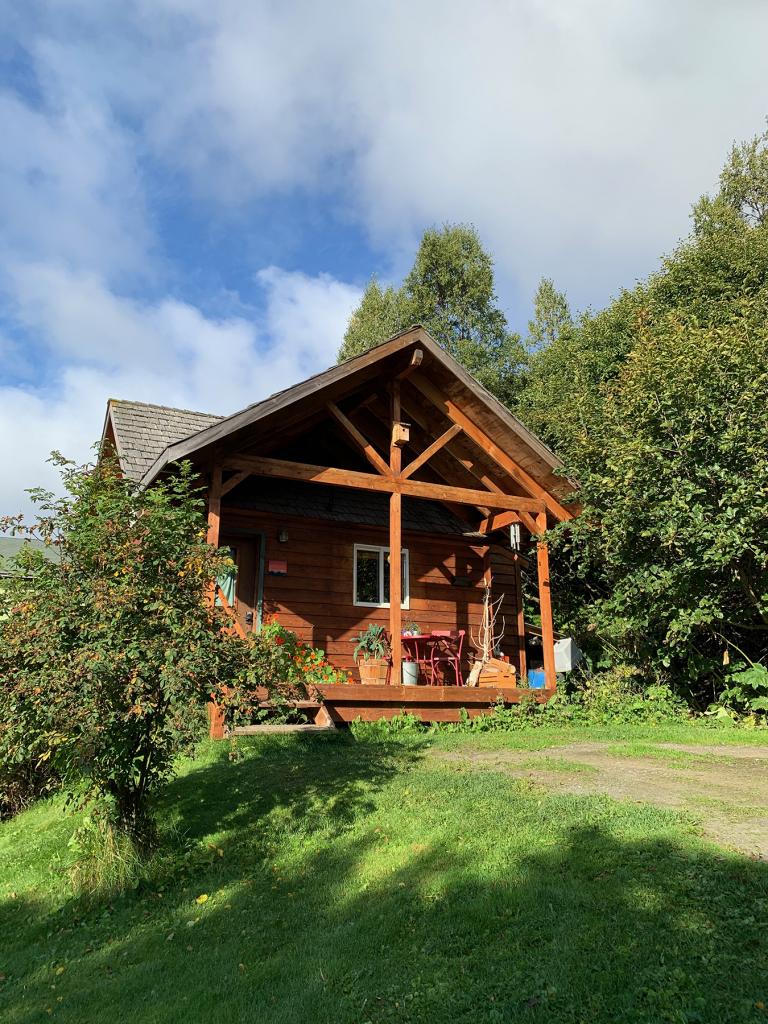 Weather
The weather was great while we were there! We had one day that was rainy, but the rest of our trip ranged from the 30s to high 60s. Sunny skies most of the time as well.
Costs per Person (Two People Total)
Considering how cheap we found flights to Anchorage, this trip wasn't very expensive! I would budget more during non-COVID travel. We also picked fairly cheap lodging and camped a couple nights to keep the cost down.
Flight: $340
Lodging: $280
Rental Car: $215
Gas: $45
Other Transportation: $10
Food: $340
Activities: $150
Souvenirs: $100
TOTAL: $1480
Overall Thoughts
Alaska is so gorgeous. It's also huge! We spent eight full days here and I feel like we barely scratched the surface. I loved everywhere we went, but if I were to come back, I'd love to check out some of the coastal towns like Sitka. I also REALLY want to go to Katmai National Park to see the grizzly bears, but it was too expensive to get there this time around. The Kenai Peninsula and Denali are highly worth a trip to Alaska! One thing to note is that if you travel here outside of the high season from Memorial Day to Labor Day, there are far fewer tourists, but also lots of shops and restaurants will be closed for the season.
---
You may also be interested in:
One Day in Denali National Park