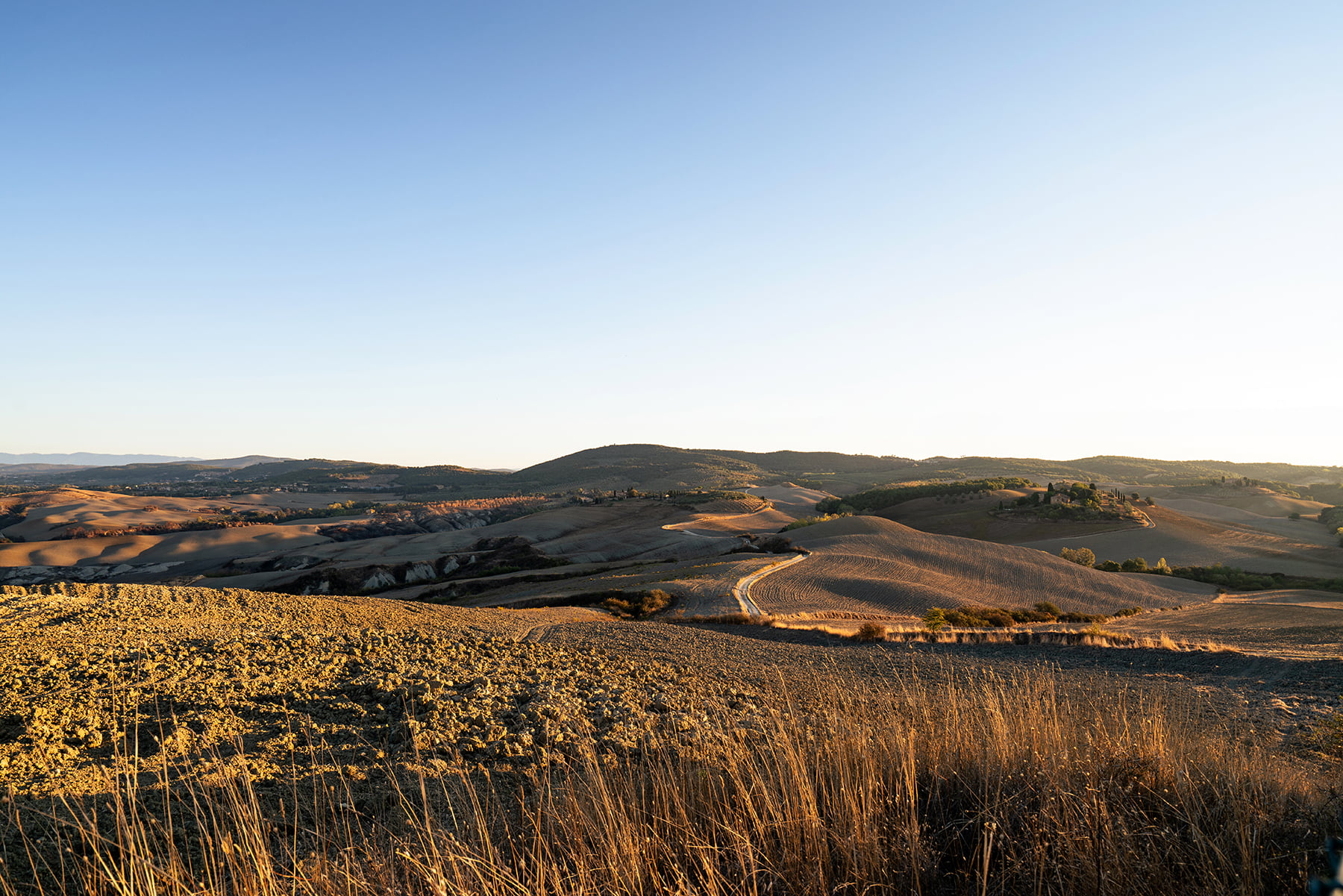 We spent a few days in Tuscany in October 2021 for the wedding of some good friends of mine. While we spent a good portion of our time there participating in wedding activities, we also got to do a little exploring in the region.
The drive from Cinque Terre to San Gimignano (specifically, the last 20 minutes or so) was gorgeous. This area had the best Tuscan views. Looking back, I wished we had stopped for photos along this drive.
San Gimignano
We arrived in the town of San Gimignano on Monday evening, after coming from Cinque Terre. San Gimignano is a walled medieval town that has a skyline of towers. There used to be 72 towers inside the small town, which showed the wealthy families' power and fortune. Today only 13 towers remain.
Check into Lodging
Our first stop was to check into our lodging for the night. The owner of I Coppi, a cute agriturismo hotel just outside of town, came out to greet us and show us where to park. He showed us to our room and told us he would make breakfast for us in the morning. The hotel is only a five-minute walk from town, which was perfect since cars are not allowed inside the town's walls.
La Bottega
From I Coppi, we walked to San Gimignano, which was a bit of a ghost town when we arrived around 8pm. We were starving at this point and starting to get desperate for a restaurant that had food we wanted.
We came across La Bottega, a tiny restaurant run by a mom and pop with only about four tables inside. The menu looked great, so we sat down and ordered right away. The two other couples eating inside had ordered charcuterie boards and they looked amazing, so we got the same thing. The mom and pop barely spoke any English, but we were able to communicate what we wanted. They went behind the counter and shaved off the cured meat in front of us. For our meals, we got pasta.
Stay at I Coppi
After dinner, we headed straight back to I Coppi for a good night of sleep.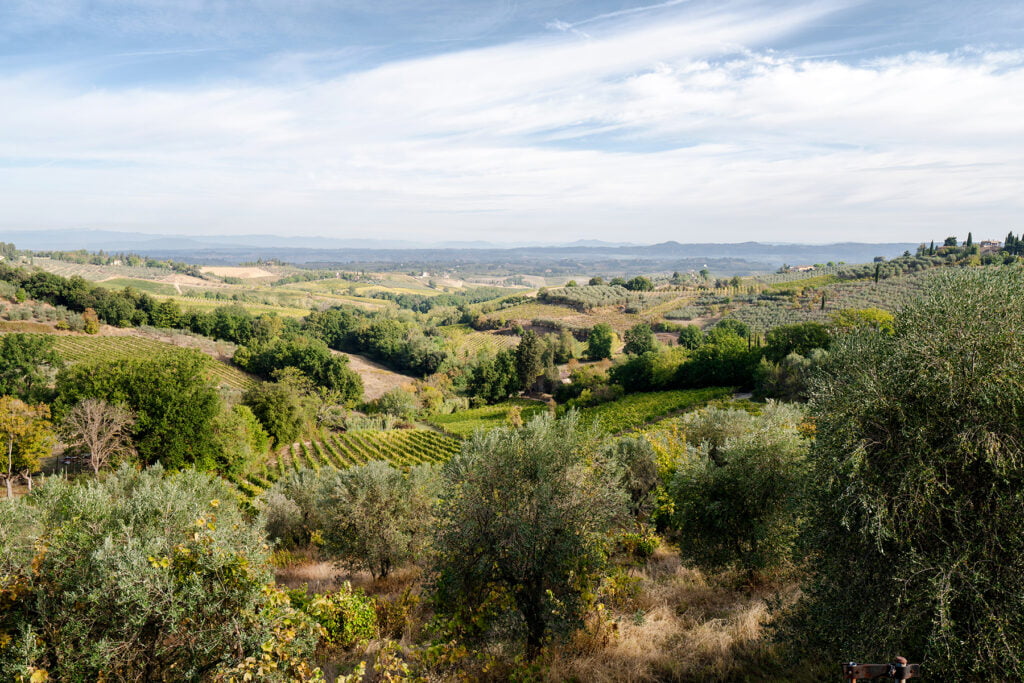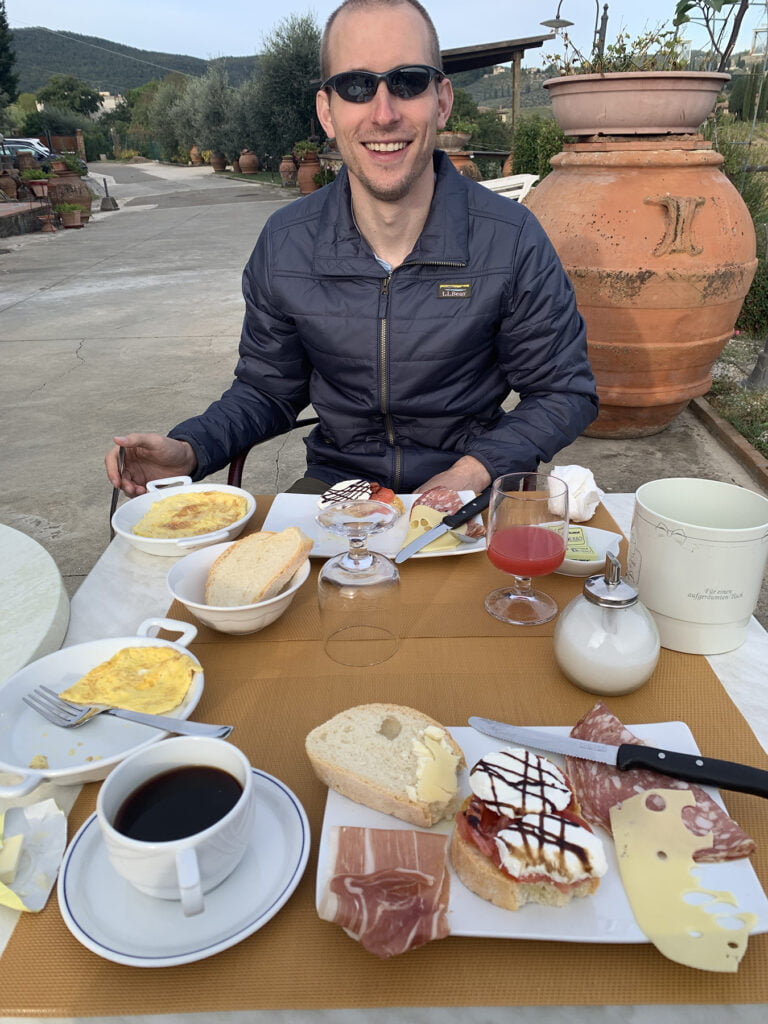 Explore the Town of San Gimignano
The next morning after a delicious breakfast overlooking the Tuscan hills, we left our car at I Coppi and walked into town to do some exploring and shopping. We walked 15 minutes to the other side of town and started our town walk at Porta San Giovanni. This is the entrance to the walled town from the 13th century. From here, we wandered through several shops, purchasing souvenirs and leather goods.
Next, we made our way to Parco della Rocca, the ruins of an old fort made into a park. You can climb to the top of one of the towers here and get a good view of the town and surrounding countryside. Once we had our fill of views, we walked back to our car and drove to Siena.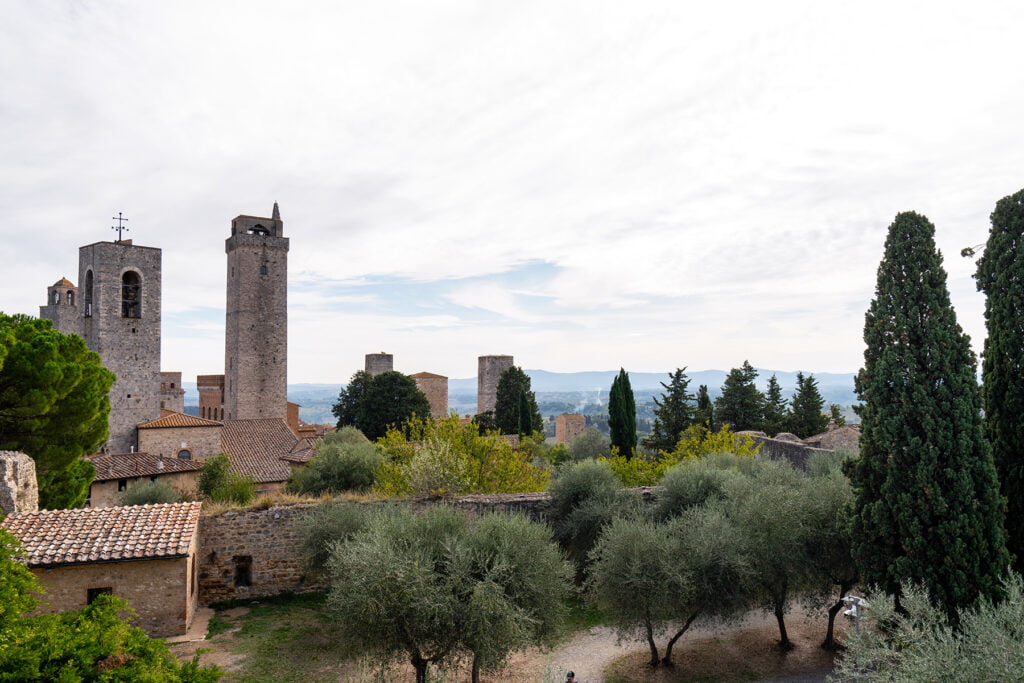 Siena
The drive from San Gimignano to Siena takes about 45 minutes. We parked at the Santa Caterina parking deck, which was straightforward and easy. It is only about a five-minute walk into town, and you can follow signs to take several sets of escalators up to avoid climbing a lot of hills.
Lunch at Il Campo
We walked straight to Il Campo, Siena's main square in the heart of the city. City Hall is located here with its tower looming overhead. There are a bunch of restaurants lining the sides of the square. We were ready for lunch, so we stopped at a yummy-looking pizzeria and sat at one of the tables in front outside. There were a lot of customers sitting outside and there seemed to be only a couple waiters working, so it took awhile to order and then get our food. We split a salad and a delicious pizza. It was our favorite pizza of the trip!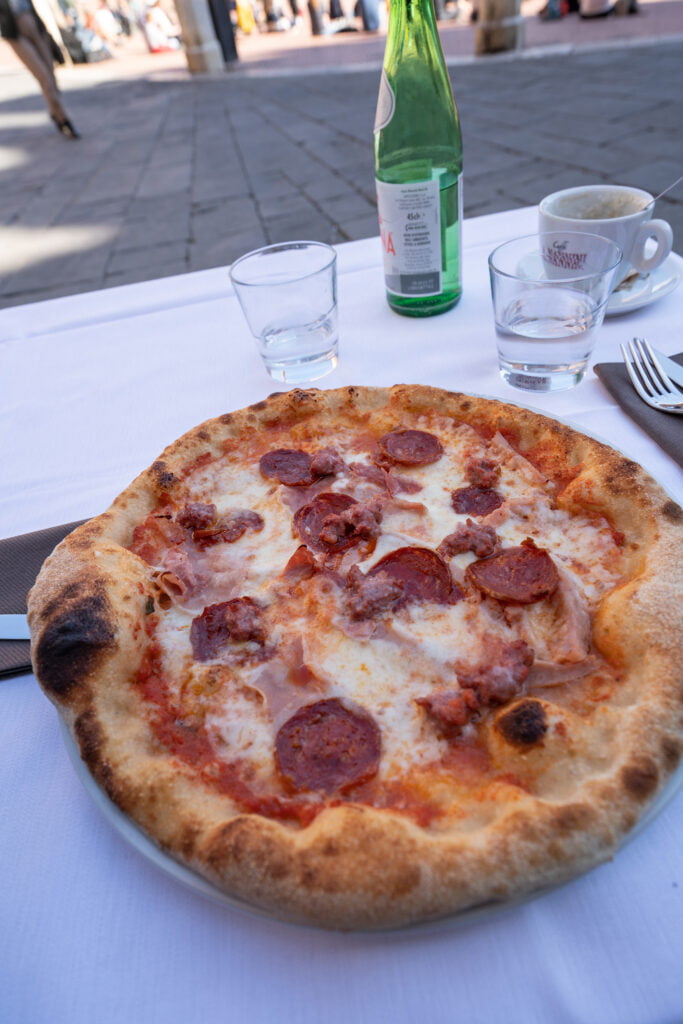 Gelateria Il Camerlengo
From lunch, we headed straight to the nearest Gelateria also located in Il Campo. We got the stracciatella flavor and it was really good.
Duomo
Visiting Siena's Duomo was our last main activity while we were in town. This is a massive Gothic cathedral built in the 1200s. The Duomo is decorated in black and white marble stripes inside and out. It costs 8 Euro to visit the inside of the cathedral. You can go to the ticket office across the street to purchase a ticket or get them online.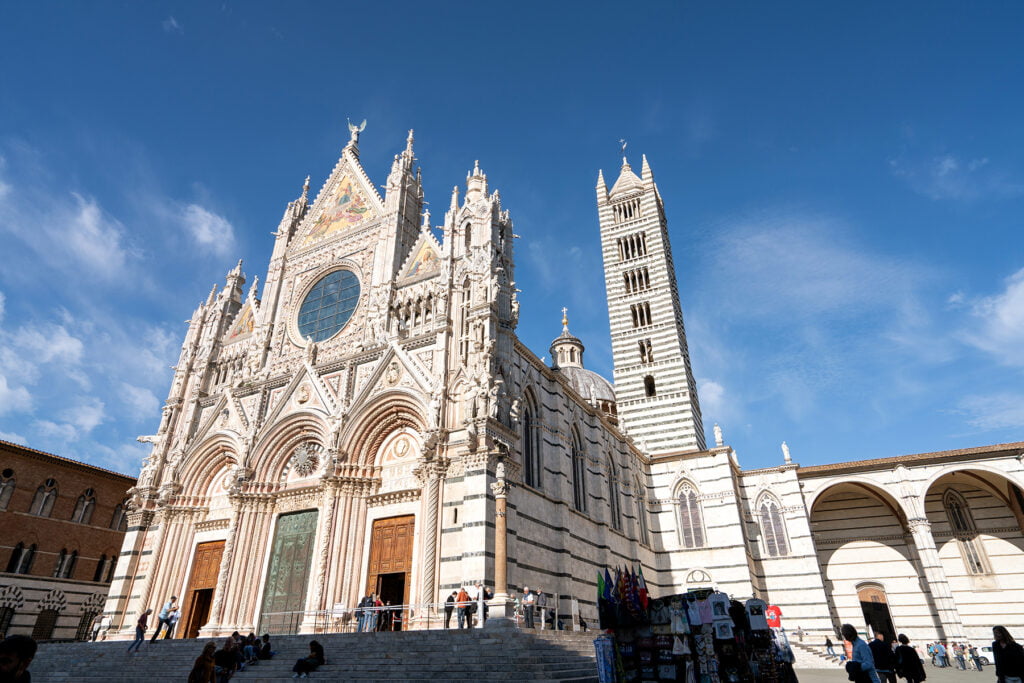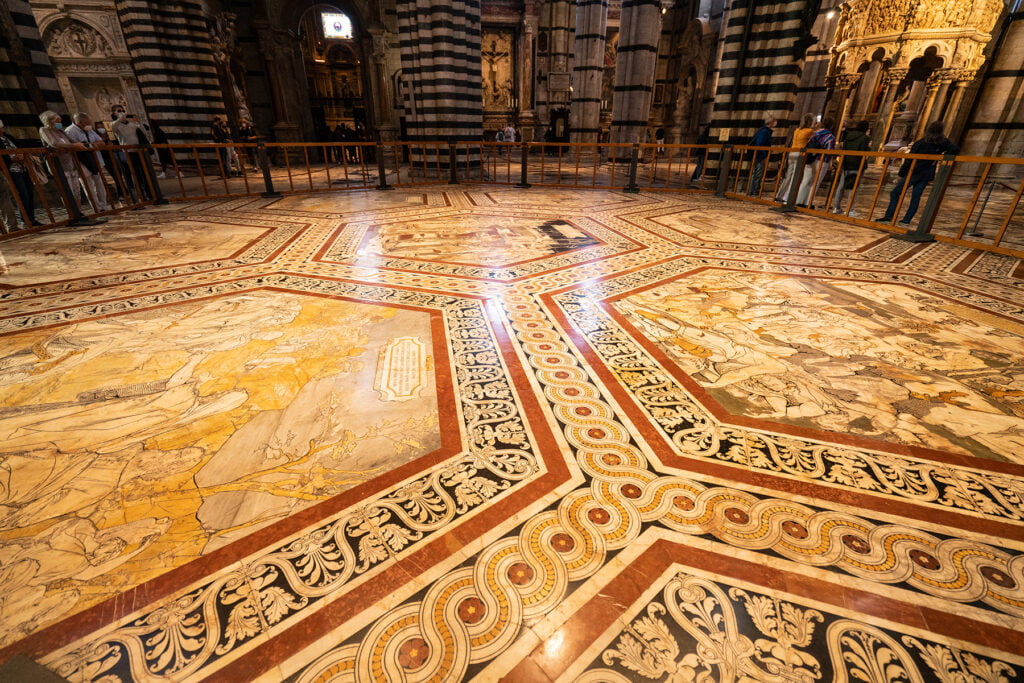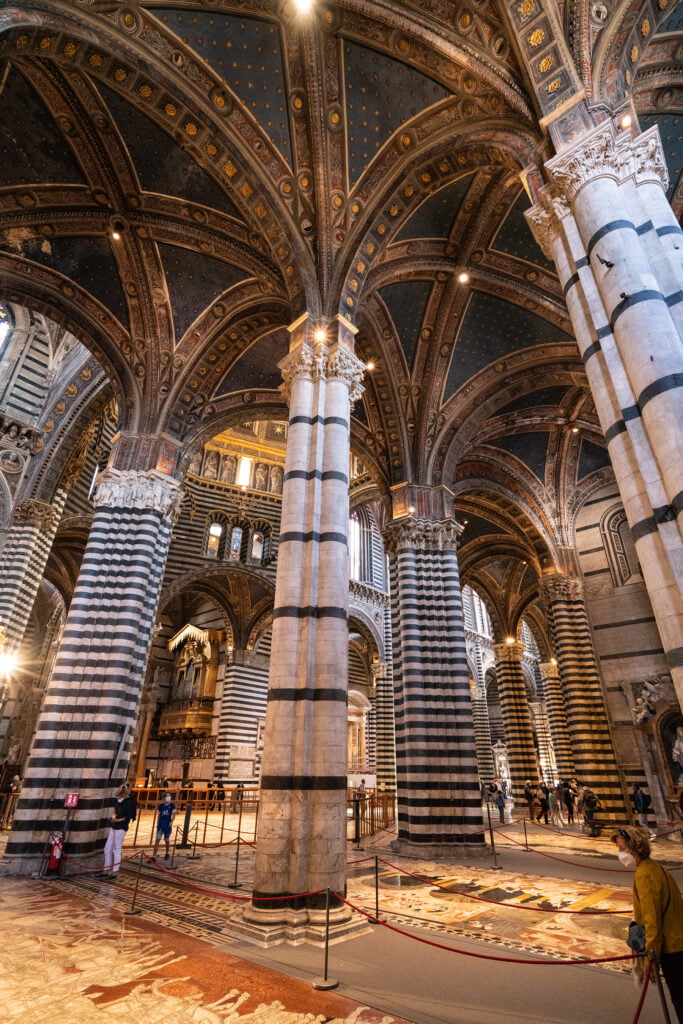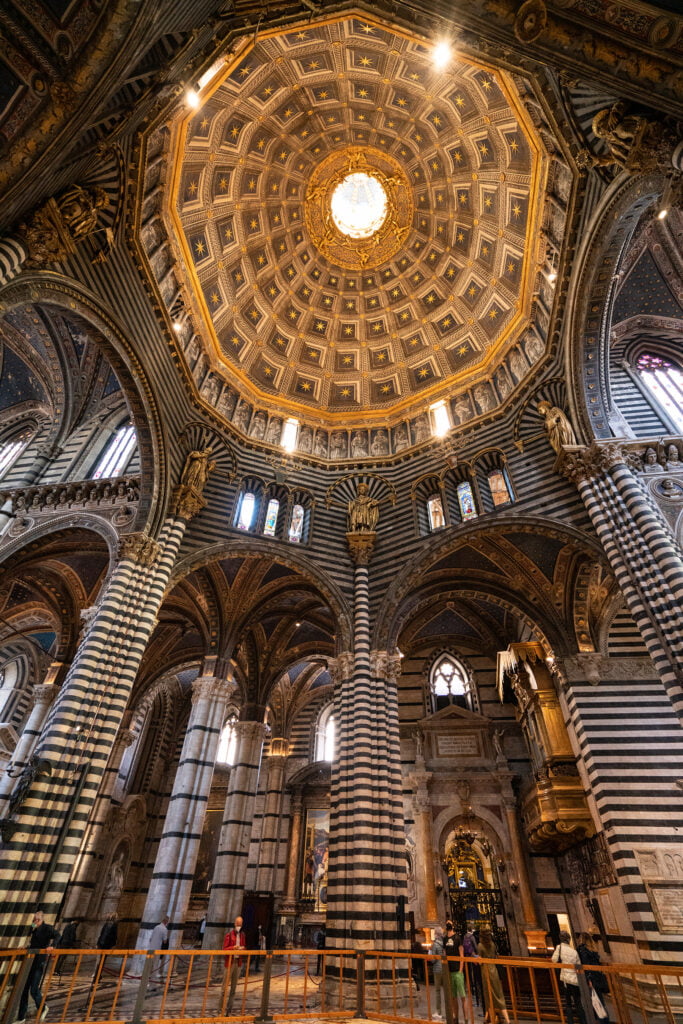 ATVing
The day of the wedding, all of the boys went ATVing that morning near Sienna. I didn't get to go, but it is definitely on my list for when I come back someday. They spent a couple hours driving through Tuscan hills and roads outside of the city and had a blast! This is the company they went with.
Enjoy the Tuscan Countryside
The main reason we were in Tuscany was our friends' wedding. They got married at The Lazy Olive, which is closest to the small town of Asciano. We stayed a couple minutes down the road at Agriturismo Podernuovo. It was very nice! We had our own apartment and the property had amazing views of the surrounding Tuscan hills, as well as the Lazy Olive!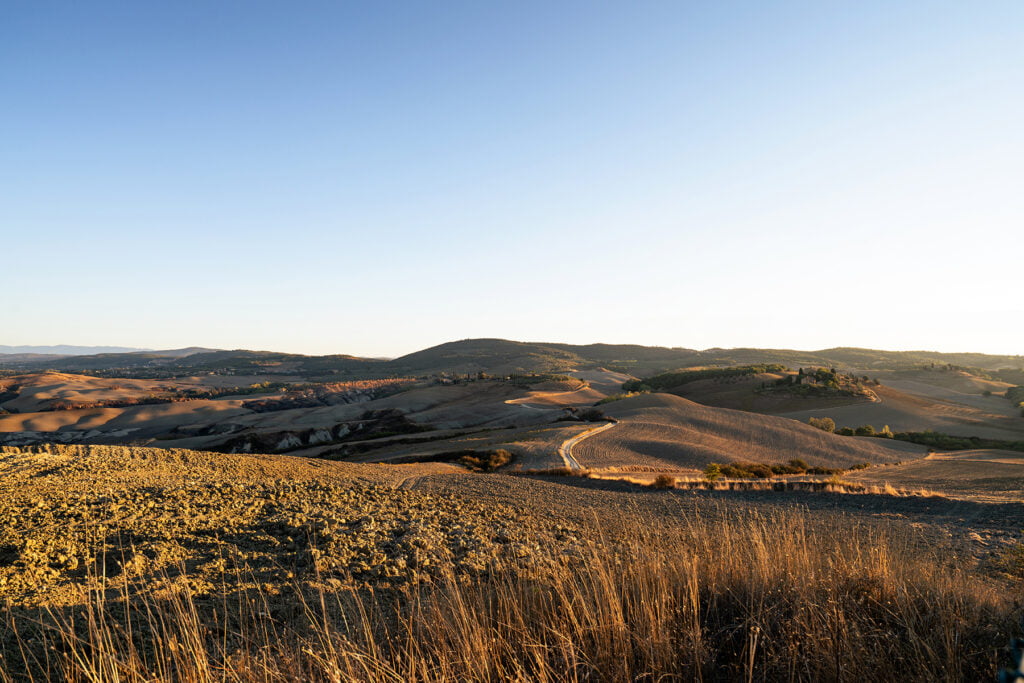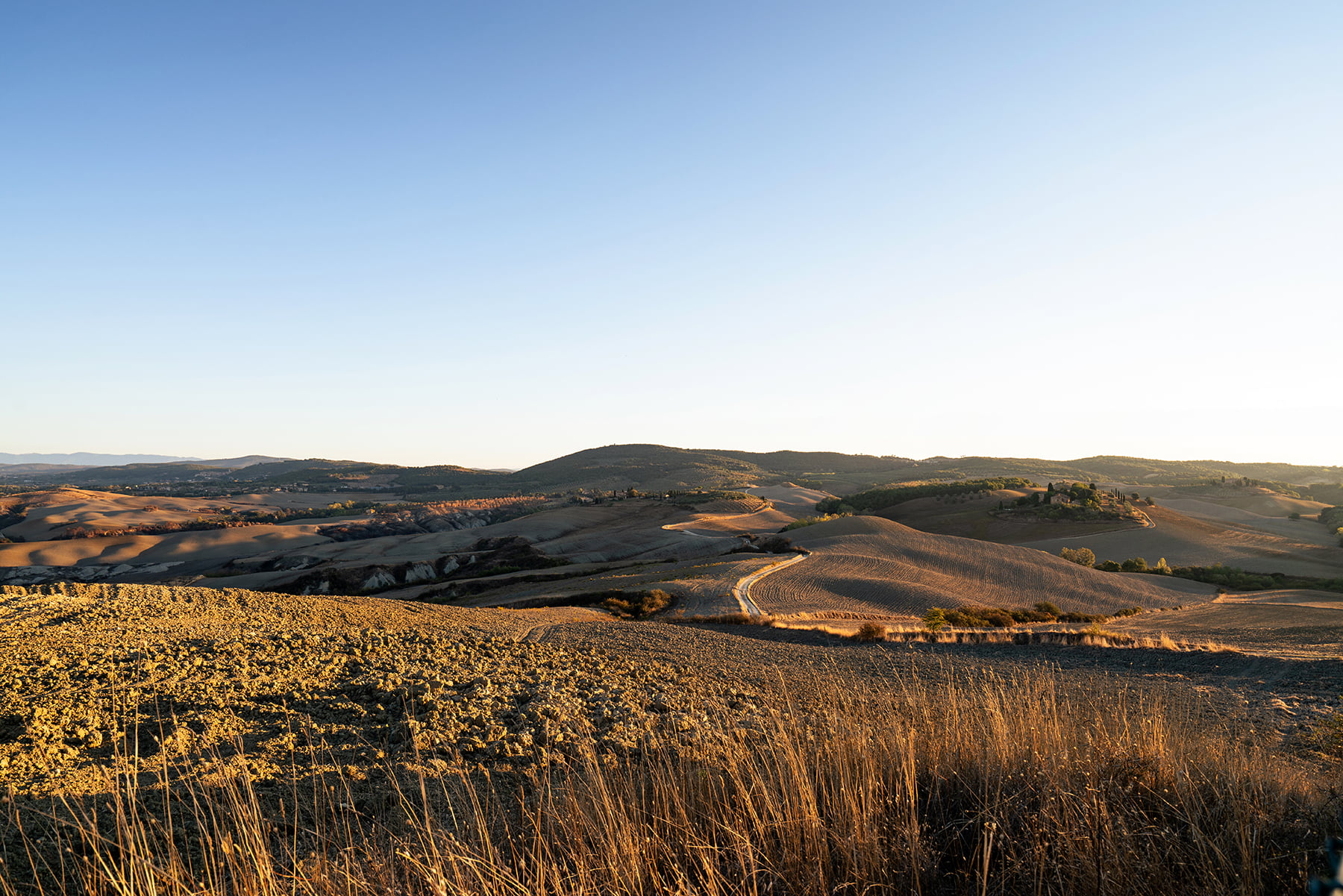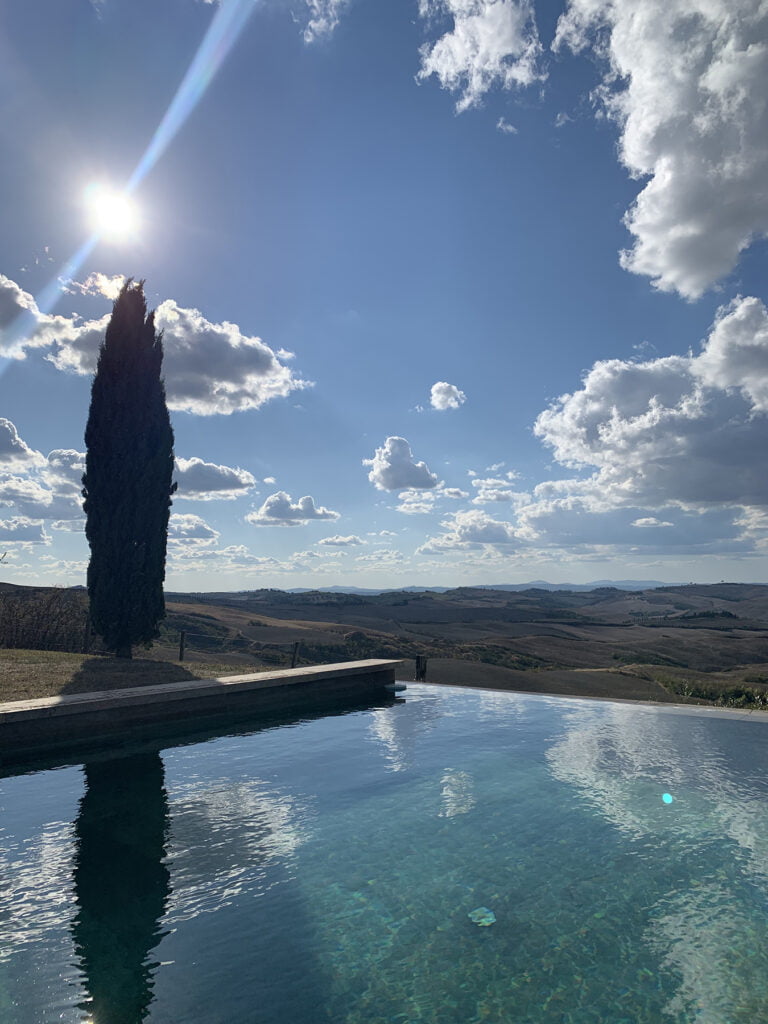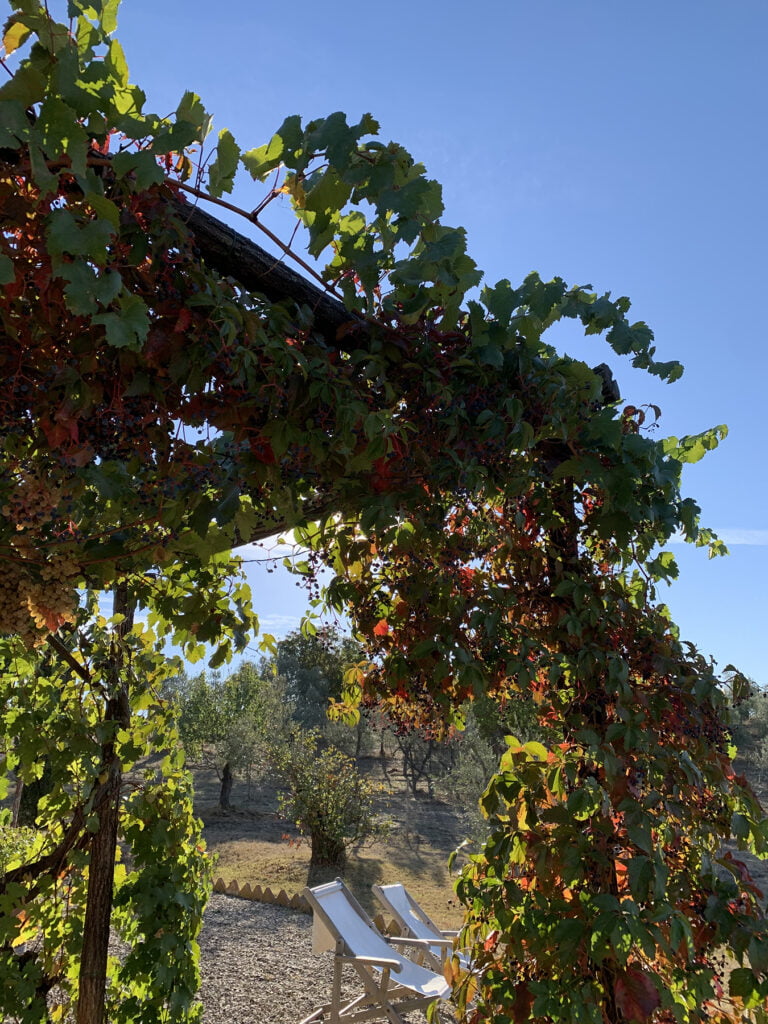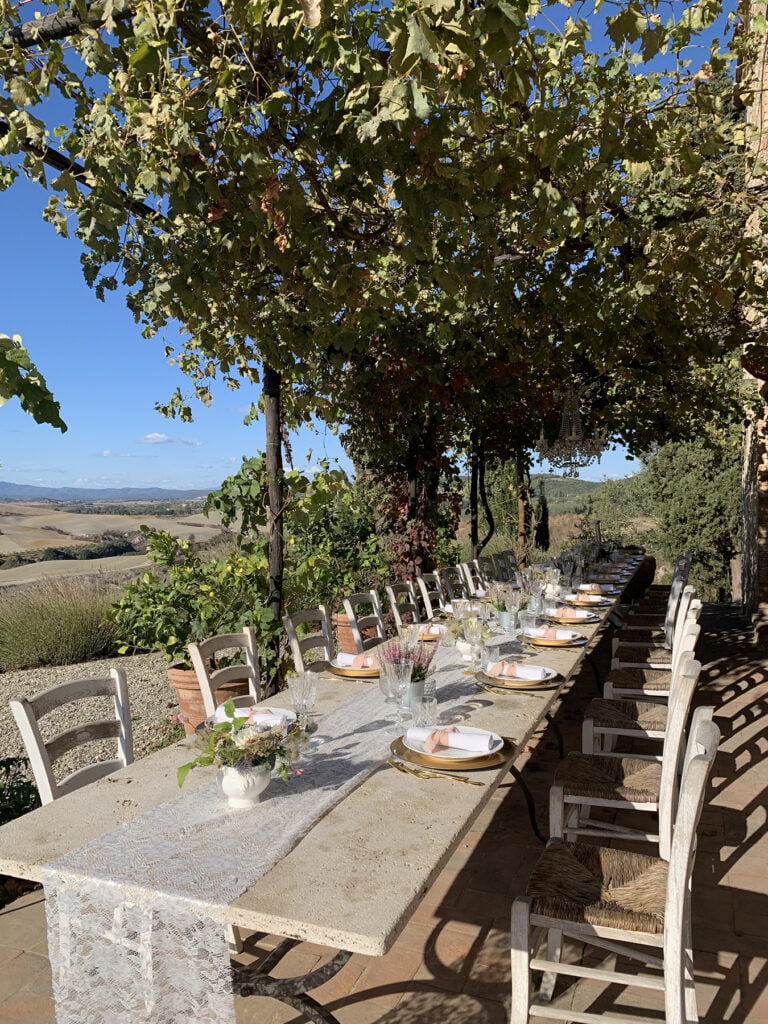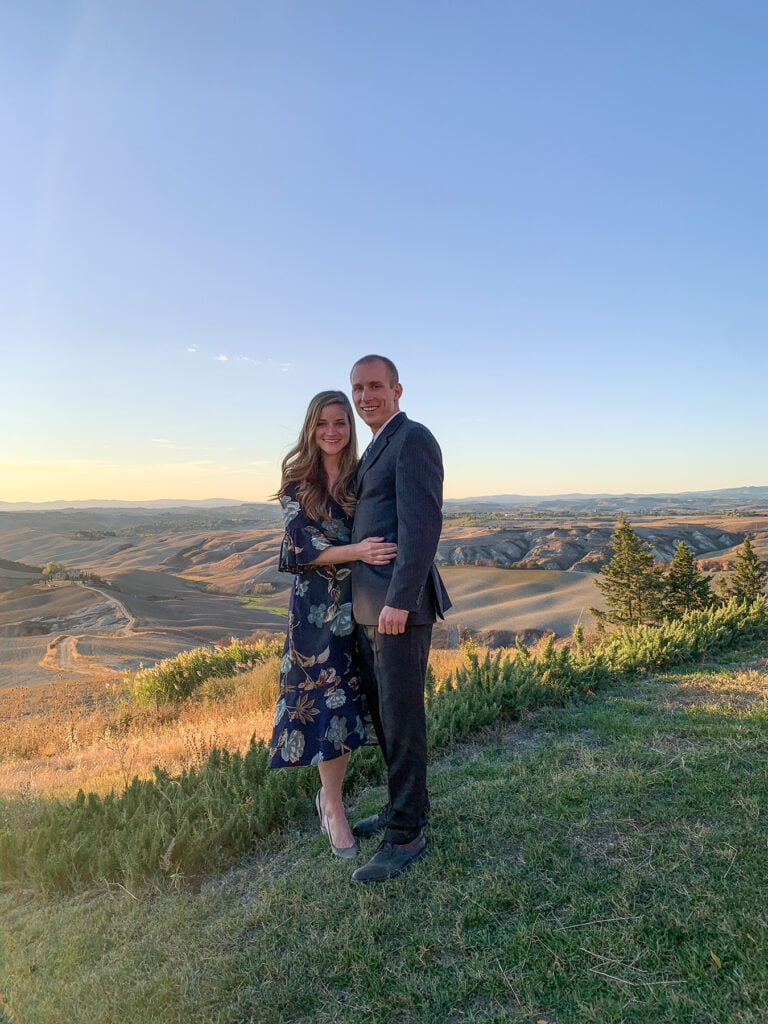 Montepulciano
Mike and I spent one morning in the nearby town of Montepulciano, which is known for its wine. We parked at the north end of town in a pay lot. We wandered through the streets and checked out a few shops.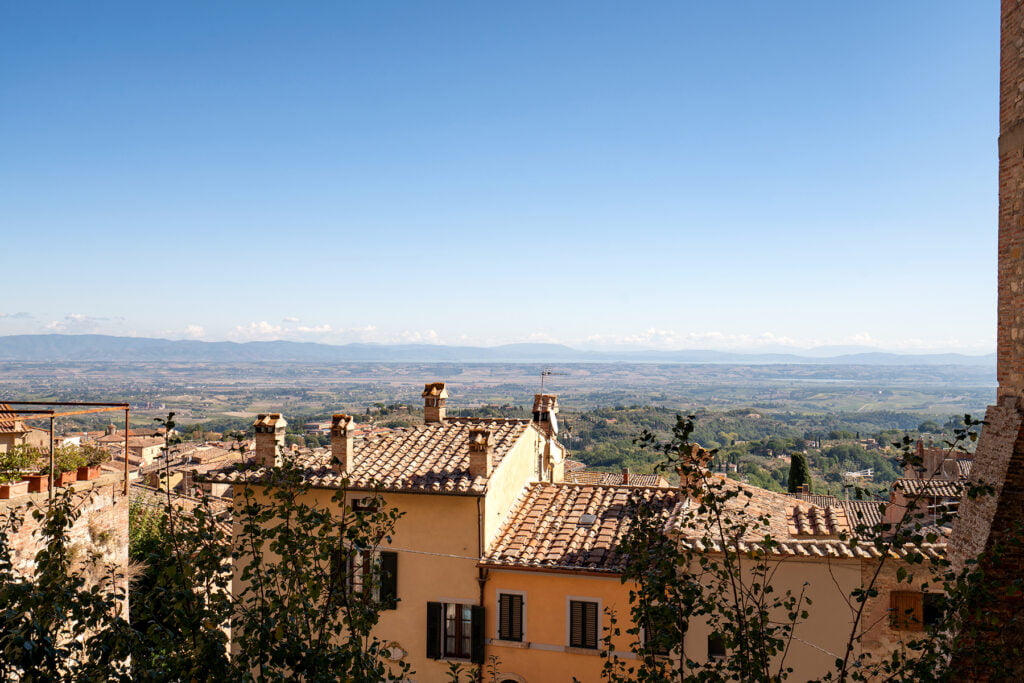 Cafe Poliziano
I was just starting to crave some coffee when we came across Cafe Poliziano. The terrace outside has spectacular views! I got a cappuccino and chocolate croissant. Probably the best croissant I had on the trip!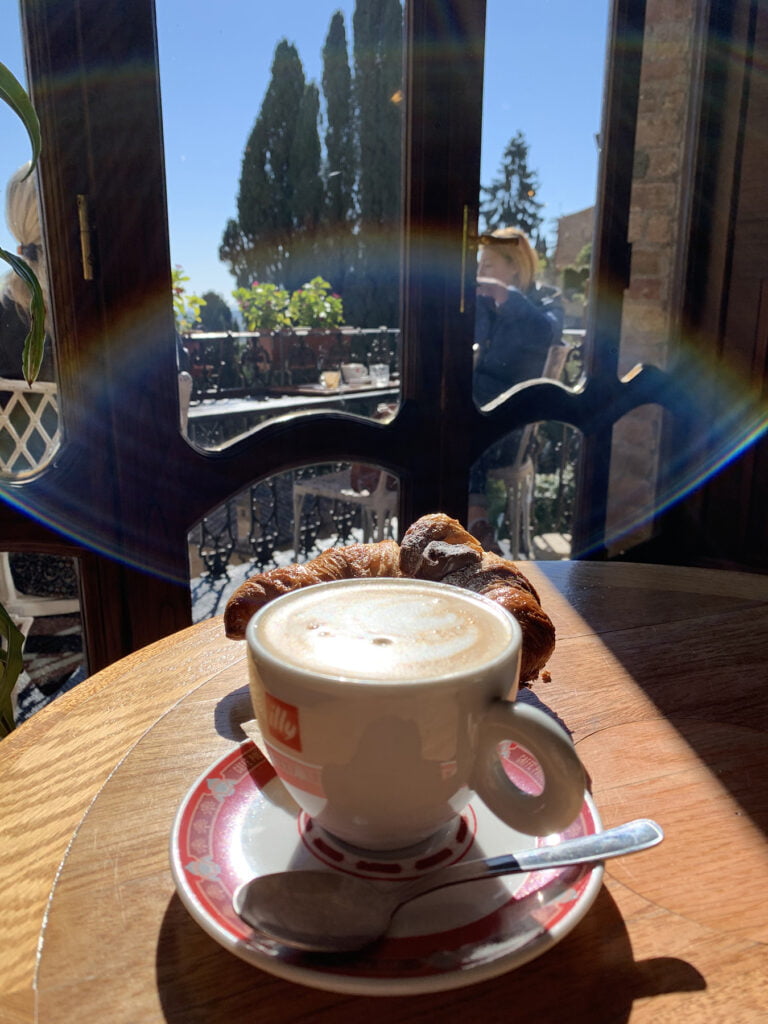 Tuscany is beautiful! Two or three days here would be plenty unless you want to spend a few extra days at a more relaxing pace. We were excited to head to Venice from Tuscany!
---
You may also be interested in:
Hiking Tre Cime di Lavaredo
Three Days in the Dolomites
Cinque Terre in One Day