On my recent trip to Europe, we decided to stop in Amsterdam for a few days before journeying north to Norway with my boyfriend Mike and friends Ashley and Nat. This was my second time in Amsterdam after a four-day visit in April 2018. The weather this time around was much warmer. In fact, we got there just in time for a heat wave that brought us temperatures in the 90s (F)! It sure made us appreciate the colder weather in Norway afterwards. I really enjoyed my second trip to Amsterdam, and I think that two to three days is plenty to see what this city has to offer.
We landed in Amsterdam from Atlanta on Friday morning and were planning on leaving Sunday morning. However, because of a few flight cancellations on our way to Norway, we ended up staying in Amsterdam until Sunday evening.
Friday
Take the Metro into the City
We landed in Amsterdam at 10:30am and found the ticket machines inside the airport to buy metro tickets into the city. If you get on the direct train, it is only about a 15-minute ride to Amsterdam Central. We got off there and walked 10 minutes to our hotel, De Roode Leeuw.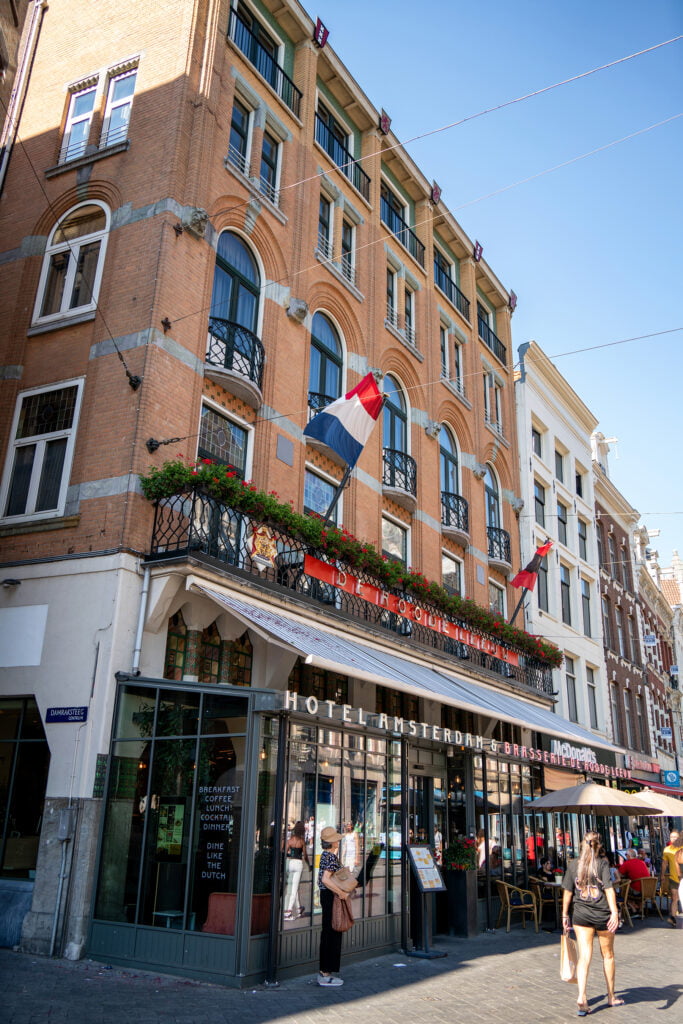 This hotel is in a fantastic location along one of the main streets, Damrak. It is central to everything and so nice to be close to the main train station. The hotel itself is pretty small and we got stuck with a 100 square foot room. The bathroom door couldn't even open all the way because it ran into the bed. Ashley and Nat lucked out with a slightly bigger room that seemed more tolerable. Two nights in a room this small were more than enough. I thought the location made up for the room size though! The hotel had one of our two rooms ready when we arrived at 11:30am, so we checked in and dropped off all our luggage there.
Lunch at Sandwichshop Amsterdam
We were starving, so decided to grab something quick. We stumbled upon this adorable sandwich shop about 10 minutes walking from our hotel. It was quick, delicious, and the staff were so nice! We came back here again before heading to the airport on Sunday. I had the grilled cheese panini the first time and the smoked salmon sandwich the second time.
Walk Around and Shop
We were all really tired and trying to stay awake to beat the jet lag, so we checked out some shops along Kalverstraat, a pedestrian-only shopping street. They have lots of stores to visit.
Check into Hotel and Chill for the Afternoon
It was finally 3pm, meaning Ashley and Nat's hotel room was ready to check into. We headed back to the hotel. While we were getting organized, I noticed an email from SAS Airlines (the airline we were flying to Norway on) saying our flight was leaving Monday, not Sunday like we had planned on. We spent a couple hours calling their customer service, rebooking flights, hotels, and rental cars before getting to relax a bit.
Dinner at De Haven van Texel
We had done our research ahead of time and made reservations at a cute restaurant that serves Dutch cuisine. We sat outside along the canal and got amazing food. Their specialty meal, called the "hodgepodge", rotated between a few traditional Dutch meals. The night we were there it was a pork chop with mashed potatoes. It was heavenly! Mike and Nat got this option, I got the steak, and Ashley got French onion soup. They were all very good, but the hodgepodge was the best by far.
Wander through Red Light District
We finished dinner around 7:30 and wanted to stay up until at least 9 so our bodies could transition to the correct time zone. We walked through the Red Light District, which is actually a really cute area. The Red Light District is where prostitution is legal in this part of town. The name originates from the red neon lights that mark where the prostitutes work. The women advertise their services through glass windows and doors right on the streets. We were here on a Friday night, and there were tons of people around. There are lots of good bars in the area too.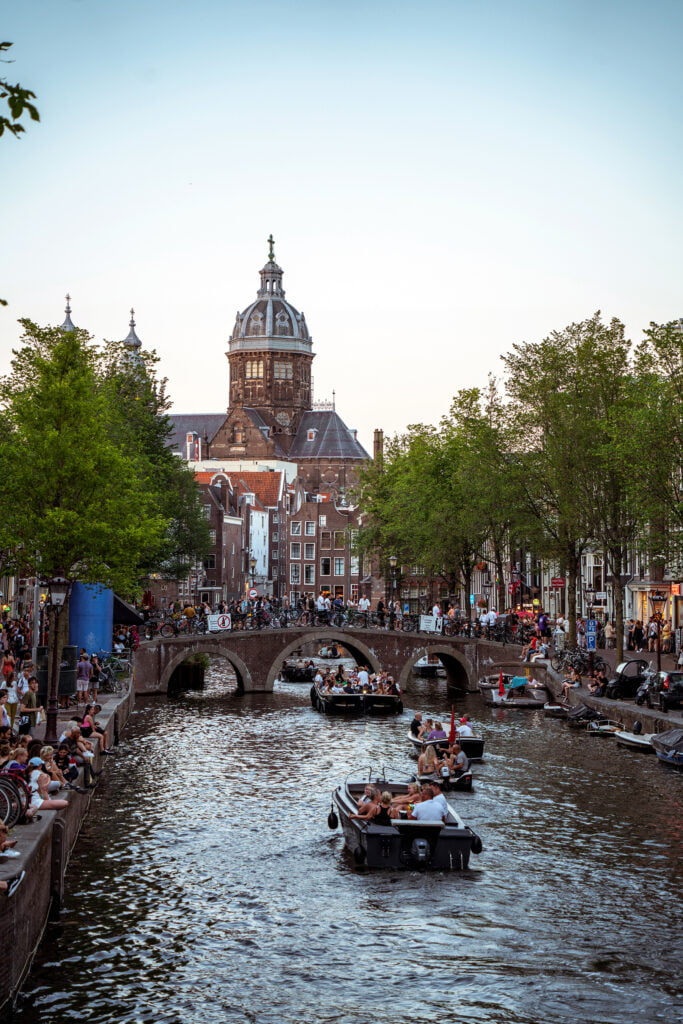 Van Wonderen Stroopwafels
We were making our way back to the hotel, but I decided I needed a stroopwafel for dessert, so we headed a bit out of the way to a shop we had seen earlier in the day while we were shopping. Van Wonderen makes their stroopwafels fresh and you can get whatever toppings you'd like on them. They were expensive at €9 each (you can get plain ones elsewhere for about €2 or €3, but the toppings made it extra tasty!
Saturday
Breakfast at The Pancake Bakery
We left our hotel at 9am and walked 10 minutes to the Pancake Bakery. I'd been thinking about Dutch pancakes since the last time I was in Amsterdam, so I found a spot nearby. Dutch pancakes are thin and crispy, and you can get whatever toppings you want cooked into them. We got seated right away and ordered our food. I got a ham and cheese pancake. It was so good! When we left the restaurant, there was a line out the door to get seated. I'm glad we got there when we did.
Jordaan Neighborhood
Our Anne Frank house tickets were for 11am, so we had an hour to spend exploring the Jordaan Neighborhood. This is one of Amsterdam's most famous neighborhoods. There is a market there on Saturdays, so we wandered through it.
Anne Frank House
The Anne Frank house is where Anne Frank lived in hiding for more than two years during World War II. The house is now a museum where you can learn more about Anne and her family and see exactly how they lived. This was my second time here and it was just as moving as I remembered it being the first time. For €14, it is a good way to spend an hour of your time while in Amsterdam. I suggest booking tickets online ahead of time, as they are limited and sell out quickly.
Albert Cuyp Market
From the Anne Frank house, we Ubered down to Albert Cuyp Market, a permanent street market open daily. I got another stroopwafel and we shopped for souvenirs. I was exhausted at this point, so we went back to the hotel to take a quick nap.
Train to Utrecht
Mike and Nat are big soccer fans, and they really wanted to go to a European soccer (or should I say football) game. There weren't any games in Amsterdam the weekend we were there, so we ventured to Utrecht, a city about 50 km southeast of Amsterdam. The train was easy to navigate. I bought our roundtrip tickets at Omio since they are official partners with the train system in the Netherlands. Trains run to Utrecht every 15 minutes, so it was easy to pick a time that we wanted. The game started at 8pm, so we took the 4:30pm train and arrived in Utrecht by 5. The city center is an easy five-minute walk from the train station. Utrecht is so cute! It seemed like a miniature version of Amsterdam, with a few smaller canals and adorable buildings.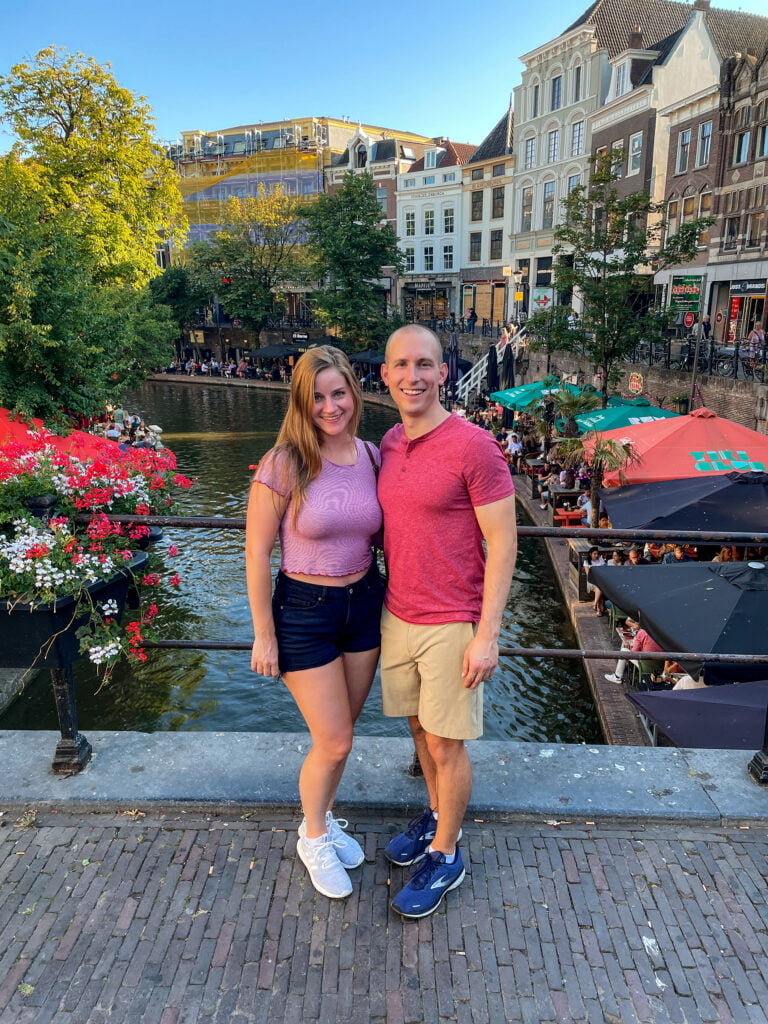 Dinner at PK Bar & Kitchen
We had dinner reservations at PK Bar & Kitchen and managed to get a table outside on the canal. Mike was starving so he got a HUGE burger. The rest of us saw a large platter the table next to us had ordered that looked amazing, so we ordered that. It was not on the English version of the menu, so we had no idea what all came on it, but everything was delicious. There was a large variety of items, from fried cheese to bread and meats. It was enough to fill the three of us up.
Uber to Stadion Galgenwaard
The stadium is 3 km from the train station and city center, so we wanted to take some type of transportation there. We went back to the train station and asked which bus to take. No one seemed to know anything about public transportation or where the stadium even was. Very concerning. We decided to just try to get an Uber. We started walking in the direction of the stadium. Every time we requested an Uber, and someone accepted our ride request, they canceled immediately. We finally had the idea to have them drop us off a little before the stadium and someone actually picked us up. We arrived at the stadium five minutes before kickoff!
FC Utrecht Game
Stadion Galgenwaard is FC Utrecht's home stadium. We had tickets in the fifth row, which was great! They even gave out football scarves to the first row. Fun souvenir! No one ended up scoring this game, but it was still a fun experience. They have some intense fans! There was quite a commotion after the game with the Utrecht fans trying to kick down the opposing team's gates. We kept our distance and were fine.
Back to Amsterdam
There was a huge crowd coming out of the stadium, so we ended up walking the whole way back to the train station. It was cool to see how many people had biked to the game, as there were masses of bikers passing us on the way. There were also people who had boated to the game on the canals. The walk back felt safe and took about 40 minutes. I had booked a later train just in case it took longer than expected, but we arrived at the station early so we hopped on an earlier train. We were back at our hotel by midnight.
Sunday
We had originally planned to leave early Sunday, but now we had some time in the morning to spend before our flight that evening. We slept in and checked out at 11am. The hotel was able to hold our luggage until we came back for it that afternoon.
Eat at Calf & Bloom
We were on our way to the floating flower market and came across this cute restaurant we stopped at for lunch. I got a smoked salmon "sandwich" which was truly more like a salad on top of a slice of bread. Still really good.
Bloemenmarkt
The floating flower market, or Bloemenmarkt, is literally floating on the canal. I was so happy we stopped here! They had some more cute souvenirs, and I found a Christmas ornament I was really excited about. There are also tons of flower bulbs you can purchase to take home.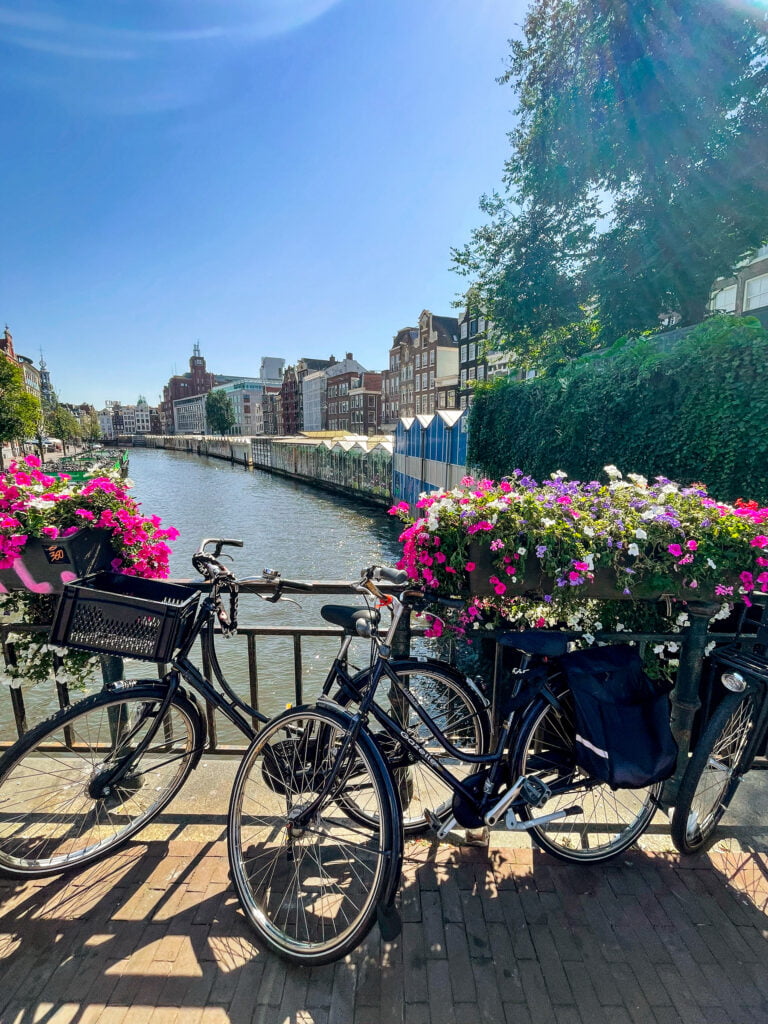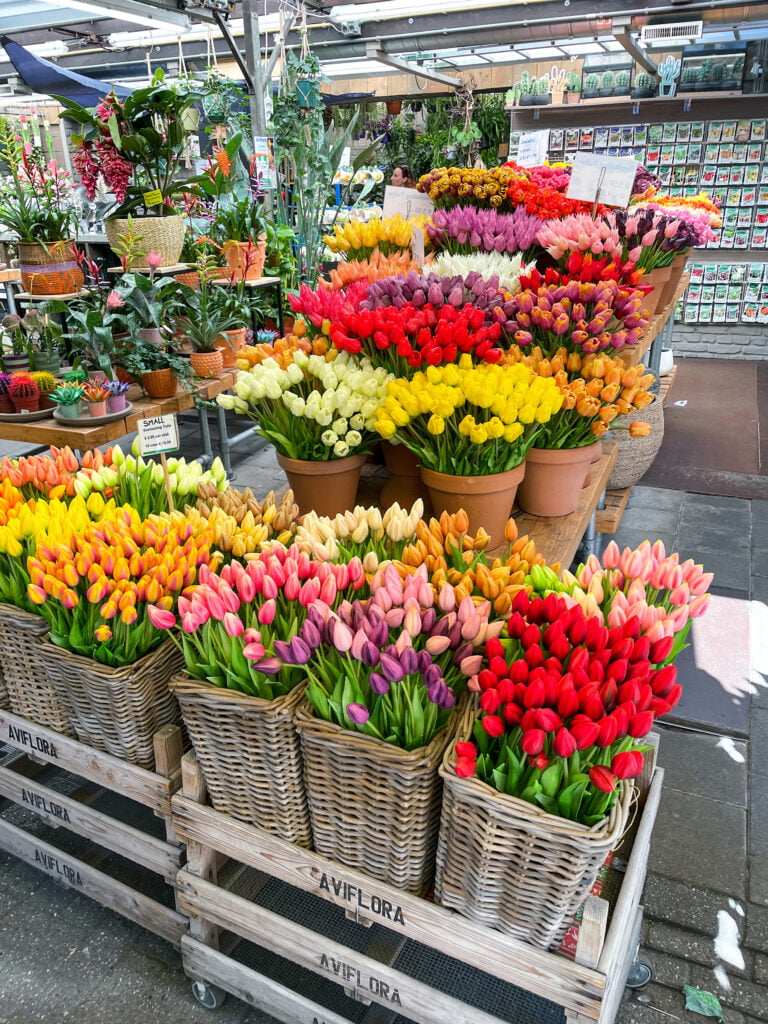 Airport
We left the hotel with our bags around 2:30pm, with plenty of time to get to the airport for our 7pm flight. The Amsterdam airport is currently (as of summer 2022) very chaotic with so many cancellations, long lines, and staff shortages, so they recommended arriving at least four hours early to drop our bags. When we arrived around 3, we found our flight to Oslo on the board and it had been canceled!!! I checked my email and found that they had just canceled 30 minutes prior and they rebooked us on two flights, stopping in Copenhagen. Fortunately, it would still put us in Oslo that night and we still had a chance to catch our flight to the Lofoten Islands the next morning.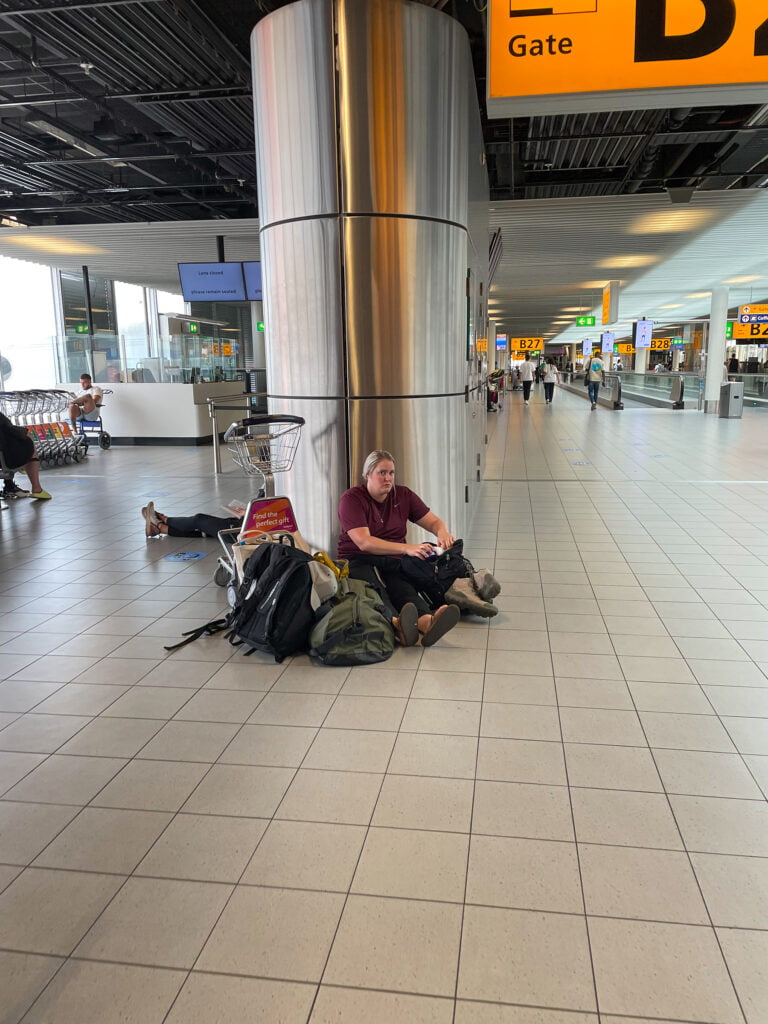 To our surprise, everything went well from there. Our flight to Copenhagen was a bit delayed but we and our bags still made it in time for our flight to Oslo. The lady checking our bags in Amsterdam had said our bags would be checked all the way through to Lofoten and we could not get them in Oslo. However, when we landed in Oslo, we walked by the baggage claim just in case, and our bags were on the carousel. Thank goodness we checked. We grabbed them and walked to our in-airport hotel. It was a long day!
---
You may also be interested in:
Two Epic Hikes in the Lofoten Islands